Music is a universal language and something that brings people together from all walks of life. Even if the language is not familiar to all listeners, the energy is! This is something that rising afrobeat star, Runtown, born Douglas Jack Agu, has understood clearly and implemented in his approach to creating records. Whether talking about his hit songs, "Mad Over You" and "For Life" or even his latest record, "Energy," Runtown stays true to his roots while expanding his sound beyond the borders of West Africa.
---
Now 28, the Lagos-based producer and vocalist has collaborated with some of the most important names in the afrobeat industry, including Davido, Wizkid and Phyno.
"I spent most of my early years in between Abuja and Lagos," he says. "After the passing of my father I permanently moved to Abuja with my family. I was born in Enugu State so I went back often and that's where I crossed paths with Phyno. Phyno and I moved to Lagos and started our music careers there. Lagos is where everything happens in the music industry. It was only right that I made the city my permanent home. I connected with my label Eric Many and the rest is history."
Photo and styling by A Day Living.
Beyond working with major artists, he has also done a number of international tour stops over the last year in cities ranging from Kigali, Rwanda to Houston, Texas. Outside of music, Runtown been involved in social initiatives like Afrika Fifty6, which is dedicated to empowering young Africans through fashion, art and music and he has even spoke at Harvard University's African Student Association in Cambridge, MA.
Although he's regarded as a traditional "afrobeat" artist, Runtown takes inspiration from all genres of music and fuses them to create his own unique sound. He spoke personally about the international artists that have influenced him: "I'm inspired by all types of music. I love afrobeat but I also get inspiration from other genres of music as well. I love Sade, her music and vibe is crazy. I'm also a fan of Stromae, who's a dope Belgian artist."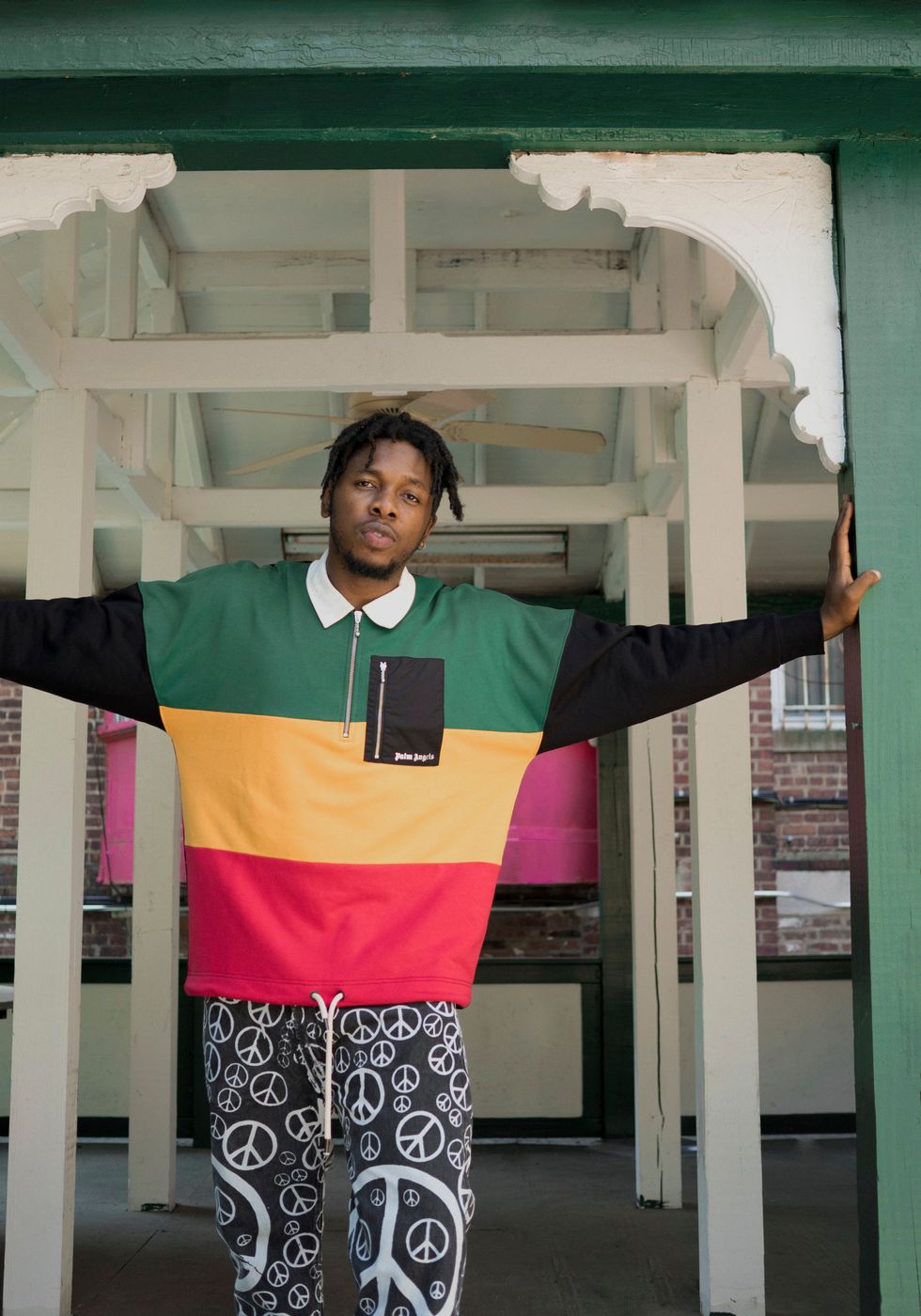 Photo and styling by A Day Living.
Photo and styling by A Day Living.
Although Runtown has been buzzing for years, his track "Mad Over You" became a major hit that dominated the radio and accumulated over 50 million views on YouTube, putting him on a new trajectory.
"'Mad Over You' is my biggest hit thus far," he says, discussing how his career changed after the release. "After releasing the song in November 2016, things took off. Bookings came from left and right. I started traveling to different countries for shows. Lots of opportunities presented themselves."
With travel came exposure to new cultures all over the world and allowed him to open his outlook and spread his message to a mass audience. When asked about the rise of afrobeat influence on the world stage, he states, "I think is dope how our sound has crossed over and artists like Drake, Omarion and others have incorporated it into their music. However, I don't think people have been properly educated about its origins. If you ask someone who's not familiar with afrobeat, who Fela is and what role he played in afrobeat, you would be surprised that they wouldn't know."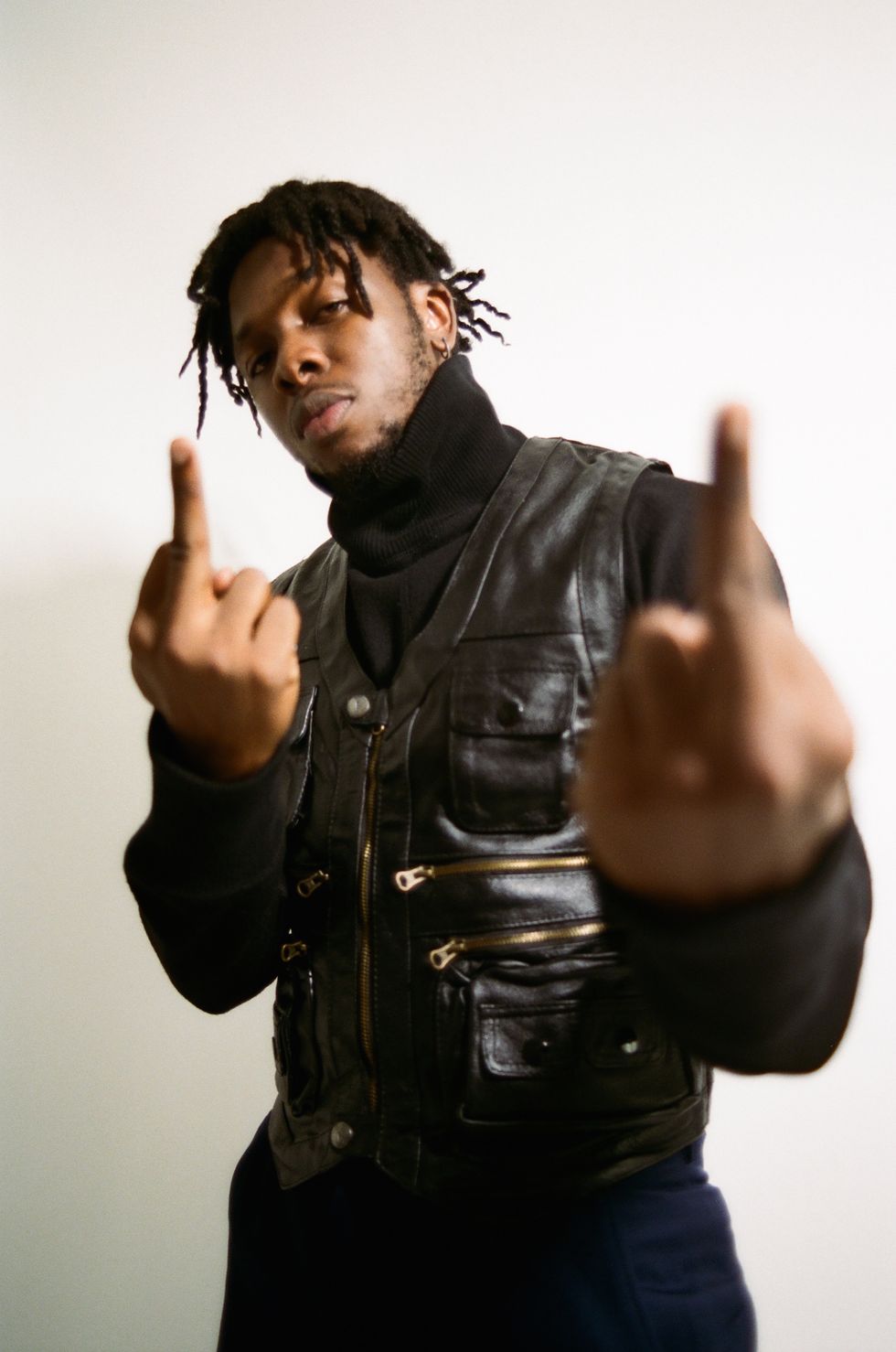 Photo and styling by A Day Living.
Despite this, he feels there is an opportunity for people with influence to properly credit afrobeat's forefathers and connect the new listeners to African culture as a whole. "Africa to the world! The rest of the world is scared of Africa," Runtown says. "The media has shined such a negative light on the continent and people are scared to come and see all the beauty Africa has to offer. But thank God for all the social media platforms that have allowed individuals like myself to show the world how dope it is here."
He believes that with the rise of the genre is a responsibility for artists to represent the continent and elevate the culture. "Afrobeat right now is at the forefront and that's because there are a lot of dope artists putting out quality music that is crossing over to the rest of the world," he says. "In regards to staying true to its roots, I think a lot of us African artists are doing that because that is why the world is loving our music."
Photo and styling by A Day Living.
Overall, Runtown credits his success to his ability to take risks and stay true to himself, regardless of what other people tell him. He hopes that his story can inspire others to do the same and recognize their own value. "The biggest and most rewarding risk I've ever taken is just doing me and not conforming," he says. "I have my own style of music and I have stayed true to it and it has paid off in the long run. My advice to young people would be to never give up. Every artist has his or her own style. There will always be room for originality, even in an 'over-saturated' music industry."
Runtown is set release a number of tracks in the coming months and hopes to keep spreading positive messages that empower others. Listen to his latest release, "Energy," below.
Credits
Photography and styling by A Day Living