Longtime friends and collaborators Claudia Owusu and Ife Oluwamuyide have set the intention to make space for Black girl joy in mainstream media. And the Columbus, Ohio-based West African duo are doing so through their debut short film Ampe: Leap into The Sky, Black Girl. Ghanaian-American Owusu introduced Nigerian-American Oluwamuyide to the childhood game 'Ampe', and the two creators set their sights on highlighting the beauty within girlhood in West Africa.
---
'Ampe' is considered to be of Ghanaian descent, though various versions of the game exist across the continent. The girls split themselves into two teams of high-jumping, power-kicking badasses, intended on defeating the frenemy in front of them. Each one is set up with an opponent and tasked with out-jumping and out-guessing each other's kicks. The girls are armed with a hearty dose of competitiveness and fancy footwork and will have no qualms about outdoing their besties. There are no friends in the game of 'Ampe'.
Boys are allowed to play, but the game is set for empowering girls and belongs to the ladies. It's seen as a coming-of-age activity and a powerful tool for building community – and self-esteem. Owusu and Oluwamuyide's narrative documentary illustrates the game's ability to push young girls into believing in their own power and demanding space in a world that encourages them to shrink themselves. The short film features a series of intimate conversations between women of all ages – ranging from primary school girls to leaders of female sports in Ghana.
As self-proclaimed 'Diasporans' Owusu and Oluwamuyide include the narratives from two cities – Columbus, Ohio, and Accra, Ghana. The two met and began creating around their communities in Columbus, and Owusu's frequent travels home to the continent made it imperative to include the voices of the Ghanaian community of Ampe champions. The game's aim is to empower young girls into being their loudest, proudest, and most authentic selves. It's a space created by women, for women, and the heartwarming sense of community is emphasized by the short film. The rhythmic love letter to girlhood has been accepted into a series of film festivals including Indie Memphis and Film Africa and is available for viewing from October 20th. More info can be found here.
We spoke with the director duo on their debut film and the power that women have when we join forces.
Responses have been edited for length and clarity
Image courtesy of Oluwamuyide and Owusu
What's your personal relationship with Ampe?
Ife: I'm Nigerian and Claudia's Ghanaian. Last spring, Claudia's friends threw her a birthday party and they started playing Ampe. Before that, I had no idea that the game existed, but from then on it kinda took over my life. It's such a beautiful game. Learning about the history and meaning behind it – girlhood, womanhood – has been an amazing experience.
Claudia: I grew up playing Ampe – I'm Ghanaian-American. I lived in Ghana until I was 10, and have lived the rest of my life in Columbus. I was good. So good that the seniors at school would hand-pick me when the game began. I was that girl.
Why did you decide to tell this story?
Claudia: This process – from playing it with Ife for the first time in 2020, to meeting and interviewing women for this project – made us realize that other West African countries play the game, too. Just a little bit different. A few days after the party, I called Ife to discuss working together on a project about Ampe, and she mentioned that she hadn't stopped thinking about the game either.
We're longtime collaborators and love being behind the camera and manning all production sides. From there, we looked into shooting the short film on our own but realized in the early stages that we needed more time to improve our production skills to get it to where we wanted. We needed people who were experts in the field. We acquired the writing and production help of a mutual friend and decided to use what we had already filmed to apply for funding. From there, the three of us interviewed friends here in Columbus and Ghana, as I recently started traveling back and forth between the two places.
We're both 'diasporans' and we decided to bring the two cities together – How did the girls in Columbus feel? Did the girls in Ghana feel the same?
It's rare to have a mainstream film solely dedicated to Black girl joy – Did you run into any issues trying to sell this story?
Ife: We're still in the midst of it right now, but this story is something that we're really passionate about because community has always been a cornerstone in our growth as artists. Columbus has a very large African population, and with the creative scene growing it has been amazing to have our people pour into us. We wanted to highlight our communities in both Columbus and Ghana. So, regardless, we knew this was going to happen – whether people believed it or not. Having that very idealistic, delusional belief in yourself is what a lot of people are witnessing in us. That has been was pushed us through each stage.
Claudia: We invested in ourselves first, financially. We knew that we wanted to travel to Ghana and that that wouldn't happen on faith alone. The footage that Ife and I shot ourselves was used to apply for fundraising, and even then people could see that we were serious. We went on to win a film grant from BlackStar Film Festival and that was our greatest and more affirming achievement.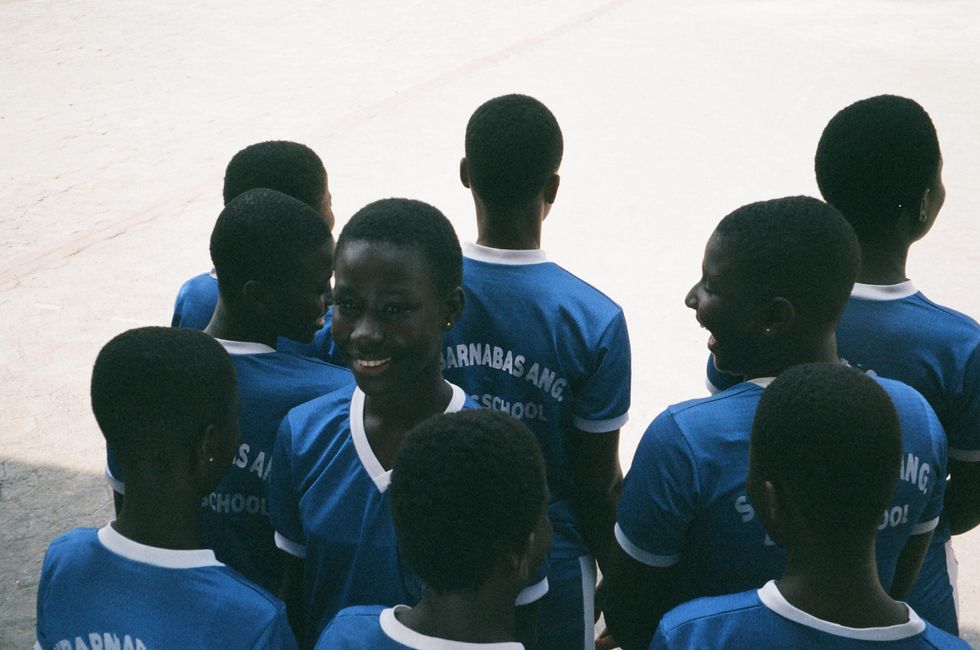 Image courtesy of Oluwamuyide and Owusu
Ampe is seen as a coming-of-age game and you spoke to girls from across the lifespan — from primary school students to community elders. with primary school girls, young adults, and elders to prove the generational role the game plays. What was it like creating space for your community to connect?
Ife: A lot of people don't see the behind-the-scenes of cultivating a space where your subjects feel comfortable sharing their lives and sharing stories, and experiences. That's something that was really critical for us to make sure they felt heard, make sure they felt comfortable. Claudia spent three months in Ghana before we actually began filming, and even before that, during our development stage, we were having pre-interviews with these women and also primary school girls.
Claudia: Also, we didn't hesitate to share our experiences with them, whether it be how things were when we played this game or that game, just really being able to just interact with them candidly over food, over dining tables, inviting them into our homes and just really creating that relationship first and just being girls. I think that was really the fun part of it, just gathering together and being girls.
And then with the younger girls too, when I first met them, they were very hesitant and just shy. And then as soon as we got into ampe, everybody wanted to let it be known how they played and how they played and who they beat -- sort of like food. You know food just breaks everyone's boundaries down. It felt like ampe was that thing. I think once Ife and I were able to witness that ourselves, we didn't hesitate to also be warm and just be open even if it was someone that we were meeting for the first time. It felt like we were just girls gathering together.
What impact do you hope the film will have on women who interact with it?
Claudia: We want other young Black girls to pick up their cameras, pens, whatever the case, and contribute to the narrative lineage in their communities as well. We want Black girls to be able to point and see themselves, and their friends. We want them to move in between time and age and have the space to reflect on who they are now, and who they aspire to be.
It feels like Ife and I have been collaborating for a while. Our stories are oftentimes about immigrant life in Columbus, Ohio. And so to be able to add to this tapestry is not something that only Ife and I own, but it's something that at any point, anybody can join and jump in on the conversation.
Ife: The idea of space and community is very important to us, and creating this film highlighted that even more. That's what we want, Black girls to have a space where they can go and be vulnerable, be their full selves. Often, we get aged up before we can really enjoy what it means to be a child. Coming to terms with that in adulthood, and reconciling with your childhood self is what we want to come through. And if this film is a catalyst for that, that is absolutely amazing. We want to continue to collaborate with other Black women-led organizations around the world and really make sure that Black women have a space to be themselves and Black girls as well.
Watch the trailer for Ampe: Leap into the Sky, Black Girl here!