Iyeza is a masterpiece. It's music for the soul, with Anatii providing an intensely healing listen, which is fitting, considering the album title literally means "medicine" or "anti-dote."

The album contains percussion, chants, guitars, bass lines and melodies associated with an array of sounds. There are elements of everything from gospel, maskandi and mbhaqanga to hints of Afropop and hip-hop. Anatii follows the path taken by South African artist such as Mashayabhuqe KaMamba, Sjava, Mlindo The Vocalist and Bongeziwe Mabandla in fusing elements of traditional South African music with newer sounds.
---
The album-opener "Wena" is a dreamy wedding song that encapsulates the sense of romance, praise and culture Iyeza explores. On "Ehlathini," the artist is clearly in his musical pocket. With the refrain "we suffer through the weekdays," the track compares the struggles of Joburg to the solace of nature. From those hardships, Anatii aims to transport us to a place more serene. What makes this album so appealing is his invitation to us to actively go with him, rather than stumble upon the destination.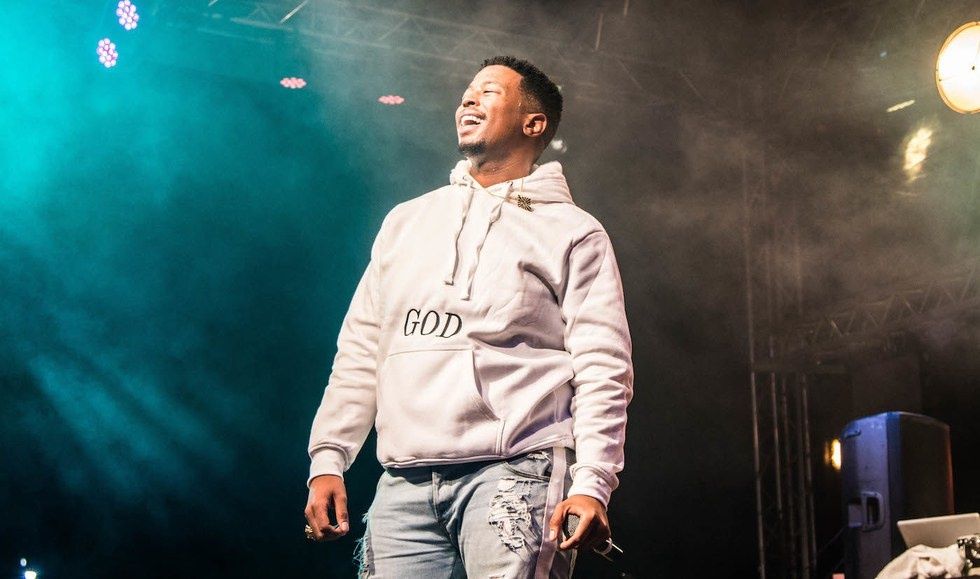 Anatii. Photo by Sabelo Mkhabela.
He literally asks "usa hamba nami?" on "U Sangthanda Na?" where he channels the voice of the late Ray Phiri. On the standout "Ndaweni," which is reminiscent of the maskandi duo Shwi NoMntekhala, he talks about being recognized wherever he goes.
The songs on Iyeza range from romantic to longing, but more immediately, fuse Anatii's hip-hop background with diverse sounds. It's this duality that makes this album such a wholesome listen, with the switches in mood combining for a replenishing experience.
"Ntloni," a certified banger, juxtaposes Xhosa chants with a bustling bassline and hypnotic xylophone while "Ngozi" lulls you into a daze as it's centred around looped notes. That's until the beat drops, and it's a quarter to turn up, providing a similar feeling to the infectious "Holy Mountain" off his collaborative album with AKA, Be Careful What You Wish For. Building on those sounds and songs like "Thanda" from his debut album Artiifact, is proof that this is the sound Anatii has been working towards for a long time.

He tackles all the songs on Iyeza, with IsiXhosa at the forefront of his delivery and his knack for catchy ad libs will keep you hooked. While listening to this offering, there's definitely no need for sleep, as he serenades on "Vuka," which incidentally embodies the album's ability to simultaneously hype and calm you. Iyeza is the sound of a day turning into a gorgeous twilight. It's warm and the music is buttery, romantic and refreshingly spiritual.
Iyeza amalgamates a range of influences into a cohesive 33 minutes. "Ndaweni" for instance, draws on maskandi but incorporates the classic "hey, hey, hey" hip-hop chant. These moments are when the texture of Iyeza is revealed. The layers of production and subject matter centre both Anatii's musical influences and the artist's spirituality. Traces of gospel are apparent on "God Is My Best Friend" and "Zion (Interlude)," while the music video for "Thixo Onofefe" includes religious symbols, candles and a traditional healer exalting the grace of God.
To end the album on this note keeps the listener craving for more and highlights the commendable sequencing of the songs. Considering the myriad of influences the artist draws upon, Anatii accomplishes a sultry synthesis of sounds. Between the lush bass lines, traditional instrumentation and enchanting rhythms, Iyeza is designed to let you be a repository for the magic pouring out. With the help of producerBLFR, the soundscape Anatii achieves is his most cohesive yet. In making Iyeza proudly Xhosa and also a bop, this is Anatii coming full circle as the Electronic Bushman. Oh, and he did it all with no features!
Stream Iyeza below and/or download it here.