AQ stands for "African Queen." And the Harlem-born, South African-Guinean DJ has set her sights on New York City's Roller Kingdom Flipper's Roller Boogie Palace. Fresh off of her "AMAPROBLEM" debut at Toronto's leg of the notorious Boiler Room jamboree, AQ, alongside a host of fellow women DJs, is bringing the heat and energy to NYC's infamous Rockefeller Center this weekend to color the summertime soiree with great tunes.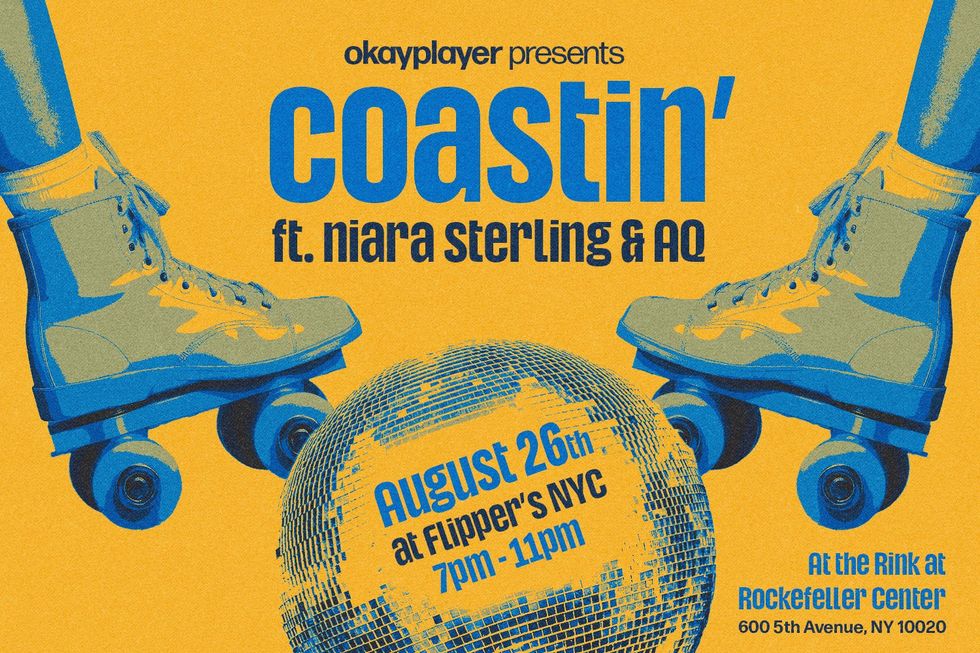 Tickets to the event can be purchased here
Twenty Twenty-Three marks ten years into her pursuing the role of professional vibe and hitmaker. AQ's journey started with hosting college parties and creating unique mixes for her dance team because no one else was doing it, and, as she says, "I know what sounds good." Fortune favoring the budding musician with a college roommate that DJ-ed too, and access to the right equipment set the Harlem native off to a grand start.
Her North American upbringing did little to separate her from her African roots. "My mom made sure that I know about who the hell I am," AQ tells OkayAfrica. "I feel very blessed to be able to know." Keeping close to the rhythms and beats interwoven with her heritage had a college-aged AQ busting out Afrobeats as it was on its global "come-up," mixed with the typical hip-hop, reggae, soca, and dancehall sounds that the youth enjoy dancing to.
Today, the DJ runs a house-music-only household, noting that "South African music always had a home in New York City," so finding community was not hard. Her sets feature jams from Afro Tech, Afro House, disco, gqom, and the like. And as the world continues to lose its minds over Amapiano, something that AQ credits to the 2019 pandemic. "We had nothing to do but to listen, watch, and take it all in," she said.
OkayAfrica sat down with the selectHER record label founder to understand what goes into the perfect DJ setlist and more.
Responses have been edited for length and clarity.
Amapiano's status on the U.S. music scene has skyrocketed in the last few years, what has that been like for you?

AQ: When I tell you it is very surreal. I knew we did something when I heard it in the street when I heard it on the radio, when I would see party lineups that said "Afrobeats, dance hall, Amapiano." Little things like that. Coming into restaurants, coming into bars, hearing Amapiano. It's honestly incredible, I'm not going to lie. On my end, I put in a lot of work to get this music out there because there's so much music on the continent, so many countries nobody even knows. People tend to think that house music is white. And I'm like, "No, it's all the way Black."
What has your journey been like as a Black African woman in the DJ world?
Highs and lows. A lot of highs. I feel like I really walked through with good intentions and I surround myself with people who are like-minded, who are also doing their own thing within the African and Black community. People acknowledged how I pushed this narrative in the music, and I've been very adamant. I was like, "I'm not playing anything else." So, I feel like my peers have a level of respect for me because I really stuck to it. It's easy for you to be a DJ in this space and just fall into place and conform. The crowds here, they're impatient. The people here, they're trying to make money. They don't really give a hell about an experience anymore.
It's been nice navigating through the space and getting to know the new women of DJ, this resurgence. Women DJs are really coming up, so a lot of us are out there supporting each other. When I have gigs where I'm able to curate lineups, I try to make sure that I have DJs that maybe have not been in the spaces that I'm in. We're all we have, so we have to support each other, and we have to put each other on as much as we can. So, it's been cute.
In your opinion, what is the perfect recipe for a good setlist?
The perfect recipe for a good set list is three things:
One: Take your time.
You have got to take your time – you have to tell a story. You've got to give us an experience. For me personally, I like to start a little slow and then bring it up. So, I'll start with Amapiano, and then gradually bring the tempo up. I feel like it's what's natural – like adrenaline or when you're trying to pace yourself. Don't feel like you need to rush through a set.
Two: Read the crowd, but stay true to yourself
There are some DJs that play hits or the Top 40. If you're going to do that, then do it in a way that sounds different because you will sound like everyone else. Have some original edits, throw in a few original tracks, or something that makes you unique as a DJ. Don't try and accommodate people because you see the dance floor is clearing out.
Three: Have fun!
I feel like a lot of people, when they DJ, they take it seriously, and I'm like, "It shows in your set. You look like you're not having a good time. You're just there to just play music and go." Enjoy yourself. You're supposed to have fun. It's music.
How have you perfected your own recipe over the years?
Oh my God, I've seen so much growth to the point where I don't even DJ with headphones anymore. I feel like I'm a pro at it, but I still feel very much like I'm learning. There's a lot I can learn. Especially with music, I feel like my sound has evolved over the years, getting into different sounds that I really, really like. Tapping into the UK music scene, meeting different DJs that play that kind of music. I'm a music girl, so I like anything that sounds good.
Also becoming a stickler by going from being an open-format DJ to a house DJ. A lot of people asked why I did that and it was because they were all doing the same thing, and I wanted to be different. I had to create my own lane. I thought, "There's nobody really representing South African music in a way that is reflective of me as an American-born, African child". I had to find ways to bridge the gap and find what resonated with me.
When I started, I taught myself, so I am still teaching myself so many things to this day. So, so many things. And it's really nice to see. Sometimes, I'll be DJing, and I'm like, "Damn girl, you really good at this, huh?"