Baaba Maal is a living legend.
The 65-year-old Senegalese icon is largely known for his soaring voice and delicate acoustic compositions, but recent years have seen him take strides outside of that sonic world.
Three years ago Baaba Maal teamed up with producer Johan Hugo (of The Very Best) to release his his latest album, The Traveller, which featured a modern combination of Fulani vocal melodies with electronic pop beats and, even, instances of auto-tune. That same year also saw him record an EP alongside Mumford & Sons, The Very Best and South African pop group Beatenberg.
Last year, the Senegalese star took a turn towards the film industry, essentially becoming 'the voice' of Wakanda for the highly-successful Black Panther movie and its Academy Award-winning soundtrack, by Swedish composer Ludwig Göransson.
Now, Baaba Maal is embarking on another musical exploration: taking his classic Senegalese sound into the world of Western jazz and teaming up with the Town Hall Ensemble, led by Steven Bernstein, for a one-of-a-kind performance.
For his first New York City performance in eight years, Baaba Maal and the Town Hall Ensemble will be translating the sounds of the kora into horns for a wholly original new sound. We spoke with the Senegalese star about his preparation and the idea behind this new concert.
Read our interview below.
Baaba Maal will be performing with the Town Hall Ensemble on May 4 in NYC. You can purchase tickets here.
---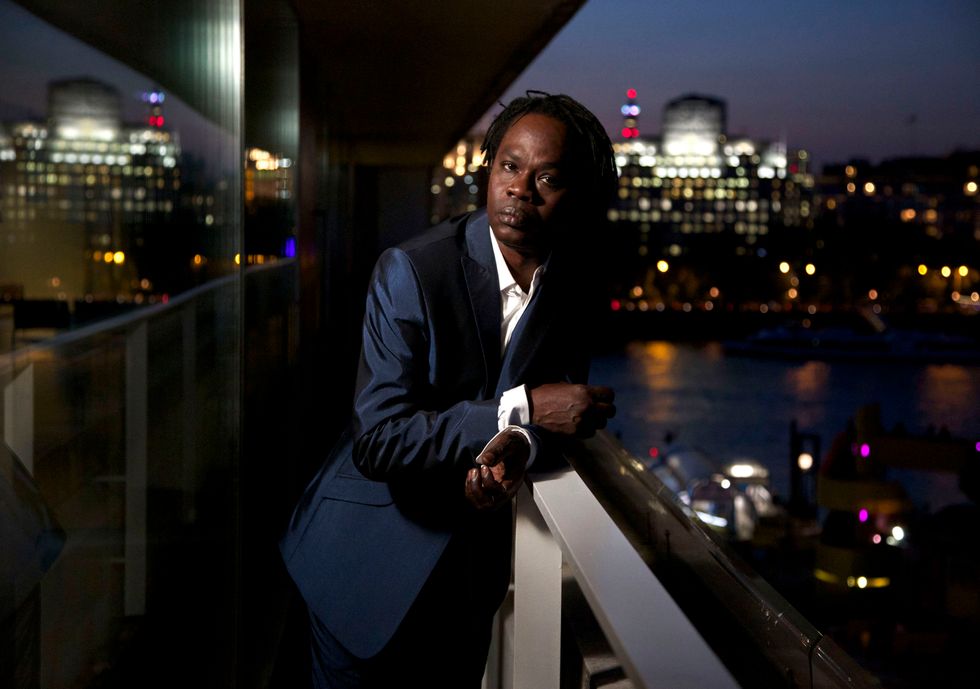 Photo: Rob O Connor/Stylorouge.
In your latest album, The Traveller (2016), you presented an electronic take on your music. Now you're exploring jazz. What has made you want to take on these out of the box collaborations?

I like to experiment with music. I never stand still. I don't like to be doing the same things, to repeat things. When I met Johan Hugo (producer of The Traveller), we connected immediately. He understands what I want and he has great, great ideas so we work well together. We're just starting a big new project now, in fact.
Do Fulani vocals and melodies lend themselves to reinterpretation and the switching of genres easily?
Not easily at all! That's the challenge.
How did this Town Hall show come about?
It was the natural thing to do. Performing my songs with the Town Hall Ensemble will make the music very dynamic.
Tell us about the musicians you'll be playing with.

I will have two or three of my musicians [playing with me], an Ngoni bass player, a talking drummer and a percussionist. Everyone else is The Town Hall Ensemble.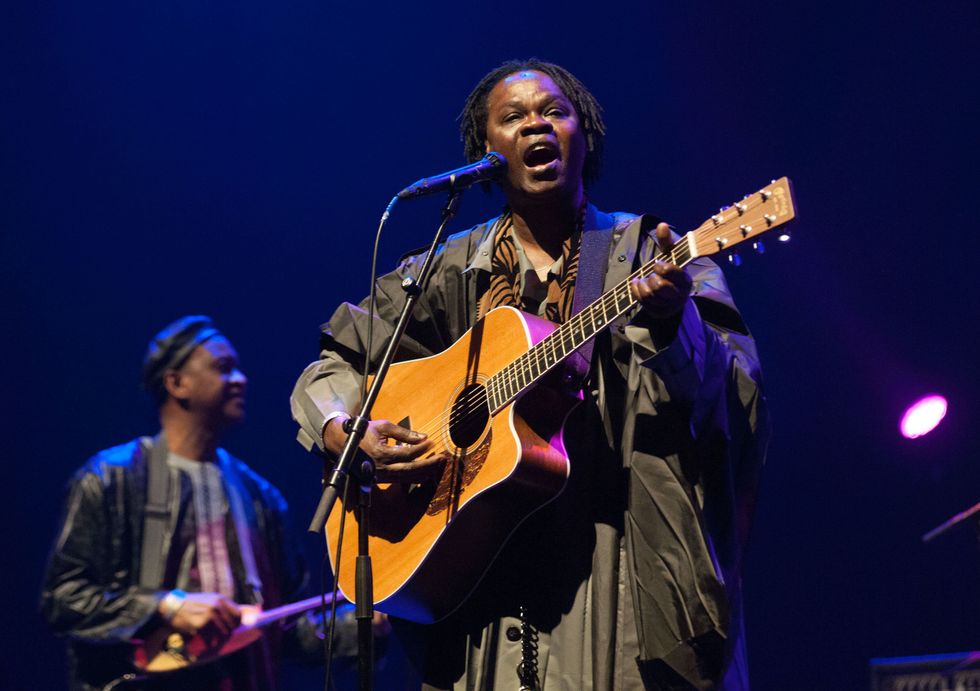 Baaba Maal Live at The Royal Festival Hall. Photo: Adrian Boot.
How do you go about translating instruments like the kora into horns? What was that process of translating your music like?

It's about the feel. If something feels right, it normally sounds great, too. I used to have a horn section in my band some years ago and I love brass instruments. The mix of classical African instruments with Western music is something I have always done.
What parts of your catalog will you be revisiting? Will you be playing your contribution to Black Panther?
You will have to wait and see! Some of my classic songs will be part of the show, of course. I can't tell you how I've re-shaped songs because I'm still working through that with Steve Bernsterin, who is the Town Hall Ensemble's director and arranger. But I will perform "Wakanda."
What are some of the obstacles you faced reshaping your songs to a Western jazz world?

I love challenges! It's always fun for me to play my music with different interpretations. It's something I do often.
Who are some new Senegalese musicians people should be listening to nowadays?
Two new artists, Wally Seck and Takefa. Both are great.
Anything else audiences can look forward to from this Town Hall show?
I think you have to wait and see the show and be surprised—in a good way, of course!
Baaba Maal will be performing with the Town Hall Ensemble on May 4 in NYC. You can purchase tickets here.