Last year, Bayanni's "Ta Ta Ta" grew to be a continental afrobeats hit. Finally emerging from Mavin Records' famed academy, finessed and remodeled to a fully-fledged and complete artist, a new Nigerian name had arrived. His unveiling video, grand and innovative, presented Bayanni as the product of a lab experiment, whose abilities had now been boosted and now ready to show forth his advantage.

Born Abimbola Elijah in Alagbado, a bustling settlement between the borders of Lagos and Ogun State in Nigeria, Bayanni nurtured his voice as a part of church choir groups. "I was in children's choir for most of my childhood," Bayanni tells OkayAfrica one Wednesday afternoon. "Even when I got into university, I was still in the choir. Along the way, I joined some dance groups 'cause I enjoyed dancing. At some point, I even won some dance competitions but I'm not sure I have those skills anymore."
Music and family cuddled Bayanni in his early years. His parents have always been in support of his passion, with his dad paying for his first-ever studio session. It so happened that he went to a high school that taught musical instruments and, as a result, he can play seven of them. His favourite is the drums. "I know if I handle drums, everybody will cry, but let's not go there," he says with excitement in his voice. "But yeah, I mean, I was popular in school for being a talented drummer. People knew me back then in school as Drummer Femi." He feels that being a drummer is a cheat code that helps him maneuver his vocals around a production.
---
Meeting Don Jazzy and Mavin Records
Before being presented as a new Mavin Records artist last year, a handful of people had taken notice of Bayanni (known then as Zhenoboy) on social media where he performed well-executed freestyles and covers to popular songs. It was a strategy he started a year after graduating from school.. "I did that from January 'til December," Bayanni mentions, "[then] I got a DM from Don Jazzy."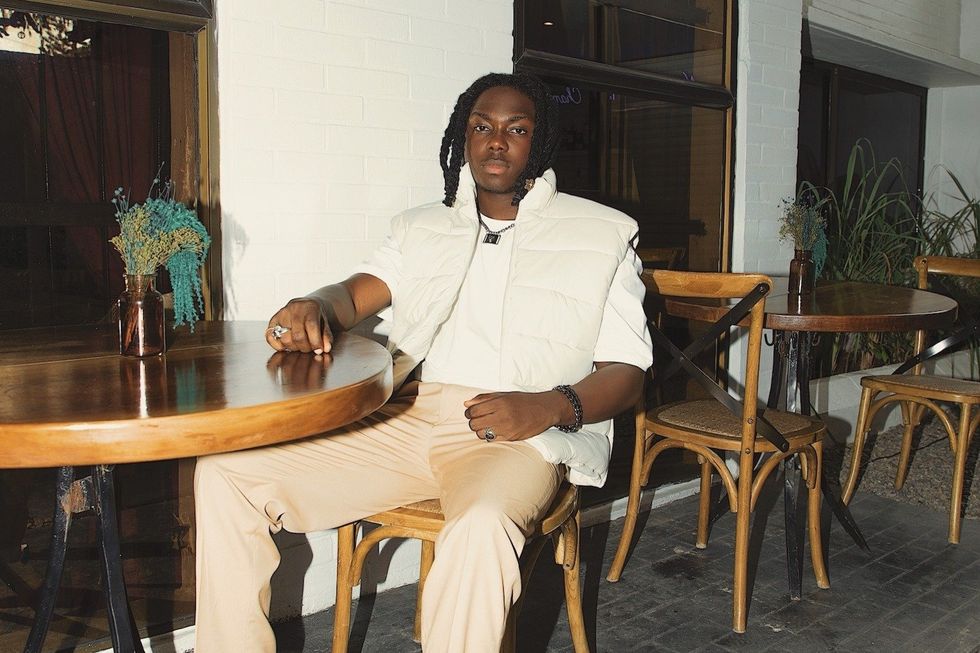 Chuchu Ojekwe/Mavin Records.
"He [said] he loved my work, loved my craft and would like us to have a chat so he gave me his number. I came to see him at the studio and he played a couple of beats for me. He was looking for one particular beat he wanted me to jump on… he put me on the spot, literally. I was freaking tense. But then, I did what I do, he loved it and that was how I joined the academy."
Mavin Records' academy has become a launchpad that refines rising talent, converting them to star artists. A throng of acts under the label have in recent years gone through this process, being upgraded in songwriting, vocal training, and performance skills. "It's like a camp," Bayanni admits. "It's a phase for you to grow musically, not only to polish up your musical skills but also polish you about the industry."
Davido Co-Sign
But even after joining the academy, Bayanni persisted in his social media ritual—"Jazzy told me to continue posting freestyles." One which he posted in October 2021 caught the attention of Afropop star, Davido. It was for "Jowo," one of the songs off Davido's sophomore album. "He loved it, reached out to me, requested we link up and on meeting him, you know he's just an amazing soul. There was a period when Davido flew me to Ghana, we had fun and we were there for like a week. Until now, we're still talking."
Bayanni EP and "Ta Ta Ta"

In August 2022, Bayanni's self-titled debut EP was released. It's a collage of four songs throughout which Bayanni proves his versatility and showcases his sonic range. "It took months to pick out the songs for the EP, the EP really is an introduction to who Bayanni is," he tells me.
Bayanni's EP got off to a flying start on the day of release, which was amplified by the innovative partnerships deals struck with the ride-hailing app Bolt—where a discount code was wrapped around his artist name—and the food delivery service, Food Court, which created a discounted food category titled Bayanni Soul Food. But with the thousands of songs uploaded to streaming services each day and with the unveiling culminating in August, a busy month where more established artists prefer to usher in their major-label-backed projects, it looked like Bayanni would have to do more to shore up his project.
He didn't have to do much. "Ta Ta Ta," which was not among the two focus songs on the project—"Body" and the tearjerker "Family"—began to show signs of growth.
" I just feel like God just put a particular time for people to listen to me and listen to the songs on the EP. So, I wasn't pressured at all," Bayanni tells me. Earlier this year, the song currently sits around the apex of charts in countries like Kenya, Uganda, and Tanzania including spending seven weeks on Billboard Afrobeats Charts so far. That whole wave started with a fan sending Bayanni a piece of content.
"Ta Ta Ta was a song I wasn't posting about," he says. "It all started from a video someone made to it. I was blown away! The content was very creative! I remember going on my IG and I just spoke about it, saying that the kind of content I'm actually seeing for 'Ta Ta Ta' is crazy and amazing. Then, people just flooded my DMs sayings 'that's my favorite song on the EP, I'm wondering why you've not listed anything about that song.' So that was it, I just started posting content around it and people were just flooding."
Bayanni's mind feels relaxed with this level of success. Of course, "Ta Ta Ta" has flung him to unknown places and gone viral in countries where he's not even stepped in. Yes, he's grateful but there exists a surging hunger to do more, make more music and perform in other countries. "Just sit tight because there's a lot coming from Bayanni," he confidently tells me. "Like I said, the first EP is just an introduction to Bayanni as a versatile artist. There's a lot more to Bayanni. So, in due time, everybody will get to see."