On Thursday night, the Joburg hip-hop community gathered at the Stop Sign Art Gallery in Newtown, in the Joburg CBD for a memorial service of fallen veteran rapper Ben Sharpa. Sharpa died on the 26th of July from complications related to diabetes, an ailment he'd been living with since he was 12.

---
Hip-hop heads who were active during South African hip-hop's definitive mid-2000s era came out in their numbers on the night. The new school was noticeably absent.
Among those who spoke during the service was Mizi Mtshali, former editor of Hype magazine, South Africa's longest running print publication.
One of Mizi's proudest moments as editor of Hype is putting Ben Sharpa on the cover of the December 2007/January 2008 issue of the quarterly magazine. Placing an underground rapper like Sharpa on the cover was a risky commercial move.
The cover story was written by the rapper Blaklez, who used to contribute to the magazine during that era. It was in the same interview that Sharpa revealed to the public that he was diabetic, and that it had put him in a comma in those past few months. He was quoted as saying, "I think in a way it was a divine sign that I needed to step out and reflect on shit."
Sharpa is one of the few non-mainstream rappers to ever grace the cover of Hype. Others include Tha Hymphatic Thabs, Tumi and the Volume and Ms Supa.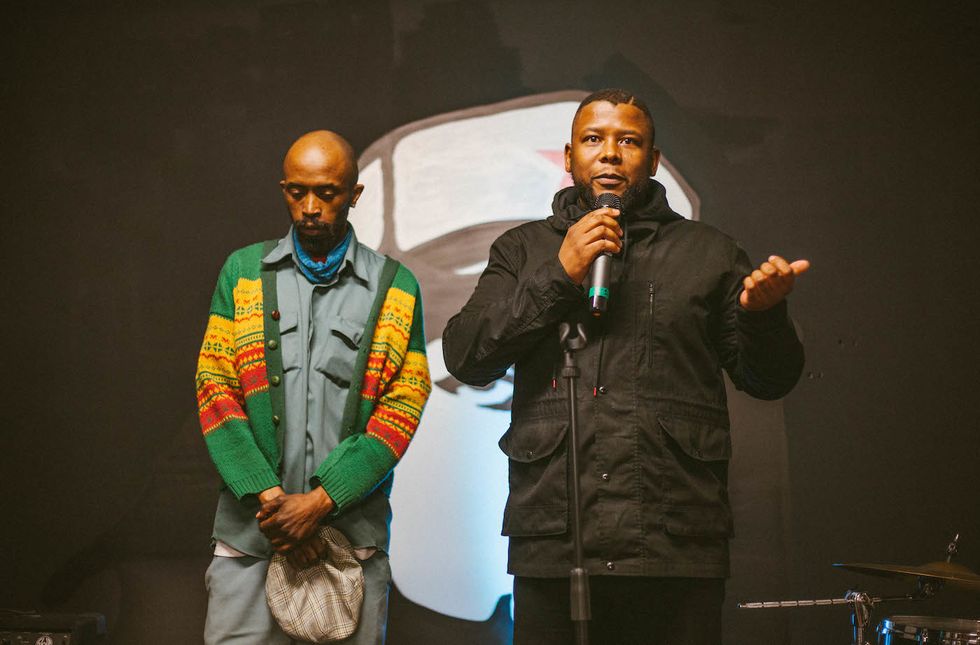 Tsakane Maubane and Mizi Mtshali. Photo by Sabelo Mkhabela.
Standing up during the memorial service to tell the story of how he managed to have Sharpa on the cover, Mizi was flanked by Osmic Menoe (founder of Back To The City Festival and the South African Hip-Hop Awards) and Tsakane Maubane, who was the main photographer at Hype when Mizi was editor.

Below are Mizi's words:
On meeting Tsakane and Discovering Ben Sharpa
The first time I heard the song (Ben Sharpa's underground classic 'Hegemony'), it was at The Bassline. I was applying for work at Hype magazine, and I had no journalistic background at all. I still had to prove to the publishers that I could do this thing. And I decided, let me cover this event, and bring the experience back to them. I thought it was the most beautiful song I'd ever heard, to be honest. Just everything about it; it had so much texture. He was one of the greatest artists I had ever come across. I thought I had to capture this moment. But I needed images to accompany what I was going to write. I looked around and scanned the room, and I saw somebody who had two cameras and a lot of lenses he was switching. And it was this man, Tsakane Maubane, who really schooled me on hip-hop. He introduced me to Ben Sharpa.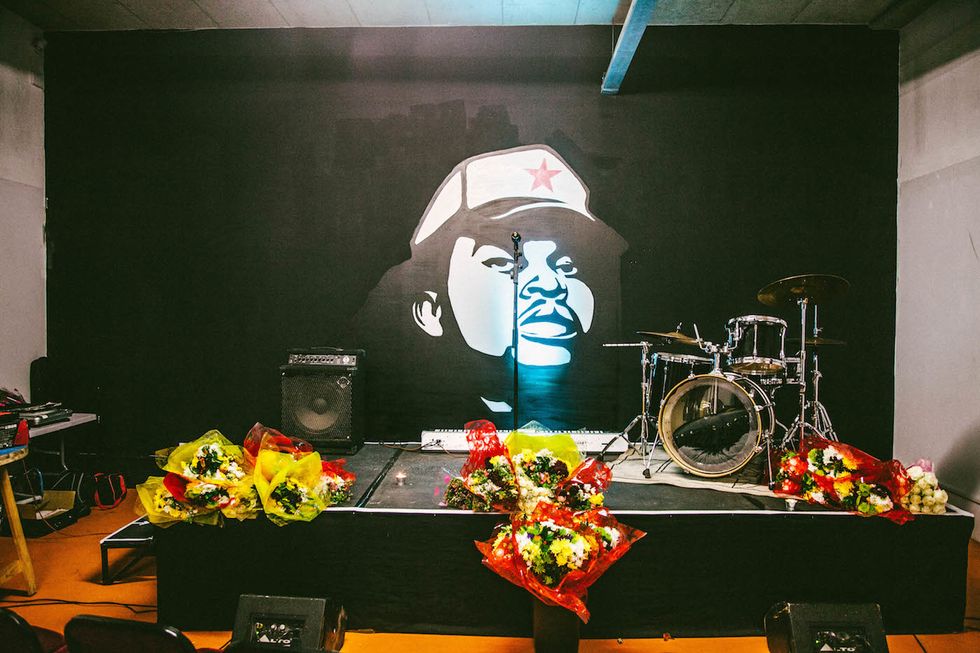 The "iconic image" of Ben Sharpa taken by Tsakane Maubane was used as a backdrop at the rapper's memorial service. Photo by Sabelo Mkhabela.
In fact Tsakane took this iconic picture of Ben Sharpa [the photo he was referring to is the one that was used as a backdrop at the memorial service]. We were in Cape Town in a Kanye West concert. I don't know how it was myself, Ben Sharpa and Tsakane at a Kanye West concert. I was hanging out at V.I.P with them. I remember the moment he took this pic. He took out his camera, and said he wanted to bounce light off the ceiling onto Sharpa's face. And that's how that came about. He took a few where Sharpa's face came out dark because he was facing down. He said, 'Just lift your chin up,' and snapped."

On convincing the publishers of Hype to put Ben Sharpa on the cover
There was a time when we realized that to us as hip-hop heads, Ben Sharpa is an icon. I was working for Hype magazine, where to the publishers, the most important thing was the bottom line—selling magazines. I made some moves with the covers that allowed us to sell; there was a Jay-Z cover, a Kanye West cover… so we paid some bills with some of them. And then I had to trick the publishers, I said 'there's an artist who is of international standard, who can outsell any of these covers. Ben Sharpa is the strongest, most popular artist there is.' They said, 'if you're right, then do it.' They didn't know anything about hip-hop, so they had to believe me. So I had to trick them into featuring Ben Sharpa, not only in the magazine, but on the cover.
You have to understand how difficult that was, and the fights it caused internally, but it was very important to put an artist like Sharpa on the cover. We really believed in him as an artist. So we put it together, and I think it went well. We always thought, 'hey it's an underground artist, will the sales come?' And I was convinced that perhaps they wouldn't. But it was so important to do it that we went ahead, and the issue sold well. What that did was it changed the perspective of a magazine that was looked at as being for the mainstream. It brought it down to the underground.

***
Tsakane recalled the night Mizi mentioned earlier, when the two of them met, and said some words about Sharpa:
"I can tell you what the line-up was-there was Black Box, Gin-I-Grimes, Wordsworth… there was all of you. I think I met Kgotso (Ben Sharpa's real name) through Breeze Yoko. The last memory I have of this brother, it's just love, man. It's just love."
Osmic recalled watching Sharpa preform "Hegemony" at Back To The City to a crowd that recited every word. He also mentioned that Sharpa's contribution to South African hip-hop will be well-documented in the South African Hip-Hop Museum he's currently working on.
He had a message to his peers:
"I'd like, going forward, as elder gods, to start treating each other with more love and more care, because all we have is this culture. And, Sharpa, may your legacy live on."
On the night, close friends of Sharpa in the hip-hop community and his younger sister Tebogo, shared memories they had of the MC.
The likes of graf artist Breeze Yoko, DJ KGB, fellow rapper and producer Devious D, Tha Hymphatic Thabs, had some words to share. Comedian Tshepo "Spykos" Mogale shared memories of being Sharpa's roommate at Leo Marquard Hall residence at the University of Cape Town in 1996.
A cypher that saw the likes of Snazz D and Konfab spitting potent rhymes, closed the night.
Rest in peace, Sharpa, your legacy will live on.
Below are photos from the memorial service: