Veteran French photographer Bernard Matussiere had no idea he'd be capturing pivotal moments in the life of Africa's most storied musician when he joined Fela Kuti on tour in the early 80s. He quickly became a fly on the wall-like presence around the artist, documenting him as he performed across Europe, surrounded by those close to him, most notably the Kalakuta Queens(the group of 27 dancers and backup singers he married in a single ceremony in 1978). Matussiere produced perhaps the most memorable and most extensive collection of portraits of the Queens (as they're often referred to), allowing them to share a spotlight that was usually reserved for their fierce band leader.
With the inclusion of the Queens, as well as Fela's bandmates and children (a baby Seun Kuti makes several appearance in Matussiere's photos) the "Fela" section of Matussiere's website is a well of style inspiration, rockstar fantasy, and a glimpse at the artist's interior life that's well worth getting lost in for hours. His photos largely center the quiet details that surrounded the boisterous musician: when have you ever seen a photo of Fela Kuti at a grocery store? Upon looking at the photos, they reveal an icon's striking presence and lifestyle, but it's clear from Matussiere's stories, that what occurred behind the camera tells its own unique narrative about who the musician was.
We caught up with the French photographer ahead of the release of his Fela Kuti clothing line with the OkayAfrica Shop to hear about his time photographing the Afrobeat legend.
Read our conversation below.
---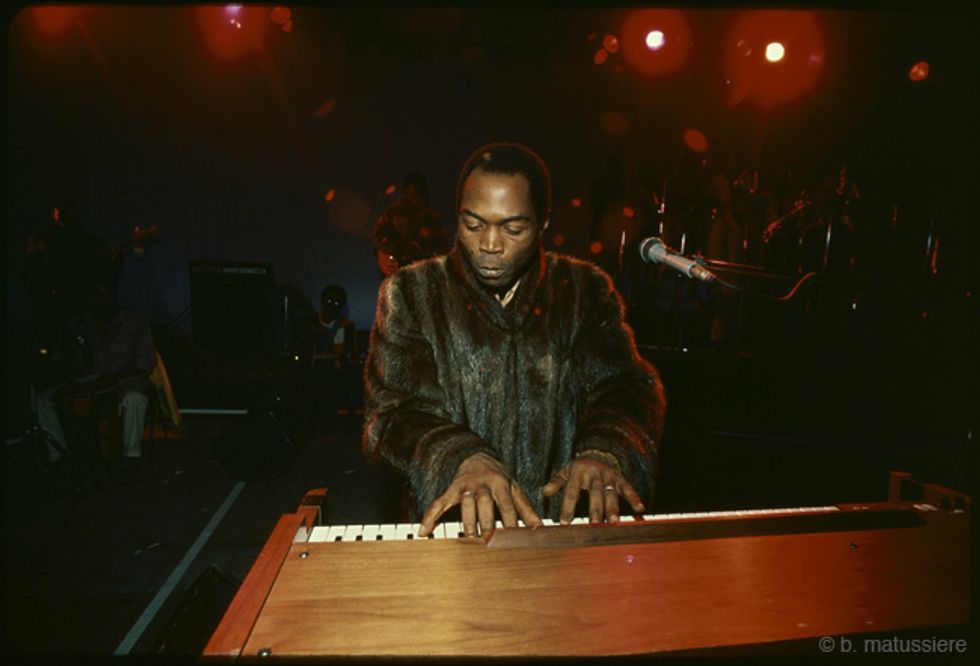 Photo by Bernard Matussiere.
This interview has been edited and condensed for clarity.

How did you first get into photography?
That's the only thing I ever did. I quit school when I was almost 17 and I went into a dark room in a French magazine called Elle. I stayed there a couple of years, then went to Japan for two years. It was back in the '70s. After that, I came back to France and started to work on my own.
How did you first meet Fela and start working with him?
I knew this guy called Francis Kertekian, he was a producer—the guy who started everything. He was a French guy and he went to Lagos, I went with him to meet Fela and we went to Kalakuta Republic. He went into Fela's room and I was outside. He stayed there two hours and when they came out, they shook hands, and he became his manager. He had never done that in his life before. We were friends for years, and when he set up the first two tours in France and Europe I was traveling with them, going back to Paris to work on my own, then going back to London when he was playing in London. That's how I met him.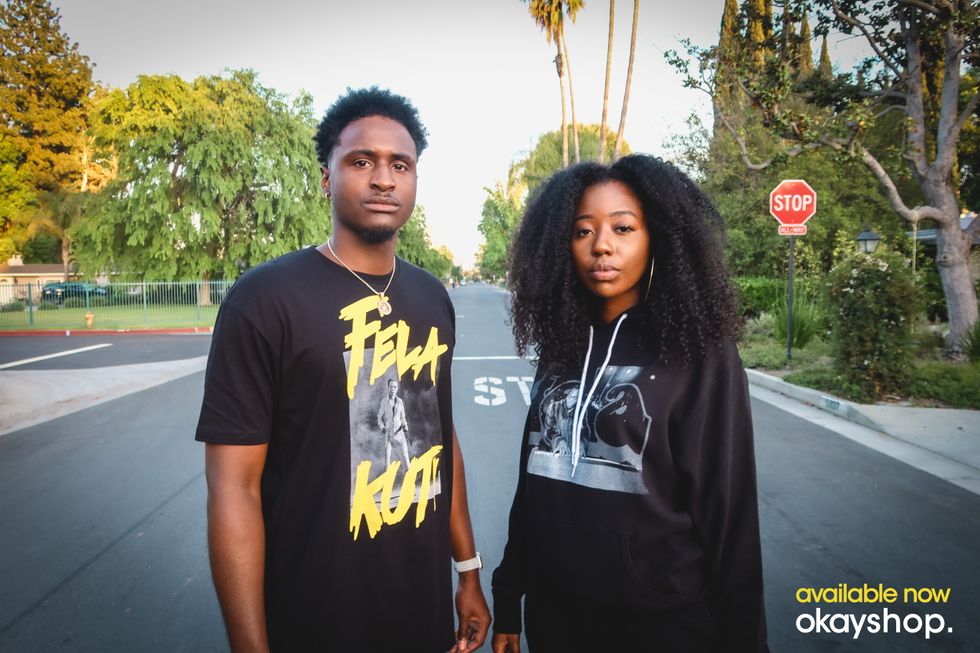 Models wearing the OkayAfrica Fela Kuti Studio Photo T-Shirt (left) and Fela Kuti Keys Photo Hoodie (right). Click image for more.
Did you know a lot about the Nigerian music scene and Fela before that happened?

I discovered Nigeria music when I went down [to Lagos], around 1980. I went down to Lagos and they formed a nightclub, and we were all living there. Sometimes we went to The Shrine to hear the music.
Fela came to Paris several times, so he came to my studio and I took shots there. After I went to his concerts about two or three times in Paris, I went to London, then I went to Amsterdam, and the middle of France—towns you never heard of. I went there a lot of times. That's why you can see pictures in his room when he was in his pants—I was following him everywhere, and he let me follow him everywhere.
Do you have any interesting stories from that time touring with Fela?

Oh yes. Plenty [laughs]. It was crazy. For instance, we were in Nice, at the Riviera. His tour manager booked maybe three floors of the hotel, because there were 50 people plus all the guys from the French team. There were so many people, it was crazy—in the pool, on the grass, in the elevator. Then [Fela's people] started blocking the elevator, because they realized that if you block the elevator, when you get to the 15th floor, you don't have to wait when you want to use it again. It was really crazy. Really crazy.
Fela, he seemed like a very strong personality, was he picky about how he wanted to be photographed or did he let you take the reins?
No. Never. He never told me anything. We didn't talk much together. I was there, but we had no talking between each other. It was not, "How are you today? Was the show good last night?" I'd just come in, say hello, and I'd stay there, walking around, taking my photos, and that's all. He just let me do it, without any words, almost.
You were like a fly on the wall.
Yeah, I was accepted. Everywhere. In the bus, sometimes I was one millimeter from him, shooting him so close, and he never said, "Piss off," or "Leave me alone." He was very easy.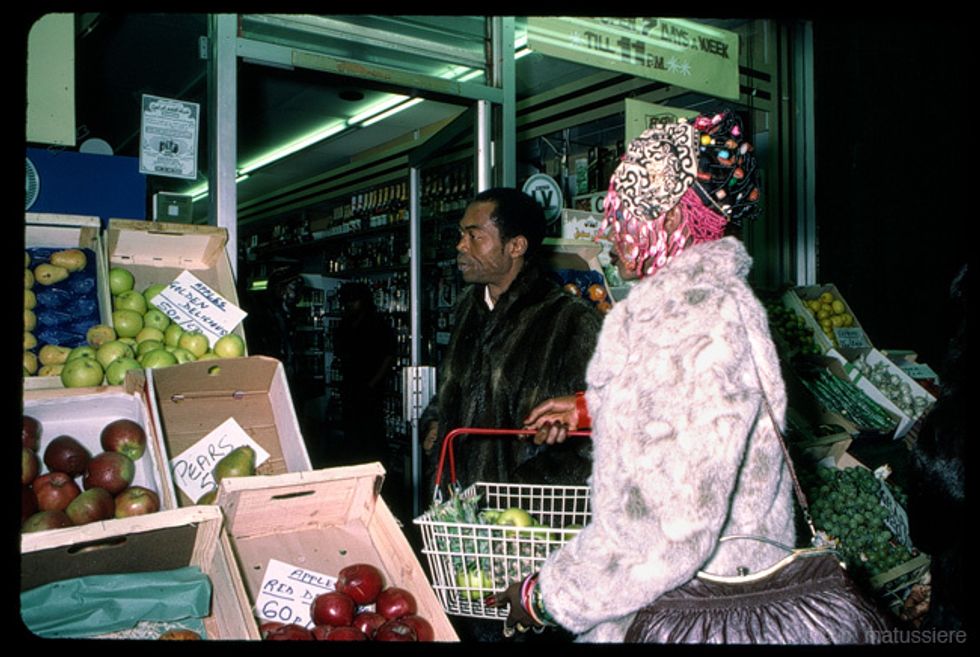 Photo by Bernard Matussiere.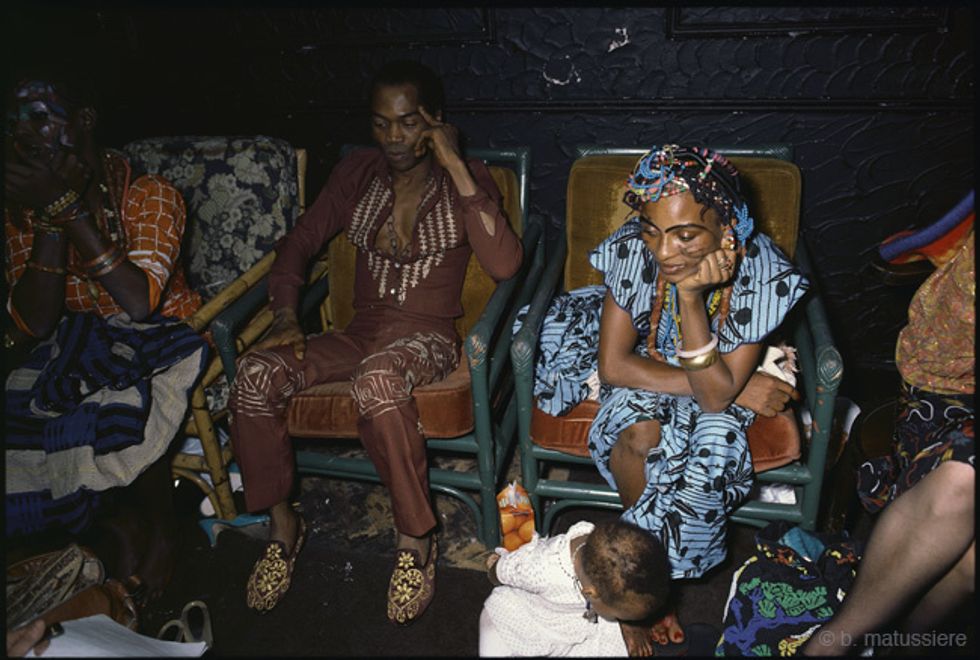 Photo by Bernard Matussiere.
I wanted to ask about one of my favorite photos. It's of Fela backstage, he's wearing a fur coat and he's surrounded by all of the Kalakuta Queens. What's the story behind that shot, was it candid? (see photo above)

It was the day I shot all the Queens one by one. I bought black tissue and the Queens were posing for me. At the end, he passed by and they just ran to him. It was not for me, they just did it. There were a lot of people all around, journalists and everything and it just came [together] like that. I took one or two photos of that [scene]. It was not organized, it was just a lucky photo.
Speaking of capturing the Kalakuta Queens, I think sometimes they get portrayed as Fela's accessories, but you photographed them all individually and they're some of the only portraits I could find. Why were you intentional about taking their portraits?

Oh, I did that, first, because I was a photographer, so it was obvious to take photos of those beautiful girls. They were funny and young, with makeup like crazy.
It was very funny, I took Polaroids [of them] and they didn't know what they were, so as they were waiting they saw me open up the camera and I gave [the first Queen] her photograph. She went away to call over another one and said: "go over there, the guy is taking photos." When the girl arrived to take her photo, she told me, "Give me the wait and get." I said "What? The wait and get?" They called the Polaroid "wait and get." It was very clever. You wait 30 seconds and you get the photo.
I shot all of them and it was very nice, very nice. I shot them on the black background, if you remember those photos. I shot them everywhere. In the streets, in the shops, and voila!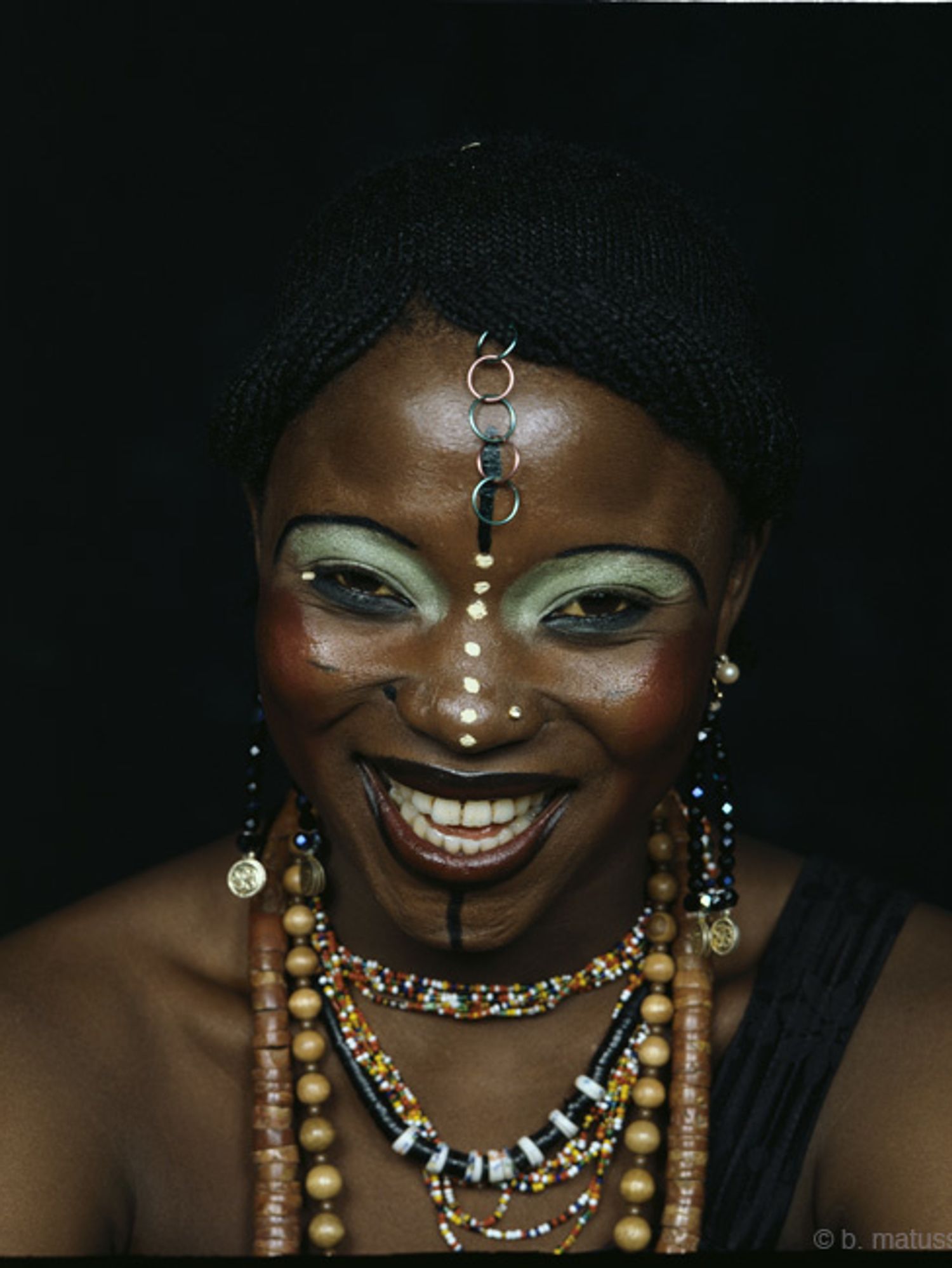 Portrait of a Kalakuta Queen
Photo by Bernard Matussiere.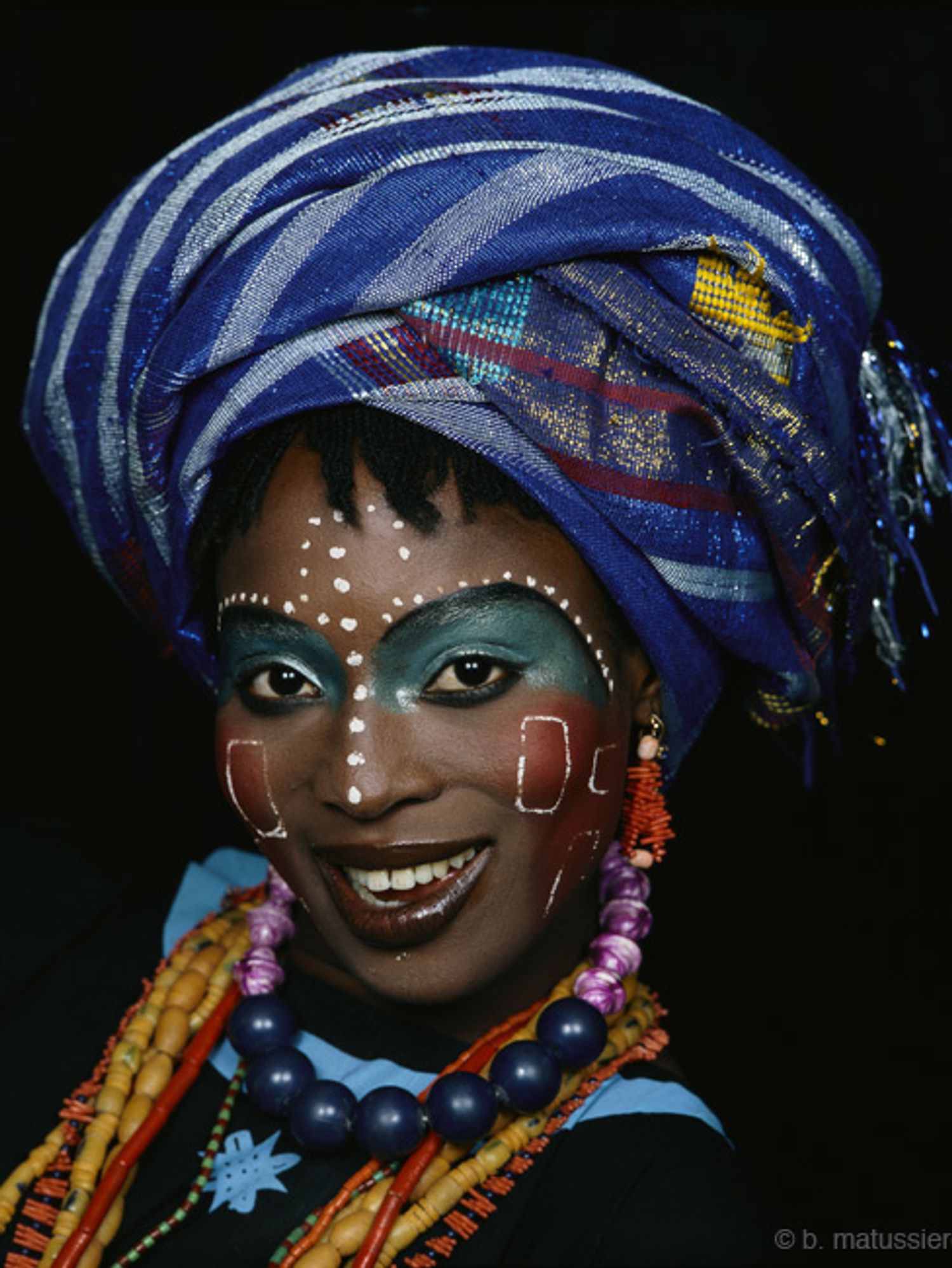 Portrait of a Kalakuta Queen
Photo by Bernard Matussiere.
During that time, did you think that the pictures would live on for so long and become iconic?

No, I never thought of that. I was just happy to do it because I was with my friend Francis [Fela's manager] and everybody else. I knew all the team and I loved to take photographs, so it was just that. I didn't know it was becoming "iconic," as you say.
What was it like collaborating with OkayAfrica on the new line? Does it feel like the photos are being given another life?
Yes. I was very happy because for a photographer to have a photo in a drawer somewhere is not the dream. The dream is to get it out of the drawer, and go on t-shirts. It's nice. I am glad about that.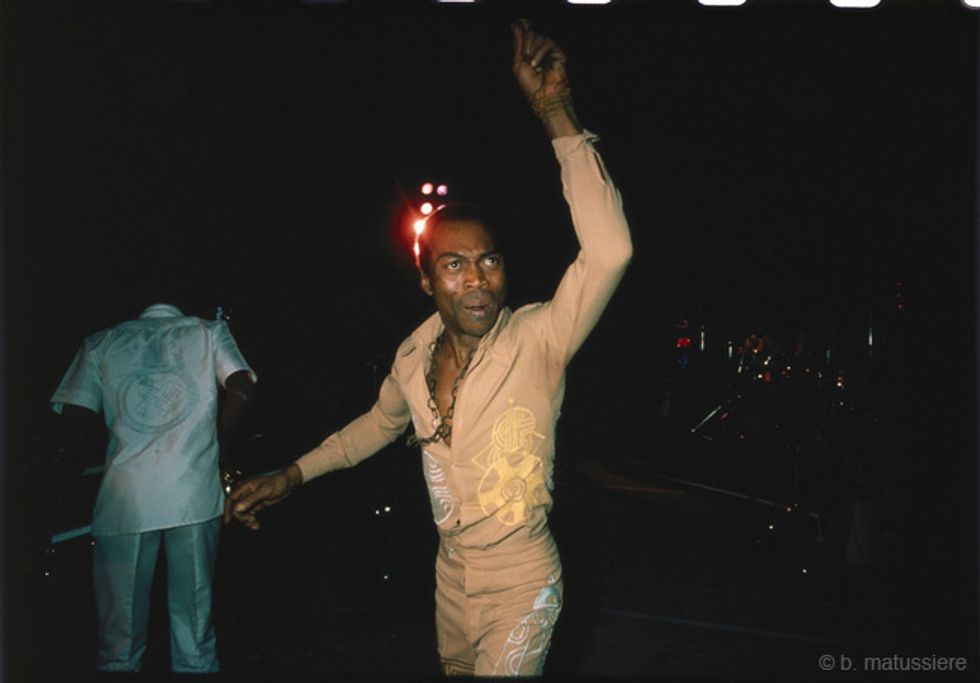 Photo by Bernard Matussiere.