From Nigeria to the UK and back,BOJ's run in the music industry has been nothing short of noteworthy. The trio of BOJ, Teezee, and Fresh L, popularly known as DRB, are revered as pioneers of Alte culture, a widely acclaimed phenomenon in Nigeria that has marked the ascent of artists like Tems, Amaarae, and Tay Iwar. "We were just being ourselves and then we noticed it was turning into something and people are catching it," he says.

Born Bolaji Odojukan, BOJ spent his formative years immersed in different cultures between Africa and the Western world. This would culminate in a wide range of influences as he cites Lagbaja, Toni Braxton, and Kanye West to have shaped the musician he's become. His debut album, BOTM (BOJ on the Microphone), and affiliations with Show Dem Camp, Ajebutter, and DRB would catapult the singer as a household name in Nigerian music. His 2018 collaboration with Skepta on "Like to Party" did well to introduce him to the UK but it wasn't until "Lazarus" alongside Dave that BOJ hits a new height in his career. "It was humbling seeing that many people sing my song word for word," he recounts performing the song to a crowd of 80,000 people at Park Life.
Upping the ante, BOJ has now shared his third solo album, Gbagada Express, which houses high-profile collaborations with Wizkid, Davido, Tiwa Savage, and more. "Now, I'm transcending to the next stage in my life and this feels like the Alte roots to the next level," he says about the project.
---
Tell me about becoming BOJ as you're known now.
I never planned to be a musician or anything like that. Music found me and since then, it's been a love for creating and expressing myself through it. While in school, I had friends who did music but it never crossed my mind to try until a random day. I just tried and figured I was good and continued. I just grew into myself over time.
Who would you say inspired the type of musician that you are?
I was really influenced by lots of Kanye West, Lil Wayne, and Chris Brown when I started making music. I also believe my music draws influence from records I heard when I was younger. My parents played a lot of Wyclef, Lauryn Hill, Fela, Lagbaja, Toni Braxton, Sean Paul, etc.
DRB played a crucial role in popularizing Alte culture in the Nigerian music scene. Did y'all know you were on to something?
We were just being ourselves and then we noticed it was turning into something and people are catching it. We never sat down to strategize anything prior. It was all organic and that was enough to keep us going even as we started doing big shows. It was that freedom to express and sense of individuality that helped us get to that level. Also, inspiring other young creatives to feel like they can express themselves freely. It's great to see now.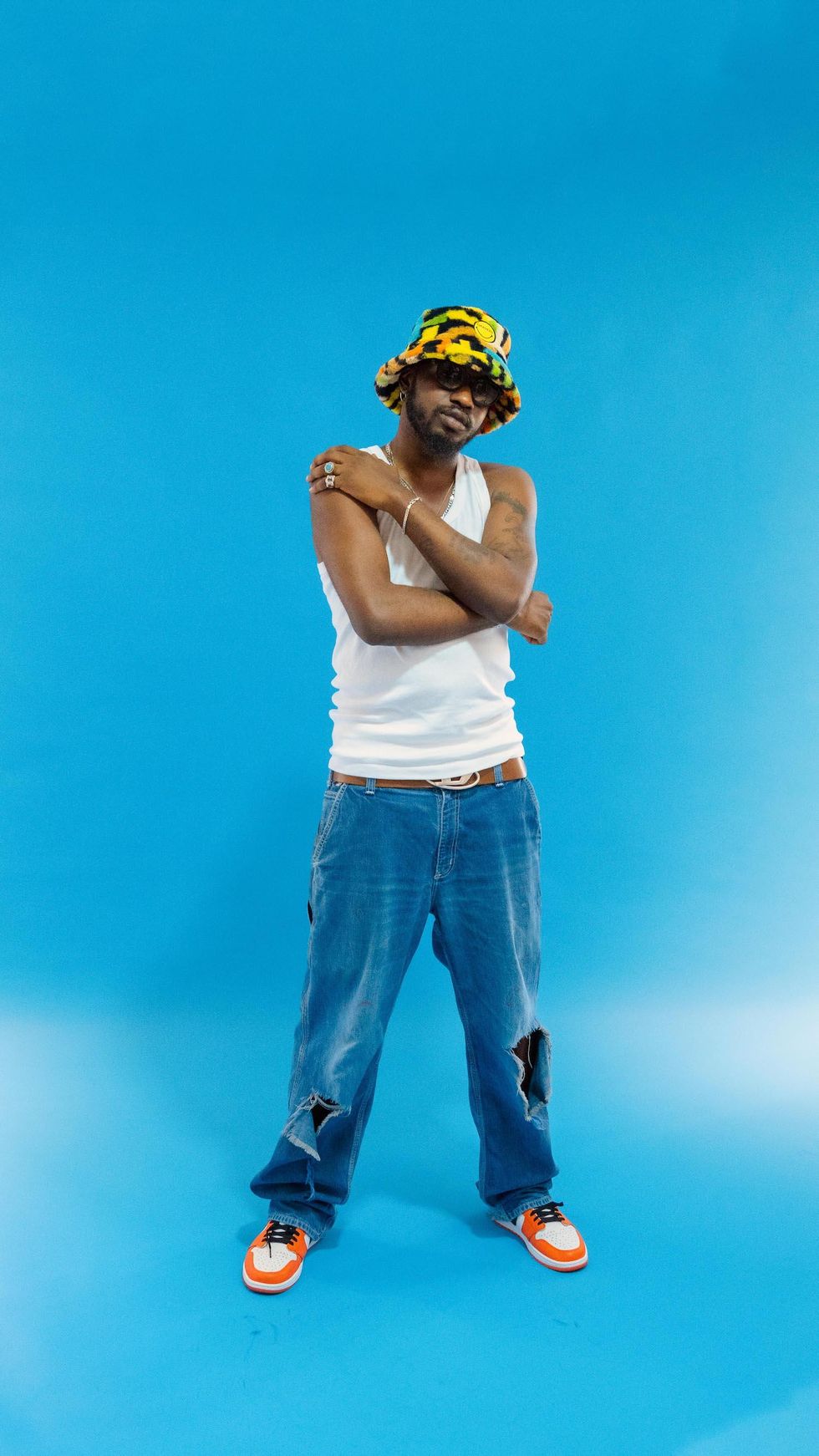 BOJ.
Photo courtesy of the artist.
As first-movers, I imagine there were doubts and uncertainties
The gatekeepers insinuating that what we were doing wasn't going to work didn't resonate with us. It was a situation of them not seeing or understanding it yet but we always knew that we were doing something crazy. We realized the influence we had upon returning to Nigeria and decided to take it seriously. We were stubborn about it and that's why we're here today.
I'm curious, did y'all do anything specific to earn such a cult movement?
I promise we didn't do anything specific. Maybe it was how we circulated music back in the day. That was the period of MSN Messenger, so we had everyone's email addresses and we used Facebook too. There are also a bunch of high schools that were intertwined like Greensprings, Lekki British, Dowen, and a couple more. So, whenever they did parties, everyone else is involved. That's how we carried on with sending everybody music and that's how it circulated.
Another interesting thing about Alte is that, unlike other sounds, it goes way beyond the music.
Exactly. Alte was never a genre of music, the media probably misconstrued it. It has always been like a lifestyle, the freedom to express in a different or unconventional way. Whether you're expressing yourself in your dressing, the way you hang out, or anything—not just in the normal way. Even with the kind of jobs you do, it's all a form of expression as most Africans are taught to only aspire to be doctors, lawyers, etc. Now, you can express yourself in any way you want.
Congratulations on your album. You've been teasing it for some time. Why did it take this long?
I've not been quiet. I released two projects with Ajebutter in 2017 and one with DRB. I'm a solo artist but also affiliated with different people like SDC, Ajebutter, DRB, etc. I think that gives me room to take my time with my music and growth because there are other things coming out.
Quite a run! Tell me about Gbagada Express
Gbagada Express is me expressing myself in Gbagada and I've been doing that for years. I've lived there since I was a kid, schooled, and did everything. Now, I'm transcending to the next stage in my life and this feels like the Alte roots to the next level. I've lived here from when I was with my parents to when I moved out. I felt a connection to this place and that's why I remained there.
How would compare this project to your last solo project in your discography?
There's growth in my sound and what I'm saying. I was more vulnerable and personal on this one. Before I would think about some personal things but mostly about experiences that my friends have had but this is much more personal because I was here by myself during the lockdown. I was talking a lot about money, love, and experiences because that's what is happening right now. I was also talking about escapism, being in the storm for so long and people trying to hold me back, alongside a bunch of things I typically wouldn't talk about.
It's more like a culmination of where your head is at.
Right, and I think the song that explains it succinctly is "Tinu Ewe."
Interesting. Is there a reason it took you this long to become this expressive?
Sure. I think it's about getting older and realizing that as Nigerian men, we've been taught to suppress our feelings and emotions, that we're not supposed to be vulnerable. So, it's realizing that we've been controlled this whole time and having to break free. Also, experiences with the right women, as they make you gauge things in a way that you never have.
Do you have a bias towards any of the records?
Oh yes, I really like "Tinu Ewe," and "Action Boys" a lot. I think they have the most depth on the album. I'm so proud of them.
What would you like to see change about the Nigerian music industry?
I think it'll be cool for people to be more of themselves and not just follow trends. A lot of artists and creatives actually dumb their creativity because they think there's a way it ought to be. I believe if people are more true to themselves, we'll see something absolutely crazy. I think when artists tap into themselves, everything starts working out.
From Your Site Articles
Related Articles Around the Web