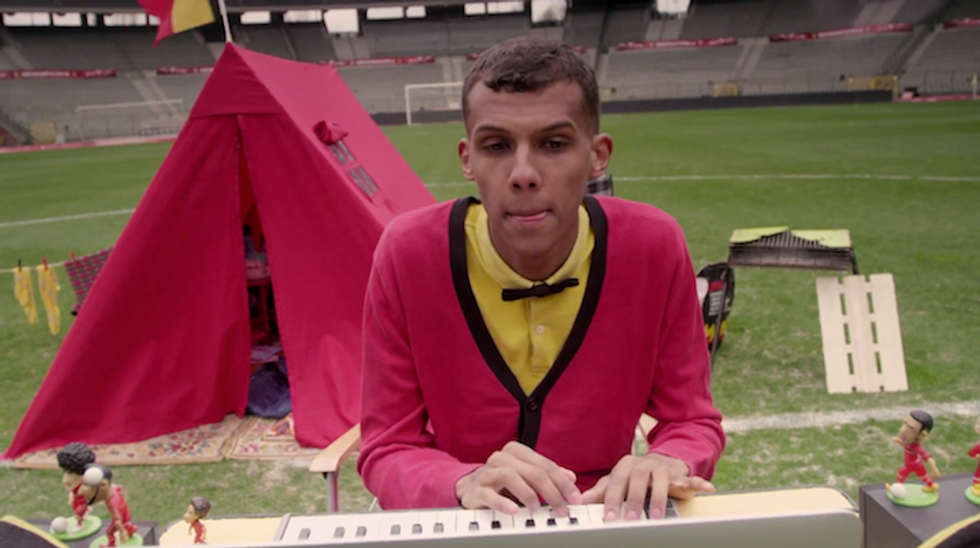 ---
As we gear up for next summer's World Cup in Brazil 2014, we'll be taking moments to highlight some select Brazilian tracks that come across our desks. From capoeira music (an accompaniment to the sport) and maracatu to samba and the favela-bred baile funk, the influence of African cultures & sounds on the South American nation's own arts is immeasurable. In our series Afro-Brazil 2014 we'll be digging into a few of these 'ritmos e batidas' from Brazil. 
———————————————————————————————————————————————————————————————————————————
Belgian artist Stromae, creator of one last year's most striking music videos, recently shared the official anthem for Belgium's Diables Rouges, the widely-regarded dark horse of Brazil 2014. The Belgian national team features in the lighthearted clip for "Ta Fête," which is split into Wes Anderson-style chapters as Stromae breaks down his song and presents a complex vision for the music video to lukewarm reactions from the team — Chelsea star Hazard, Fellaini, and captain Vincent Kompany all feature.
"Ta Fête" is a house-influenced electronic composition packed with all the massive pop song prerequisites — including a call-and-response chorus and thumping bass drums. Granted, the only Brazilian/Latin influence here is the accentuated melody from the lead synthesizer (Chapitre No. 3: Cette Espèce De... if you want to find it). Not that it matters, though, "Ta Fête" truly plays like an anthem.
Watch the long form video for Stromae's "Ta Fête," featuring the Belgian national team, below and skip to the 5-minute mark if you just want to hear the song.
Catch our previous Afro-Brazil 2014 installments: Sango's "Da Rocinha,"  Karol Conka, Buraka Som Sistema x Adidas, and Tropicália: A Film by Marcelo Machado.