"It tends to start from the script for me," David Oyelowo tells OkayAfrica about why he takes on the projects he does. His latest, Silo, a new ten-episode sci-fi adventure series whose first two episodes are now streaming on Apple TV+, is a perfect case in point.
Created by Graham Yost (Justified,) Silo is adapted from the series of novels by American writer Hugh Howey, and also stars Rebecca Ferguson, Common, and Rashida Jones. Beautifully filmed with eye-popping visual design, Silo tells a story of the last ten thousand people on earth. In this dystopian fictional future, all the people have left is their home, a giant multi-storied silo deep into the ground that protects them from the toxic world outside. The world inside the silo is fully functional, strictly regimented, and averse to queries – think Snowpiercer meets Blade Runner. Curiosity is discouraged. Save for a few leaders, no one quite knows when or why the silo was built, and anyone who tries to find out faces fatal consequences.
Oyelowo plays Holston, the sheriff who is tasked with maintaining law and order within the silo. When he isn't at work, he is trying to start a family with his wife, Allison (Rashida Jones). Easier said than done, as the silo has strict reproduction policies aimed at controlling the population. The Selma star plays Holston with a sense of righteous dignity, as a man dependent on routine and someone who is committed to always doing the right thing, even if it means blindly following the rules.
Silo — Official Trailer | Apple TV+youtu.be
Holston, however, suffers a crisis of faith when his wife comes forward with disturbing new revelations about the silo's management. "The scripts were incredibly compelling and then there is the role itself," says Oyelowo. "Sheriff Holston is someone I found incredibly relatable. A guy who has a job, wants to do it well, but what he really wants is to start a family with his wife. The opportunity to have a child even though it is something relatable, in this world, the stakes are even higher than we see in our own society. So for me, it was the combination of the ordinariness and the extraordinariness of Holston's journey through the show that really drew me to it."
Born in the United Kingdom to immigrant parents from Nigeria, Oyelowo started his career on the stage where he soon became the first Black actor to play an English king – Henry VI – in a major production of Shakespeare. Television work soon followed, as did making films across the pond. His working relationship with director Ava DuVernay led to heralded turns in movies like the Sundance indie Middle of Nowhere and, his major breakthrough, the 2014 biopic, Selma, in which he gave the definitive big-screen performance of Martin Luther King Jr.
The classically-trained actor has dipped his toes into the sci-fi genre with roles in The Midnight Sky (2020) and Chaos Walking (2021), before taking on the TV series Silo. The sci-fi genre often rises or falls on the ability of creators to strike a balance between the ordinary and the extraordinary. Even through the thrills of spectacle and the elaborate world-building with shifting narratives, audiences still need to find an entry point into the world; a certain human element that makes them relate to the characters on screen or the themes being tackled.
Oyelowo is well aware that creating human connections within a compelling story during the shoot is vital to a production's success. "The show is enormous. Those sets that you see, a lot of them were built," he says. "There is computer-generated imagery, yes, but we were in a very organic space, interacting with real things and real people. That in itself made it feel very real and very grounded, even though the show is rooted in a kind of fantasy."
Produced for Apple TV+ by AMC Studios, Silo clearly comes attached with a heavy price tag, and it shows on screen. A-list talent in front and behind the cameras has been assembled to create a world that is rich in mystery and steeped in lore and literature. With each episode every week, a new layer is unpeeled. The first three episodes are directed by Oscar nominee Morten Tyldum (The Imitation Game, Passengers), and the complex narrative — in turn grounded and existential — touches on hotly-contested themes like body autonomy, social isolation, and state surveillance.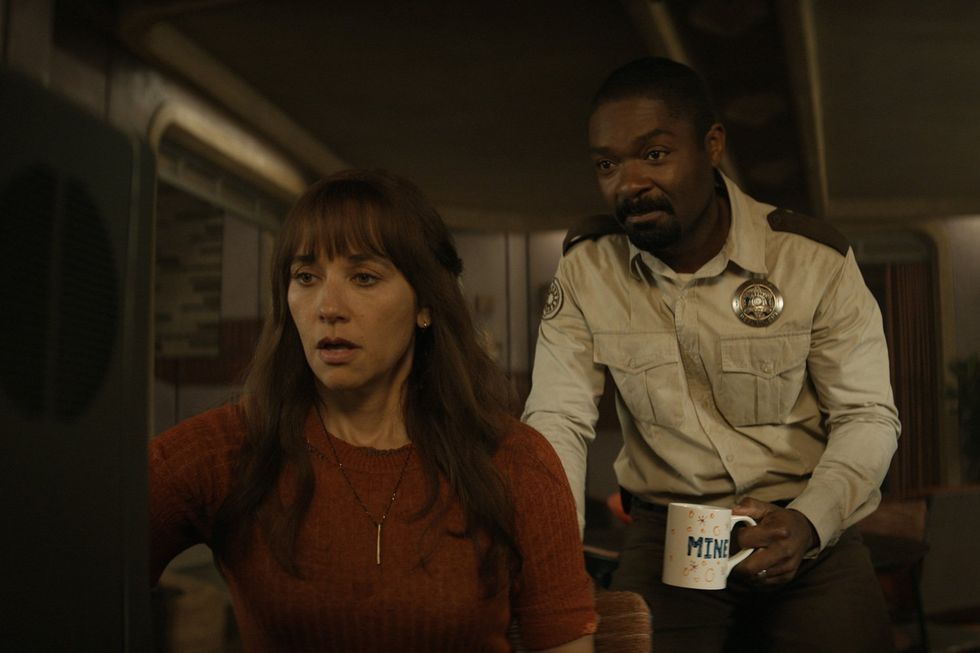 David Oyelowo stars alongside Rashida Jones in 'Silo,' as a couple trying to have a family within the strict confines of the silo. Photo courtesy Apple TV+.
Silo draws even more poignancy in a post-pandemic world, one that has borne witness to such cataclysmic events as lockdowns or sheltering-in-place measures that used to exist only in fictional worlds like that created in the Howey books. Oyelowo talks more about this linkage: "I think that is what drew all of us to it. When we shot this, we were even closer to coming out of the pandemic. We had just gone through this existential crisis and so a story like Silo, even though it is extraordinary in terms of its setting, did not feel as bizarre."
He continues, "We were sheltering with people we love, we were having to think about what the future is going to look like for the world we now inhabit. These are all things I think that feel closer to us post rather than pre-pandemic."
Only last month, a video went viral in which an emotional Oyelowo was surprised by his family — he has four children with his wife, actress Jessica Oyelowo — who paid him an unexpected visit while he was filming away from home. In the clip, Oyelowo was unable to hold back the tears as he was reunited with them. In those few moments, fans of his work could see the same sense of duty and responsibility that Oyelowo brings to some of his most notable roles, in films such as A Wrinkle in Time, Come Away, and The Water Man, where he has played father figures.
In Silo, Oyelowo's Horton is preparing to be the best father and family man that he can be, even in the most unusual circumstances. Is there a particular element of fatherhood that draws Oyelowo to these types of roles? "I think inevitably as an actor you gravitate towards things you value," he says. "I value family deeply, I really love my kids and my wife, and I truly believe a healthy society is built on healthy families. So that to me is a theme I am always looking for in the work I do."