Zlatan, the bubbling Nigerian artist behind "Zanku (Leg Workanku (Leg Work)" teams up with afrobeats giant Davido for the new club banger "Bum Bum."

As you probably gathered from the title, "Bum Bum" is an ode to large derrières. The video makes this even more clear as several dancers show off their moves (and backsides)— with several hitting popular moves like the zanku and shaku effortlessly— throughout the video.
As for the song itself, we hear Davido offering his lively flow, while Zlatan comes in with an assertive verse toward the end, their sounds notably different, but both complimentary of the song's dance-worthy production by Rexx.
---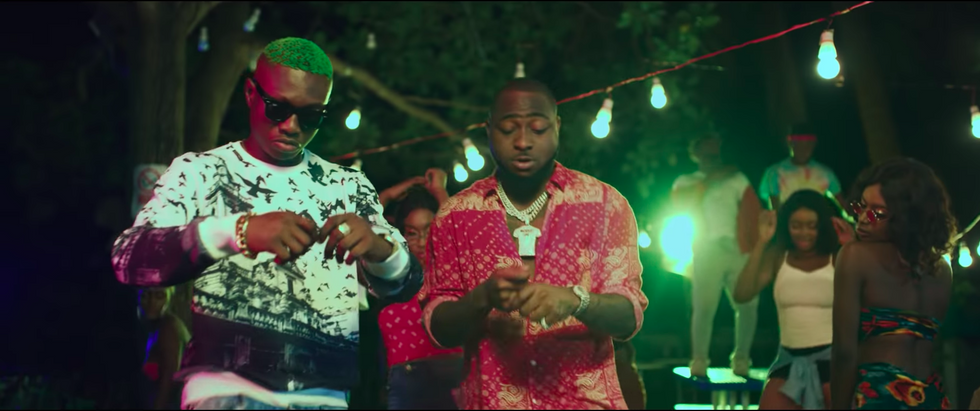 Still from YouTube.
Nearer the end, Davido links up with local kids, making for a colorful, feel-good change of pace. The video, directed by Twitch Visuals ends with a chill outdoor gathering with even more dancing.

The song is one of Davido's many collaborations so far this year. The star had a big 2018, with the release of "Assurance," the second most googled Nigerain song of 2018 after Wizkid's "Fever." His 2017 hit "Fall" is currently the most viewed Nigerian music video on Youtube with over 100 million views.
Zlatan has already made waves this year, as the most recognizable artist behind the zanku dance craze. He recently collaborated with afro-fusion star Burna Boy on the massive "Killin' Dem,"—which is already one of our favorite productions of 2019. We're excited to see what else the rising star has in store for the year.
Watch the music video for "Bum Bum" below.
DMW, Davido & Zlatan - Bum Bum (Official Video)www.youtube.com