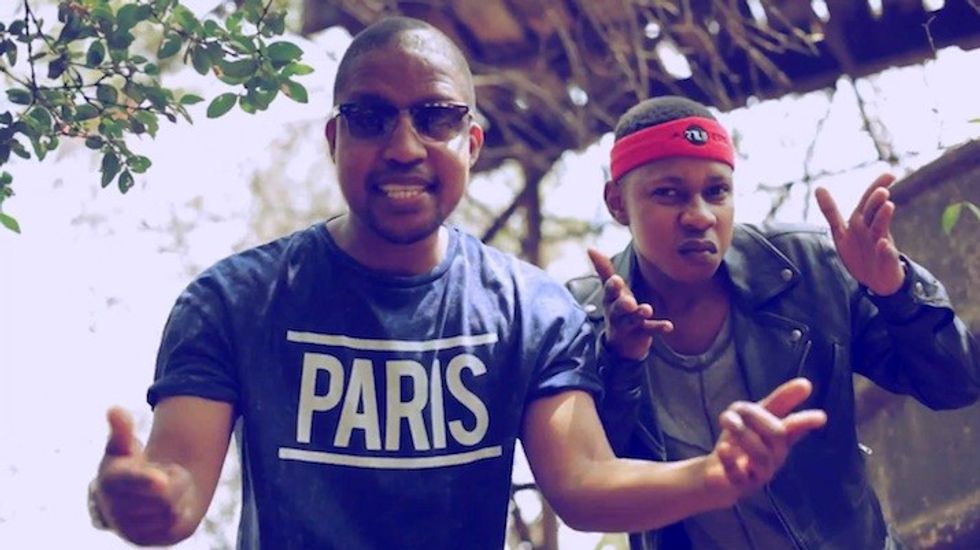 ---
South African brothers Kitso and Kabelo (aka Mr. Calibre) Moremi, who make up the Gauteng rap duo Fratpack, caught our attention last year with their flip on NY hip-hop in the 90s, a sound also being championed by their frequent collaborator Tommy Ills and the Revivolution crew. "Influences range from 90s boom bap to noughties Neptunes/N*E*R*D to Tribe Called Quest to Zubz and Tumi," the brothers told us back in September. This week the ferocious younger Moremi brother, Mr. Calibre, celebrated a birthday, and to mark the occasion Fratpack shared a new video for the short but banging "Kick Rhymes Or Kick Rock," off their FAMLOVE Volume I: FUN is SERIOUS EP. Kitso, who produced the track, says the beat is "minimal with just drums, percussion and a vocal sample that just allows rappers to just ... rap." Directed by Mesuli Macozoma, the clip sees the brothers bring their 90s revival culture to a small forest in Northgate, Johanessburg. "The song is basically just addressing our boredom and just missing rappers that are passionate about dope bars and rhymes," Kitso told Okayafrica. "Lately that kind of Hip Hop has been labelled as Boom Bap or Backpacker or Ol' School and that's why in the video we have some 'old school' props such as the Playstation 1, old Nokia cellular phone and a Gameboy. Us chilling on big rocks was just literal." Download the FAMLOVE Volume I: Fun Is Serious EP and watch the "Kick Rhymes Or Kick Rock" video below. For more from Kitso and Mr. Calibre follow Fratpack on Twitter, Facebook, Tumblr and Soundcloud.
>>>Watch: Fratpack's "Calibre Justice (Remix)"
>>>Watch: Fratpack's "Home Pt. 2 (Oh One Six)"
>>>Watch: Tommy Ills x Fratpack "Pacmanbass"