In 2015, Disney, wanting to discover fresh voices in animation across Africa, stepped into a joint venture with Triggerfish Animation Studios to create Story Lab. It allowed the Cape Town-based company to gather aspiring writers, provide mentorship and logistical expertise to them, and help workshop ideas, all alongside Disney's creative teams. One of the standout projects that emerged from that original Story Lab was the preschool show Kiya and the Kimoja Heroes, which launched on Disney Junior, in collaboration with eOne, earlier this year. And there are more to come.
With their roots in South Africa, Triggerfish draws talent from the local creative pool while collaborating with artists, animators, and producers from various African countries. Its aim has always been to revolutionize the animation landscape by nurturing the next generation of talent. Founded in 1996 by Jacquie Trowell, and Emma Kaye, the studio was sold to Stuart Forrest and James Middleton in 2004. Forrest, a former colleague of the founders, has served as the studio's CEO since then.
In 2016, The Highway Rat and Revolting Rhymes, two projects created with Magic Light and BBC One, established Triggerfish's reputation for delivering high-quality CG animation with a distinctive stop-motion aesthetic. This laid the groundwork for a future collaboration with Lucasfilm (whom Disney acquired in 2012) in the Star Wars universe with the short film Aau's Song, which recently premiered on Disney+. The blossoming relationship between Disney and Triggerfish also paved the way for Kizazi Moto: Generation Fire, an African science fiction anthology featuring a diverse team of creators and African stories, set to premiere in July on Disney+.
Kizazi Moto: Generation Fire - Teaser Trailerwww.youtube.com
"We owe an enormous amount to Disney for collaborating with us on Aau's Song, Kiya & the Kimoja Heroes, and Kizazi Moto: Generation Fire," Triggerfish CEO Stuart Forrest told OkayAfrica. He emphasized the invaluable lessons gleaned from the experience, particularly Disney's emphasis on attention to detail, strong character development, and compelling storytelling.

While CG animation is at the core of Triggerfish's expertise, its creative endeavors extend beyond digital animation. They began with stop-motion animation, notably working on the African adaptation of Sesame Street called Takalani Sesame. As they evolved, they transitioned to CG animation for its cost-effectiveness and because of an abundance of CG animators.
Developing 'Aau's Song'
Triggerfish's spirit of collaboration also brought co-writers and co-directors Daniel Clarke and Nadia Darries together to pitch the animated short film Aau's Song to Lucasfilm when Star Wars came calling. The renowned production company, founded by filmmaker George Lucas and acquired by Disney in 2012, reached out to Triggerfish to work on a brief for the second season of Star Wars: Visions. Triggerfish turned to its network of creative talent. Aiming to pair more experienced creatives with newer talent, it asked Clarke which of the shortlisted projects he'd like to bring to life, and he immediately chose Darries' pitch. "All of them were great," Clarke says, "but Nadia's really spoke to me."
After revising the pitch further, Aau's Song was chosen by Lucasfilm to be showcased as the penultimate story in Star Wars: Visions 2, and premiered on Disney+ on May 5, 2023. Every episode of the second season of the acclaimed series features a different country and a different animation team, with Triggerfish being the only African company participating.
Using a mixture of stop-motion animation style of 3D animation, viewers are pulled into Korba, a planet once rich in "Force-attuned" kyber crystals used to create Jedi lightsabers. An ancient order of the Sith poisons it, leaving the kyber corrupted. Aau's father, Abat, is a master miner who helps locate and restore the corrupted kyber with the aid of a Jedi named Kratu – one crystal at a time. Aau, a force-sensitive young girl with an elemental connection to Korba's land, can communicate with the crystals through song.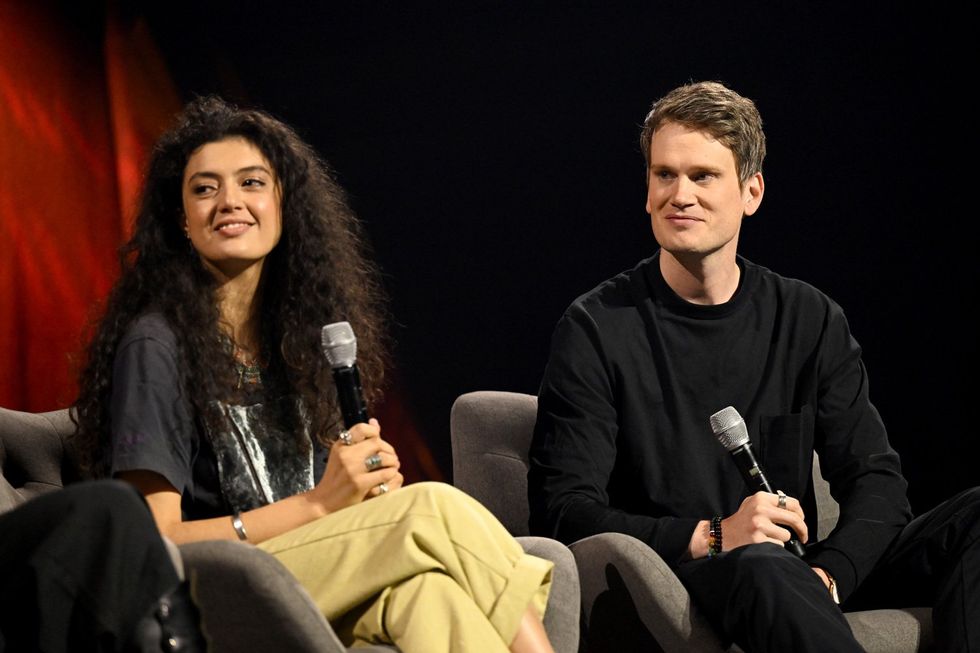 Daniel Clarke and Nadia Darries at Star Wars Celebration 2023.Photo courtesy Disney+.
If Aau's Song's character designs feel like animated plush toys wrapped in Basotho blankets, that's on purpose. The initial concept for Aau was actually a mix of both African and Japanese designs. "The bold color blocking and wrapped blankets of the characters were [inspired by] South African Ndebele dolls," says Clarke. "We were also inspired by the stuffed bears from the Japanese stop-motion series Rilakkuma and Kaoru," he adds.

Aau's Song's simple plot is just as layered and influenced by the region. "There are two parts to the inspiration for Aau's Song," Darries says. "First, there's the singing aspect, and then there's a connection to the land."
Darries, who, in addition to writing and directing, is also a singer/songwriter, wanted Aau to connect to the kyber crystals on a spiritual level through music. "South Africa is so multicultural, but what a lot of us have in common is singing and chanting to connect to each other, to the spirit and the land," Darries says. "Even when we protest, we sing and dance."
"The idea of poisoned kyber [crystals] came quite late in the story process," Clarke says. "But that's how we connect to the [larger] Star Wars universe. We wanted to explore a land that has somehow been tortured, and is calling out for healing." The depleted gold mines of South Africa came to mind when Clarke mentioned this particular point. "We wanted [to capture] the notion that young people can connect to [the land] with their voices in some way and heal it," he says.
Star Wars: Visions Volume 2 | Official Trailer | Disney+www.youtube.com
Speaking of voices, one of the perks of working with a company as large as Disney is access to stellar voice talent, and Aau's Song is no different. Little Aau's speaking voice is by Mpilo Jantjie, and her singing voice is by Dineo du Toit. In addition, Aau's father, Abat, is played by Tumisho Masha, and the Tony-winning Cynthia Erivo voices the mysterious Jedi Master Kratu.

Although all of the characters are personal to the creative team, Kratu is one of their favorites, "The Jedi in the film is inspired by my cousin— an ngoma or shaman," Darries says. "We wanted [her to have] this sort of soft, unassuming power," Clarke adds. "But in the end, we show how strong she is."
Often in animation, the final product appears deceptively simple. However, the process of creating an animated short of this caliber is anything but. The detailed process requires every frame, sound, and light source to be built within a computer. "I kid you not, we probably had six hours of meetings just about grass," Clarke says.
So much more to come
In 2020, Triggerfish launched a second studio in Galway, Ireland, drawing talent from the local creative pool of both the European and South Africa locations."We've been really lucky to have extended our African base of creative talent, working with animators, artists, and producers from Egypt, Zambia, Zimbabwe, Kenya, Uganda, and Nigeria, over the past few years," Forrest says. "They have added fresh direction and a wonderful sense of inspiration to our work."
That inspiration continues to expand, with the company publishing graphic novels, too. Clarke conceived and illustrated the title, Kariba, a fantasy comic that draws inspiration from the folklore of the Zambezi River and the construction of the Kariba Dam.
And Triggerfish isn't slowing down anytime soon — the 10-part anthology Kizazi Moto: Generation Fire will be out this month on Disney+. The company also has a new series premiering on Netflix, which sponsored a second Story Lab with Triggerfish in 2021. Called Supa Team 4, it's the first African animated series for the streaming network. Triggerfish has more projects in the works with major Hollywood studios that the company has to be tight-lipped about, for now.