This is our fourth gift guide in the run-up to the holidays. Keep checking for more lists of great African products here. And for more ideas check out the Okayafrica Shop.
---
To complete an ensemble that represents you, what you place on your feet is just as important (if not more) as the threads, and can even take your outfit to the next level.
We consider the footwear from the featured shoe companies as must-haves because they are one of a kind, fresh designs that are also made with substance, from the company's mission, to the shoes' comfort to your soles.
Get your flyness on in these streets with our nine favorite African footwear brands below.
1. TawiaDesigns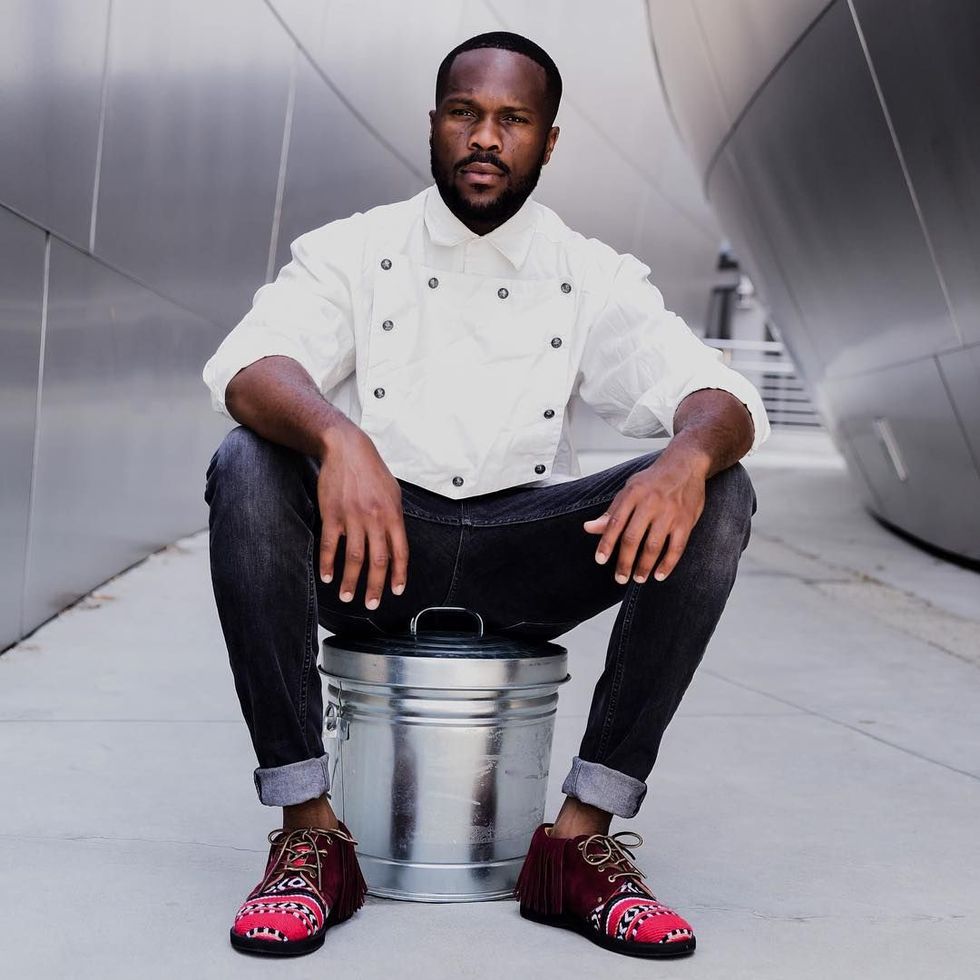 The 'Nindo' shoe. Photo by Aleah Clark.
We know we're not the only ones who've been itching for a pair of remixed Kente Nike's that came on the footwear scene three years ago from TawiaDesigns. The Ghanaian-American shoe brand is Chicago-based, and prides itself in providing comfortable handmade footwear ranging from sandals, boots, lace-ups and custom sneakers.
Handcrafted in Kenya, Ghana and Morocco, TawiaDesigns' variety of shoes represent Africa's rich and diverse culture, while creating and sustaining artisanal jobs within the continent.
2. Thando's
Photo courtesy of Thando's.
J.G. and Taffi Ayodele founded Thando's in 2014, an innovative brand that accommodates a modern woman's busy lifestyle while supporting African artists. The power couple and New York University MBAs designed foldable flats to offer women comfort and convenience in a portable, stylish product.
The Lagos-based company produces compact ballerina flats made of trendy wax print that can be super useful on the go. Thando's crowd-sources their designs, while supporting African women in the fabric trade and underserved African artists.
3. Nio Far by Milcos
Nnéma Indigo sneakers. Photo by Siaka Soppo Traoré.
Nio Far should be your go-to brand for sleek sneakers made out of mudcloth fabric. Founded by Milcos Badji, a young Senegalese designer, the handmade footwear fuses casual chic and Senegalese tradition in a trendy way.
Kicks from Nio Far by Milcos are made to order: contact@nio-far.com
4. Buqisi-Ruux
Photo via Buqisi-Ruux's Facebook page.
This brand seeks to celebrate powerful African women while representing diversity, vibrancy and boldness via African-inspired heels. Founded by three young female entrepreneurs, Buqisi-Ruux, meaning 'queen of the village,' wants women to feel a sense of royalty and pride whenever they rock a pair of their shoes.
5. Ohema Ohene
Photo via Ohema Ohene's website.
British born designer Abenaa Pokuaa launched Ohema Ohene in 2008 in London. Ohema and Ohene translate to "queen" and "king" in Twi. The name of the shoe brand is also in reference of Pokuaa's Ghanaian heritage.
Catering to both men and women, Ohema Ohene blends British style with West African textiles (directly sourced from Ghana) through its high quality seasonal fashion. The brand is not limited to footwear, so be sure to check out their clothes too.
6. SAWA
Photo via SAWA's Facebook page.
Algerian-born shoe designer Mehdi Slimani launched SAWA as an activist fashion project to produce 'Made in Africa' footwear from start to finish. You may even have caught SAWA's special collection just for J.Crew that sold out back in 2014.
The company finally settled and developed its business model in Ethiopia after initially setting up shop in Cameroon. For Slimani, SAWA shoes are for socially-conscious buyers, and seeks to benefit the continent while challenging the narrative that it needs "saving."
7. MONAA
Photo via MONAA's Facebook page.
The sandals that come with this luxury footwear brand will make your feet look and feel like royalty. Founded by German-born Ghanaian sisters, Nana and Afua Dabanka, MONAA pays homage to their Ashanti heritage.
The brand's sandals are made in Ghana by top-notch artisans and are constructed from the finest, globally sourced leathers; embellished with African-inspired elements.
8. Oliberté
From the F/W 2016 collection. Photo by Eric Ryan Anderson for Oliberté.
Oliberté launched in 2009 as a small footwear company partnering with factories and suppliers on the continent and eventually grew to establish their own factory in Addis Ababa, Ethiopia in 2012. The company also became the world's first Fair Trade Certified footwear manufacturing factory a year later.
Oliberté's factory employs over 70 people, where 60 percent of employees are women. The sustainable brand also seeks to continue to support workers' rights on the continent.
9. ENZI
Photo via ENZI's Facebook page.
ENZI is committed to high levels of production quality, design and materials while maintaining a commitment to social and environmental responsibility in Ethiopia.
A team of entrepreneurs—Jawad Braye, Christian Ward, Azariah Mengistu and Sam Imende—came together to develop a footwear brand that fully represented them, while changing the misconceived perception of Africa through their well-crafted men's footwear.