While in Nigeria for Arise Fashion Week in 2018, British supermodel, Naomi Campbell, told the international press about the need for the Vogue magazine franchise to have an African title.
The proposal of a Vogue Africa is an obvious wink at the immense creativity from the African fashion industry; a wave of designers rethinking the paradigms of African fashion. And a handful of them are women, pushing creative innovations and engaging with local communities in preserving age-old methods of textile production. Their collaboration with artisans in honing traditional craft skills has provided employment, especially economic empowerment for rural women.
As fast fashion continues to overproduce garments, with countries like Ghana since becoming a huge receptacle for these garments to arrive as second-hand desirables, some designers are bringing awareness to this crisis of waste, the filling up of landfills and degradation of the environment in the process.
Because the global fashion landscape is dominated by white gatekeepers sustaining narrow beauty aesthetics, predominantly giving platform and access to white designers and operating on excess, it's important to recognise the work of African labels helmed by women especially in the area of environmental justice and making strides in innovation.
Below are 11 impactful African brands with women at the helm. The list is in no particular order.
---
Earning a master's degree in textile futures at Central Saint Martins, South African sustainable fashion and textile designer, Sindiso Khumalo, launched her eponymous brand in 2015. Adopting an empowerment-led, community-driven approach by working with artisans and making garments from naturally sourced materials like cotton and hemp, Khumalo's design milieu tells stories about historic women from her country and across the Black diaspora.
She's also decorated with international fashion laurels: Independent Designer of the Year at the Green Carpet Fashion Awards 2020, recognising her contributions to sustainability and a 2020 LVMH Prize finalist.
After carrying out intensive market research and wanting to amplify the image of African women in the fashion industry, stylist and entrepreneur, Sarah Diouf, launched Tongoro in 2016 in Dakar, Senegal. The brand is unequivocally African and subverts concepts of luxury by being affordable and having a model that empowers local communities and promotes Senegalese craftsmanship. Diouf did this by training a team of local artisans in her home country to make quality garments to international standards. The Tongoro aesthetic is unwaveringly bold but also playfully feminine–billowing dresses and vivacious prints–and doesn't compromise in promoting the Made-in-Africa label.
In 2020, the coronavirus pandemic presented new challenges for the global fashion industry to navigate. And while it saw many brands pivoting towards digital mediums to showcase collections, womenswear label Hanifa unveiled a virtual 3D fashion show that became a viral sensation, reverberating through the corridors of fashion in the process. US-based Congolese designer, Anifa Mvuemba, was behind this technological feat. Her first runway show since establishing the brand in 2012, she turned the limitations imposed by the pandemic into a resounding success. With bold colors and precise tailoring, Mvuemba is unequivocally concerned with dressing Black women, especially fuller, curvier Black women who often are underrepresented in the fashion industry.
Born and raised in Dakar, Selly Raby Kane is one of Senegal's most renowned designers pioneering a booming creative movement in her home country, a multidisciplinary artist whose creative footprint overlaps beyond fashion and into the realms of art, film, sculpture, etc. After quitting law school in Paris, she returned to Senegal and launched her brand in 2008, her garments marked by the seamless juxtaposition of traditional West African textiles and futuristic elements drawn from watching American science fiction, horror, fantasy, supernatural movies as a child.
In 2018, Swedish furniture brand IKEA collaborated with her and other African creatives to design a collection for their homeware range. For the collection, Kane made a basket out of braided hair, referencing the culture of hair braiding in West Africa.
After years of cultivating an Afro-bohemian chic aesthetic since 2007, founder and creative director, Nkwo Onwuka, relaunched her eponymous brand in 2012 with a new ethos: environmental consciousness. Turning to traditional textile handcrafts and preserving the artisanal legacies and skills in local communities, the Dakala fabric was the innovation that emerged from exploring weaving techniques using leftover denim. Today, the brand is at the forefront of the sustainability movement in Nigeria, operating on the ''philosophy of less'' mantra as a way to address fashion's waste problem and its negative impact on the environment.
As one of Nigeria's enduring fashion brands with international acclaim, Deola Sagoe brought opulence and romanticism with its innovative use of aso-oke, a handwoven cloth worn by the Yorubas in South-Western Nigeria. Tinkering with the textile overtime produced functional bespoke pieces known as Komole, skewed towards the high-end market with its laser-cut intricacy, patterns, colour range, and modern silhouettes. At the brand's creative helm is Deola, who is not just dressing different generations of women, but is also staying true to her cultural heritage.
While some became aware of Mowalola Ogunlesi in 2020, when she was hired by Kanye West to design for the Yeezy-Gap collaboration, the Nigerian-British designer had already enraptured the fashion crowd with her brand's neon punkish leather, cut skimpily in skirts, tanks, crop tops, halter dresses, and other bizarrely sleek pieces.
Born in Lagos, Nigeria, Mowalola went to Central Saint Martins and channels her Nigerian roots in her work. Her BA collection was an ode to Lagos petrolheads and Nigeria's '70s and '80s psych-rock scene in a way that challenged the current mores around African masculinity. Not afraid to incorporate profanity and religious motifs into her designs, Mowalola has fashioned a brand now synonymous with sex and youth.
Born in Ghana, Chloe Asaam's fledgling brand came about as an alternative to Kantamanto, where Ghana's biggest secondhand clothing trade takes place, a fast-fashion economy receiving 15 million secondhand garments per week from the Global North which consequently leads to overwhelming waste. The Accra-based womenswear designer repurposes fabrics from the market like cotton and linens, combining them with traditional Ghanaian textiles in refreshing, innovative ways. She also incorporates QR codes into garments to supply details on how they are made.
With sustainability thrown around in the fashion industry as a buzzword, Asaam is providing traceability. In a photo series, her brand was recently spotlighted by Mercedes Benz Fashion Week last November, zooming in as one of the emerging talents in Ghana.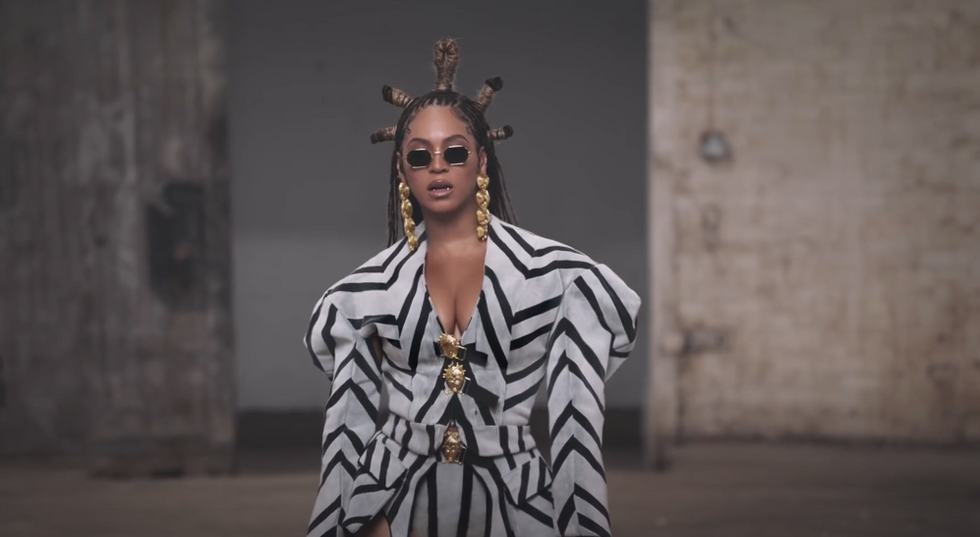 Beyoncé in the music video for 'Already' featuring Shatta Wale & Major Lazer.
Still taken from YouTube.
Making clothes rooted in the rich cultural spectrum of Cote d'Ivoire, where Loza Maléombho is from, has always been foundational to her brand's make-up. Founded in 2009, her namesake womenswear label has been flipping these references to accommodate the wide-angled facets of Maléombho's upbringing–Brazil, Abidjan, the US–with also a lean towards West African royalty. Her collections over the years have seen deconstruction and juxtapositions, traditional textiles that flatter the feminine form through modern cuts and styling. In synergy with local artisans and craftspeople, the brand has produced ethnic jewelry and footwear with tribal touches.
Celebrities like Iman, Kelly Rowland and Solange Knowles have been seen in her pieces. And perhaps the biggest moment for the brand to date was Beyoncé in a custom shoulder-padded blazer in the Black Is King film.
Deepa Dosaja is one of Kenya's top fashion brands founded in 1991, and known for its signature hand-embroidery and appliqué. Over the years, the brand has focused on working with local communities in Kenya to create employment such as tailors, beaders, cutters and training them as well. In 2015, the label dressed Lupita Nyong'o for her Kenyan homecoming. In 2018, the label participated in the inaugural Commonwealth Fashion Exchange at Buckingham Palace, London, an initiative for emerging and established fashion talents from across the Commonwealth's 53 countries to showcase the power and potential of artisanal fashion skills.
Exchanging with artisans from Zambia, Deepa Dosaja created a hand-painted, hand-embroidered bespoke piece made from organic silk locally produced in Kenya. Behind the label is Deepa Dosaja herself, who is also concerned with reducing waste and encouraging recycling.
After working and studying in Switzerland, Doreen Mashika returned to her home country of Tanzania to pursue fashion, setting her eponymous label in the cosmopolitan environment of Zanzibar. Inspired by the textiles of her Tanzanian heritage and Zanzibar's breezy, Island aura, Doreen Mashika's collections feature East African wax print Kitenge done in frocks and beach-ready dresses. The brand has also shifted towards accessories from bags to jewellery; combining materials in an interesting way.