When Haile Gerima's seminal work, Sankofa, first came out in 1993, it spoke to themes of forgotten history and displacement. Now, through a 4K restoration by ARRAY Releasing, the filmmaker's urgent, uncompromising perspective is being shared once again — this time, with a different kind of resonance, underscored by the current situation in Gerima's home country, Ethiopia.

For Sankofa's original release, Gerima had to self-distribute and self-promote it with his co-producer and wife, Shirikiana Aina. Now, thanks to ARRAY, the company founded by Ava DuVernay, the film will be made more accessible to a broader audience, notably by being accessible on Netflix in various countries around the world complete with an accompanying learning companion guide. It's a far cry from the grassroots approach Gerima and Aina had to take back in the early-90s when Sankofa struggled to find distribution and they had to, as Gerima says, "foot-walk the film across 30/40 states for weeks."
"It's a very powerful way of bringing the film to people that are still searching, still trying to find it. Because we don't even have a DVD of it," the LA-based filmmaker tells OkayAfrica. "So for me, it's something that me and my co-producer, my wife, have never been able to do. Ava just took the responsibility, a very enormous, humongous responsibility, to get this film out like this."
---
He sees it as the best thing that could have happened for the film, which DuVernay calls "boundary-pushing and transformative," and tells the story of a Black American model who goes back in time and experiences slavery on a plantation. A pivotal figure in the LA Rebellion movement — alongside the likes of Julie Dash and Charles Burnett — Gerima pioneered a form of African cinema that acknowledged the untold roots of Black resistance.
The restoration has revived Gerima's spirits — especially in light of the disappointments and delays that come with being an independent filmmaker. "You make a film, and then you rest for ten years; you're resting, literally — cinematically speaking. So that itself is a wear and tear of our experience."
It took Gerima ten years to come up with Sankofa, on the back of his previous film, Ashes and Embers. "The wear and tear is the problem for me because I'm also trying to empower my own cinematic narrative logic, and you get very fizzled in the process to get to practice your art. Because of the nature of cinema, and also the neglect of those films that are not part of the white supremacist kind of cultural industry. So you are facing all these things, and then the economic aspect of it and the technological changes. It's very hard to keep up."
In the canon of his work, he sees Sankofa, along with 1982's Ashes and Embers, as his turning point; collectively they helped him express his cinematic accent. It's one that he's still using now, as he works on his current projects, which include a documentary about the Italian occupation of Ethiopia, as a tribute to his father, who fought as a member of the guerrilla movement.
The struggle to survive in oppressive political climates is a common through-line of Gerima's work. Ashes and Embers explored the disenchantment of returning African-American Vietnam War vets. His debut, Harvest: 3000 Years, dealt with an Ethiopian peasant family struggling to survive under feudalism and was produced in the midst of civil war following the overthrow of Haile Selassie's imperial rule. His most recent film, 2008's Teza chronicled 30 years in the life of an Ethiopian man who lives through the country's social and political crises. "That film is really speaking about how we got to where we are now," he says. "This ethnic strife in Ethiopia is put in place in that period of the dogmatic generation that knew everything; the left-wing dogmatic generation with good intention but without education, without knowledge, without wisdom. This is where we are now."
Gerima's films have always stirred debate, and he's waiting for the discussion the restored Sankofa will bring, as it did when it first released. He has always been vocal about the strife on his home continent, and Sankofa presents an opportunity to re-focus the spotlight on what he believes should be happening.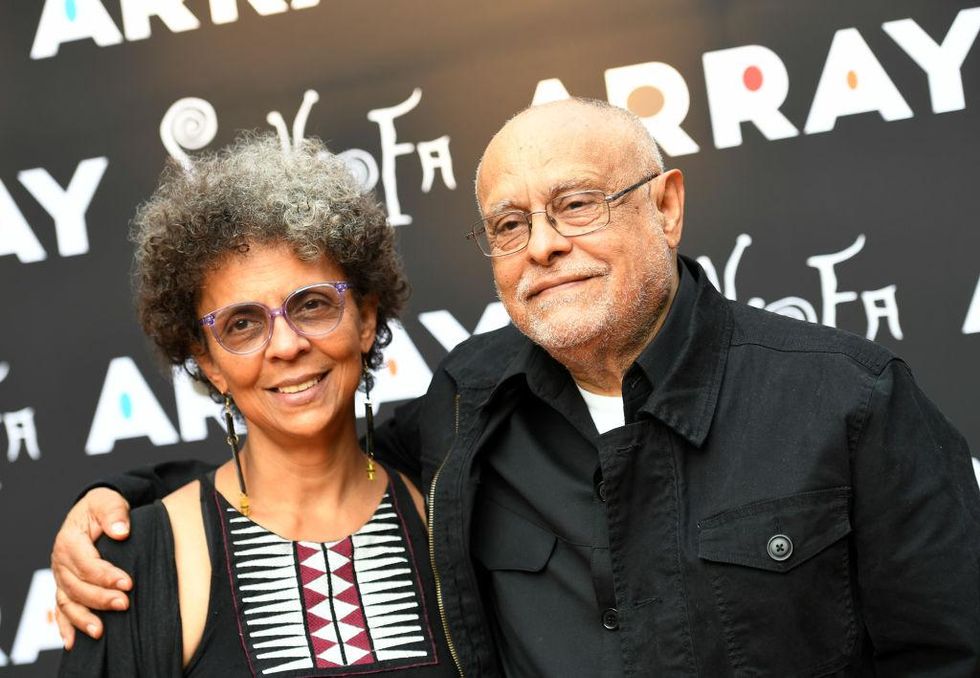 Producer Shirikiana Aina and filmmaker Haile Gerima attend the World Premiere of "Sankofa" on September 24, 2021 in Los Angeles, California. Photo Credit: JC Olivera/Getty Images
"Africans have lost their minds," he says. "They have lost their historical context. They do not understand the resistance history of our own people; even when they were peasants and ordinary village people, they made history. And here we are, with all the airplanes we fly from place to place, with all the weapons we have to kill each other, we are still a continent of industry for weaponry, for destruction, guns and killing. We are the industry of disease. We are the industry of displacement and dehumanization, of human relationship."
Gerima has the script for a film that he believes speaks to this — not only to the situation in Ethiopia but in Zimbabwe and South Africa too. "It's called Independent Road, but I don't think I'll ever make it. I wrote it in Zambia and got the first germinating idea in Zimbabwe," he says. "So there are films that I want to do where I'm trying to respond to the time. But I'm not the grandson of Kodak and my wife's not the granddaughter of Sony Pictures or something. We have scripts to respond to the time we live in. Not only me but many filmmakers. We read each other's scripts but they never get transformed into cinema."
The lack of financial support to make these films is a tremendous source of despondency for Gerima. "Med Hondo, Sembene Ousaman, they died with scripts still on their desk of their office," he says. "There's a sister called Safi Faye from Senegal; she's neglected, there's no money for her." Gerima sees the glory of being acclaimed as a director of little effect when the money to make further films does not accompany it. "I don't want to go to beg Europe or America for African cinema," he says.
"The elite that is culturally backward has failed us. The elite thinks in its own political dogma. It transforms a country, it neglects the role of culture," he continues. "The role of culture is a threat to the establishment, to the elite, all over Africa. They are against that, and therefore they have no institutional idea to bring alternative culture. What they unleash is imitative cinema that is outlandishly the copycat movies from Europe and America. The institutional support does not exist. Even in the most capitalist country in America, there is a state role in the cultural diet of a people."
He believes this indicates the greater issue at play in Africa, as seen in Ethiopia right now, with the conflict between Tigrayans (who make up about 6 percent of the Ethiopian population) and Prime Minister Abiy Ahmed. "The Africa we have, we have been taken over. Every revolutionary attempt was caught in its own dogma, and never tenderized its own revolutionaries. They all came back fascist. It's their children that are abusing the African economy. The revolutionary children are the new billionaires, the new millionaires. How in the hell, in 20 years of revolution, did these grotesque African leaders create capitalist children that play games with the poverty of Africa, with the underclass of Africa? In their wining and dining and champagne-throwing and shoes — it's a very grotesque thing going on."
Gerima goes on: "This is the confrontation we have. The elite in Africa is deformed. It is created to serve a purpose, a higher purpose, for those who need the mineral resources for their cell phone planet, for the spaceship, etc. And we have an elite that is completely subjugated, and benefiting in that subjugation and creating its own fascist class."
ARRAY Releasing presents: SANKOFA - A FILM BY HAILE GERIMAwww.youtube.com
For Gerima, who's been living in the US for more than four decades in self-exile, film has a role to play in highlighting this, but he thinks filmmakers back home don't agitate enough. "Those filmmakers who want to really make movies should begin to think about alternative counter-existence with innovative cinema. They don't have to be like the cinema we know," he says. "Our truth is not final, but we should exist counter to the established grotesque culture of imperialism. We should be present in time of need by generations that will come and need some fertilizing ideas from past people like Sembene, Safi Faye, Med Hondo."
This makes works by Gerima and his peers invaluable, and efforts to restore them, very necessary. But Gerima is cautious about who's doing the restoration. He recalls pulling out of a deal to restore Harvest: 3000 by Martin Scorsese's Film Foundation because he didn't approve of the changes they made to the framing and subtitles. "I kept sending them the new subtitles, the way it should be subtitled. And they kept sending it to British people who studied Amharic second-hand, and I said, 'Why are you changing my dialogue?' They said, 'Well, there's British people who know the Amharic language.' And I said goodbye. I didn't even discuss it. Our language is the oldest language written language — there's poetry there, there's things that's even difficult for me — and here's British people who kept changing the subtitles."
Restoring the film is not enough, he says. The African filmmakers need to be included. "When Sankofa was graded and restored, my wife and I were on top of it. We told them we have to be in it and ARRAY wanted us to be in it. The framing, the lighting, the change you bring through digital technology has to be approved by the filmmaker or cinematographer."
ARRAY will also host a five-day masterclass, to be taught by Gerima, and the new Academy Museum of Motion Pictures will host a retrospective series in his honor next month. Through it all, Gerima's voice remains a vital one in the history — and future — of African cinema.

This article appears as a part of OkayAfrica's Crossroads, a special series examining Global Africa at critical moments. For our first package, we will dedicate 4 weeks of coverage to examining the lands of Ethiopia through a deep dive into music, politics, and culture. Keep up with the campaign here.