As a qualified computer scientist, it's no surprise that Hillzyis able to finesse the Internet to his advantage. The Cape Town-based Zimbabwe-born R&B/ trapsoul artist and producer has released covers of popular songs that have amassed serious numbers. A medley of covers of XXXTentacion, Lil Uzi Vert and Drake's "Sad," "XO Tour Lif3" and "Hotline Bling" is sitting on over 344,000 streams on Spotify (a big number in these parts for an up-and-coming artist) and 389,000 on SoundCloud.
In the last few years, the man has put out several makeshift videos that went viral. In 2018, responding to his fanbase' demands, Hillzy released the project Overdue (The Love Mixtape), which demonstrated that he's capable of more than just singles.
---
Recently, Hillzy caught the ear of Mr Eazi. The Nigerian star, through his emPawa initiative, had $300 to share with 100 African up-and-coming artists. The top 10 winners from the selected countries, as part of the package, got to attend a three-week masterclass with Diplo, Mr Eazi and a number of the continent's top artists.
Hillzy - You Are Enough [Official Video] #emPawa100 Artistwww.youtube.com
Hillzy, who had entered the competition, didn't make the top 10 that would join Mr Eazi and the gang for the masterclass. But his song "You Are Enough" had such a huge impact on the Nigerian star that he head-hunted the young musician, invited him over to the masterclass and offered to fund a music video for the song. The video, which dropped on Friday, was directed by Motion Billy, who Hillzy has worked with prior.

The song is an encouragement to women who have been made to feel small. It was released in 2016, and had a viral Facebook video which consisted of a montage of different women jamming to the tune. The video is currently sitting on over a million views. With the song being given a new life with a professional music video, only time will tell how far it will travel.
We caught up with Hillzy while on set for the "You Are Enough" video shoot in Cape Town. We discussed his love for the Internet, getting flack for not sounding African enough, and his future plans, among other things.
*The interview has been edited for clarity.
Please take us through your journey. You are originally from Zimbabwe, how did you end up in Cape Town?
So, all my life, born and raised in Zimbabwe, attended high school there. I came to Cape Town studying BSc in Computer Science and Computer Engineering [in 2013]. I went to a mission school in Zimbabwe, so I've always, got vocals and stuff and I always just wanted to record. So I bought a mic in first year, and ever since I learned how to make beats, I recorded myself.
And you work a lot with Beatsmith. Can you tell me about that relationship?
I heard of Beatsmith when I was still in high school, but we hadn't met because I was also making beats under Mr Masinh. I call myself Mr Masinh when I make beats. So people were like, "You should collabo with this kid called Beatsmith." Years later, I'm in my final year, Beatsmith is first year at UCT, and I'm like, "So I've heard that you make beats. Do you want to work on something?" He gave me a beat. I wrote to it, and ever since, nothing has been the same.
Hillzy on set for the "You Are Enough" music video. Photo by Sabelo Mkhabela.
How did you get into music? You told me about the whole mission school thing, but how did you get into R&B and hip-hop?

I grew up listening to gospel. There was a lot of influence from my mom. I only started listening to R&B and hip-hop in 2008. I vividly remember listening to Chris Brown and I was like, this is nice, this is urban, this is amazing.
And ever since then I was like, I would like to actually come out of a country as small as Zim and just match up with the standards. I felt like I would do it with the right teaching, with the right training and consistency. And from then, I taught myself how to record and to make beats.
So this is like a just go on YouTube and watch tutorials type of thing?
Exactly.
I understand that dancehall is a big thing in Zim. How tough is it for a hip-hop/R&B artist?
It's hard. It's hard because not a lot people from Zim actually relate to me like that. Most of my music is trending in the States and Europe. So when I see my stats on Spotify, I'm like, damn, I really wish that these people actually see that I'm from there. So sometimes that's why I'm forced to cover or remix songs from back home because I'm proudly Zimbabwean. Most of the times people think when you're doing these international genres, it makes you less of an African. So to me, the Zim dancehall wave is big, but I really think that it's encapsulated within Zim, and we should strive to do bigger. I want to feature these big artists, like Chris Brown and them.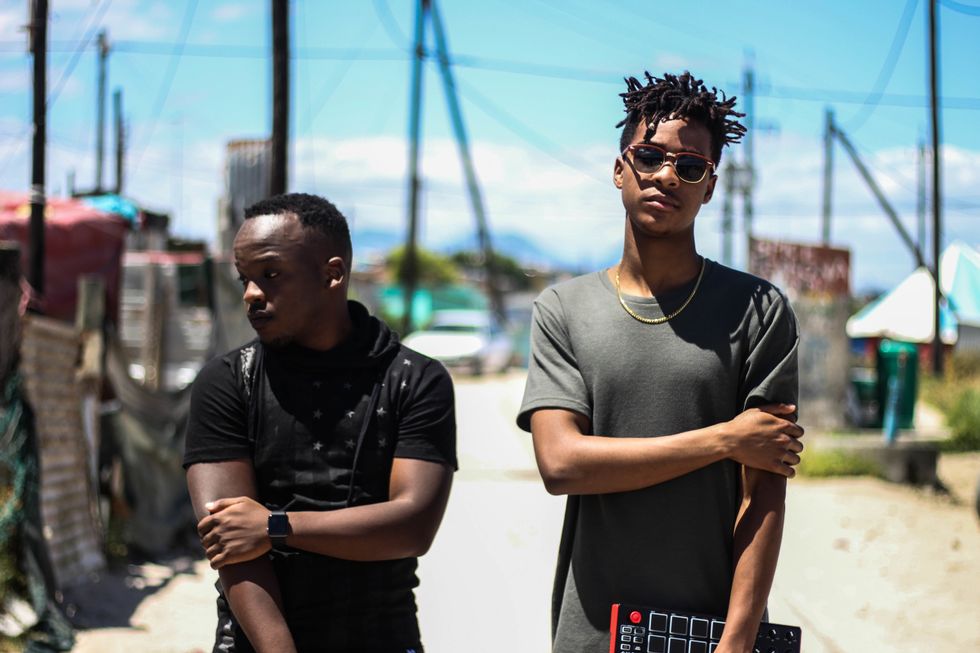 Hillzy and Beatsmith. Photo by Sabelo Mkhabela.
How are you received in SA?

Again, it's tough because I'm not from here, and, if anything, someone told me that, in any country, there's a table of opportunities, and I feel like the table in South Africa is fully occupied. If anything, it's been very organic. Hopefully, it will pick up because I really see myself growing, not even like in a Zimbabwean way, but in a southern African way.
How did you get to entering emPawa?
When I heard of the opportunity, I didn't want to do it because I thought that me entering competitions every time or going to auditions makes me very underrated; people still feel like I'm up-and-coming. So someone told me about it, and I was like, you know what, I feel like the work is already done for me, then I just posted "You Are Enough." So in doing so, I was lucky enough to be selected as one of the artists from Zim, and once I was selected, miraculously, Beatsmith also got selected. H3nry, my friend, also. I once collaborated on a tape with him. He also got selected. We were all selected and a final 10 had to be chosen. I didn't make the cut. The final 10, Mr Eazi brought all cats to Cape Town to record, they sort of have like a camp that's going on with Diplo and them. He's teaching them how to actually be artists, how you protect your work... everything. So a whole camp is happening in Stellenbosch. However, when they first arrived, Mr Eazi was like, "One of you guys in here who sang this song." He pulled out his phone, he started scrolling, and searches, and then he's like, "This is the song I'm looking for." And it happened to be "You Are Enough."
Beatsmith messages me, he's like, "Mr Eazi is actually looking for you and he says he loves the track. He'd like to meet you tomorrow." At that point, I was at the beach with one of my relatives. I called Beatsmith back, and Mr Eazi took the phone from him, and he's like, "So you need to come here tomorrow."
So, I went to Stellenbosch, I chilled with the guys, he wasn't there. I was just there as one of the emPawa artists, and I met amazing people. I met DJ Edu from BBC radio, I met TRESOR, Distruction Boyz and Diplo. It was just a lot of people in one place. But it was amazing, it was inspiring. And then, Mr Eazi eventually came. He's like, "So you're the guy who did, 'You Are Enough'?" And I was like, "Yes." He's like, "When did you do it?" I said, "In 2016." He was like, "Damn, that song is still relevant and it needs to be heard by almost everyone. So what do you want?" That's literally what he asked me. He's like, "What do you want?" I was like, "I've had a treatment since 2016, just that I didn't have funds." He's like, "Okay, cool. Name your director, just give me a call and I'll sort him out, I'll pay him and then you can shoot your video. You need to shoot your video ASAP."
Obviously Mpendulo (Motion Billy) is the first director who actually gave me a shot to shoot legit videos. He believed in me, short for me for free. So I was like, since he also came up with the treatment, it's his short.
So, what does this all mean to you? Like what does it mean to you that you weren't even selected, but Mr Eazi actually heard your shit and was headhunting you?
I honestly would just say this is a calling. I didn't ask for this. I genuinely think that I was chosen. There's times I've quit music. There's times I been like, no, I'm done. But I'm always just drawn back somehow, somewhere; I meet someone, and randomly they tell me, for instance, with "You Are Enough," I've had more than five girls who have messaged me like, "I almost committed suicide." Or like, "This song gave me so much closure." So I've read enough of that, and to ignore it would be crazy. So, I just feel like I'm executing my purposes in life.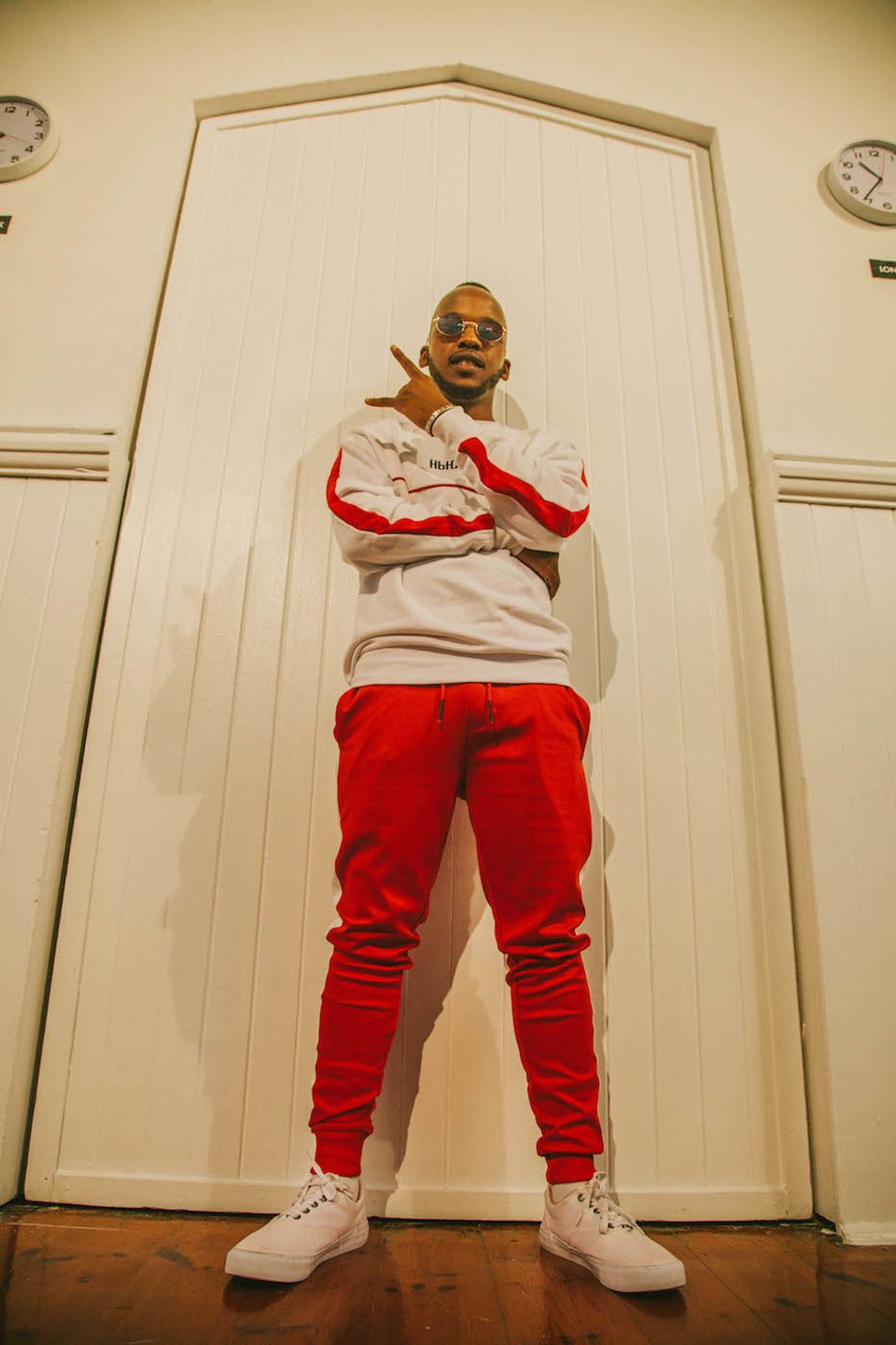 Photo by Sabelo Mkhabela.
Usually your music is story-based, you're a storyteller. How do you come up with your songs? Is it from personal experiences or just observing your surroundings?
Sometimes it's when I'm just hanging out with my friends, someone says something profound, I write it down, or I even say something and then I'm like, this is amazing. I write it down. Sometimes even in situations that I go through, just writing it down. Eventually when I get the inspiration, maybe I might be sleeping, I just think of a beat where I'm like, so let me try this out. My music is based on my life, what goes on around me.
When and how did you meet Motion Billy?
In 2016. I think I'd just done my first viral video. I did a video in my room, it's scored like 100,000 plays on Facebook, and I was so excited. The song was called "My Last" because I was like, I'm done with this music stuff, it's frustrating. And next thing, it actually blew up. At that point, I think, you actually need proper visuals now. Your music should be played somewhere. So because of that, my manager, who was studying at CPUT where Billy was also studying, was like, "Hillzy, I'll go to the faculty this side, and I'm going to look for someone amazing to shoot for you."
And then within that, he just went, met Mpendulo and he was like to him, "So I have this artist called Hillzy," Motion Billy actually gave me time. He listened to me, and the next thing he messaged me, he's like, "Your music is amazing. I have some equipment that I have right now. I'm done with the shoot that I was supposed to do. So can we meet up this weekend and shoot something?" For me, it was also something exciting, someone giving me time, and actually caring about my music. I was like, "Of course, why not? Let's go."
You're saying you try quitting sometimes and the shit just keeps on calling you back. Do you have any plans of expansion?
Definitely. If anything, I'm hungrier than before. I think it's been tried and tested many times, or at least God has shown me so many times that, "This is what you need to do." Like , "this is your calling, man." So it's just a matter of consistency. This year I'm dropping an EP called Chisikana (lady).
It's an R&B/trapsoul kind of thing, it's going to be maybe seven or eight songs, about a lady, the girl, ntombi, chisikana. So that's what you can expect from me this year. And I've recorded some of the singles and I feel like it's time now to actually release them.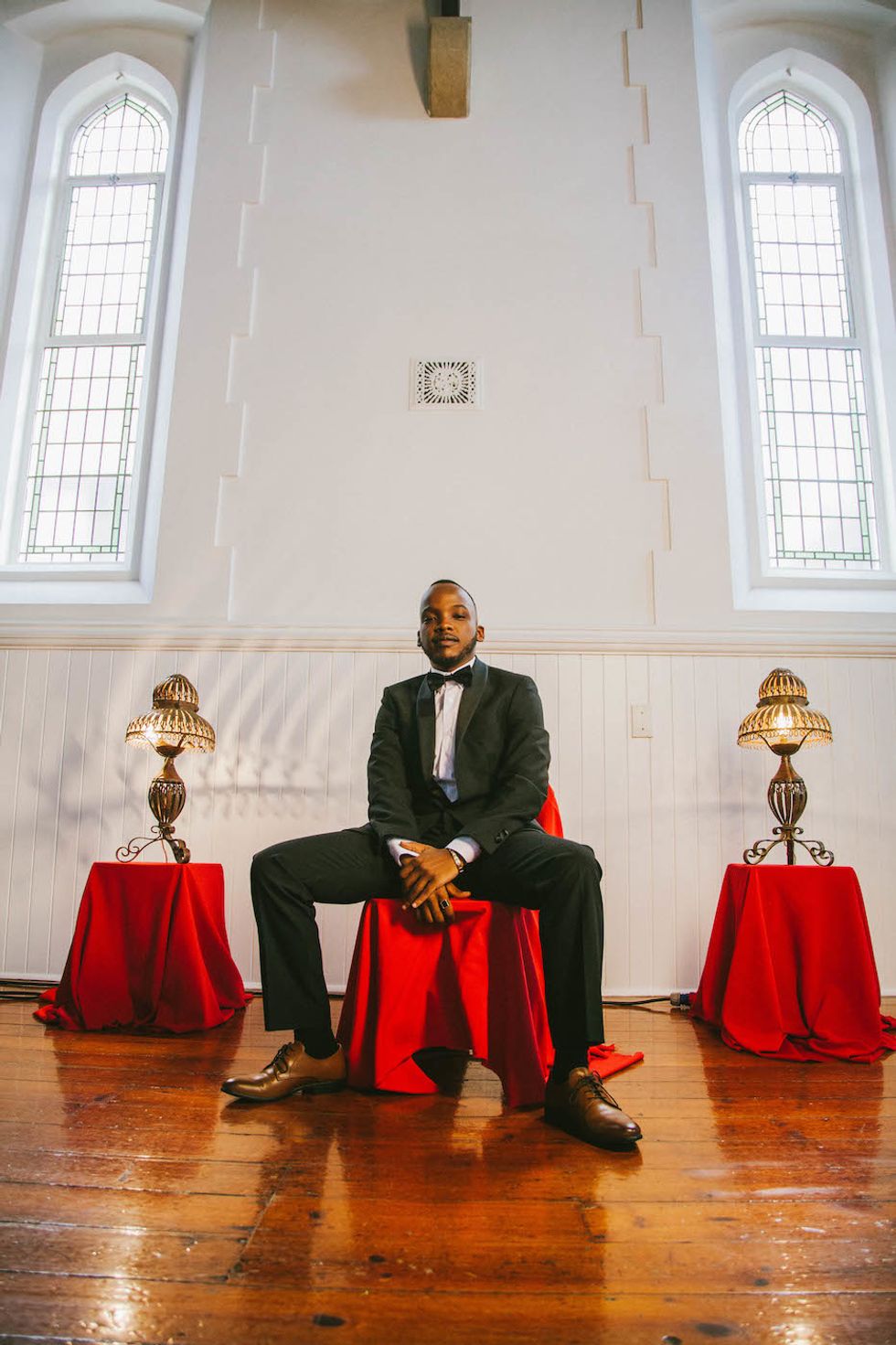 Photo by Sabelo Mkhabela.
Do you ever feel pressured to make your music sound more African?

A lot. People in Zim would be like, "This person wants to sound western," but it's not about that. It's about the message being delivered. I know if I use English, anyone from around the world is going to listen to that. So if anything, even though they still have to be nice, my music isn't really about beats.
The Internet has played a huge role in your success thus far. Was that an intentional thing or was it just like the internet is all I have and I'll just put my stuff there and hope that someone finds it?
So, I'll tell you this. So this is obviously in retrospect. A sidebar, I'm actually the co-founder of UCT Just Kidding. I was probably one of the first people in South Africa to make memes. I was about that. I could see what people liked, what people hated. And because of that, after growing something like UCT Just Kidding, I saw myself as a brand. So I needed to be out there. So if anything, it wasn't intentional, I never meant to be here. But I just had all the social media skills; I knew about the hashtags, I knew about sponsoring ads, that kind of thing.
So I knew, okay, I sing R&B, so probably I'll try and target the girls if I'm placing ads. And again, I was willing to do that because I had seen it like it was tried and tested on UCT Just Kidding. So I was one of those guys back in the day, I started using sponsored ads, that kind of thing. So I really do owe it to the Internet. However, I didn't think it was going to be this big.
I'm very curious about how a lot of us just African kids got to meet the Internet, because for me, I only met it in university.
Me too. I was in first year, and then I was like, this shit is fucking amazing. The internet is one of the biggest inventions. I mean, in Zim, we only just recently got LTE, we're still getting fiber. So I was from a very, very inquisitive background. My whole path has just been of inquisition and actually discovering things I didn't know about. Somehow I just figured how to use those things to my advantage or in the right way.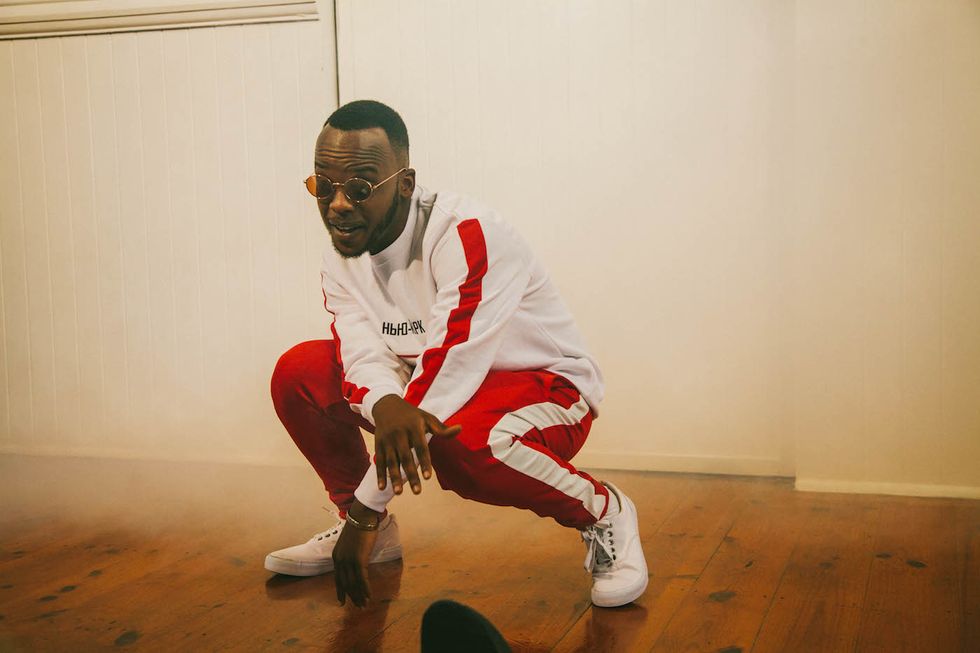 Photo by Sabelo Mkhabela.
So obviously, doing computer science, everything is just aligned. Was computer science a thing that you wanted to do or was it just like, I just love technology and computers?

I actually loved technology. My dad, I remember he started working at the bank, and because he had a laptop, I just loved playing around on it. So I thought programming was this cool ass matrix hacking thing, but you get to first year and you're like, damn, this is definitely not it.
Are you still like really planning to pursue it, as in like just to further into your career?
I would definitely want to work more comfortably. Not to brag or anything, but I'm very smart, when it comes to algorithms and that. But I want to work smart, do things that can actually change people's lives. I don't just want to sit on a desk where I'm fixing bugs for things that, like I want to build a system… I don't know, like something that can actually change Africa. So that's what I mean by "I wanna work smart." I've come up with my own ideas before, and because I just needed funding, it just didn't work out. So now I'm like, if I give the voice via my music, or at least if I get my own funding, then I can sort of like invest in my stuff.
Follow Hillzy on Twitter, Instagram and Facebook.