In the world of Afrobeat, a musical legend's timeless legacy finds a new curator in the form of actor, producer, DJ, rapper, and singer Idris Elba. The much-anticipated Box Set #6 is the latest addition to the ongoing series of comprehensive box set reissues celebrating the work of Afrobeat pioneer Fela Kuti.
This curated collection—following in the footsteps of previous editions curated by Chris Martin, Erykah Badu, Ginger Baker, Brian Eno, and Questlove—showcases the iconic Fela records Open & Close (1972), Music of Many Colours (1980), Stalemate (1977), I Go Shout Plenty!!! (1977), Live in Amsterdam (1983), and Opposite People (1977).
Limited to a production run of just 5,000 copies, the new vinyl set features recreations of the original artwork for each album from the original pressings, complete with vintage vinyl label designs.
In addition, it includes a 24-page booklet, featuring lyrics and insightful commentaries on each record by renowned Afrobeat historian Chris May. This booklet also offers never-before-seen photos and an introduction written by Idris Elba himself. Every set is accompanied by a special 16" x 24" poster, designed by the creative genius behind many of Fela's iconic album covers, Lemi Ghariokwu.
To celebrate the release the new box set, a new t-shirt collaboration between Fela Kuti and Brain Dead is also available for a limited time here.
You can purchase the Fela Kuti Box Set #6, curated by Idris Elba, here.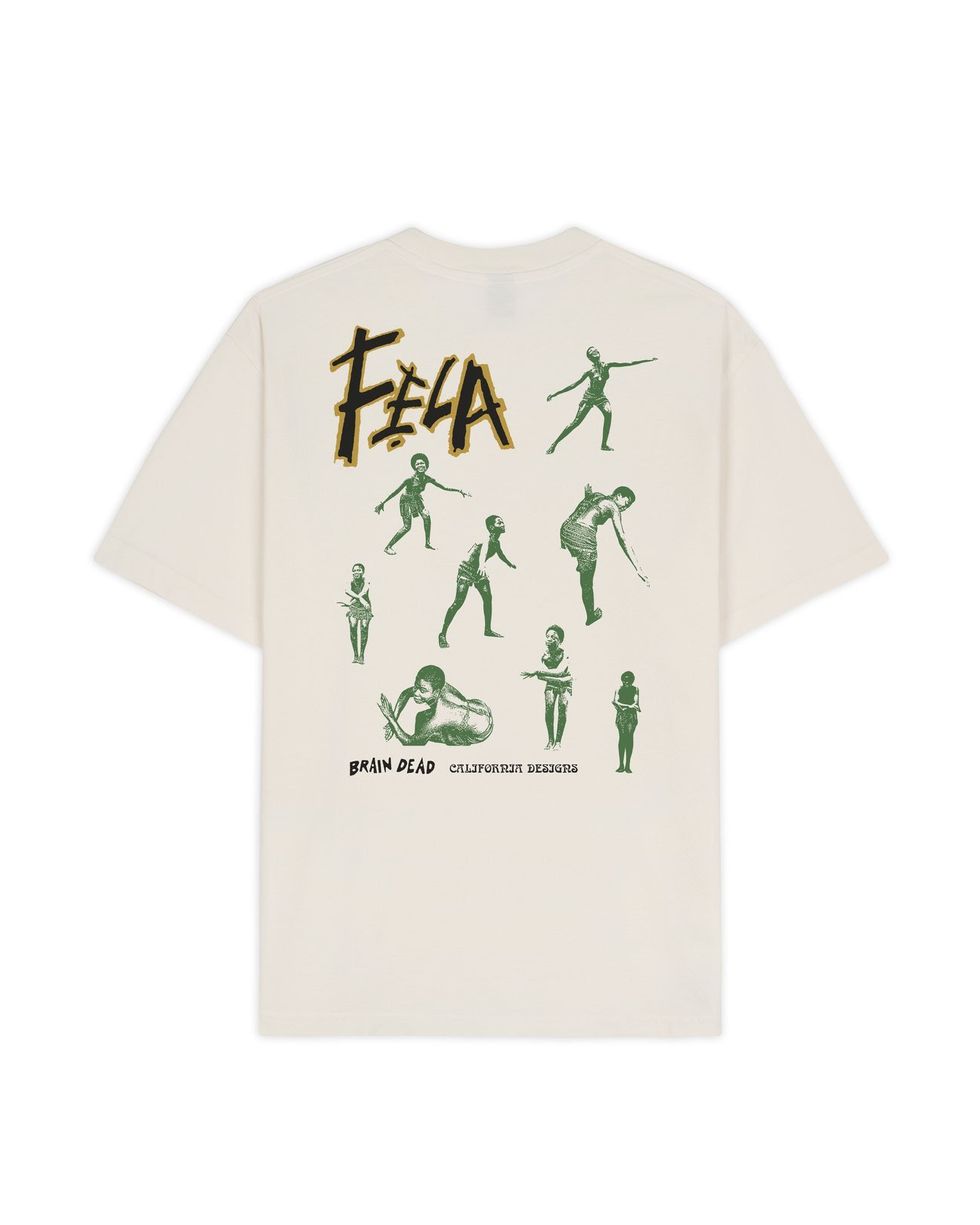 Promotional image for Fela Kuti x Brain Dead tee shirt.
In addition to this splendid musical journey, a short documentary entitled "Fela Kuti: The Legacy" is now available for viewing. Directed by Kayode Thomas, this documentary delves into the profound influence Fela had on fashion, style, and culture, as well as his impactful message and activism. It explores the historical significance of the Shrine, the iconic music venue where Fela Kuti's electrifying performances took place.

Featuring interviews with key figures such as Mádé Kuti, Fela's grandson, Sandra Izsadore, a humanitarian and Fela's friend, Dele Sosimi, a musician, Lemi Ghariokwu, the artist behind Fela's album covers, Jeff Jarratt, a record producer, Rikki Stein, a friend and manager, Chris May, an Afrobeat historian and author, Miles Showell, a mastering engineer, and Sodi Marciszewer, a record producer, "Fela Kuti: The Legacy" promises an insightful exploration of Fela Kuti's enduring impact on the world.
Fela Kuti - The Legacyyoutu.be