As a second generation person of African descent, the arts and its various creative mediums provide a safe space for the diaspora to come together to explore the nuances of dual heritage and the far removed, presumed career choice pressures of being a doctor or a lawyer. For cultural producer Tobi Kyeremateng, her life experiences living in this said duality have informed why she is the powerhouse she is in the UK's creative scene—where she focuses on theatre, poetry, festivals and film.
Born to a Ghanaian father and a Nigerian mother in South London, Kyeremateng was brought up on a strong soundtrack of Whitney Houston, Pentecostal church songs and afrobeat. After joining OvalHouse Theatre at 16 and reading the BAFTA award-winning random by Black British playwright debbie tucker green during college, these catalysts started her formative journey into producing for the stage. She has worked with The Roundhouse,Glastonbury Festival and collaborated with The Prince's Trust. Recently named on the The Stage 100, a list reflecting the most influential people working in the theatre and performing arts, Kyeremateng is also the founder of the Black Ticket Project—and program that provided free access to London shows for black young people and BAMworks, an initiative which connects minority ethnic producers across the UK.
The forthcoming BABYLON Season at the Bush Theatre in West London is a program the burgeoning producer co-created which encompasses a celebration of black and brown cultural innovators and a ground-breaking production which fuses live-streamed performances around the globe. The season opens at the venue from Feb. 4 to 9 with BABYLON Festival—a week-long takeover which celebrates the influence of black and brown people on London culture.
We speak with the BABYLON co-creator and executive producer on taking over the Bush Theatre, championing black voices and what to lookout for at the forthcoming festival.
---
This interview has been edited and condensed for length and clarity.
Christian Adofo for OkayAfrica: I found this quote about you from a few years ago when you were starting out—"You have got a passion for finding emerging talent and have a great eye and ear for identifying artists with a fresh perspective and voice." How does sitting at the intersection of race, class and gender inform your search for new work?
Tobi Kyeremateng: I think in this industry, I have seen a lot of stories from the same kind of people. I think inevitably you will get to a point where you think, "Do I even exist?" It was less about where are the stories about me and more like feeling invisible but super visible at the same time. Yeah there are no stories about you on stage, but at the same time you're still sitting here and working in this building. You're still a part of this sector and so I think I just wanted to see that because it exists. There are lots of things I've watched which don't have elements of my identity on stage, but when you do watch something that is encompassing of all those identities I think something very special happens. I want it to be the standard and I wanted to know that I could go to any venue and see myself represented in some kind of way. So I make it a mission to look for those stories as they're my stories and as long as I'm existing as a human being those stories have to exist as well.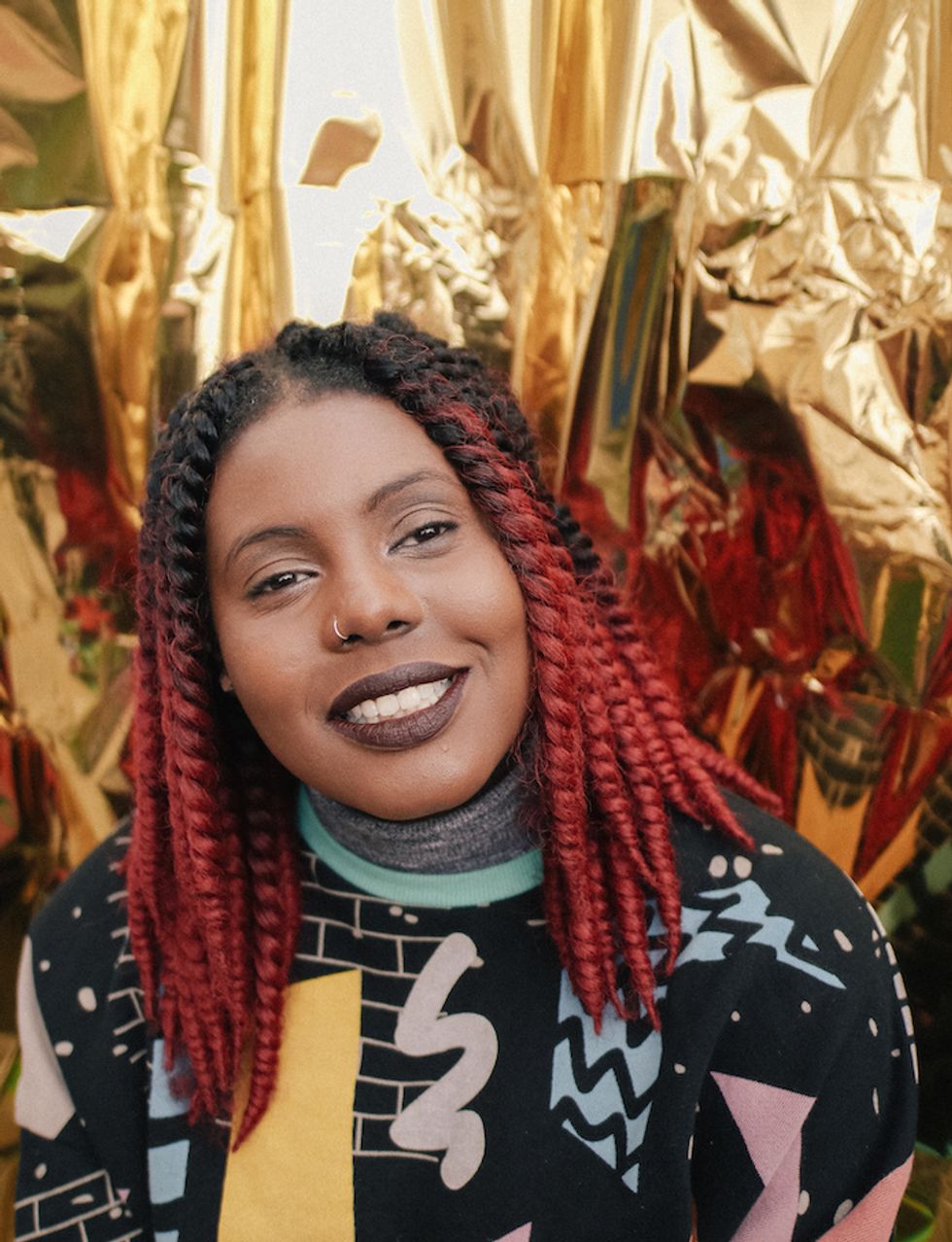 Photo courtesy of Tobi Kyeremateng.
With regard to that, I've always felt theatre as an inaccessible network but it's also one of the rare mediums where you can still feel fully immersed and not look toward your phone. How do you feel about theatre at present in the wider arts landscape within the UK?

I think the industry is at a real place of flux. I feel like this flux is a little bit accidental and I don't think as an industry we were intentionally progressing to get to this stage. I think we've arrived at this stage and everyone is a bit like, "Oh we should be doing more to get further" but no one knows how we got here in the first place. We are seeing more artists of color as artistic leaders of physical venues; we are seeing work on stage that represents a wider demographic than historically the industry has.
The last couple of years have been monumental for that and seeing those stories on bigger stages, so more people will have hopefully seen those stories. I don't think we should take that for granted. The real work starts now about how you keep that consistent so it isn't just a case of lip service and then we're just gonna revert to what we were doing before anyway. It feels like there are lots of really important conversations happening around class, artistic leadership, around critics. That for me feels like that there is a sense of community here. Things are being interrogated in a way that you have to respond to and I think stuff like that is going to be a catalyst to make some big changes in our industry.
After having the critically acclaimed Misty transfer from here (Bush) to the West End, Trafalgar Studios and Nine Night go to the same venue. How do you move on from a point where it's a landmark play being the first, to it being the norm alongside plays that have been performed for years?
I feel like that's what we'll see over the next 2 years whether that consistency stays. I think the venues are realizing that there is capital in this work—business wise it makes sense and these audiences want to see these shows. That's why they are programming all that work and when you think about it, it's bittersweet as it means that they are still testing the waters and it means that there is still a kind of racialized risk around that kind of work.
I think time will answer that, but venues need to stop looking at risk in that way and they need to start seeing that it makes sense. They need to commission more new writers and not just program the same person over and over again because you know their work is good. More new work on our stages that can grown and have a life.
How have you found the response from young people being able to access theatre since you started the Black Ticket Project?
When you start to see those stories on stage you can relate to and are in a form that you understand which you feel something about, it does change how you think. When I read random, I was like, "Oh this is there, and you don't know what you don't know." I think as more young people start to see work, they start talking about it more and a lot of that audience growth is down to trust about seeing people that they trust, talking about a piece of work and going to see it off the basis of that. That word of mouth in that community is important.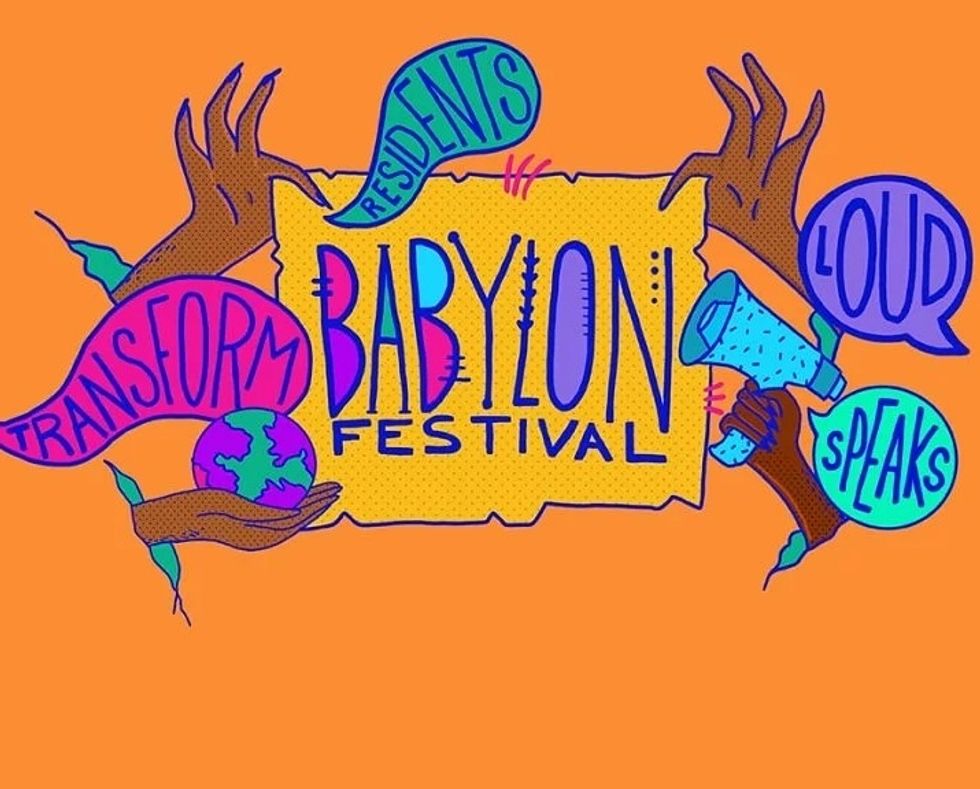 BABYLON Festival artwork courtesy of Tobi Kyeremateng.
You were selected onto the Up Next program as an executive producer at the Bush Theatre and this takeover has culminated in co-creating BABYLON. How have you found the process of building the festival from scratch?

It's been a rollercoaster. Thinking about leadership in this way has been amazing. It was really brilliant to sit under Madani (former director of Bush Theatre) and really watch closely what his leadership looked like and how you develop your own artistic leadership model, ethos—how you get an organization to back that and support that. That's the whole point of Up Next [in terms of] what are the barriers that are stopping people from getting into artistic leadership roles and it gets to a point where it's all about nepotism. There are a lot of things I've learnt about myself, things I've had to fight for—which has been the most interesting thing for me in terms of what my priorities are, what things I am willing to let go and what things I will absolutely will fight to have.
The term BABYLON has many different connotations particularly when referenced from the Rastafarian context and talking about the West. Why did you choose to settle on this name?
I think we really liked the fact that Babylon has so many different meanings. There isn't a way to capture all of those meanings in one thing so I feel it was nice that people could de-code it for themselves and approach it from a different perspective. For me, I wanted to amplify the people who are affected by this the most and in a way that was celebratory and wasn't about trauma but was about joy, cultural innovation, being pioneers and being influencers of several cultures. That's the thing I wanted to amplify. I see it in a similar context as you do. I see theatre as Babylon. Being a microcosm of London as Babylon. The UK being Babylon.
The program blends theatre alongside many creative mediums via poetry, music and even voguing. Amidst Brexit and the rapid gentrification of London, how important is it to take up space and provide commentary as the daughters and sons of black and brown migrants?
A consistent space which is taken over by black and brown people in Europe doesn't exist or is constantly under threat in some kind of way by different authorities. For me, also looking at theatre specifically and theatre venues knowing that a lot of our spaces are publicly funded. Knowing that we are contributing to these spaces being open and being alive but we are simultaneously excluded from them. That doesn't make any sense to me. For me the question was always how do we take up space, what does it mean to take up space and what a consistent space looks like being taken over by that community. For me it's a space which is fully taken over by that demographic doing what they want to do and they're living their best lives and they're bringing people with them and the space is just inhabited and taken over and what the possible legacy of that might be.
What do you recommend we look out for in BABYLON?
I'm really looking forward to Skin Deep'sSonic Transmissions which is part music gig, part live interview with an incredible artist called Moses Boyd. Cocoa Butter Club are going to be amazing. They're doing a cabaret show, a nipple tassel making workshop and an afterparty. I think that's gonna be so fun (laughs). Touching Bass are going to be amazing and I am excited. Also N-Erd Council. The nerd world isn't my forte and I don't know much about it, but I feel like there is something for everyone.
Lastly. What does the future hold for you after the festival?
I honestly have no idea but I'm very much going with the flow. This year I'm playing around with a lot of different things that I haven't done before. I'm doing some films stuff which is cool, producing my first independent show about carnival that's happening in the summer. Doing a guest lecture. I feel like all these new things will inform the rest of the year and where it takes me.
The BABYLON season runs from Feb. 4 to 16 at the Bush Theatre in London. Check out the full program here.