This profile is part of OkayAfrica's ongoing series, THE WAV 2019, following the young artists shaping the future of the South Africa's music scene. You can read more profiles and interviews here.
Sho Madjozi is one of South Africa's most exciting artists at the moment. She has churned out hits like "Dumi HiPhone" and 'Huku," in which she blends hip-hop and gqom. She has collaborated with the likes of Wanlov The Kubolor, PH, Ms Cosmo, OkMalumKoolKat, and a few more.
---
She has captured the attention of South Africans with her style and personality. But more than anything, what sets her apart is how she managed to bring the Xitsonga language into the mainstream music scene, especially hip-hop.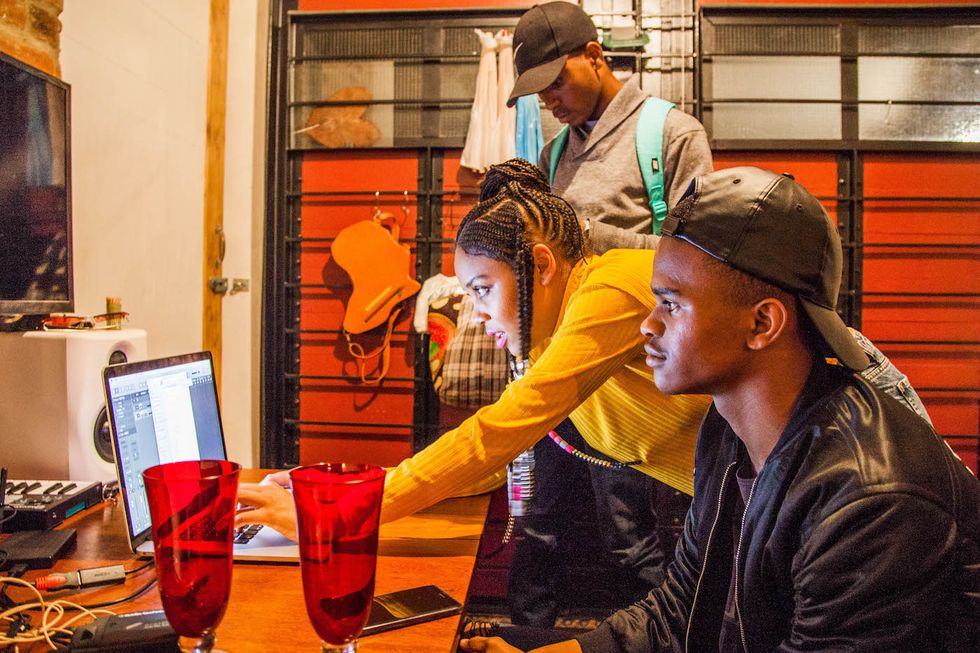 Sho Madjozi with Classic Keys and T Boy Da Flame. Photo by Sabelo MKhabela.
There's more to Sho Madjozi than catchy rhymes over gqom beats, though. She is currently working on her debut album, which will showcase more of her abilities and tastes.

"People are gonna get to know me a lot more," says the artist as she prepares to record a single at her home studio in Johannesburg. "I'll be more full in my sound. [It will be] an album that showcases what's going on in my world—I don't only listen to gqom; it's not the only influence I have. There's xibelani, Xitsonga music, Shangaan electro, xingondo—which is the Venda and Zimbabwean music… those influences. So I wanna get more live instruments, those traditional guitars and stuff.
"I've started working on the album, but I will go full out on it around June/July, and hopefully have it out in September or October."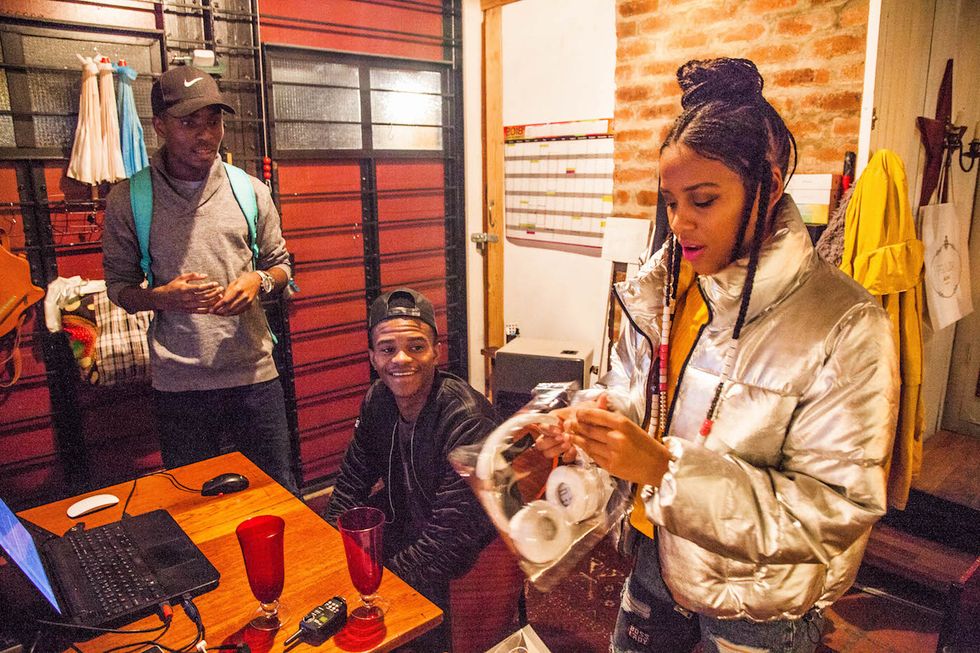 Photo by Sabelo MKhabela.
Today, though, she is recording a single with two young producers, Classic Keys and T Boy Da Flame, who are third-year medicine students at the University of Witwatersrand. The duo has been thriving in the parody scene. Their parody of a parliament incident in which former South African president Jacob Zuma was referred to as "uBaba kaDuduzani," went viral. They turned those clips from parliament into a viral gqom hit that is currently sitting at 1,3 million views.

"They hollered at me on Instagram," says Sho Madjozi. "I'm getting beats now because 'Dumi HiPhone' went viral," she says.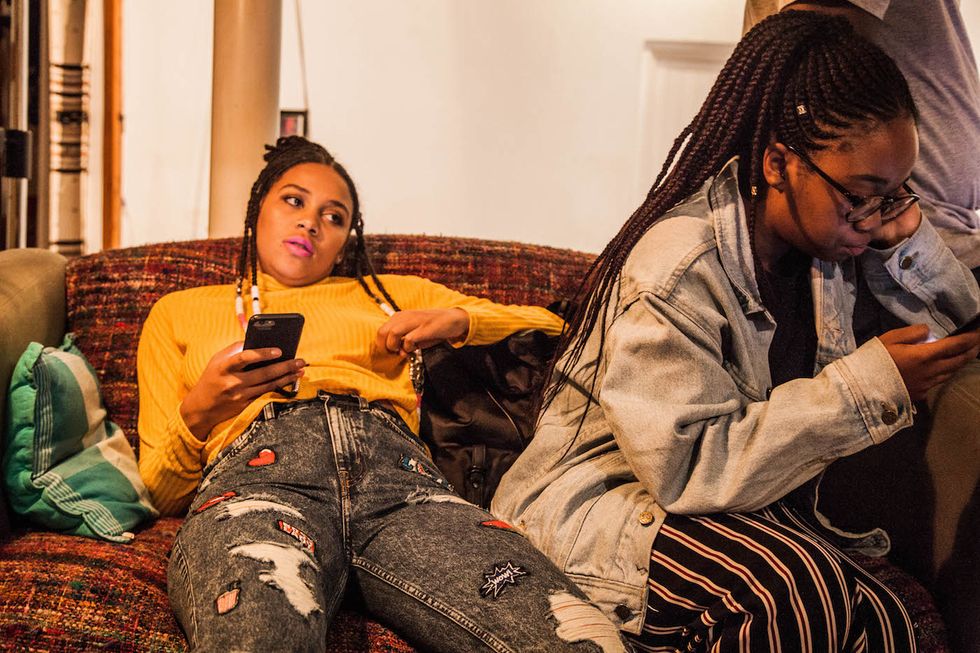 Photo by Sabelo MKhabela.
After a few takes in the booth, she feels the song they're working on today needs more of a knock. The duo modify the beat on the spot until both parties feel it's headed in the right direction. She's also struggling with vocals as last night was her birthday party, and her voice is failing her.
A framed cover of #Trending, the City Press' arts and culture section sits comfortably in Sho Madjozi's studio. Photo by Sabelo Mkhabela.
Sho Madjozi may be making a lot of gqom-oriented hits now, but only a few know she started out as a poet. Just a few years ago, performing under the name Maya The Poet, she was a completely different artist.

"I recently got a booking request to perform in a poetry festival in Argentina," she says. "It's tricky because the Sho Madjozi thing is more consuming, I don't have a lot of time to work on other things."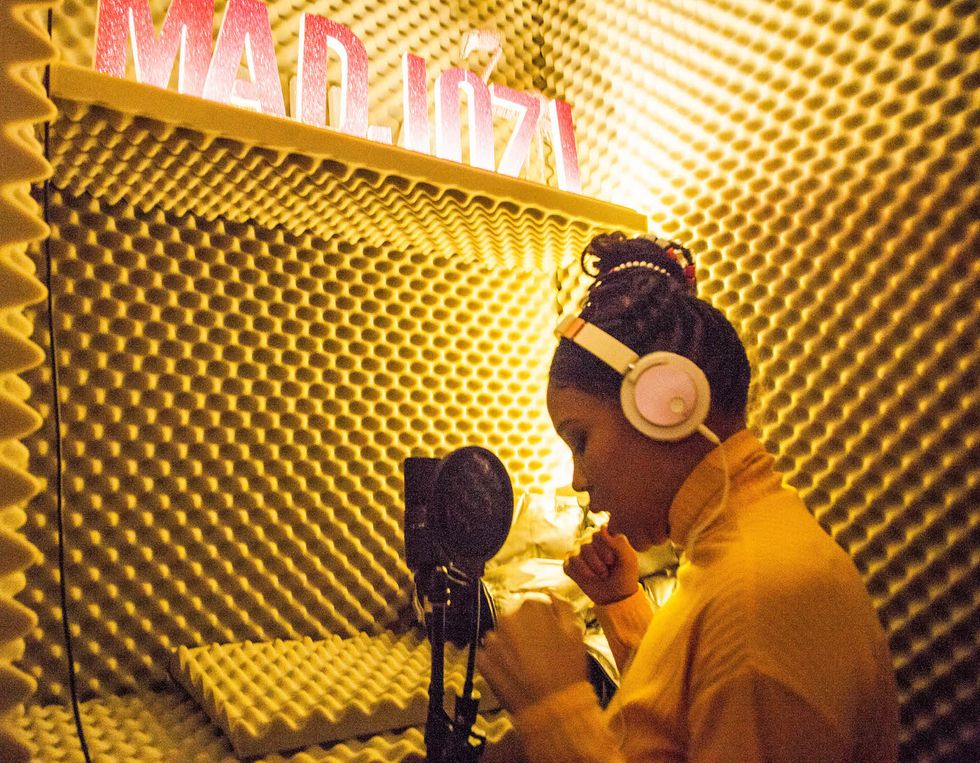 In the booth. Photo by Sabelo MKhabela.
I ask her if we will see a return of Maya The Poet on her upcoming album. She doesn't give a straight answer, but from her response, it's highly unlikely.

"I got a bit tired of the poetry scene," she says. "It can be a bit insular and elitist, because when I was doing poetry, none of my cousins in the village knew what I was talking about.
"And, [as a poet,] you can be very outspoken, but a lot of the time, you are talking to people who already agree with you—you are in a room full of people who already hold the same view. When you talk about patriarchy, women abuse… just all sorts of social ills, generally anyone who goes to a poetry session is not your target audience, these are already woke people. So now, how do I reach the people that I believe I was always trying to reach as a poet?"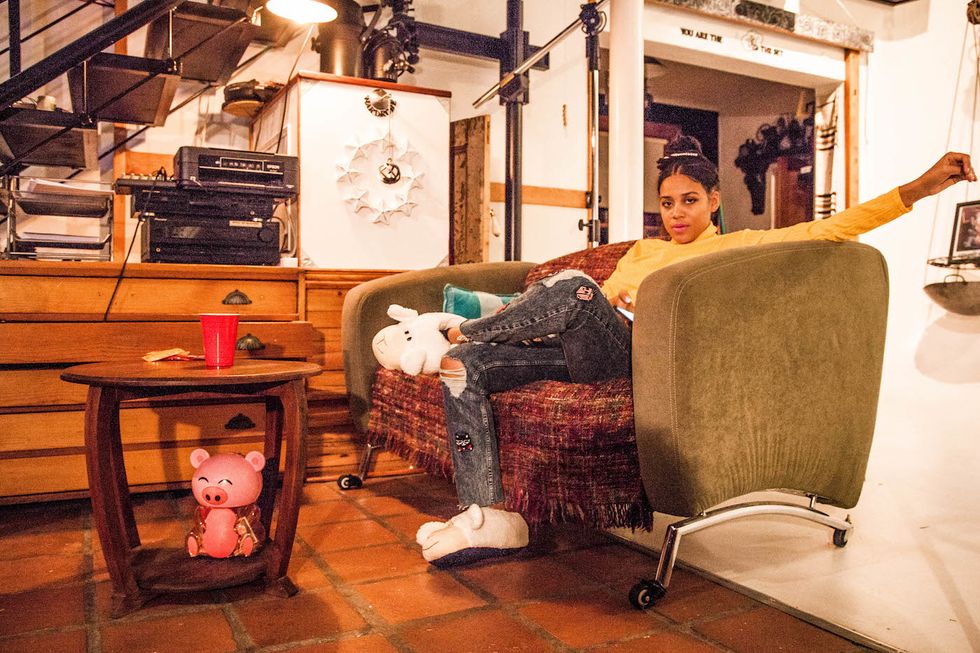 Photo by Sabelo MKhabela.
Poetry is cool, but me and thousands of fans are glad she left it behind. And clearly so is she. "The Sho Madjozi thing has gotten such a strong reaction from people, in such a way that it's overwhelming," she says on her latest alter ego. "It touched a nerve, and I'm still trying to figure out the extent of it. People are dedicated to this movement, partly the language thing."

She might be a thriving as a rapper now, but she didn't see herself becoming a rapper starting out.
"I don't have the same lifestyle as all the rappers I saw at that time," she says. "And as a woman, it seemed there were only two ways to be a rapper. You either have to be really really sexy or be masculine, and I'm neither. I'm not into rap culture that much, I prefer xibelani as far as parties go. I've only recently gotten into club culture, because they never used to allow me to wear sneakers. But now they do, because I'm famous. So now I can go to a club."
She chuckles after the last sentence, and it's time to go back into the booth.
Follow Sho Madjozi on Twitter, Instagram and Facebook, and check out some of her tunes below: