After rocking a LaviebyCK design by Cameroon's Claude Kameni in her 2018 'Made for Now' music video, Janet Jackson has turned to another talented set of African creatives for her latest look. As part of her February 2022 cover shoot for Allure Magazine, in which Jackson talks about executive-producing her documentary,Janet, the multiple Grammy-winning artist is pictured wearing an Ògún headpiece, co-designed by Ghanaian-British textile and furniture designer, Chrissa Amuah, with Nigerian architect and designer Tosin Oshinowo, for Lexus.
"I've always been a fan and respected her craft and work ethic," Amuah told OkayAfrica. "For Ms Jackson to wear the Ògún in promotion of her new documentary sends a powerful message of enduring brilliance, integrity, and walking in the strength of our true voices."
Of Ghanaian, Togolese, and Beninese heritage, Amuah was born to Ghanaian parents in London and draws inspiration from the Ghanaian Adinkra symbol in her work as the founder and Creative Director of AMWA Designs, a luxury homeware and interiors brand established in 2014. Making her international debut at the Milan Design Week, she gained worldwide acclaim in 2015, and a few years later, was named "Consumer and Luxury Rising Star" at the 2017 Black British Business Awards.
---
In October 2021, Amuah was featured in Home & Garden magazine's annual Design 100, which highlights the top 100 designers shaping the world of contemporary design, and she joined the publication as a contributing editor earlier this year.
She was invited by Oshinowo to collaborate on a project by Lexus, called Freedom To Move, which formed the basis for Jackson's Allure looks. The shoot's stylist, Patti Wilson, reached out to Oshinowo, to ask if it would be possible for them to get the masks and luckily, the Ogun masks were in Lagos, and Tosin was able to overnight-deliver them to London in time for the shoot.
Amuah talked to OkayAfrica about the process further and the influence Ghana has had on her overall work.
Interview has been condensed and edited for clarity.
Can you walk us through creating the 'Ogun' headpiece worn by Janet Jackson?
The shot of Janet Jackson wearing the Ògún headpiece will forever be a pinch-me moment. I had 'Velvet Rope', 'If' and 'Scream' on rotation the day the image was released. The Ògún headpiece features as part of a project concept, titled Freedom To Move, which was sponsored by Lexus and launched at Design Miami / 2020. I collaborated with a Nigerian architect called Tosin Oshinowo. Using the pandemic as our backdrop, the brief asked us to create something — anything — that would speak to our shared humanity and promote mankind's freedom of movement.
The starting block looked at Africa as the origin of civilization, particularly focusing on Lagos, Africa's most populous city. We looked at the historical roles of masks in African ceremonies and customs and drew parallels to the modern-day. Everything about the project is conceptual and symbolic. The project shines a spotlight on, and celebrates, some of the incredible innovation that has come from the continent. All too often, Africa is erased from its contributions to science, mathematics and civilisation. Ògún speaks to both the past and the future; it pays homage to Ògún, the Yoruba god of metal, war, truth and justice, whilst unifying traditional brass casting techniques and modern technology, in the form of 3D printing.
The project has been a credit to everyone involved. It was a one-off project that has snowballed. Freedom To Move has been such a significant and exciting project; marrying African designers, with an African concept to an international luxury brand. This unique collaboration celebrates Africa's proud history. The headpieces have manifested their own digital life-force and resonate with so many people around the world; from Lagos to London, Kazakstan to Atlanta with Masego, and now, the icon that is Janet Jackson.

What's the backstory behind your decision to start Africa By Design, the platform you created to showcase African designers?
Africa By Design launched in 2017. I had the idea for it a good 18 months prior. At the time, African art was already hot and gaining momentum. I remember thinking, 'This is great, but what about African design?'
As a designer myself, I have had wonderful opportunities. I have exhibited my work at places like Milan Design Week, and I just thought that there wasn't the equivalent or something like that focusing specifically on, and celebrating, African design and designers. The idea felt bigger than me, but I was compelled to do it. Africa By Design was launched in Accra at the Nubuke Foundation, on 6th March 2017, a date which intentionally coincided with Ghana's 60th anniversary of Independence.
In planning and preparing the exhibition, people would say, 'Oh this is great, but why don't you host it in London?' Part of the point was to bring international focus to the continent. It made sense to host it in Ghana, as it's where I'm most familiar, and that seemed like a great starting point. We hosted an exhibition, and it was wonderfully successful. The initial exhibition featured the works of 23 designers, from eight different sub-Saharan countries. Their works spanned textile, furniture, product and environmental design. The feedback was phenomenal. Visitors said they had no idea that we had all of these wonderful works in our 'backyard,' so that for me said it all.
What's the ultimate goal for Africa By Design?
Alongside the exhibitions, I want to develop its scope as a design education platform — ensuring access for young African designers, from all across the continent and from all walks of life.
Throughout African design, we see deeply-rooted elements of spirituality and humanity. There's nothing like it anywhere else in the world. Through symbology and materials, our designs communicate values of humanity, societal and environmental well-being. It's so important that, as a people, we never forget that.
The commercial aspect of design pushes us towards mass production, but what if Africa was able to create design solutions that beautifully solve problems and also take into consideration the environmental needs of the planet – how powerful would that be?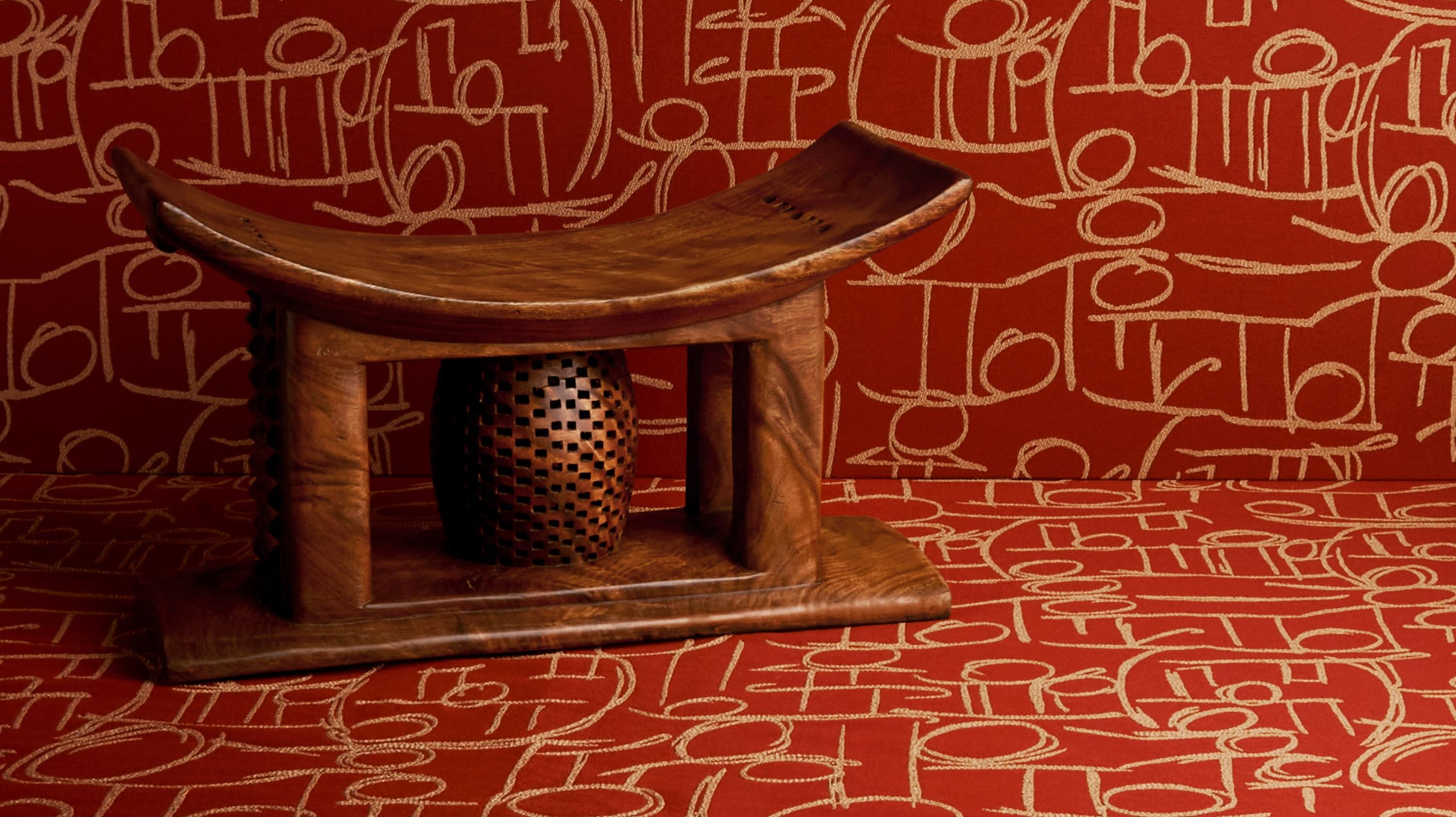 Chrissma Amuah made her American debut with the 'A Sense of Duality' collection in 2021 in collaboration with Bernhardt Design.Photo: Bernhardt Textiles
How do Adinkra symbols inspire AMWA Designs?
I launched AMWA Designs doing my Masters in textile design at Chelsea College of Art and Design. The brand name comes from the phonetic spelling of my surname, 'Amuah'. Adinkra symbology has always been so powerful and meaningful to me. I love that it speaks to our humanity and promotes certain values that I hold dear, so I used it to underpin the concept of the brand. AMWA Designs is a combination of beautiful and meaningful design, intended specifically for our personal living spaces to nurture our well-being.
Although I was born and raised in the UK, I come to Ghana more times than I can tell you. And every time, I would see that Ghana is 'developing', as in it's becoming more commercialized – we have restaurants, we have clubs and other specific amenities. Accra has become a metropolis; it hosts a multinational population, but everything that I was seeing is rooted in Western sensibilities. Adinkra speaks almost like a foundation of Ghanaian essence. You drive throughout Ghana, and you will see Adinkra symbols everywhere, but I just thought there is room to adapt it in a way that promotes what it represents, and speaks to Ghanaians and non-Ghanaians alike.
How did the Amplify Project you co-created at the Ghana Pavilion of the London Design Biennale a few months ago, which referenced Ghana's colonial past, come about?
I was invited by the London Design Biennale team, along with Alice Asafu-Adjaye, to represent Ghana for the third edition of the biennale. Es Devlin was the Biennale artistic director; her portfolio includes set designs for the likes of Jay-Z, U2, Beyonce and Kanye West. She set 'Resonance' as the biennale theme, which each pavilion could interpret as it wished. The idea was to explore, how do we ensure our human connectivity, whilst also taking into consideration the environmental needs of the planet, especially as we head towards a more digital age?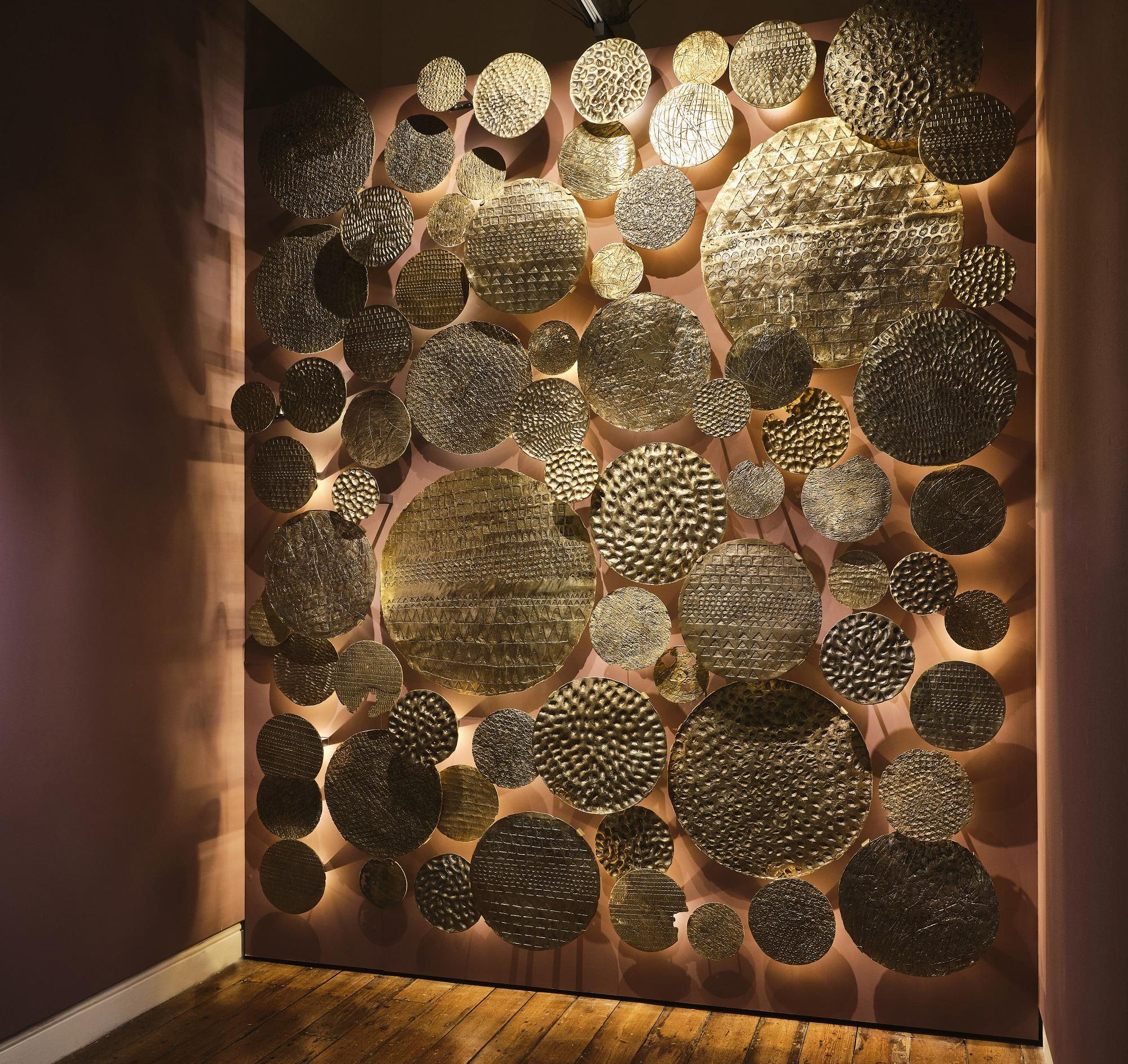 Amuah helped create Amplify at the Ghana Pavilion of the 2021 London Design Biennale.Photo: Dean Hearne
The biennale was hosted at Somerset House, which is a very prestigious venue in London that has a strong and long history. Alice and I started by looking at Somerset House's history – we discovered that once upon a time, it was named Denmark House in honour of Queen Anne of Denmark who had been married to a British King when she was only 15 or so. She cultivated Denmark House as a saloon of the arts; she would invite artisans from across Europe to come and influence its architecture or to host events there, so it very much became a centre of the arts. You could say that that legacy still exists at Somerset House. This was in the early 1600s, and if you jump about 40 years or so in history, you see that that's when the Danes first came to the Gold Coast [now Ghana]. When they arrived, they did not bring with them the same sentiment of collaboration, mutual equity and exchange. Christianborg Castle [Osu Castle] is one such legacy of the Danes.
'Amplify' was really about amplifying unheard voices and exploring how Ghanaian artisans might have also influenced the architecture of places like Somerset House had they been given the chance.
What's next for you?
I also have another project with a major international brand that is due to launch in America this year, but I can't say much about that. But I will say that it has been really empowering and exciting to be seen at an international level, sharing designs that are rooted in African perspectives and aesthetics.
*This story has been updated to reflect that Chrissa Amuah was invited to work on the Freedom to Move project with Tosin Oshinowo, which became the basis for the photo shoot, which was styled by Patti Wilson.