In the last three years, KDDO has been constructing a signature sound that mainly dwells on themes of having fun and living an opulent life. As is evident in his Wizkid-featuring single "Alright" and his memorable hook on AKA's "Fela In Versace," KDDO's input reflects the lifestyle of a man who is carefree and cloaked only in pleasure.

By the time the Nigerian producer and songwriter would usher in "eWallet" featuring Cassper Nyovest, in the thick of a thriving pandemic, the idea for his debut project was established. Building off South Africa's buzzing amapiano sound, Kiddominant, as he's also been known, created a diversion by blending lightweight drums—serving as the base of the sound—with bright, soothing West African melodies. To him, a genre was born: South Afrobeats.
His self-made sonic idea would later be the foundation for this year's Too Late Too Lit EP.
"It started when I met Kanye West," KDDO tells me about the EP's origin. "He was like I should chase my dreams, I should go for it. At that time I was fully a producer, I wasn't singing. Although I had plans of going into singing, I wasn't sure of how to do it. Kanye and I were talking and he was like do what you want to do, believe in yourself. So I took in his words and went for it."
We caught up with the multifaceted sonic architect to talk about his musical journey and his new release below.
---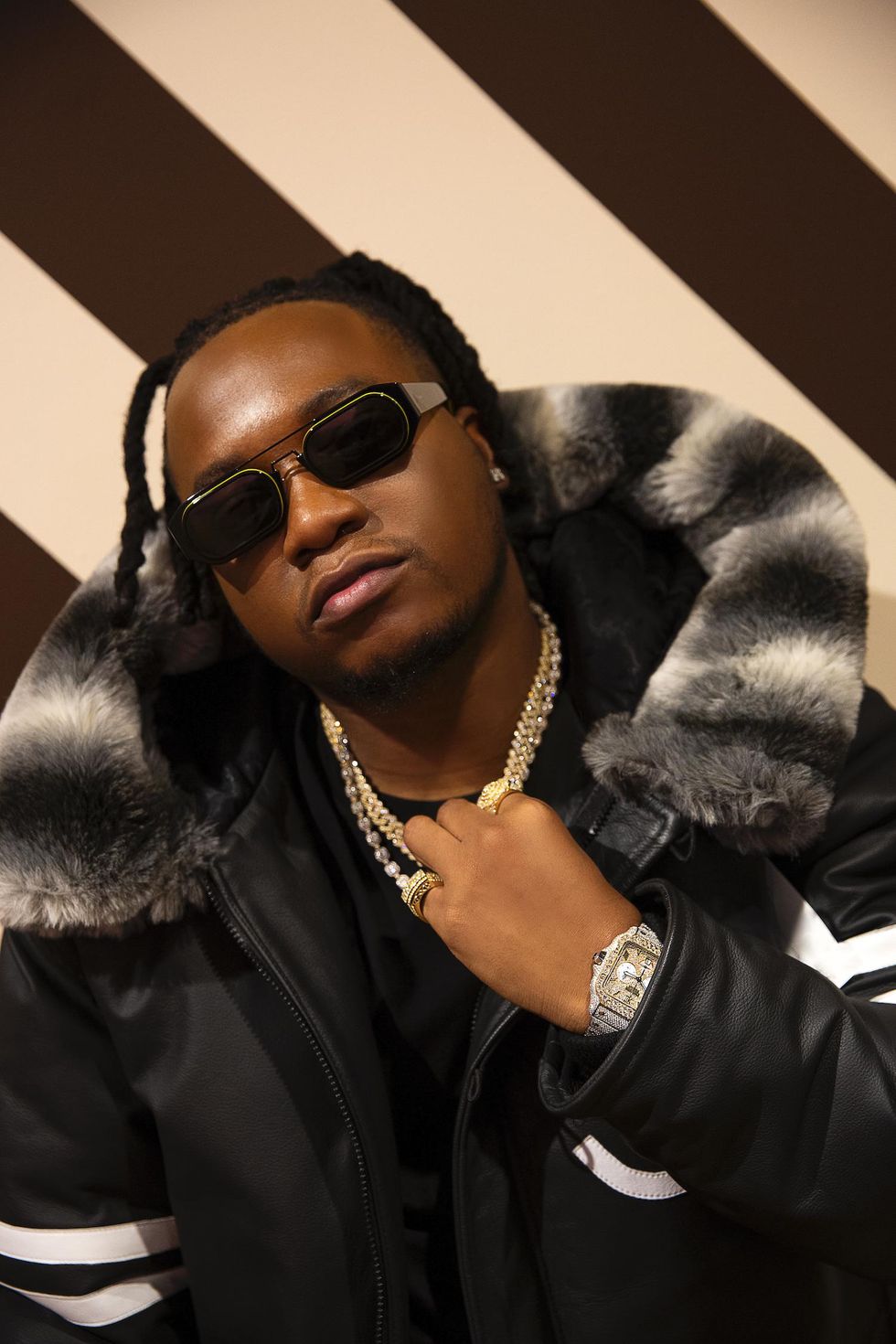 Image courtesy of the artist.
When did music first come into your life as something you could do?

I would say I was born into music. My dad was fully immersed in music as he could play some instruments. So, by extension I also became a music person. As I grew older as a person, I began to take it more seriously. I started off first as a DJ and I moved into writing songs. Around that time I began rapping and producing.
Davido is a close friend of yours and he appears as a collaborator on this new EP. You both also birthed one of afrobeats biggest hits ever, "Fall." How did you develop that chemistry?
We met through Danagog who happens to be Davido's friend. We were just creating music and David happened to be in the same room. He was like "yo, KDDO let's work, I've heard [Orezi's] 'Rihanna,' let's work." We just started working from there. We made "Dodo," we made "The Money," and then later we made "Fall" and all the other songs.
One of the best hooks I've ever heard on a rap song is yours on AKA's "Fela In Versace." It sounded effortless, like you recorded it in one take. How did that jam happen?
I remember starting the creation of the song in Johannesburg. AKA and I then met in the States, in Austin, Texas. He was already finished with his album and was like "yo, KDDO let me play you the album." So we linked up, he was playing the album, but I was like "you know what, I think you need one more thing."
So I played that song off my laptop. He just went crazy, nuts, he was jumping everywhere in the hotel. All his friends were also giving off the same energy. They were like, "This is what we've been looking for." So I knew with that song, we had something. After that, we worked on the record, he did his verse.
Fast forward to some months later and it drops. From the day it dropped, the song went up like crazy. People started going crazy, it was just vibes, fun, making music. That's how I always like to keep it, I don't like to make it too hectic.
KDDO - eWallet (Official Music Video) ft. Cassper Nyovestyoutu.be
Why did you name it Too Late Too Lit?

Too Late Too Lit is a very multifaceted title, that's why I chose it out all the titles I wrote down for my EP. It stood out in the sense that when I asked people "What comes to your mind when you hear the phrase Too Late Too Lit?" Everyone said different things. Someone said it reminds them of their ex, trying to get back to them, it's too late, they already lit now. Then another person said it reminds them of hell — hell fire is lit — and when you get to hell fire, it would be too late to go back to God. It's just different people with different answers though. That's what I really like about the title.
All of the songs on Too Late Too Lit point to a cohesive sound structure. The beats possess varying emotions. How did you settle on the sonic direction for this EP?
For this project, I really wanted to fit in South Afrobeats, which is a genre I created. It was a merger of South African drums and West African rhythms. That was like the core mood of the project. I really wanted energy, youth energy. I wanted people to rave and go crazy. But at the same time, I wanted to keep the element of soul and make people feel real good music because we don't really have that these days. I really wanted people to feel soulful music again.
Judging from "Alright," "Fela In Versace," and "eWallet," you come across as someone who really doesn't care about the troubles of life. You just want to have fun. Is that your life philosophy and does this inform your music creation?
I'll say my philosophy is just be calm, be kind, stay humble, show love. Life is not as complicated as people make it to be. Just enjoy life, even with my music, I just try to make sure people enjoy life. When I make my music, I don't want anything to look hard or forced, it has to just be fun. That's pretty much the core of anything I'm doing with my art life. It has to feel good to people, they have to enjoy it.