Afrobeats adds a flavor to the ambiance of American and Western pop music that cannot be replicated. The fresh cadences and pulses fuse to halter an infectious vibe that transcends cultural boundaries. Award-winning Nigerian producer Kiddominant has largely pioneered that opportunity creating waves with record breaking productions.
The producer behind Davido's smash hit record "Fall" has proved his innovation when it comes to constructing melodies to inspire some of Africa's greatest hits. When it comes to his first single of this year, "eWallet," featuring South African star artist Cassper Nyovest, Kiddominant continues to uphold his reputation. The single debuts a new sound that Kiddominant has dubbed South Afrobeats, a renaissance of South African drums and traditional Afrobeats, come together to create a contagious beat. The birth of this beat was largely influenced by his sabbatical in South Africa and his immersion in South African culture. With "eWallet" gaining momentum, we got the chance to catch up with Kiddominant as he discusses his legacy, "eWallet" and the production of South Afrobeats.
---
You're a top-tier African producer, tell us about some of the legends that might have influenced your sound and the way that you create music.
Growing up as a child in Lagos I was surrounded by music, my dad loved music so much and he would learn from the instruments he played. My dad used to play a lot of Fela Kuti, he used to play a lot of Lagbaja, Sade, Michael Jackson, and when it comes to producers my main influencers were Timbaland, Dr. Dre, Scott Storch and of course Kanye West. All those people actually created the foundation for my taste in music and the way I create music. Growing up I started chasing music, I started DJ-ing and I started seeing other parts of music that I never knew as a child. There was a point where I wanted to be an artist, and I wanted to make a production for myself and my friend introduced me to production tools. I used to play around with it every night… I used to make music every night from 7pm and I wouldn't sleep until 6am, that's when I realized this was what I wanted to do. That's how it really developed into what you see today. Everything you see is a result of a natural passion for music.
Kiddominant - eWallet (Official Audio) ft. Cassper Nyovestwww.youtube.com
What was your reaction when you learned that "Fall" had gone 3x platinum in SA and is now Gold in America and Canada?

I mean I just felt like my dream came true. That's one of the things I've always dreamt about, to be a successful music producer and to always wave my country flag anywhere I am, and with anything that I'm doing, and I'm happy that I am doing this with the music I make. I'm not only waving my country flag—I'm waving the flags of the continent of Africa, so this is big for me, it's a dream come true.
In the last few years Afrobeats has really broken into mainstream pop. What does it mean to you to know that your productions have exponentially influenced that opportunity?
I mean to me it's just always what I've wanted to do. I've always wanted to make music for the world, but I wanted the music I made to still represent Africa, I didn't want to change my origin or sound. Unfortunately, this is something that's happening a lot right now, you'll notice everybody that's trying to cross over, they're always trying to mimic their music after an American or Caribbean sound. I've always wanted whatever I was doing to be original African music that the whole world would love because it's African music and I'm glad that's what happened.
What's your goal with this new sound and introduction of South Afrobeats.
With the introduction of South Afrobeats, I feel like South Africa has such good music and only a portion of the world knows about it. People don't realize the kind of music South Africans make, it's so amazing! I lived in South Africa for a year, after "Fall" started taking off, that's where I met AKA, and I realized there's a lot we can do with this sound—especially with the fact that I'm a Nigerian making Afrobeats, I can actually show people what these guys are doing in South Africa in my own way. Afrobeats is already going global and one of the ways I can easily showcase the South African sound is if I merge this sound with the Afrobeats that the world already knows. This is one way to enforce it because the way Afrobeats is moving, it's not just about Nigerians it's about Africans it's about us as black people. The world needs to realize that there's such great music on this continent and I feel like the best way for me to present that is to give them what I know, blended with what I found out.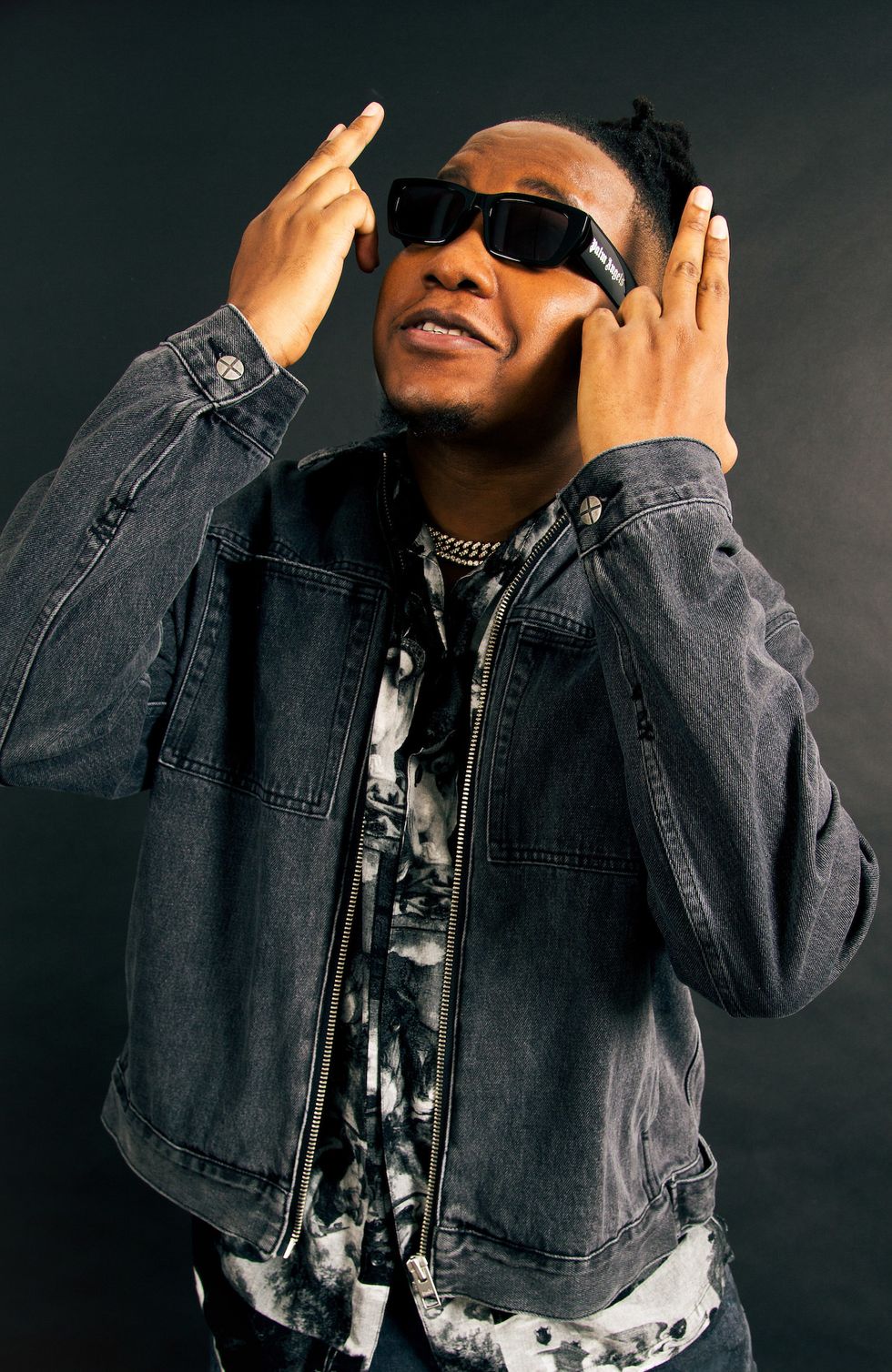 Kiddominant.Image courtesy of the artist.
"eWallet" is a unique title, can you tell us a little about the inspiration behind it?

Yeah, "eWallet" was inspired by South African girls, the inspiration came from the time I spent in South Africa, I really got involved with culture, I met a lot of girls, I met a lot of people. When you're hanging out with the girls in South Africa sometimes, they ask you "Can you send me eWallet?" just like when you're in Nigeria and they ask you "Can you send money to my account." That's how the song came about. It's really to encourage us, as men, to spend money on our women and take care of our women. We have to take care of our Black queens (laughs), they have to be alright at all times.
Who came up with the concept behind the lyrics in "eWallet"?
I came up with that. I made a post that I wanted to make South African and Nigerian music and Cassper reached out to me—shout out to Cassper—that's an amazing guy, he reached out to me and said "Bro let's do it." I sent him the record and he jumped on it and sent the record back the next day.
What was it like working with Cassper Nyovest?
It was great, he's a great guy! There was no competition. It was all love, we just made music with the main aim of bringing Africa together through the sound and with the major aim of having our women enjoy the benefits of being women.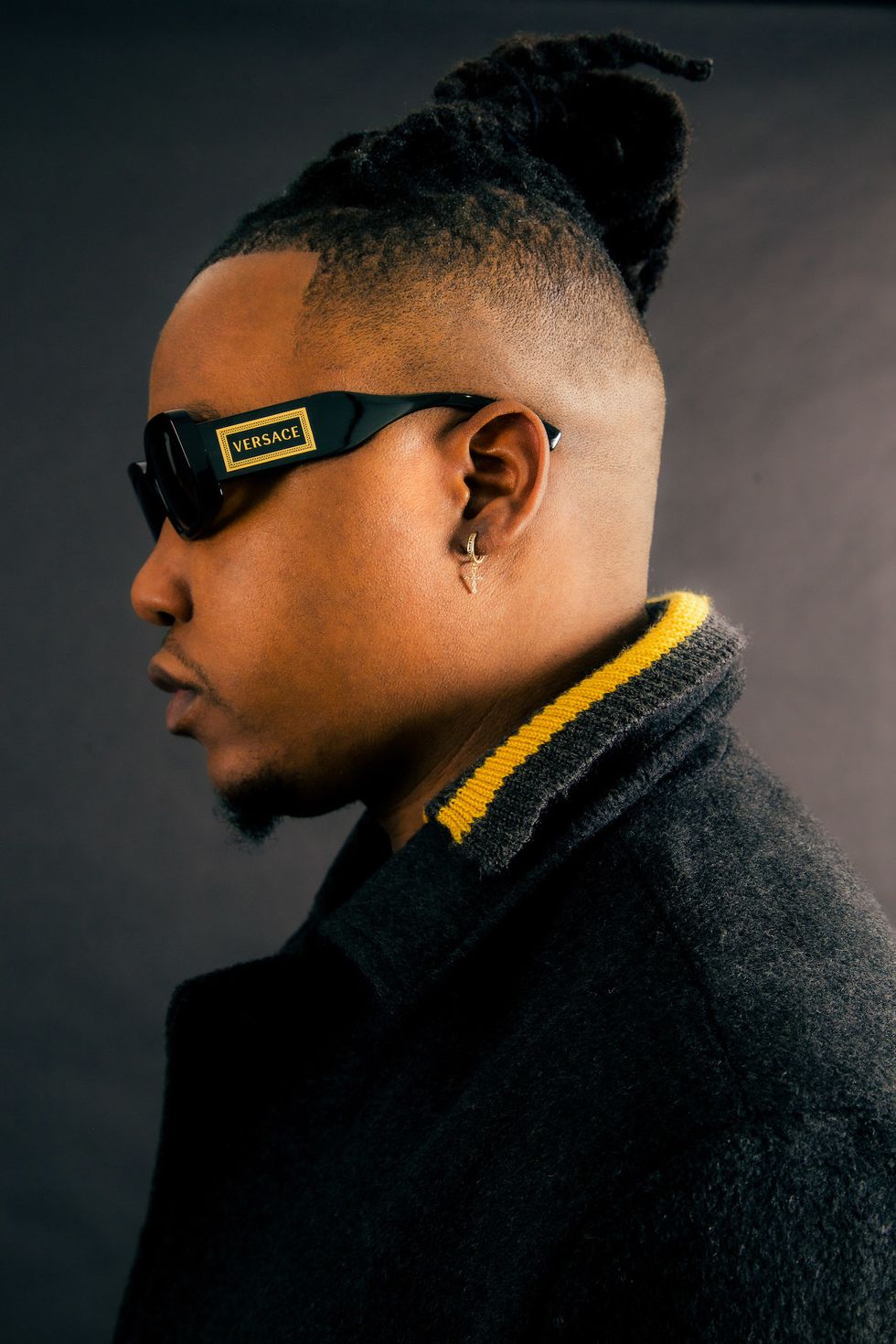 Kiddominant.Image courtesy of the artist.
What is the concept behind the construction of South Afrobeats?

Yeah, South Afrobeats is a blend of South African drums with West African rhythms and melodies so in general it's the blend of Afrobeats with South African Music.
Do you feel like "eWallet" will influence the trajectory of South Afrobeats?
Yes, and in general that's my vision I want it to be as big Afrobeats, I want it to be as big as the biggest genre of music. I want everybody to use it, when I see producers making that sound when I sew music artists using the sound—that's my dream, I will be so happy.
There has been a great amount of anticipation surrounding the release of "eWallet," largely due to the creation of a whole new sound; and then to have Cassper Nyovest introduce that sound. Who are you eager to see incorporate South Afrobeats next?
I have a project ready as we speak with this combination of sound. I have Sho Madjozi, I have Cassper Nyovest, AKA, Lady Zamar, there's so many people I'm bringing on board to really bring this dream to life. I have a seven-track project dropping, this is just the first of South Afrobeats that you're seeing.
Do you have anything else you want to say to the people?
Yeah, I just want to say go on Apple music, Spotify, everywhere and stream "eWallet"!