Popular
A Lesbian Woman, Who Fled Uganda for the US After a Homophobic Attack, Is Now Facing Deportation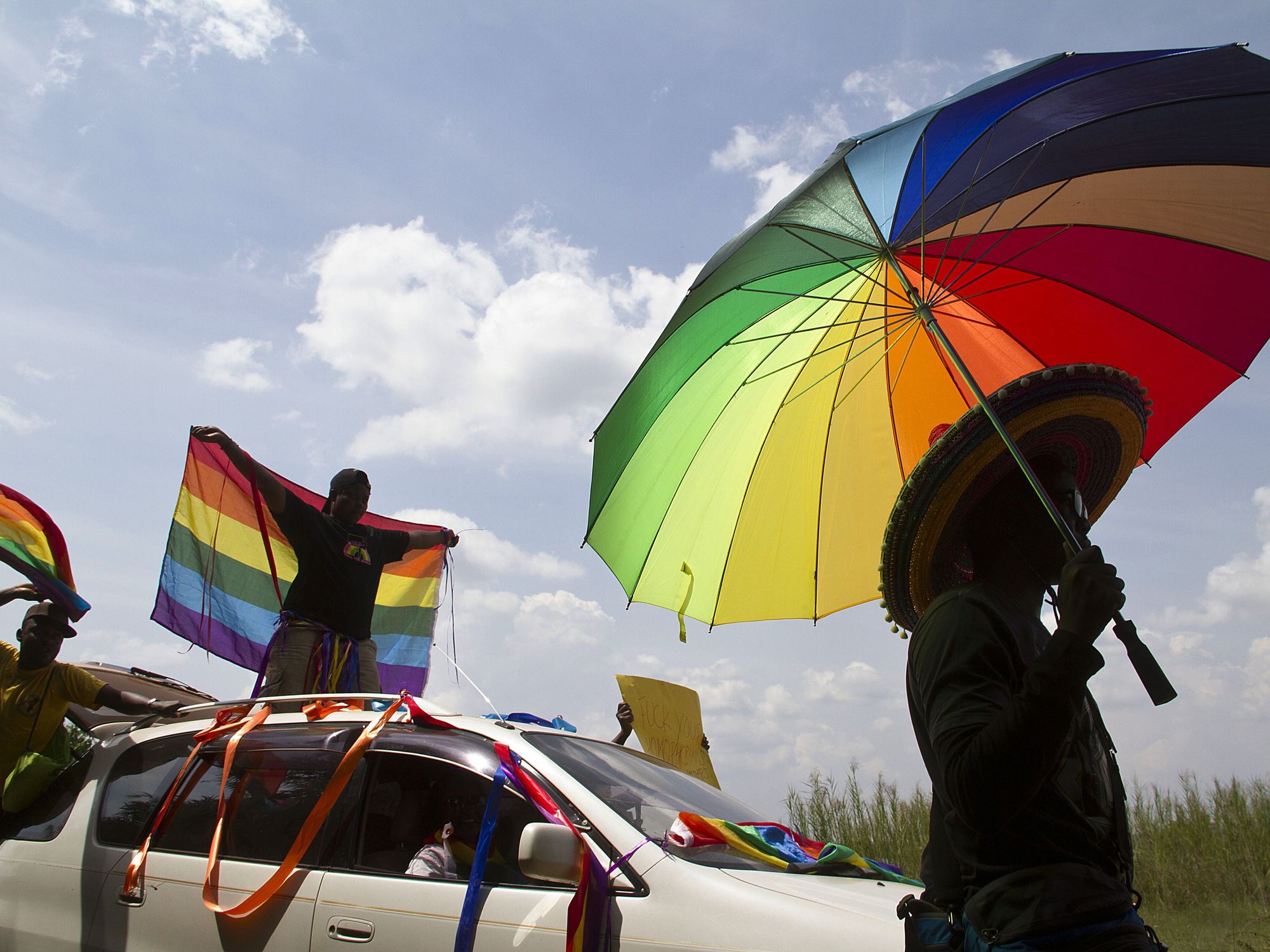 A person holds an umbrella bearing the colors of the rainbow flag as others wave flags during a gay pride rally in Entebbe, Uganda. August 09, 2014. (Photo: ISAAC KASAMANI/AFP/Getty Images)


The Trump administration does not believe she faces a threat in Uganda, despite the country recently threatening to re-introduce its "Kill the Gays" bill.
A lesbian woman who fled Uganda in the face of homophobic violence, now faces being deported from the US by the Trump administration.
According to a recent report published in Rolling Stonemagazine, a Ugandan woman by the name of Margaret sought asylum in the US after being beaten and raped at a festival in Uganda known as a gathering place for the country's LGBTQ community. Following the attack, she entered the country through the US-Mexico border—a dangerous, yet increasingly common route for migrants coming from the continent.
In the Rolling Stone article, she recounts several of the hardships she faced as a lesbian woman coming of age in Uganda and as an African migrant seeking refuge in the US. "I pray that everything works out," Margaret told Rolling Stone. "Because it has been so tough. Ever since I was 13, I just wanted to be free, instead of hiding who I am. I just want to be free, that's all. And happy."
---
According to the Trump administration, Uganda's well-documented persecution of LGBTQ individuals is not reason enough to grant Margaret asylum. Instead, she faces being sent back. With the decision, the administration has chosen to ignore the Ugandan government's harmful track record with the LGBTQ community and has determined that they don't face a significant enough threat in their home country to warrant refuge in the US.

The move reflects the Trump's administration's staunch devotion to upholding its xenophobic, anti-immigrant agenda. The administration has also been lax around supporting LGBTQ rights.
Earlier this month, it was reported that Uganda was planning to re-introduce its highly denounced "Kill the Gays" bill which would make homosexuality punishable by death after the country's Ethics and Integrity Minister Simon Lokodo made the announcement. The government later denied the news, stating that it would not revive the bill, though the country still remains a hostile one for members of the LGBTQ community through its colonial-era penal code which makes homosexuality punishable by life imprisonment.
According to Reuters, four people have been killed in homophobic attacks in Uganda this year, including a transgender woman and three gay men, one of whom was killed earlier this month.