Chadian auteur Mahamat-Saleh Haroun is one of the most influential voices in African cinema. In a career spanning almost three decades, Haroun has been a highly visible avatar for Chadian and African film in the international community.
No stranger to A-list film festivals, his newest title, Lingui, The Sacred Bonds, was his third feature to premiere in the main competition at the Cannes Film Festival when it bowed last year to a rousing reception. Haroun had been to Cannes with earlier titles, Abouna (Our Father), A Screaming Man, GriGris and hisdocumentary, Hissane Habré: A Chadian Tragedy.
Hailed as the pioneering figure of Chadian cinema, Haroun's films have been selected three times to represent his country at the Oscars in the foreign language category, now known as best international feature. These three instances also represent the only occasions that Chad managed official submissions in this category. To the disappointment of many, his latest film, however, didn't make the shortlist for this year's awards.
The poignant feminist drama, Lingui, The Sacred Bonds, which releases theatrically in the US and UK from the 4th of February 2022 tells the story of a single mother, Amina (Achouackh Abakar Souleymane), who tries to help her teenage daughter Maria (Rihane Khalil Alio) secure an abortion when she becomes pregnant and is about to be kicked out of school.
In Chadian society, the word Lingui represents a form of bond or connection amongst communities of people. An often-unspoken code of conduct expressing good faith and solidarity that communities pledge to, and practice, in order to live harmoniously. When Maria becomes pregnant, in an unforgiving patriarchal society that punishes the woman before any other consideration, she and her mother can only navigate the delicate situation through the forces of lingui. In this case, an underground network of women supporting women and keeping one another afloat.
OkayAfrica spoke with Mahamat Saleh-Haroun via Zoom from his home in Bordeaux, France.
Interview has been edited for length and clarity.
Lingui, The Sacred Bonds marks the first time you are making a film with female protagonists. I find it a very feminist film. Why was it time for you to flip the gaze and why did you choose this story?
I read an article some time ago about a newborn baby discovered dead in a garbage can. Two weeks later there was another case, a similar story. I noticed that this was becoming quite routine, with a new incidence every other week or two. So, I thought, how can I make a story around this epidemic? It took me back to my childhood, recalled when there was a similar story in my neighborhood, and I overheard my mother and other women talking about finding a baby in a toilet somewhere, and this traumatized me even as a child. I started asking questions.
What did you find out from your questioning?
I went to my brother who works as a medical doctor in Chad. I also went to some nurses to discover more about the reality of the situation. The nurses were sort of mocking my ignorance because, while the gravity was shocking to me, it was simply a daily reality for the women. They mentioned that of course I could not know anything because I am a man. And they were right, because the architecture of our habitation in Chad is such that we have two separate lanes; one for men and the other for women, and things are generally better for us men.
As a man, I move with the men and hang out with men, while women do the same with their gender. During the research it wasn't as easy to just ask for women who have had abortions because these things are a secret, and the women make sure to keep it secret. They are obviously not trusting enough to tell their stories to a man like me, as there is a very real fear of shame and dishonor. I kept asking questions, particularly to some women who practice traditional methods of performing abortion, and I started writing the story. I was really blind to the reality of women but gradually I began to open my eyes and immerse myself in their world.
You also returned to Chad to shoot after your last film, A Season in France, was made abroad, where you live. Why is it important to you to come back home to tell stories in Chad?
It is a daily problem, this subject of abortion and unwanted pregnancy, so I made this film because it has some resonance in a lot of places in the world beyond Chad. Of course, it has real impact in Chad, too. We have seen several associations and groups showing interest in renting the film to show it to people around the country. After the screenings, there are usually passionate discussions because this subject is a touchy one. So, in a way the film is a useful one. After one of the screenings, during the Q&A, a woman came in and asked Achouackh Abakar Souleymane, who plays the protagonist, Amina, to become part of a group struggling to legalize abortion in Chad. They wanted her to become sort of the face of the struggle and she accepted this responsibility. I make films in Chad because of this impact. My films are like candles, lighting up dark spaces within the country. If it helps people to see more things, then I consider it a kind of duty.
Lingui, The Sacred Bonds joins a recent slate of films like Never Rarely Sometimes Always (USA) and Happening (France) that deal with reproductive rights, which are now hot button issues, even in the developed world…
I found also that the problem was universal and not only in Chad. In the United States for instance, we see what is happening there. So, the issue for me was to put a face to the problem so that people can relate to it more compassionately. I am happy that the film has some impact in Chad, and I am hopeful that it can also resonate in places like the United States. This film is also unique because it shows what is happening right now in Chad, in real time, and not what happened twenty or thirty years ago. This is the reality of our women and their struggles right now. I have not yet seen a film that addresses the struggle in this way, especially as abortion is forbidden in Chad right now.
You usually work with non-professional actors who then turn pro after working with you. How did you find the leading ladies of Lingui, The Sacred Bonds?
I initially called on Achouackh Abakar Souleymane, who plays the lead character, Amina to play a smaller role, as the sister of the lead. When she read the script, she asked me "Is that how you see me? Amina is me. I want to play her. I have to play her." It was quite touching, the way that she took ownership of it. She really wanted it and it was a sincere request. She came down with her kid to audition, and I saw that she was serious about it. When someone is sincere and determined like she was, if you take the chance and give them opportunities, they will shine. It is like when someone tells you that they love you. You cannot see this love but you can feel it when it is sincere or real, and so you take that chance. The work wasn't easy because I pushed her hard, but she gave me what I expected.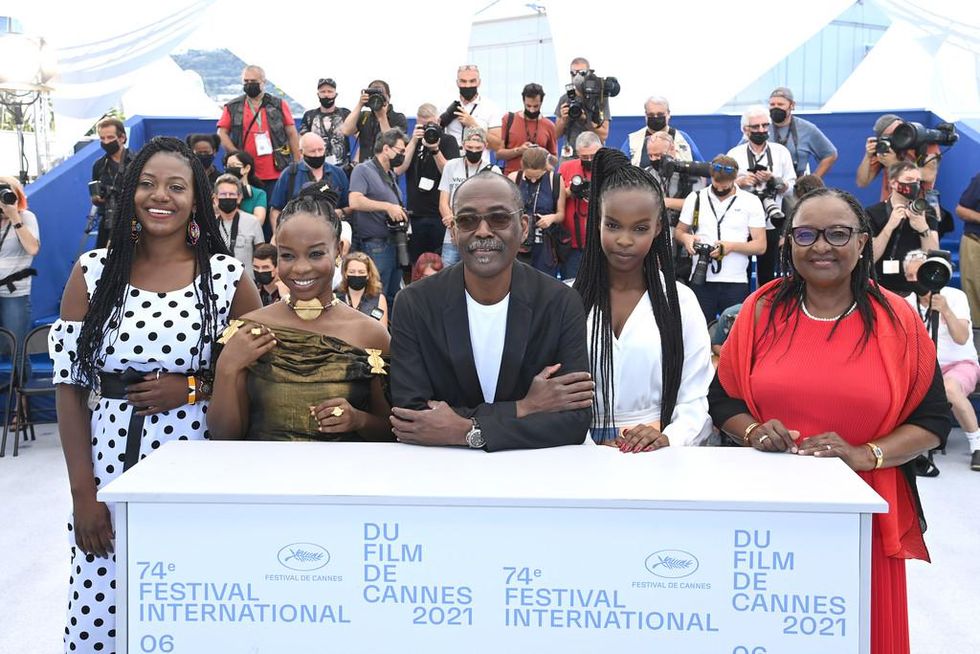 Bria Gomdigue, Achouackh Abakar Souleymane, Director Mahamat-Saleh Haroun, Rihane Khalil Alio and Hadje Fatime Ngoua attend the 'Lingui' photocall during the 74th annual Cannes Film Festival on July 9, 2021 in Cannes, France.
Photo: Cannes Film Festival
This isn't the first time that you demonstrate Lingui on film though. The ending of your 2013 film GriGris had a group of women coming together in solidarity...
Absolutely. You are right. I have not thought about it in that way actually, but the idea of a community coming together and keeping a secret is lingui. And with the symbolic way that the women take the vow of silence and loyalty to one another.
Animals play a role in Lingui, The Sacred Bonds, as they do in most of your films. Is it a personal love for animals on your part?
Animals are part of our lives. When I was a child, I had a dog and he used to poo everywhere and after a while my dad was fed up and he gave it away and I was devastated. I never forgot this. We had a lot of cats as well and even now we have cats at home. Animals for me represent a kind of cocoon that you create in your home or safe space. It is a way for me to show tenderness because I find it can be difficult to show intimacy or tenderness between people because of obvious conservative values in our part of the world. But with animals the characters are free of these restrictions. They can caress the animals, play with them in ways that they cannot express affection with people publicly.
You are an influential figure in world cinema, but your films are not so popular in other parts of the continent. How can this situation be remedied?
Accessibility is a little bit difficult because the situation in Chad is like a snake biting their own tail. The fact is that movie stars or popular actors drive people to theaters to see their movies. This has been a problem for me and my films. I don't really have stars, so it has been a bit difficult making my films to be seen wider. But nowadays I am thinking about my own legacy, and I think it is a part of my job to promote or encourage younger filmmakers and newer voices from Chad, otherwise my job isn't really complete. I am at the stage where I am now struggling to find talented filmmakers. It is very important that I do if I want the story of cinema to continue in Chad, so I am thinking about that a lot.