As years go, 2021 was a strong one for African film. Productions from the continent overcame challenges posed by the COVID-19 pandemic to still feature at international film festivals and find an audience both at home and abroad. In the run-up to next year's Oscars, ten submissions were made by African countries to be considered for nominations in the Best International Feature category of the ceremony, due to take place on March 27th.
Among the films submitted included titles that won awards and garnered much acclaim – from Somalia's The Gravedigger's Wife, which earned the Amplify Voices Award at the Toronto International Film Festival, and Chad's Lingui, The Sacred Bonds, which received rapturous reviews from the likes of the Guardian and the LA Times.
So it feels disappointing that, now, as the Oscars have made their shortlist known, before revealing the final list of nominees in January, not a single film from Africa made the shortlist for the upcoming awards. Perhaps it shouldn't come as a surprise, since films from Africa have not been a prominent part of the industry's biggest night for quite a few years. Since the category, previously known as Best Foreign Language, debuted in 1956 (when Italy's La Strada won), African films have been slim among the nominees.
---
Two years later, in 1958, the first film ever submitted for Oscar consideration was Cairo Station, made by Egyptian director Youssef Chahine. Yet in Oscar's 9-decade history, only 3 films from Africa have ever won the category. Over that time, a sprinkling of actors and productions from the continent have won individual awards from the Academy, like Egypt's Omar Sharif (the first African actor to be nominated in any Oscar category, for Best Supporting Actor in 1963), and South Africa's Charlize Theron nabbing Best Actress (for 2003's Monster) and My Octopus Teacher winning Best Documentary earlier this year.
But as far as Best International Picture goes, the last win Africa had was for Tsotsi, directed by South African Gavin Hood, which picked up the statue at the 78th Oscars in 2006. It had been 30 years before that since an African film had won – Jean-Jacques Annaud's Black and White in Color from Ivory Coast in 1976. The first African film to win an Oscar was Costa-Gavras' Z from Algeria. And that's not even getting into the fact that these directors were white or that mostly North African films make up the submissions and eventual nominations, with sub-Saharan Africa trailing behind.
Still, just getting a nomination for any African country feels like a big coup. Earlier this year, Kaouther Ben Hania's The Man Who Sold His Skin, landed Tunisia its first Oscar nomination – after 27 previous submissions from the country. Before that, only two other African films had been nominated for Best International Feature category since Tsotsi's nomination and eventual win, Algeria's Hors La Loi (Outside the Law) and Mauritania's Timbuktu.
Yes, the infrastructure of cinema in some African countries can hamper the impact their films have on the rest of the world. But this year's submissions held reason to rejoice: newcomers like Somalia sent in an entry for the first time, Malawi submitted for the second time ever and Cameroon sent in its fourth entry (the second in a row). This, after the 2021 submissions saw Lesotho and Sudan jump into the mix too. Submitted films need to meet certain requirements – chief of which is that they need to have been released theatrically in their respective countries between January 1st, 2021 and December 31st, 2021, and the majority of the dialogue needs to be in a non-English language. Both of these have been factors in countries like Uganda and Nigeria not qualifying, and perhaps need addressing in future.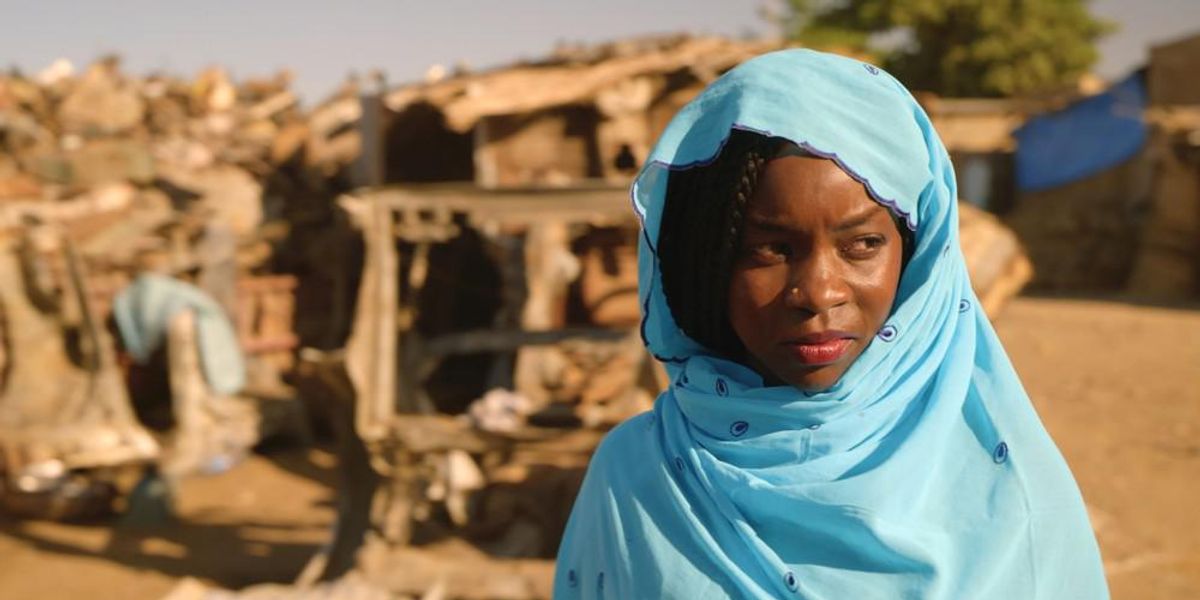 Lingui, The Sacred Bonds, the latest film from Chadian director Mahamat-Saleh Haroun, debuted at the Cannes Film FestivalPhoto: Films Boutique
This year, 93 countries submitted entries, with 10 films from the African continent. Critics like IndieWire's Tambay Obenson saw The Gravedigger's Wife and Casablanca Beats, from Morocco, as being the strongest contenders, and there was hope that Lingui, The Sacred Bonds would possibly make it in there, too. And while there has been an outcry that French film Titane, which debuted to much excitement at the Cannes Film Festival earlier this year, also didn't make the cut, there's little need to worry about France. It keeps Europe firmly in the category, having the most nominations of all countries.
There is a need to be concerned about the lack, where there are valid entries to be included, of films from African countries. To be sure, the Academy has had numerous issues when it comes to inclusivity – from #OscarsSoWhite to the lack of representation of LGBTQIA+ productions – and it has made
strides to include more voices in its make-up
. And while there are no African entries in the Best International Picture category, Africa does have two entries in other categories: South African director
Phumi Morare
's short film
When The Sun Sets (Lakutshon Ilanga),
which won Gold at the Student Oscars in October
made it onto the Live Action Short Films shortlist, and Faya Dayi by Mexican-Ethiopian filmmaker
Jessica Beshir
about the rituals of Ethiopian khat, is on the Documentary shortlist.Recognition from the Oscars can help boost films and filmmakers commercially, and open up other opportunities for success. Witness 2019's Best Picture winner
Parasite
, the South Korean anomaly that won both the year's top prize and Best International Feature, going on to break UK Box office records for a non-English language film, as well as grossing a reported $258 million globally. Africa doesn't need recognition from the Academy to be able to continue making engaging, vibrant work, whether that's across film, music or art, but it deserves the chance to be seen among the world's best – if that is indeed what the Oscars is seeking to showcase.
* Headline updated to reflect the continent's standing in the Best International Features category, and not the entire shortlist, which does feature two African films in other categories.