As the protagonist of Lingui, The Sacred Bonds, the most recent feature by iconic Chadian auteur Mahamat-Saleh Haroun, actress Achouackh Abakar Souleymane is a welcome revelation on screen. Souleymane plays Amina, a determined single mother living and working in the outskirts of N'djamena who takes on the challenge of helping her teenage daughter get an abortion. Souleymane's Amina knows firsthand what it is like to be ostracized. Years ago, she was banished by her family for getting pregnant out of wedlock, and is determined to give her own daughter a better chance at life. For Souleymane, the role was a deeply personal one.
In the film's opening sequence, Haroun, like he is wont to do, focuses on his protagonist at work, ensuring that the core personality of Amina, as a hardworking and determined figure, comes to the fore through her occupation. Amina is bent over, struggling and sweaty as she makes a kanoun (a local stove) out of discarded car tires.
The scene works as a metaphor for Amina's existence, scraping by as a single mother in a conservative society that is big on appearances. Souleymane, working simpatico with Haroun's vision, is able to translate her character's dignified resolve before even uttering a word. Life may be tough, but she is stubborn enough to face it head on. "I could relate with Amina because this is what women are," Souleymane tells OkayAfrica. "Whatever hand you are dealt, you get up and do something with it. I found this strength in Amina and I just went with it."
Souleymane recognized part of herself in Amina instantly, namely, a survivor's instinct. Even so, Haroun was not quite convinced she could carry the film. When he sent her the screenplay, Haroun had envisioned Souleymane for the smaller role of Amina's repentant younger sister. But Souleymane knew instinctively she was born to play Amina.
A single mother of two herself, Souleymane had also lived the experience of single-handedly supporting her family. She spent a lot of effort convincing Haroun that she was Amina and had no interest in playing any other role in the film. "It was quite touching, the way that she took ownership of it. She really wanted it and it was a sincere request," recalls Haroun.
When she was first invited to audition, Souleymane was in the hospital, having just given birth to her second child. She withheld this information though, and asked to meet at a later date. Her persistence and preparation eventually won her the role, and on set, she would routinely take breaks to nurse her infant.
As a teenager, Souleymane always had a desire to perform as an artist but the situation in Chad is such that there is practically no film industry or infrastructure even to support such dreams. She went with the flow, studied journalism, and then moved to the US at the age of 17, where she worked in fashion, and made a living through it for the next thirteen years.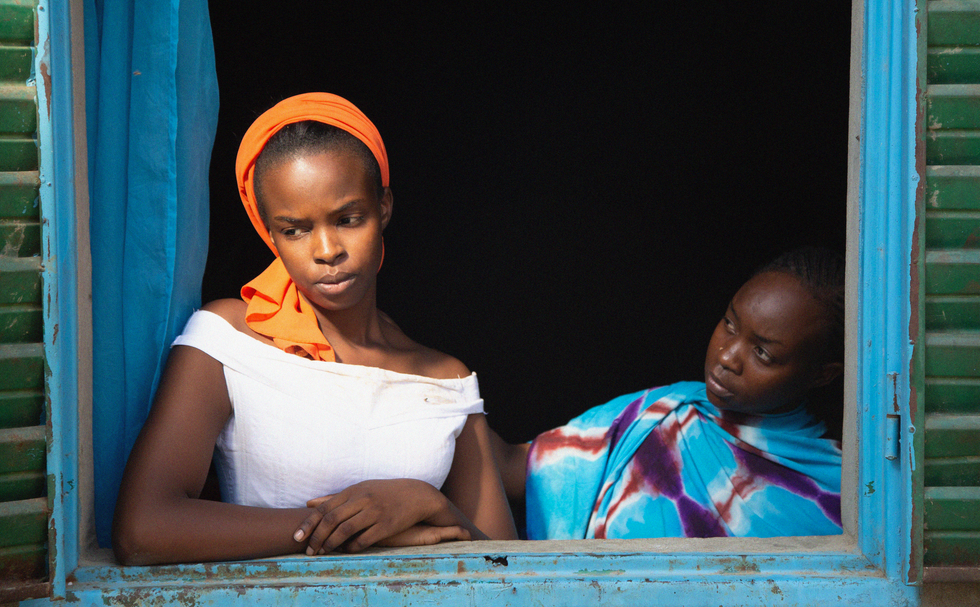 Achouackh Abakar Souleyman stars opposite Rihane Khalil Alio in Mahamat-Saleh Haroun's Lingui, the Sacred Bonds.
Photo: Mubi
While away from home, she started following Haroun's career. Billed as the pioneer of feature-length filmmaking in Chad, Haroun is, at any given point in time, likely to be the only major filmmaker actively shooting within the country. Haroun's films have been successful on the international stage, where he regularly screens in topflight film festivals like Cannes and Venice. But when he isn't making films in Chad, no one else is – at least not on the same level and with his consistency.
To make his films, Haroun would fly in collaborators from Europe where he is based, and pair them with local Chadian talent who would often have more regular jobs elsewhere.
Souleymane met Haroun after she returned to Chad, while working as an assistant costumier on his 2013 film GriGris. She recalls the intensity of the experience, saying, "I had never worked in costumes before. You are on set every single day and I learned so much. Especially from Haroun. He is very serious and no-nonsense"
Haroun cast her to play a tiny role in GriGris that kept her on screen for all of two scenes. Because of a lack of infrastructure in Chad, finding talent – onscreen and off – has always been a challenge, and so Haroun has developed a revolving door that keeps people of interest within his circle for future opportunities, even if they do not fit into his films at the time of meeting him.
While he took notice of Souleymane's intelligence and robust screen presence, Haroun did not necessarily expect to work with her again for a while. "But when Achouackh wants something, she doesn't leave you alone, so here we are," he adds.
To prepare for the role of Amina, Souleymane tapped into her own experiences, as well as the formidable tradition of strong women around her. She tells OkayAfrica: "I am a divorced mother with two children. The African women that I know are strong, wise and hardworking. We take care of the family and the entire village, and this is who Amina is."
She also learnt to make the kanoun by having an artisan come over daily to give her lessons. It took about four weeks for her to perfect the technique and make a small one which she was delighted to show her director, just in case he was still having doubts about her casting. A week before shooting, Souleymane's co-star Rihane Khalil Alio who plays her daughter Maria in Lingui, The Sacred Bonds moved in to join her household temporarily. "Together with my son and daughter, she became part of my family. All this made us feel comfortable," says Souleymane.
Even for an actress who has been in a major film that premiered at Cannes and was directed by the country's most influential director, sustaining an acting career remains a difficult proposition. Souleymane says she would love to continue acting in films but has no follow up jobs lined up because there simply isn't enough filmmaking activity in Chad. There is only one theater that serves a country of at least sixteen million people, and film screenings have to be organized to meet the people directly.
This situation isn't limited to Chad, as the outlook is similar in the film industries of neighboring countries in the central African region. Cameroon seems to be the only exception, as filmmakers have been influenced heavily by, and often collaborate with, Nollywood, Nigeria's popular film industry.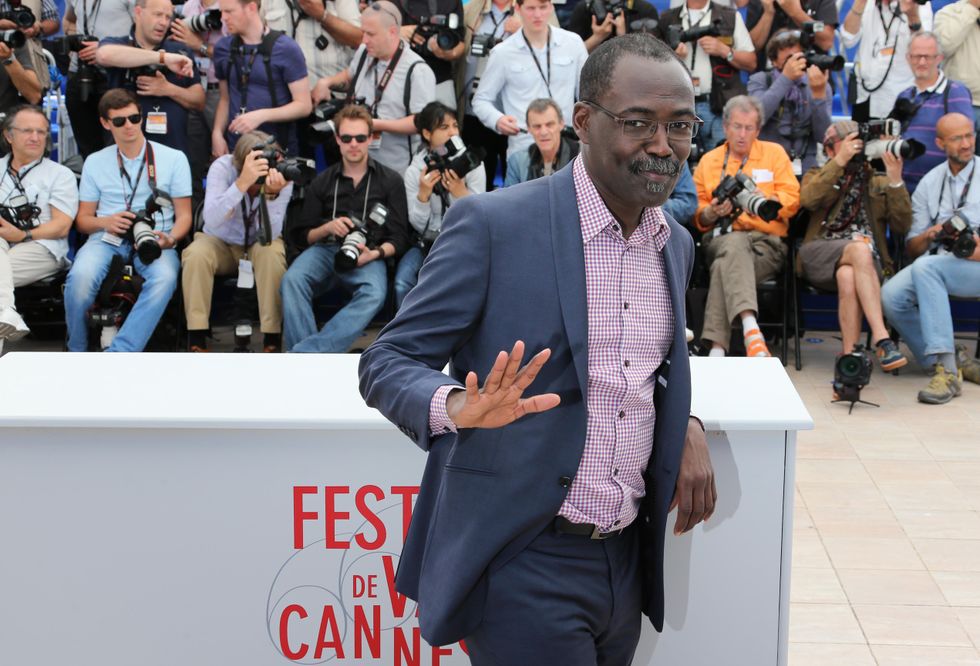 Mahamat-Saleh Haroun attends the 2013 Cannes Film Festival with his movie, GrisGris.
Photo: Getty Images/ Kurt Krieger/Corbis
Djia Mambu, a film critic and programmer from the Democratic Republic of Congo points to a historic and political basis for this. "Central Africa is one of the most traumatized regions of the world, marked by a succession of civil wars and regime instability," she says. "These facts are, unfortunately, part of the story. Filmmakers who might want to make films about these situations have a hard time finding support as there is a lack of funds or institutions dedicated to cinema. Also, governments understand the power of cinema, and do not necessarily want these powerful images to reach the people."
In the face of this, Souleymane is practical; she has to be, considering she has mouths to feed. She has set up other means to support herself when she isn't shooting films, running two restaurants, one of them in the city center, and studying Sociology, a field that is of interest to her as an artist. Haroun says of his leading lady: "She is a hyperactive person, always doing something. It is impossible to get her to sit down idle."
Because the cinema of Chad is intrinsically tied to Haroun, the 61-year-old director has begun to worry about legacy, and how to empower a new generation of filmmakers to continue to tell stories of, and from, Chad. He has no clear picture yet of what this mentorship project is going to look like but he says he is actively seeking the next generation of talented youngsters.
For Haroun, this is also important as he would prefer a situation where Souleymane and her colleagues can continue to work professionally even when he is not making films. Souleymane hears this but until such a time when this is possible, she says she is keeping busy with her studies and businesses, and waiting for Haroun to make his next feature. Chances are, she will find a way to be in it.
A selection of Mahamat-Saleh Haroun's work, including Lingui, The Sacred Bonds, and Grisgris, among others, will show on MUBI as part of a retrospective dedicated to the Chadian director during the month of March.