"Top 5 (Soweto)," a song by the South African rapper Solo has been trending among staunch South African hip-hop fans. In the song, off of his album Tour Dates, Solo immortalizes Maggz by rapping praises to the Soweto-born rapper on two verses (think of "U.B.R" by Nas).
The skilled rapper lets us know that Maggz is Top 5 dead or alive, which is a shrewd assertion—one that I personally agree with. Maggz has been rapping spheres around the best of them for more than a decade, and he seems to keep getting better.
However, being a Maggz fan is a struggle. Beyond those features, Maggz's career hasn't reached its full potential.
In the mid-noughties, Maggz was the Soweto rhyme slayer Pro (then-ProKid)'s hype man, appearing on his first two albums Heads and Tales (2005) and DNA (2006). The two were also part of the trio Saudi Western, alongside the singer Sgebi.

Maggz would then go on to release the stellar mixtape Sorry For The Long Wait in 2006. Throughout the tape, Maggz impressed with unmatchable cadences and the smoothest delivery this side of the Equator.
The rapper's music, owing to his Soweto roots, was a cross between kasi rap and conventional rap that leaned towards boom bap. He mixed English and Zulu rhyming with the same virtuoso skill as his partner in rhyme, Pro.
But in 2009 when he released his debut album, the Metro FM Awards-nominated The Breakout, he alienated some of his fans. On The Breakout, Maggz, though still rapping potently, chose production that had mainstream sensibilities, which was a bit of a shocker for his core fanbase. On the album's first single, "Girls," M.A Double, together with his producer Bongani Fassie crooned with the aid of autotune, a huge crime at the time.
As the face of the album, the single was a turn off to fans who were expecting Sorry For The Long Wait Maggz. Most of the production on the album, which was solely handled by Bongani Fassie, was Dirty South-inspired with 808s and big bass lines. It was only on the song "Kas' Lam" that Maggz gave fans the Maggz they had expected. It was the only song that came close to his kasi rap roots, and one in which he rapped in vernacular.

Guest appearances by Da L.E.S, L-Tido, and of course Fassie, were a sign that M.A Double was changing circles—his early collaborators were nowhere to be found on The Breakout. He was then part of the swag-dripping quartet Glitz Gang, alongside L-Tido, Sean Pages and Morale.
In retrospect, though, The Breakout was actually a strong project, boasting solid songs like "Keep on Walking," "Regular Dude," the aforementioned "Kas' Lam," "Need Me," "Blind (Malicious)," "Kingdoms Will Fall." It just came out at the wrong time, and was highly unexpected. It also helped that Maggz gave us eight years to digest it.
From hopping between cliques and labels to changing styles, and promising an album almost every year since 2010, Maggz has been an anomaly his whole career. His consistency has only been through guest features. He has lent monumental verses on songs like "On Fire," "Heaven," "Something Else" by Da L.E.S, "Lendlela" by Show Love, "Amantombazana" by Riky Rick, and countless others.
Maggz, like most MCs from his time, bears the curse of being a rapper's rapper. For his solo stuff, he sounds more at home over production that leans towards boom bap. And the beauty of this is that, unlike with most of his peers, the rapper's intangibles allow him the luxury of making that kind of music without sounding outdated even in the trap era.

Classic examples beyond the mid-noughties include "Change," "Good Times," "No Tweets Allowed," and "Bebathini."
But Maggz doesn't want to get left behind. After joining the label Cashtime Life in 2014, he attempted to ride the skhanda rap bandwagon when he released the song "Cho Dlozi." It never worked.
He still excelled as a guest on other rappers' songs while promising a follow-up to his 2009 debut.
Last year, however, after leaving Cashtime Life, M.A Double finally released his sophomore album, For Life and Glory.
Just like The Breakout, FLAG didn't live up to expectations. "Bebathini" and "Don't Know" are the only quintessential Maggz songs on the album. I personally wish the album had more songs like those, but instead Maggz chose to ride the bandwagon once again with sing-songy raps and trap production (nothing wrong with trap, but it's just evidently not for Maggz).
I felt let down. I had waited for a whole eight years for an album that would underwhelm me. Yes, songs like "Big Time," "Rainfalls," "Trips" and "Vaye" are great, even though they aren't what I would expect from the rapper. But most of the album feels lackluster. I found myself skipping songs more than I would have liked to.

As Solo implies on "Top 5," the solution to Maggz's problem is for him to focus on his core fanbase and serve them—basically do what Solo is doing.
Unless he does that, he will remain known as the guy who murders you on your own shit, and nothing beyond that. And as a fan, that will never be enough. But through all his shortcomings, one thing you can't take away from him is that your fave highly likely can't mess with him lyrically. Or maybe eight years from now, my opinions on FLAG would have changed.
Listen to For Life and Glory by Maggz below, and download it here.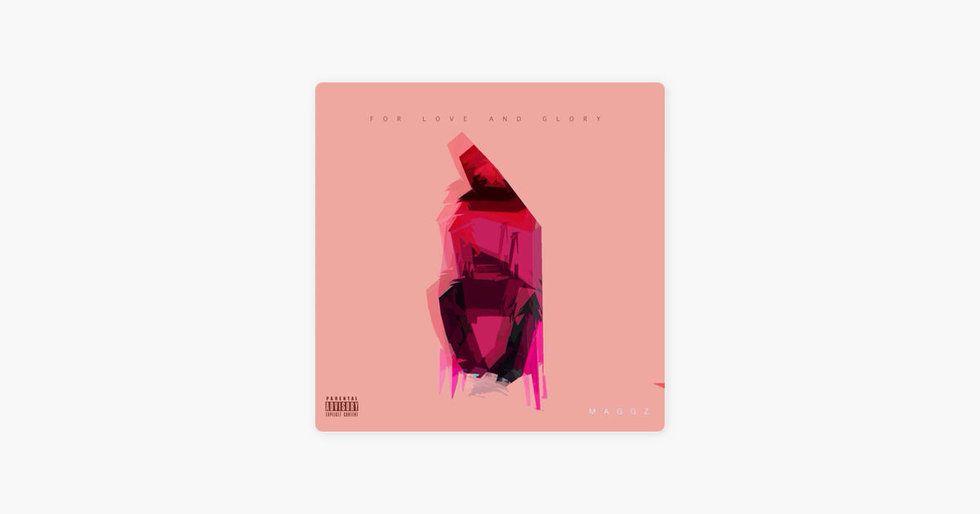 This piece is part of Sabelo Mkhabela's South African hip-hop column. He's happy to debate you on Twitter: @sabzamk