Ayoka-Deco is what happens when art, visibility and affordability come together.
For Alice Gbelia, the Ivorian-French entrepreneur behind the project, the idea to build an online platform for young, black artists came after she was in need of paintings for her new home. "I went to Instagram and found all these young, black artists," says Gbelia. "But it wasn't a smooth process to buy from them."
According to Gbelia, the problem was twofold. Not only was it difficult for interested parties to learn about new artists, but it was just as difficult for young artists, whose primary selling platforms were the internet and social media in particular to reach the kind of audience they wanted to. Another challenge for the artists, "was making that sure you were not selling yourself short," Rahana Dariah, a British-West Indian artist featured on the site, adds.
Gbelia then decided to step in to build a website focused solely promoting the art she enjoyed seeing on her walls, with the hope that others would too.
---
"A lot of these platforms are really huge and it's really hard to get on the main page," Gbelia says, in reference to Instagram and other art e-commerce platforms. "[Ayoka-Deco] is about getting artists better commission and exposure."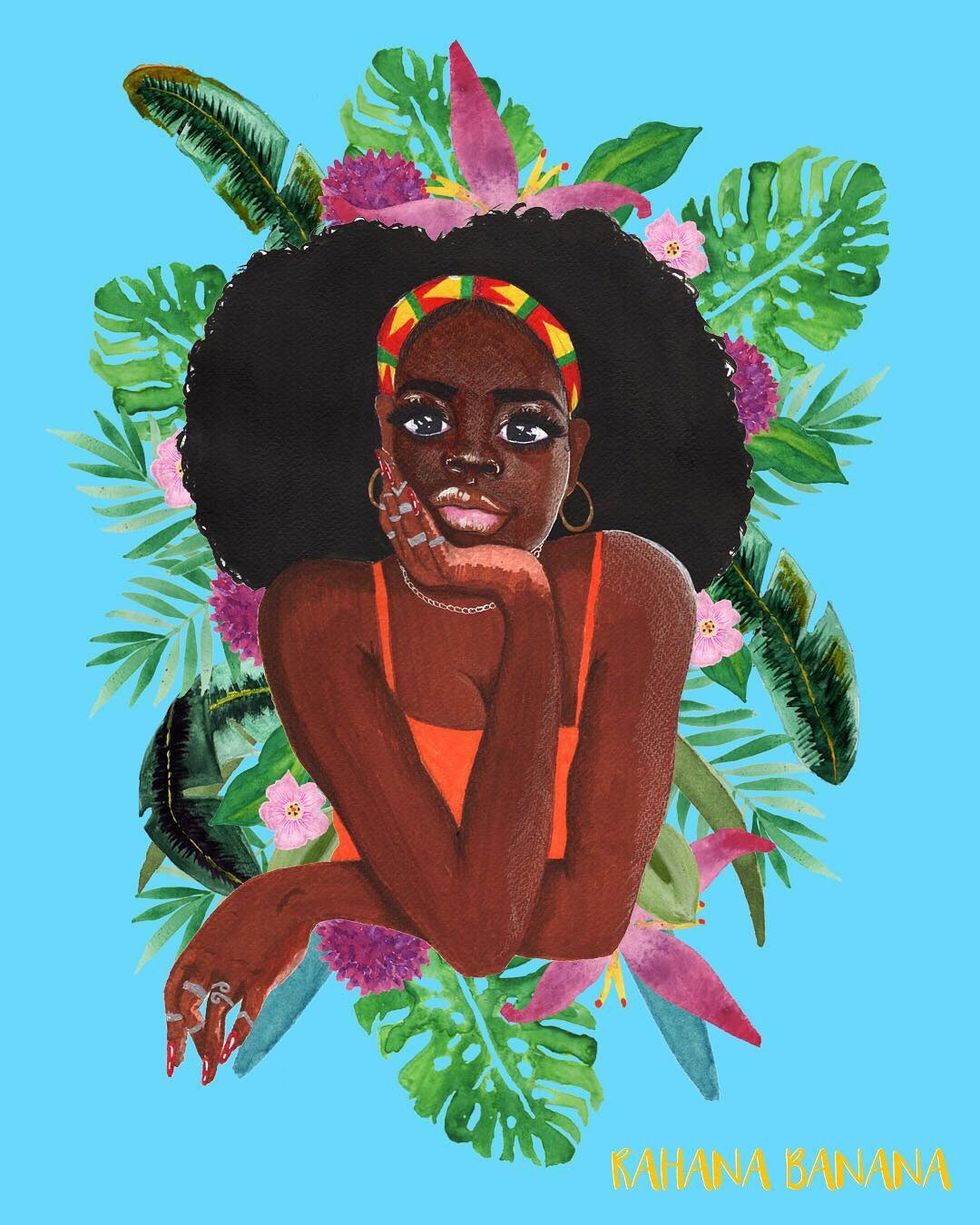 Art featured on Ayoka-Deco by Rahana Dariah. Image courtesy of Alice Gbelia.
Beyond that, Gbelia believes the site has also has a responsibility to diversify what kind of art people have access to. Price has always been a barrier to acquiring art for many, and the general consensus is that good art is too expensive to invest in, but Gbelia knows that's not true. "We are right in the middle," she says about the price points of artists featured on Ayoka-Deco, which range from under $50 to a little less than $100.

"It was really important for me to make it affordable. I want people to know that you don't have to be rich to appreciate art," Gbelia adds.
More than the price point, the art on the site is attainable in other ways. Dariah, whose colorful images of wide-eyed black girls with curly hair and locks grace the site, is one of the many portrait artists whose artwork live on Ayoka-Deco. According to Gbelia, this is an intentional decision. "I don't think there are enough portraits of black people," Gbelia muses. "I want people to be able to see art that looks like them." Beyond issues of representation, artists on the site present refreshing new narratives around feminism, race and the LGBTQ community.
When asked what the future looks like for the platform, Gbelia envisions a painting from Ayoka-Deco in every living room and the range of the site's other offerings—including stationery, fashion and tech accessories as a must have for everyone.
"I want to be like IKEA," Gbelia says, as she notes the Swedish-founded company's ubiquity in homes around the world. "I want people to buy a plate designed by African artists from Ayoka-Deco and have it in their homes all over the world."