SEOUL—South Korea's underground music scene has been growing rapidly with new clubs and events bringing colour, texture and variety to the nightlife scene. Many international names make appearances on Seoul's stages and in clubs with artists like Corinne Bailey Rae, Blood Orange, Esperanza Spalding, The Internet and FKA Twigs to name only a few.
---
Cakeshop, an unpretentious club in Itaewon, known as the foreigner area in Seoul, is a favorite spot for international music fans. It's tucked away on a corner and can be hard to find, but once you find it, the place is hard to shake. Especially if you have an appreciation for dance floors with good vibes, carefully curated lineups and inclusive parties. Cakeshop's lineups include; South African producer's Culoe de Song and DJ Lag, Thris Tian of Worldwide FM, Ikonika, Gaika, Ryan Hemsworth, Bok Bok and Boiler Room.
Cakeshop is also home to Shade, the bi-monthly LGBTQ club night, that is changing the culture by creating an edgy and alternative narrative within the underground music scene. Shade focuses largely on fusing drag and vogue performance with lineups that offer a fringe soundscape "with a focused music policy playing everything from old-school 90's house, disco anthems, RnB cuts, ballroom house and camp classics," for music lovers specifically in the LGBTQ community.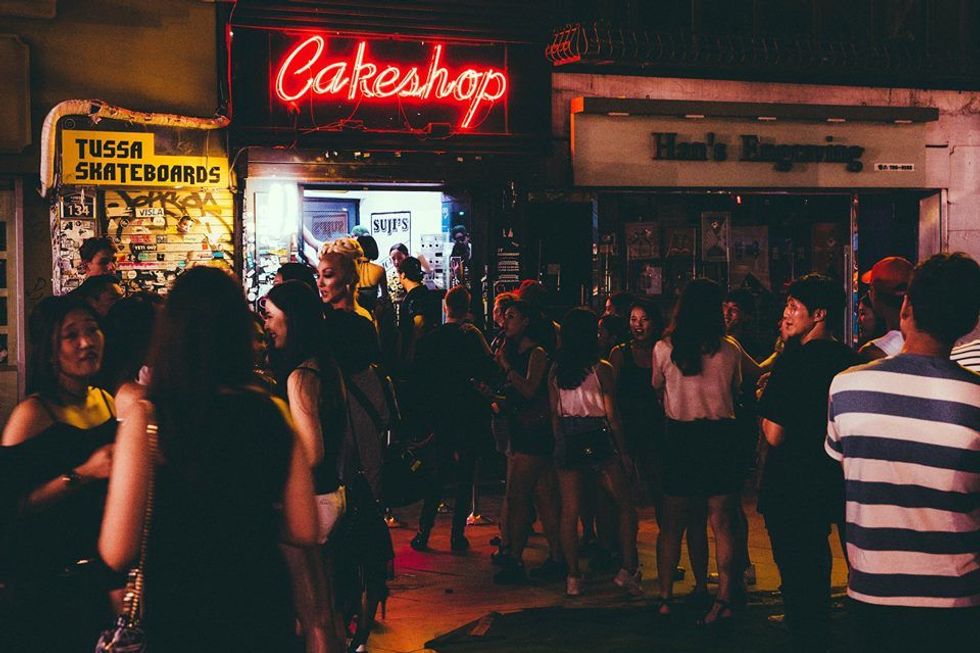 Photo by Chris Thunderhawk Tzitzis.
The Shade concept, launched August 2016, is the brainchild of South African DJ Ligrye. Also known as Lindsay Gary Ryklief, Ligrye is a promoter, Pute Deluxe crew member and photographer who first moved to South Korea from Cape Town in 2013 where he quickly established himself in the underground music scene.
The Beginning: V.O.G.U.E.
"Whatever your orientation, come get down, get sweaty, support your scene, and let's make this another night to remember!"
—Shade Seoul| June 2014
Shade's precursor, a clubnight called V.O.G.U.E. started making its mark in 2014 as a new "addition to the monotonous and limited gay nightlife scene LGBT's are often subjected to in Seoul," according to their Facebook event posts. The V.O.G.U.E. team made a bold choice, choosing to host the night at Cakeshop, away from "the Hill" an area known as the gay strip, in Itaewon.
Apart from constantly creating a line up of DJ's specifically tailored for an audience with rare tastes in music, V.O.G.U.E. started including performance; giving drag artists and vogue dancers a new platform to express their creativity.
V.O.G.U.E. was growing and gaining sway within the LGBTQ community, which made it easy for the event to grow into itself and make Cakeshop its permanent home. The first anniversary party on November 29, 2014 saw the inclusion of Le1f, the openly gay American rapper and producer on their lineup as their first international act. It's clear that this team was looking to create a space for dialogue and creative expression, putting South Korea on the global underground music map.
While same sex marriage is illegal in South Korea, homosexuality is not. As much as this is the case, being homosexual and identifiying as LGBTQ is still frowned upon by most, especially older people. There are bars and clubs you can go to, specifically as a queer person, in parts of Hongdae and the "Hill" in Itaewon. These places are identified as the gay and lesbian scene in Seoul.
Tygapaw behind the decks at Shade. Photo by Chris Thunderhawk Tzitzis.
These nights definitely create a safe space for anyone who identifies as LGBTQ and loves and supports the community.
But if you were looking for underground music and a sexy evening for underrepresented youth, it was definitely the club night to go to.
The one year anniversary party with Le1f set the tone for artists to join future lineups: Venus X, New York based DJ and founder of GHE20 GOTH1K "known as the most talked about club night'' in New York. Byrell The Great, well known name in the vogue scene, DJ Mike Q and Mexican Jihad from N.A.A.F.I for the Vogue: Finale & Pride After Party on June 11, 2016.
The Transition to Shade
"Well that was pretty special wasn't it? Thanks for making it such an awesome night everyone. We'll be back with a new concept in the very near future. Watch this space…"
—Shade Seoul | June 12, 2016
Shade had its big reveal on August 13, 2016 with a lineup of DJ's from the Pute DeLuxe crew, dancers, drag performances and a live VJ show. Shade continued creating a club night that stood out as one of the leading nights in the LGBT scene. The lineup of artists and performers include Tygapaw, Jay Boogie and Grebnellaw, live act and artistic vehicle, created by Swedish based artist Nosslo-Grebnellaw Aniluap.
DJ Ligrye with Shade dancers. Photo by Chris Thunderhawk Tzitzis.
Ligrye plans to expand on the concept. His vision for Shade goes far beyond what it is right now. He plans to take Shade to more places, starting in South Korea, his home country South Africa, Asia, Europe and eventually the rest of the world.
He hopes to continue contributing towards creating safe and inclusive spaces for all lovers of underground music and creative expression .
The newest addition is a concept called FEMME, held at Contra, a new nightclub in Itaewon.
"FEMME welcomes ALL, to a safe place free of judgement or prejudice. Body shaming, transphobia, homophobia is not tolerated. With zero policy to harassment of any kind."
—Shade Seoul | May 26, 2017
To keep up to date with Shade, follow them on on Facebook and Instagram.