Iyere-Eke Merrylynn Ehinomen, also known as Merry-Lynn,is a rising singer and songwriter based in Abuja, Nigeria. She recently released her debut EP, Petrichor, which presents a masterful blend of reggae and R&B with a modern twist across its six tracks.

Drawing you in with its resonant bass line and alluring vocals, EP opener "Skin," is a major head-bopper. Merry-Lynn pours her heart out over the rippling guitar chords singing "When you gonna call me baby?/ Or don't you think about me lately?" Before you know it you're midway through the sultry and euphoric cut, "Temptation," and fully locked-in to this musical experience.
In "Boy Tears" the young singer, who was born in 1997, graces us with vivid lyricism and audacious delivery as she rhymes "too" and "fooled," enriching each line with subtle nuance. She also enlists Nigerian hitmaker King Perryy on the melancholic heartbreak tune "911"—a remixed version of the original track that was released earlier in the year
Merry-Lynn's decision to work exclusively with Nigerian producer Veen on the project seemingly enabled her to truly experiment and find the distinctive sound that sets her apart from the crowd. Emotionally rich and enlightened, this tape is a smooth sonic ride for any lover of good music. There's no doubt that, with Petrichor, Merry-Lynn has delivered a reliably-solid debut.
We got to know the R&B newcomer a little bit more in a recent interview below.
---
Merry-Lynn - 911 (Official Video)youtu.be
How does it feel to finally have your debut project out?

It feels really relieving honestly, because now someone out there can listen to these songs and go 'oh this is what Merry-Lynn sounds like.' I was really impatient to release, I felt like having just two songs out there wasn't enough to get someone to know or understand my sound. At the same time I feel kind of overwhelmed. When I was done with this project and I listened to everything, all I could think of was 'yeah I did that,' it was a lot to take in because I was proud, and to see how far I'd come on my personal journey. That's an amazing feeling.
What are the biggest influences on your work?
Love, self expression and my need for growth.
How would you describe your sound?
It's always complicated answering this question because I don't really think I fit in a box. I love to think my sound is a fusion of reggae and blues, soul—neo-soul if I may.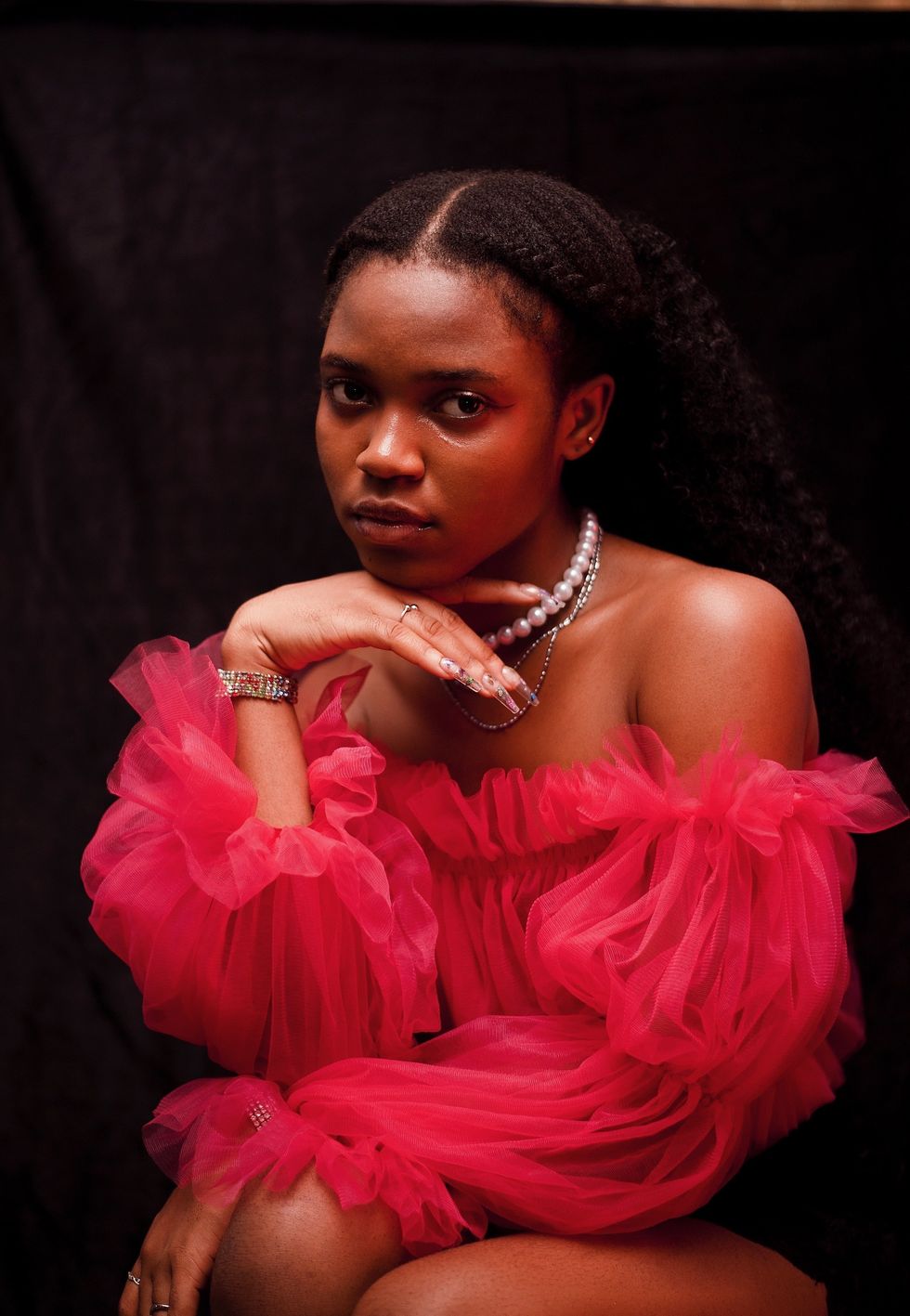 Merry-Lynn. Photo courtesy of the artist.
You worked exclusively with Nigerian producer/rapper Veenon this project. How did that partnership come about?

Yeah we go way back. I met Veen my first year in Uni. Veen and Kiienka included, they are family now. It's always magic working with them. There's so much passion when[ our ] heads meet
What was the major inspiration behind this project?
Wanting to express the hurt I bottled up for so long in a song and just forgive instead of having hate for someone I cared for. It did me more good mentally but, also, it gave me a fire EP.
What kind of emotions do you wish people to experience when listening to Petrichor?
That depends on the song. With "911" I would want someone to connect with the hurt I felt at the time. With "Temptation" I would want it to have that sensual dreamlike feeling, cause that's how someone made me feel and I decided to put it in a song. Hopefully they get that. "Boy Tears" .. I was really angry making that song, it would be awesome if someone out there hears that rage and relates to it, like a go-to song when he or she is trying to vent, and let go afterwards like, 'it is what it is, people will always be people.'
Why did you choose 'Petrichor' (the scent produced when rain falls on dry soil) as the title of this EP?
I was exhausted and tired of carrying so much anger and rage from the previous year you know. I went through a tough time with someone I love, and I was just full of so much anger at the time, even when times when we had moved past the issue I just couldn't seem to forgive because I was still holding on to my anger. Making this project was a downpour of all the emotions I was holding on too after so long, and when I was done I just felt the weight leave. The atmosphere was breathable again, it was loving and calm afterwards. That is why I called it 'Petrichor.'
Petrichor is available now.