Politics
Dec. 14, 2016 11:56AM EST
In the Movement for Black Lives, Do African Lives Matter?
For many first generation Americans, 'Black Lives Matter' has spurred reflection on their relationship to black American identity.
In the wake of George Zimmerman's 2013 acquittal of his murder of Trayvon Martin, Opal Tometi was scrolling through Facebook, posting links about the story, and attempting to manage her emotions. "I was thinking about [my fourteen year-old brother]," Tometi says, "and how this would become one of the key stories he would grow up with."
---
Tometi came across a Facebook status written by activist and writer Alicia Garza that included the phrase "black lives matter." "What was compelling [to me] was that these three words were simple, powerful, articulate a vision, yet also beg a question." Those three words, and that moment, would come to define black activism against police brutality today--namely, the Black Lives Matter (BLM) movement, which Tometi, Garza, and artist and activist Patrisse Cullors, founded together.
The Nigerian Roots of Black Lives Matter
Opal Tometi is the embodiment of black and African pride. Growing up in Phoenix, Arizona in a close-knit Nigerian community, Tometi participated in countless traditional weddings, naming ceremonies, birthday celebrations, and other cultural expressions, surrounded by the bright colors and tailored shapes of traditional Nigerian clothing.
At the same time, she performed as a member of her high school step team and had a close group of black friends. Capturing the peaceful coexistence of both her cultures, Tometi says, "I saw myself as a strong black woman, and my Nigerian heritage taught me that."
In addition to vibrant culture, Tometi's identity was shaped by the struggles of her community. In her hometown, which she describes as "ground zero for the anti-immigrant agenda," she experienced injustices like detention through their impact on her Nigerian relatives and friends. Local anti-immigrant sentiment, legislation, policies, and rhetoric, coupled with incidents of racial profiling, made Tometi and members of her family aware of their racialization as Africans in the United States. "It wasn't lost on us that profiling impacts black immigrants."
For Tometi, work on immigration issues became a means to investigate a system that disenfranchised her friends and loved ones. Today, she works as Executive Director of the Black Alliance for Just Immigration, ensuring that black immigrant communities are aware of their rights.
Tometi says of the movement she started with Garza and Cullors in 2013, "[Black Lives Matter] opens up a particular type of dialogue that to me was very necessary. As a former student of communications, I was committed to deep reflection, [while] the organizer in me was committed to action: 'How can we communicate so people have enough knowledge that they're able to act?'"
When Michael Brown was murdered in Ferguson in August 2014, Tometi flew to the city with Cullors and writer and activist Darnell Moore. Together, they organized freedom rides to Ferguson. During the month known as "Ferguson October," "black lives matter" became a rallying cry in the St. Louis suburb. "Because we were there just the month before," Tometi says. "It became one of these lasting messages that folks really resonated with."
That may be an understatement. Black Lives Matter has not only become a nearly ubiquitous affirmation and national movement, but also an international activist organization with official chapters across the country and in Canada.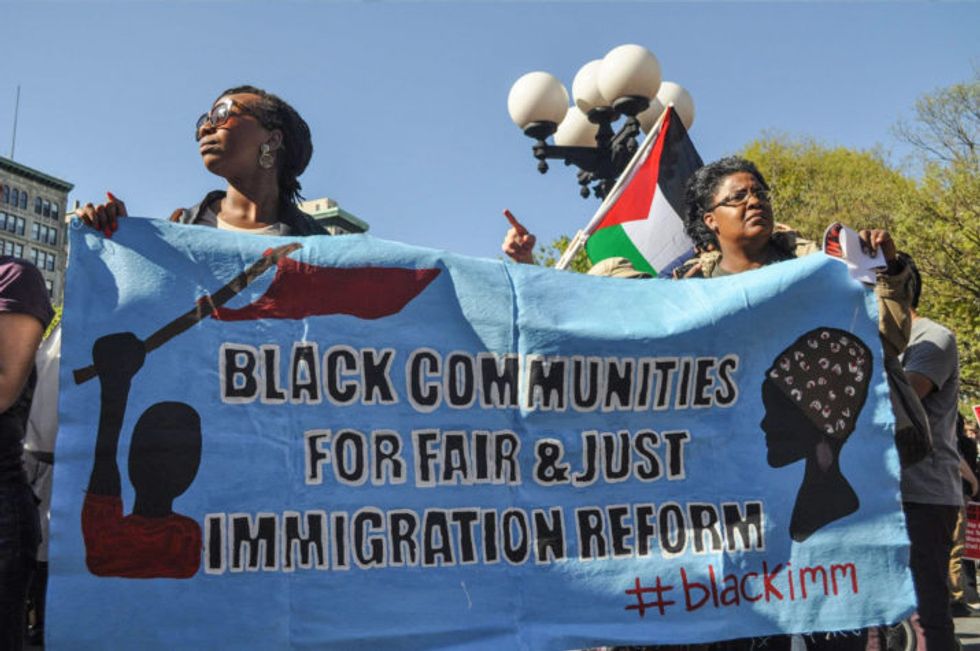 Photo courtesy of BAJI
African Lives Matter?
Following the election of Donald Trump, there has been a reported increase in casual brutality against black people. As BuzzFeed reporter Darren Sands says, "Recorded incidents [...] are interpreted by groups inside the movement as Trump's influence over his supporters who don't feel confined by political correctness or their own shame." As a racist, xenophobic, pro-police presidency looms, the question of BLM's inclusiveness of Africans remains on the sidelines. With Tometi as co-founder, it may seem safe to assume that African perspectives and solidarity between black and African people are present and valued in Black Lives Matter. However, some Africans feel that this is not the case.
Okayafrica set out to explore how US-based Africans relate to Black Lives Matter, putting out a call for opinions on the organization. Of the Africans who responded, some felt represented by the organization, while others felt disenfranchised. Some who worked in Black Lives Matter spaces found that their black colleagues did not reciprocate a concern for African issues. They found that a lack of understanding, sometimes on both sides, can lead to divisions that, for them, can make supporting Black Lives Matter challenging. Additionally, some of those interviewed view the movement as giving insufficient attention to lives in Africa, which they say seems hypocritical given BLM's commitment to black life. This piece in no way presents a definitive statement on all Africans' opinions on the movement.
Before Understanding "Black Lives Matter," Africans Must Understand Their Blackness
When asked about his relationship to Black Lives Matter, Saidu Thomas Jr., a Sierra Leone-born writer, slam poet, and actor said that inhabiting a black body created an automatic link between him and the movement. But a consciousness had to develop before that connection could be made--namely, Thomas's gradual awareness, after arriving in the US at eight years old, that in America, he was marked by his race. "[In Africa], I was allowed to live in a world where I didn't think I had to champion, fight for, or preserve my blackness or my life. Coming here, it felt like being thrown into a war that I did not ask to be part of." Over time, Thomas was able to reconcile his African identity with his newfound black identity by making efforts to understand African American experiences.
African Privilege
A University of Connecticut graduate and self-proclaimed "Yoruba boy," Lekan Alatise acknowledges that markers of his African identity may sometimes distinguish him from black people in an advantageous way. "Employers, they don't know where my name is from," Alatise says. "There's a factor of intrigue there. I sort of have a mystique. Then when they see me, [hear] the way I speak, they think ooh, this is a different type of African American." Fundamentally, however, Alatise says he experiences blackness just like other black people do, which enables him to recognize the importance of issues like police brutality. "If I'm with a group of my black friends, it doesn't matter if I'm from Nigeria, another is from Jamaica, another is from Louisiana—we have an equal chance of getting a bullet through us."
American Privilege
For recent Guilford College graduate Teresa Bedzigul, however, participating in Black Lives Matter activism revealed a privilege that African Americans, but not all US-based Africans, enjoy: "I went up to Baltimore to join this massive city rally. That was probably the first time I realized my status as an African in America without the protection of an American passport." Bedzigul, who was born in Cameroon, is a green card holder. Questioning during her Okayafrica interview whether she should even allow her name to be printed, she remembers not being able to protest freely, knowing that she wasn't protected by the constitutional right of assembly. "That was the first time I was really so scared, not even of being arrested, but of my face being captured. That's when I really had to be like, is this even your place in this movement?"
Ultimately, Bedzigul's status as a non-citizen overcame her desire for activism, forcing her to consider difficult questions. "I made the decision it was too hot, too hectic, too much. I had a really in-depth conversation with my mother about Black Lives Matter. She brought up something that I can't to this day negate: 'Where is black solidarity for African issues?' There [are] so many issues happening in continental Africa literally everyday that people on this side of the Atlantic either don't know about—which I find difficult to believe because, the Google is free—or that they think [don't] apply to them. That solidified my desire to not be public about anything until I can be in a black liberation space where I can see, hear, and discuss the plight of continental Africans under Black Lives Matter."
Solidarity Necessary Before All Black Lives Matter
The silence Bedzigul perceives among BLM activists on African issues also concerns Ewurama Okai, a senior at Yale University, whose campus was rocked last fall by events related to issues facing black students and students of color. Originally from Ghana, Okai says, "I am black because I'm African. So when somebody says 'black lives matter,' but they're not commemorating African history, celebrating the space of the continent in the black diaspora, that's where I engage with the problematic nature of Black Lives Matter. Blackness is not as narrowly defined as Black Lives Matter would define it." Okai agrees that black lives matter, but wishes to see black African lives valued alongside black American lives.
Okai does formal and informal advocacy between different communities at her university, moving among African students, white internationals, and African Americans, talking with the international community about the importance of being part of action on black issues, while conveying to the black community the ways in which she sees African experiences being ignored in black spaces. In this way, Okai attempts to foster inclusiveness. "In the African community, I'm saying we need to be involved because on the street, we are black people, but when I'm in a room talking about blackness, Africa is this dark place that real people don't live in. It's important to say, 'I'm here because I understand the value of being in the black struggle, but understand the problem you're creating--there's a gap, but not a bridge.'"
Thomas agrees that Africans need to be active on black issues. He says, "Black issues and African issues are one and the same. They're connected. The work of racism and oppression makes us think they're two different things." He observes that divisive perceptions of black people can exist in African communities, and trying to correct them can be challenging work. "The people I'm surrounded by when I'm at home, it's hard to have conversations about them about this. It's explaining racism to people who have not been faced with the same thing back in Africa.
"That's where good art comes in," says the slam poet. "Art can explain something to you in an allotted amount of time."
Bedzigul echoes this line of thinking, stating that Africans need to show more empathy toward African Americans. "What continental Africans and immigrants like myself need to be compassionate [about] is that we're interacting with an entire group of people who had their history stolen. There's the privilege of having the passport, but also the privilege of knowing my history. Both sides need to humble themselves."
"Why are you able to apply for a black-owned business grant?" Alatise asks, referring to a benefit targeted toward black Americans from which Africans may also benefit. "Or be in an HBCU and not worry about what's going on with people that look just like you? You're still getting those head turns when you're blasting music in your car. You can be watching the BET awards and feel something. So why is it that you can do that but feel like, hmm, I'm detached from this group because my parents came here, I wasn't born in this country, I speak this language?"
For Thomas, BLM seems inclusive of all black people. Reflecting on his involvement with Black Action Now, a Black Lives Matter-inspired organization at Virginia Commonwealth University, Thomas says, "I don't know if there's room to reconcile the differences between black Americans and black Africans. I don't know [whether] that needs to be its own movement. The life and death issue is so pressing."
But in response to this idea, Bedzigul says, "Are there not black people being shot on the continent everyday? As a result of imperialist policies in the West? Because people won't say their name? Black lives across the globe are urgent. It's overwhelming and it should be. Every single one of our lives matters."
Africans and Black Lives Matter: How to Move Forward?
In response to the criticism that African issues aren't valued and even dismissed in BLM spaces, founder Tometi says, "This isn't an accurate assessment. People are raising issues that impact Africans on the continent as well as Africans in America." Referencing a recent police killing, she says, "[After] the tragedy in San Diego, where Alfred Olango, an African refugee, was shot and killed by police, people rose up to support him and his family." As Tometi points out, Olango is the latest is a significant number of Africans killed by police, including Amadou Diallo, a Guinean killed in New York in 1999, Matthew Ajibade, a Nigerian killed in Savannah, Georgia in 2015, and Brother Africa, a homeless migrant with mental health issues killed in Los Angeles in 2015.
In a piece for This Is Africa, writer Brian Ihirwe Kamanzi makes the argument that Black Lives Matter has not only a responsibility to align itself with communities in Africa, but also an opportunity for mutual support. He says, "There was hope that the successes of [Black Lives Matter] might generate the political will for US actors to offer tangible solidarity to African struggles." Kamanzi argues that the US and Africa's entwined histories and current economic and political involvement necessitate joint efforts by movements in Africa and the diaspora toward collective black liberation. His thinking would call for a reframing of Black Lives Matter as rooted not in the US, but as a Pan-African organization.
Recounting the time she met Janaya Khan, Co-Founder of Black Lives Matter Toronto, through a Black Lives Matter Week she organized at her college, Bedzigul says that BLM may soon move in this direction: "[Khan] talked about chapters existing in Africa, maybe Latin America. So I think there's definitely pushes to make it global, but I want to see that pushed even harder."
Meanwhile, a recently launched project aims to do the work of increasing understanding of BLM among African immigrants. Letters for Black Lives provides messages, customized for African and Asian immigrants and other immigrants of color, that explain Black Lives Matter from the perspective of a first-generation family member. The letters address the antiblackness that, as Thomas points out, some immigrants may harbor due to stereotypes coupled with a lack of personal contact with black Americans.
The Movement for Black Lives, a coalition of racial justice organizations, including BLM and BAJI, seems to have created a space for the global black unity that Okai, Bedzigul, and others call for. The M4BL platform states, "We stand in solidarity with our international family against the ravages of global capitalism and anti-Black racism… We also stand with descendants of African people all over the world in an ongoing call and struggle for reparations for the historic and continuing harms of colonialism and slavery."
The experiences, thoughts, and concerns expressed here raise a number of questions: how does blackness, as entwined with histories of slavery, police brutality, colonialism, and the myth of white supremacy manifest in the US, Africa, and other geographical contexts? Should Black Lives Matter address global black issues? How might Black Lives Matter adopt a Pan-African approach? What should we expect from other efforts at black and African liberation? Seeking out and engaging with an overabundance of black voices may bring Africans and diasporans, BLM, and other black movements a step closer to demonstrating that all black lives matter.
Related Articles Around the Web