The excitement brought on by Mr Eazi's rise and the release of Life Is Eazi, Vol. 1 - Accra To Lagos isn't too different from that which greeted his Starboy label boss, Wizkid.
---
The fear with such comparisons, as always, is that they're premature. As if to lower expectations, Mr Eazi has chosen to title his first full length release as a mixtape, which is true only in name.
But the high-sheen production and the famous creators behind the beats (Masterkraft, Legendury Beatz, Young John) point to bigger aspirations than what a mere mixtape would suggest.
To start with, any song, film, book (or anything else really) titled "In the Morning" will always have a special appeal for speaking to fresh beginnings. If it also celebrates early morning sex then all the better, surely.
Mr Eazi's singing is so good here partly because the uptempo beat forces him to straddle it, while the slower, more popular songs like "Skin Tight" or "Leg Over" demand less.
Big Lean's voice is either yet to break or hasn't been mixed properly, making dude sound like Tom Hardy's Bane in The Dark Knight Rises—an oversight, it must be, considering the expertise at Starboy Worldwide.
The beat for "In the Morning" sounds a little too much like Maleek Berry's work on "One Life" with Wizkid, but then both songs are developed from afrobeat (the Fela Kuti variety), which is itself drawn from Ghanaian highlife, amongst other things.
Where Berry chose violin-led orchestrations, Legendury Beatz have opted for a sax, which gets its own solo, and also harks back to Lagbaja's own interpretation of afrobeat.
A more ruthless business man other than Wizkid would have offered Mugeez a solo deal, wave goodbye to R2Bees as a group and make a behemoth like 2face out of him. Every time Mugeez comes on a track, whether it's "More" featuring Wizkid or "Denge Pose" with Yemi Alade, it's immediately clear that his talent deserves singular focus, a fact that remains true here on "Business."
I understand that if you have a good riff, you stick to it, but could someone please get Maleek Berry to stop peddling different versions of the same beat? Why? It stops being good if a riff is riffed on, only to be riffed on again. Berry's beat for "Short Skirt" is not dissimilar from that of "Kontrol," "Nuh Let Go" and "Let Me Know"—half of his otherwise very good EP Last Daze of Summer.
As a result, Eazi and Tekno, a collaboration that should spark magic, results in a weak concoction. That's not all, the phrase "hold me down like a short skirt" is not the successful simile it's presented as. Pulling down a skirt is hardly the most interesting thing about mini-skirts, and so building an entire song around it and featuring hitmakers like Tekno, Maleek Berry and Mr Eazi on it is, frankly, a criminal waste of resources.
The same charge levied against Berry (and Eazi, the conscientious buyer) is to be levied against Masterkraft who here made "Life Is Eazi." The beat is a variation on "Fada Fada," a track MasterKraft made for Phyno's monster hit, which also featured Olamide. One possible advantage both "Short Skirt" and "Life is Eazi" have is the chance to extend the shelf life of both original and copy by keeping them in circulation for longer than otherwise possible.
The big name features and producers add valuable expertise and recognition to Life Is Eazi, but they also risk crowding and distracting from Eazi's own individual talent.
Thankfully seven of the fourteen songs here are solo tracks, though three of them,"Right now," "My baby" and "Kpamurege" have been given the lowly status of being bonus tracks—free giveaways to add to the other ten free giveaways.
Of these lot, "My Baby" deserves a mention for being the one song sung by a male which celebrates his woman for giving birth to their child. It should become a perennial favourite at naming ceremonies, or delivery rooms for those who like being punctual.
There's a clean simplicity of composition and delivery that runs across Eazi's songs, even more than is common in pop. When he sings, he doesn't belt or coo, his language and metaphors aren't dense, and his similes don't trouble the head.
Some of his words and phrase choices are not current, even to a Nigerian in the diaspora ("make water carry me go") neither are they altogether quaint or obsolete. In isolation, the phrase "fine like two people" sounds like an individual's playful, but weak attempt to inject new life in a tired and varied construct (fine as hell, fine as wine, etc.).
But, surprisingly, when rhymed with "beautiful" and sung over a solid Masterkraft beat, the result is one for the repeat button—as is the entirety of Life Is Eazi, if that isn't clear by now.
The Twitter storm Mr Eazi started when he said "Ghana's influence over Nigeria music cannot be underestimated" was a needful point, but maybe needless to point out. It was a shameless, old fashion way to promote a release, but one that paid off no doubt.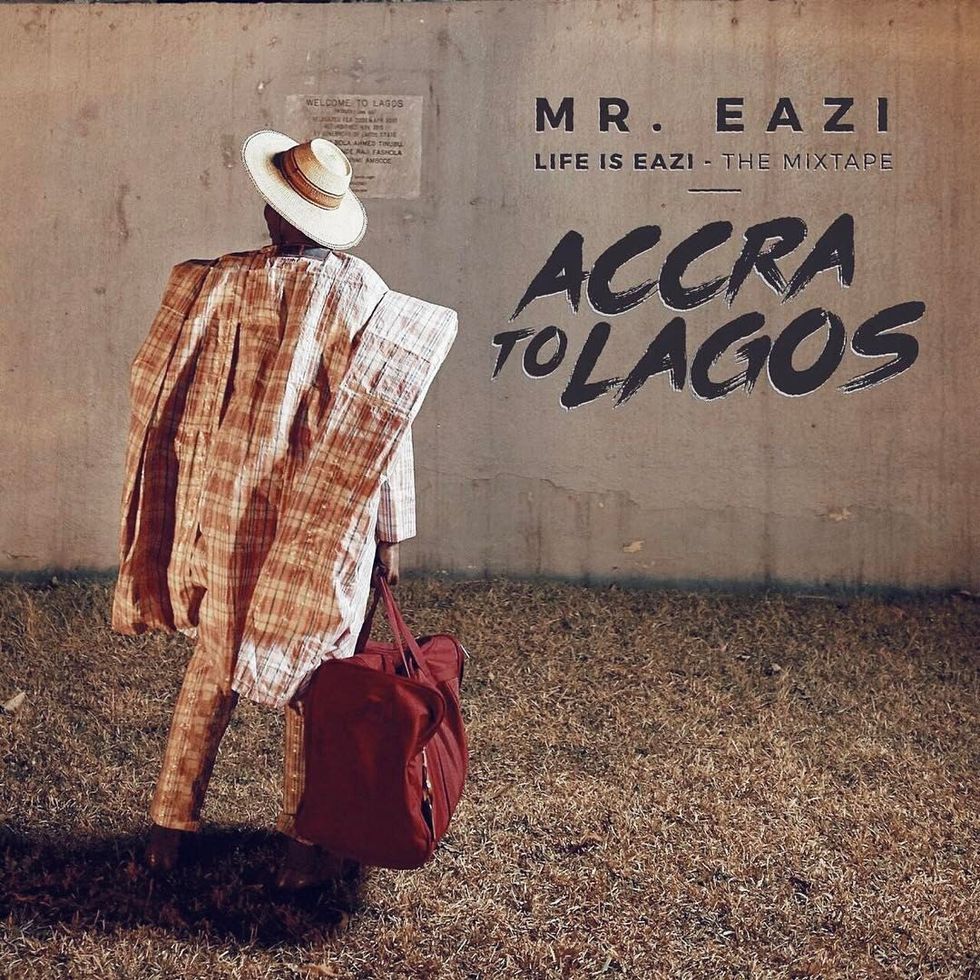 The symbolism in the cover art for Accra to Lagos is even more telling. The red checked pattern on his babban riga, to those who don't know, is that of a "Ghana Must Go" bag, a phrase that defines a particularly shameful episode of Nigeria's history. In 1983, under President Shagari's administration, nearly one million Ghanaians, as well as Chadians, Niger and Cameroonians, long residents and part of the country's fabric, were expelled.
Less known, and far from a justification, is that the expulsion was purported to be in retaliation to the former president of Ghana Kofi Busia's Aliens Compliance Order under which close to 500,000 Nigerians were said to have been made to leave Ghana. Reasons for these and the precise numbers are still subject to debates. The root of these enforcements may have been economic, but the stems and leaves range from mere inconvenience to national pride.
The wounds sustained on both sides, passed on to later generations, are yet to heal and so any tweet or national policy immediately opens, once again, that ugly gash.
Choosing to drape himself in a "Ghana Must Go" patterned outfit next to the phrase Accra to Lagos is a direct provocation of thought, and not a call to arms.
Seeing how much goodwill and recognition Mr Eazi enjoys from both Ghana and Nigeria, and the hackles he's capable of raising with one simple factual sentence, he's possibly best placed to shore up a crevasse between two countries with maybe too much in common.
Mr Eazi will be playing the Playstation Theater in NYC on March 11. Tickets here.
Sabo Kpade is an Associate Writer with Spread The Word. His short story Chibok was shortlisted for the London Short Story Prize 2015. His first play, Have Mercy on Liverpool Street was longlisted for the Alfred Fagon Award. He lives in London.