Afropop sensation Mr Eazi has unveiled the artwork and tracklist for his highly anticipated debut album, The Evil Genius, set to release this Friday, Oct. 27th. This album launch marks the culmination of an extensive rollout that has already seen the release of hit singles like "Legalize," "Chop Time, No Friend," "Advice," and "Fefe Ne Fefe."
Adding to the excitement, Mr Eazi has just dropped the latest single from the album, "Exit," which features the renowned South African vocal ensemble and three-time Grammy winners, the Soweto Gospel Choir.
"Exit" serves as the final track on the album, and it was also the first one Mr Eazi recorded for the project. Born during a period of inner turmoil and strife, it stands as one of his most personal and introspective songs to date, while also exuding a triumphant spirit. The song's creation spanned from Accra to Los Angeles and Johannesburg, featuring a powerful choral arrangement by the Soweto Gospel Choir and infectious production by Nigerian beatmaker Kel-P (known for his work with Burna Boy and Wizkid).
---
One of the song's memorable lines has become Mr Eazi's daily mantra: "Thank you God for keeping things running smoothly." Reflecting on this track, Mr Eazi expressed, "When I wrote this song, I was disappointed in everything — the music business, feeling betrayed by my friends. But, in the midst of feeling disappointed, I was thankful."
Such a profound track deserved an equally powerful video that could capture the song's underlying sentiment of gratitude. Filmed atop South Africa's renowned Drakensberg, the "Exit" video, directed by Allison Swank Owen, delivers heavenly visuals that perfectly align with the song's spiritual theme.
Mr Eazi - Exit (feat. Soweto Gospel Choir) [Official Music Video]youtu.be
The striking cover artwork for "Exit" was created by Samuel Tete-Katchen, a Togolese painter based in Accra, Ghana. His artwork, titled "You Prepare a Table Before Me," draws inspiration from DaVinci's "The Last Supper" and beautifully encapsulates the spiritual connection that "Exit" evoked in him. Tete-Katchen shared his thoughts, saying, "The way Afrobeats blended with gospel, I felt a beautiful spiritual connection to it. It reminded me of the feeling I had as a child when I first listened to 'Will You Be There' by Michael Jackson. I wanted 'You Prepare a Table Before Me' to display how 'Exit' touched me spiritually... It depicts a king who wants to serve humbly as he's been blessed by God, opening his heart to the people surrounding him."

The album will feature a stellar lineup of guest artists, including Angelique Kidjo (Benin), Tekno (Nigeria), Efya (Ghana), Whoisakin (Nigeria), Joeboy (Nigeria), and the aforementioned Soweto Gospel Choir. The production credits boast an impressive roster of talent, with contributions from Kel-P (Nigeria), Knucks (U.K.), Michael Brun (Haiti), M.O.G Beatz (Ghana), Andre Vibez (Nigeria), Killbeatz (Ghana), E Kelly (Nigeria), Type A (Nigeria), Yung Willis (Nigeria), Nonso Amadi (Nigeria/Canada), Phantom (Nigeria), KDream (Nigeria), and Mr Eazi himself.
Mr Eazi The Evil Genius Tracklist
1. Olúwa Jọ̀
Produced by: E Kelly, Stikmatik, Timmy, Mr Eazi
2. Advice
Produced by: M.O.G Beatz
3. Òròkórò (feat. Angélique Kidjo)
Produced by: Kel-P
4. Chop Time, No Friend
Produced by: Killbeatz, Andre Vibez
5. Notorious
Produced by: Kel-P, AoD
6. Panadol
Produced by: Type A
7. Jamboree (feat. Tekno)
Produced by: Yung Willis
8. Good Lovin' (feat. Efya)
Produced by: Type A
9. Lack of Communication
Produced by: Kel-P, Mr Eazi
10. Fefe Ne Fefe
Produced by: Kel-P, KDaGreat
11. Legalize
Produced by: Michaël Brun, E Kelly, Nonso Amadi
12. Show Dem (feat. Whoisakin)
Produced by: Phantom
13. We Dey
Produced by: Knucks, AoD, E Kelly, Wade Oghenejabor and Venna
14. Zuzulakate (feat. Joeboy)
Produced by: Type A, Kel-P
15. Mandela
Produced by: KDream
16. Exit (feat Soweto Gospel Choir)
Produced by: Kel-P
Mr Eazi The Evil Genius front cover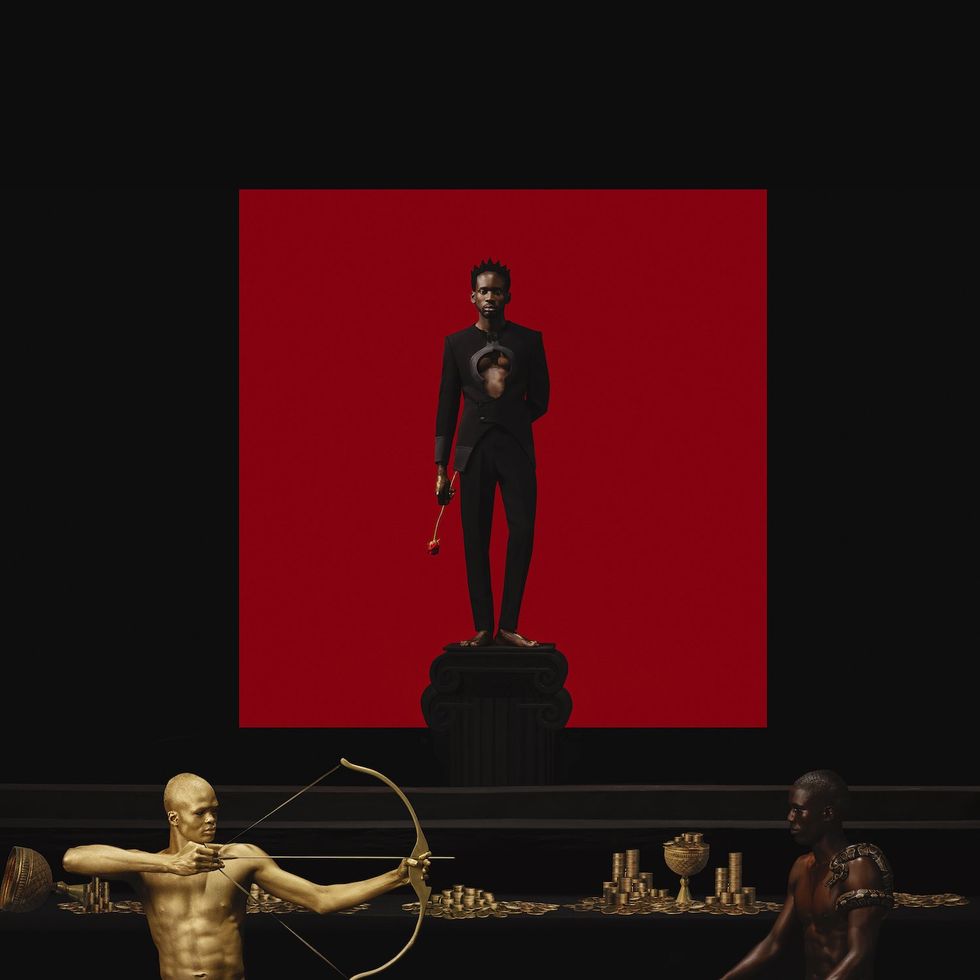 Mr Eazi The Evil Genius back cover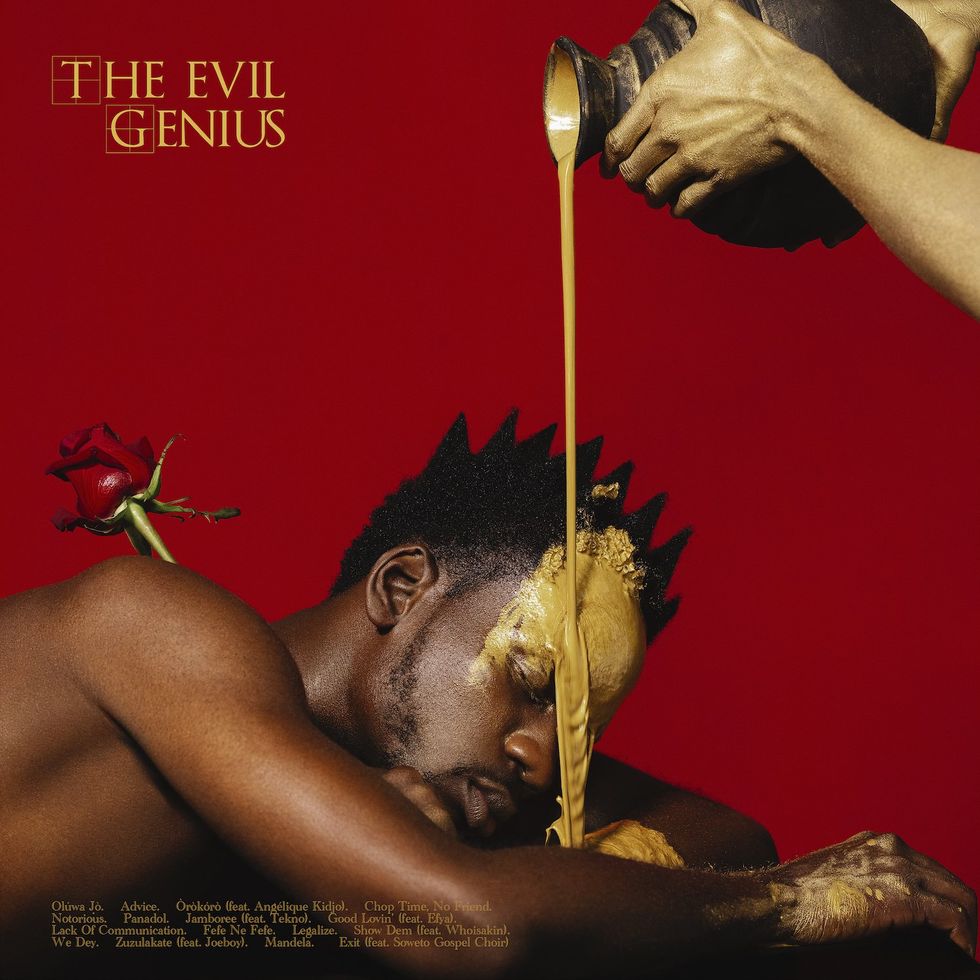 Mr Eazi The Evil Genius back cover and tracklist