Long before her soulful, husky voice caught the world's attention, Nana Fofie was a young girl growing up in The Hague, Netherlands, and nurturing her talent. As the youngest child from a family of six, Fofie's Ghanaian parents gave her creative freedom to chart her career path, and she chose music. Growing up, Fofie had a close-knit relationship with her sister, who is five years older than her, and that bond is partly what inspired Fofie to become a singer.
The singer gained traction when she started sharing mash-ups of popular songs by artists like Buju, Davido, and Runtown. Her rise to fame was influenced by the official video release of her melodic mashup for Runtown's " Mad Over You " back in 2017. The song quickly garnered over one million views within its first month of release.
Before long, Fofie piqued social media's interest and quickly went viral. It was this same viral wave that caught the attention of rap icon Nicki Minaj, who shazamed Fofie's famed mashup after hearing the song on a hair and makeup tutorial. In fact, on Minaj's Queen Radio , she shared that Fofie's mashup introduced her to Davido's music. Fast forward to 2023, Fofie—who describes her sound as "Afro-Soul"—is now signed to Minaj's Heavy On It record label , a label that has also garnered the partnership of hip-hop newcomer Ice Spice . Shortly before getting signed, Fofie released her song "Selling Dreams," still as an independent artist.
On "Selling Dreams," Fofie sings about her true-life experience of bad love gone awry and the heartbreak that follows. Singing about experiences that she has faced is something that has become a part of Fofie's modus operandi. But Fofie's music is not confined to just heartbreak; it also broaches the subject of falling in love, and her ability to incorporate sass and spunk into her lyrics is what makes her stand out. She displays this same playful sass on the 2022 track "When I See You," when she crooned, " Baby, I go love you jeje, love you tender, all your girlfriends, back to sender! "
Fofie describes her sound as Afro-Soul. Several of her records are reminiscent of the nostalgic sonics of early 2000s R&B, think Mary. J. Blige's "I Am," Kelly Rowland's "Dilemma," or Alicia Keys' "Diary." Her talent is undeniable, and her love for music is palpable, but for Fofie, it is her role as mother to her son —who she pet-named "Nugget"—that comes first.
OkayAfrica recently caught up with the singer to discuss her music, cultural identity, being signed to Nicki Minaj's label, and her future as she evolves from being the "mashup queen."
---
How did you start doing mashups?

I started doing mashups for fun. One day I was with my producer in the studio, and we were working on my own songs, and obviously Afrobeats in Holland, where I lived, wasn't that popular back then. We were vibing to all these Afrobeats songs, and I was humming to one of the songs over the beat my producer was creating and he was like, "Yo, that sounds sick. You should do a cover," and that is how it all started. I started singing the song, and then he added songs and it sounded amazing and he said, "Damn, let's record this." We did not expect it to go viral at all, so it happened organically.
Does it get frustrating when people ask you if you still do mashups?
It used to be very frustrating to me because I would release a new song and people would still ask me about the mashup. Thankfully, I don't really get that anymore, so I'm so happy. If you could tell, I deleted most of my videos off YouTube. I feel that this is a new era for me and I want to welcome that.
What can fans expect in this new era?
My goals are definitely to put a stamp on my sound. I started this Afro R&B, Afro Soul thing with the mashups, because back then, it was quite new for a girl to sing an R&B song on an Afrobeat tune. It was very refreshing, and that's my sound, so I just want to put a stamp on that and show the world what I'm capable of. I also want to create a lot more music and share beautiful stories. I'm really transparent when it comes to storytelling because a lot of people think that artists or creators have to be perfect, but it's not like that, and I'm here to show the world how real it can get.
What can you tell us about the album?
I can't say too much, but it's a fusion of Afrobeats, Soul, and R&B all in one. It will be an EP, a mini album of six or seven songs, but there's going to be one more project before I drop it. I can't wait for you all to hear it, and I'm so excited because I feel like I finally found my sound and found who Nana Fofie really is and what she stands for. I think it's going to be a very refreshing new sound, and I'm just so ready for it to drop very soon.
It takes a lot of work, time, a lot of studio time, and a lot of "no, this ain't it." Africans love music they can dance on, especially with Ghanaians. Ghanaians love music they can dance on, and when it's not that, it automatically becomes less attractive for them, but I feel like a shift is coming because now my country really has my back. They're starting to embrace the sound, but it was quite hard at first because, at first, I was thinking, "Oh, maybe I should make more uptempo music," but then eventually, I was like, "Nah, let me just stick to what I love and what I'm passionate about," and it's paying off. People are actually loving the sound. It took a lot of rejection, I'm not going to lie, and a lot of "Who is Nana Fofie, and what do you stand for? And what gives you healing? What heals you?"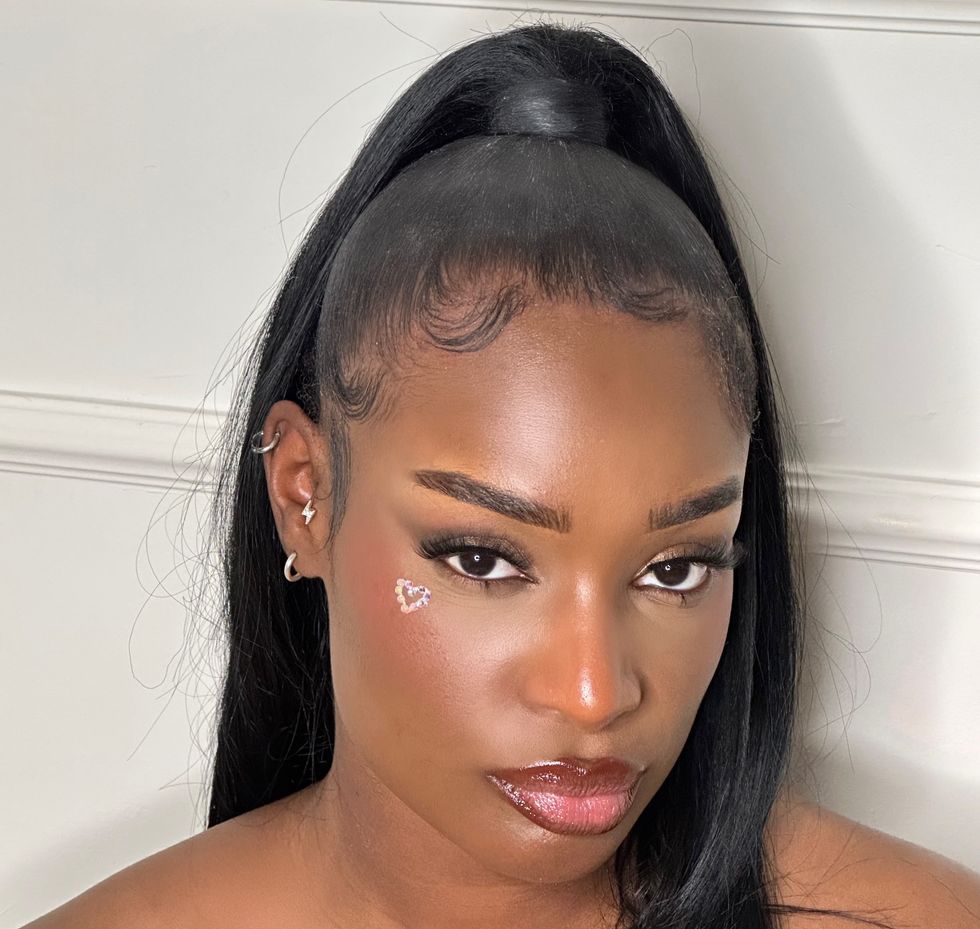 Nana Fofie.
You are one of the artists who pushed the narrative musically for Afro-Soul. What went into that process?
The rejection. Because I was brought up abroad, obviously, certain people felt like I couldn't be rated as an Afro-Soul, Afrobeats, or Afro-R&B artist because I don't live on the continent, but I'm fully Ghanaian. I might not live there, but I've been there a lot. We go every year. My parents are Ghanaian, so I obviously feel fully African — not just Ghanaian— I feel African, so it was quite hurtful for people to say, "Oh, we don't rate her as African because she lives abroad." so that was frustrating because I am African.
If you were to experiment with any other genre in the future, what would you consider?
I would consider doing house/techno music and also Amapiano too because they love having amazing vocals.
What parts of your song "Selling Dreams" actually happened?
The whole song is real. At the time, I was going through a very tough heartbreak and hadn't recorded anything for a while. When I finally decided to return to the studio, the song came about organically. It was real and uncut. The producer started playing chords on his guitar, and the words just followed.
How has motherhood influenced your artistry?
Before having my son, I was doing music because it was my passion and because I love doing music. When things went viral, I realized that I could actually make a living out of it, and now that I have him, I want to do everything for him. My parents tried to do better than their parents did, and I want to try to do better than my parents did so the cycle will continue. I just want to make sure that he's straight so that even when I'm not here one day, he's good, and his kids are good.
You talk a lot about the relationship you share with your sister. How influential was she in helping you start out in music?
My sister is the reason I'm singing. We're not actual twins, but everybody thinks we're twins. Growing up, she always used to sing, and I was her biggest fan, and I still am. One day we were watching Sister Act , and there was a part where Lauryn Hill was singing in church, so I started singing along because my sister and I would know every single part of that song. During that time, my sister was like, "you actually sound good," and because she said that, I started believing in myself, and then you know how that goes. You sing in church, you sing here, you sing there, but my sister has always been my number one supporter, and she sings too, so she plays a huge part in where I am today.
Did you ever imagine that you would be signed to Nicki Minaj's label?
I basically manifested it without knowing I manifested it. In high school, I remember people always saying, "Your mom looks like Nicki Minaj's mom," so my best friend was like, "Y'all are probably cousins." and I said, "Yeah, I'm going to meet her one day," but we were playing. Well, I was playing, and then boom, three, four years later, it all happened. So to me, it still doesn't feel real.
From the minute she [Minaj] started showing me love, she always said, "Yo, I can't wait to sign you one day," and it's been a few years, but I always kind of knew. But then the question was, when is it going to happen? For everything to come together, it just feels like a full-circle moment. I'm just so grateful and ready to show the world what I'm capable of.