Last week at New York Fashion Week, menswear designer David Hart made a bold statement when he decided to cast only black men in his show. And with NYFW Women's getting underway tomorrow, there's plenty more to look forward to.
---
Erykah Badu will be bringing "the black experience" to NYFW as the stylist for Haitian-American designer Kerby Jean-Raymond's Pyer Moss show. Liberian Project Runway All Star Korto Momolu, South African designer David Tlale, BCBG's Max Azria from Tunisia, and the Malian-born Lamine Kouyate are all returning to NYFW.
Below, we look back at eight of the dopest New York Fashion Week moments from the diaspora.
Alek Wek = Boss
South Sudanese British model supermodel Alek Wek snatching off her blonde wig at Betsey Johnson's 1998 show was easily one of the fiercest moments in NYFW history.
David Tlale Reps South Africa with Almost Entirely Black Supermodel Entourage
David Tlale's almost entirely black model entourage was nothing short of brilliant during NYFW Spring/Summer 2015. The South African designer set a new standard for runway diversity with his show, led by none other than the first black male supermodel, Tyson Beckford.
The Birth of Africa Fashion Week
Africa Fashion Week began in 2009 as a way of showcasing the top African designers during NYFW, and has since expanded to fashion capitals around the globe like Milan, London, Paris and Tokyo. Past AFWNY presenter Senegalese designer Adama Paris is now on the official Mercedes-Benz Global Fashion Week roster as well.
AFWNY 2014 showroom presentation from Tiagbe of Kososhi; Photo by Robert Cooper provided by Adirée.
Everything Lupita
Ever since she hit the scene in 2014, nearly every outfit Lupita Nyong'o has graced has been editorial-worthy. Her NYFW looks are no exception. Watch her slay in the front row at the February 2014 Calvin Klein show and in a headband at the September 2015 Hugo Boss show.
William Okpo Present Okpo Academy Picture Day
Dynamic Nigerian sister duo Lizzy and Darlene Okpo debuted their William Okpo line at NYFW in 2012. Their shows have drawn in the likes of Solange and Kanye, and for good reason. For their Spring/Summer 2015 collection, the Okpo sisters took us back to our school days with their Okpo Academy Picture Day.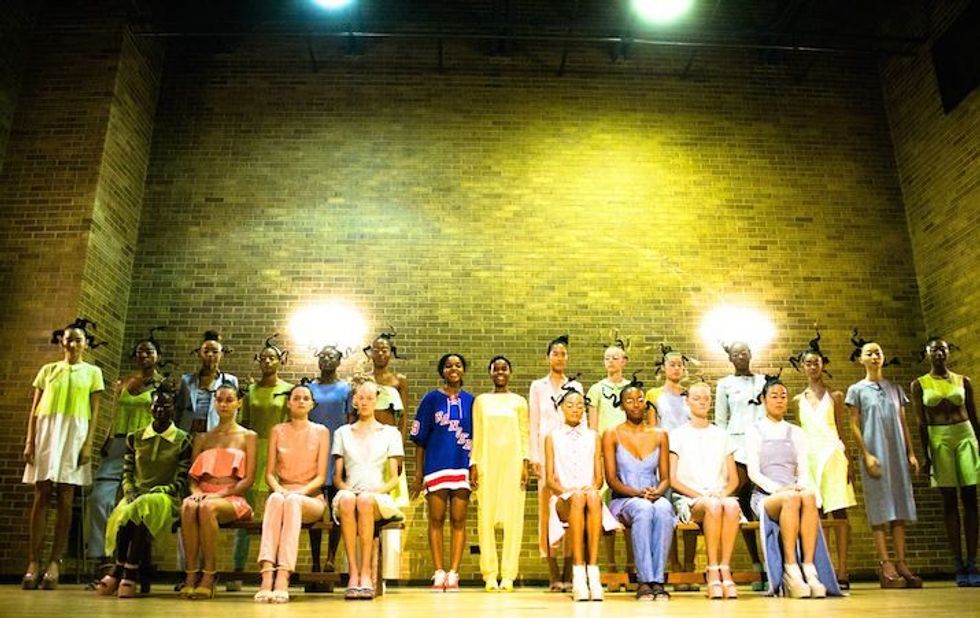 William Okpo Presents Okpo Academy Picture Day Class of SS15 at NYFW. Photo: Rashaad Denzel
The Rise of Azede Jean-Pierre
Since debuting at NYFW in 2013, Azede Jean-Pierre is still the fashion girl about town with her sophisticated and sleek designs. The Haitian-born, Atlanta-raised designer has fans in FLOTUS and Solange.
Source: Azede Jean-Pierre's Facebook
All Black Everything at David Hart's Jazz-Inspired Show
In using only Black men, from Senegal to Haiti to New Jersey, in his jazz-themed runway show this year, David Hart showed that the whole ensemble can be all black everything and lit. More where that came from, please!
David Hart's NYFW February 2016 show. Source: Facebook
"Dear White People in the Fashion World"
South Sudanese model Nykhor Paul checked make-up artists in her "Dear White People in The Fashion World" instagram post last September. She made the statement during NYFW citing her own experiences and those of her fellow black models. It quickly became a viral sensation. Yes girl, tell 'em!
Sumaya is the founder of Fab Noir and Black Female Founders (BFF), a resource for black female entrepreneurs who are doing the damn thing or want to. Keep up with Sumaya and Fab Noir on Instagram at @fabnoirllc.