Have you ever wished you had the resources to easily find picture-perfect, photo-worthy spots in any and every new city you visit? If you said, 'No', you're lying. If you said 'Yes', then, welcome.
A rather nice problem that many travel lovers run into is not knowing where to take beautiful pictures and most importantly, what to do with them if you're not a fan of photo-sharing apps that already exist. With the world opening back up for travel and adventure, the eagerness to go out and experience and capture something different is palpable.

Well, while some have spent their time creating Pinterest boards of #vacationgoals, Timi Ajiboye, Damilola Odufuwa, and Odunayo Eweniyi were using their resources to create new ways for us to enjoy beautiful things, namely their new app Backdrop.
The Nigerian crypto, tech, and digital media successes banded together to create Backdrop; a photo-sharing social media app dedicated to travel, discovery, and creating memories through photography. It can't be denied that social media has changed the way in which we connect and share our lives with the world around us. Aesthetically pleasing and conversation-provoking images and videos are how we take part in the global village and allows us to witness the creativity and world experiences from millions across the world - all from the comfort of our smartphones.
The app focuses on discovering new places - abroad or in your own home city - and merges tech, social media, and travel to do so. Above and beyond the desire to get users to romanticize their lives and escapades, the app gives space to local restaurants, store-fronts, and attractions and their abilities to create buzz around themselves through positive user experiences and intentionally picturesque establishments. The app is free, easy, and solely focused on travel, making it a go-to travel companion.
Through their love for travel, education, real-world experiences, and expertise in their respective fields, the 3 long-time friends have curated a space eager to find a country's coolest photo spots, and your own hometown may surprise you.

We spoke to 2 out of the 3 minds behind the app about being African women in tech, their new app development, and how they plan to use Backdrop to serve a specific niche in the market.
This interview has been edited for length and clarity.
---
Tell us about Backdrop and how you came together to create it.
Damilola: We've known each other for at least six years now, we worked together at a media company in Nigeria. Years later, we all happened to be working in tech, Odu in FinTech, myself, and Timi in crypto. Timi actually reached out to both of us; he reached out to me at the start of 2020 and essentially told me about this idea and the name Backdrop as an app to find pretty places to take pictures. He wanted me to join the team because of my experience in communication and social media. I was the editor-in-chief of a company called Konbini, and we had a really cool Instagram page, which was all about beautiful spaces and art and he thought I'd be a perfect fit for it. So he reached out to me, told me about the idea. I was easily sold, and we all came together.
We think that Backdrop serves a niche, with Instagram and Google, or Pinterest, and all the other things that we are often compared to. They can be used to find beautiful spaces or for travel, but that's not their primary purpose. They have a lot of other barriers that stand in the way. And with Backdrop, we have that niche, where curating beautiful spaces, helping people discover the spaces is our thing. We loved the idea, we were sold on it and we decided to build it for the world. We have currently 24 cities on the app.
Why do you think the three of you are uniquely positioned to create an app like this?
Odunayo: I find, from my perspective, we've built a lot and done a lot with a Nigerian perspective. But all three of us have always, in our mind, had an international outlook. We're very well-traveled, we have a lot of interest beyond Nigerian affairs. I'm unfortunately plugged into Black American pop culture far more than I should be, interpreting their politics more than I should be, very aware of things that go on outside of our everyday environment. And that goes for all of us. And so there's been a lot of trends that are about people building locally, but for the global market. And for the past, I don't know, recent year of our lives, we've all been focused on, building this one for Nigeria, for Africa. So the idea for Backdrop was just kind of a chance for us to look beyond the continent.
How do three people who were born in Nigeria, raised in Nigeria, have built for Nigeria all their lives, sell to the global market? Backdrop has offered a very unique opportunity for us to combine all of our types of experiences; media experience, tech experience, etc. So, it could have been Backdrop or it could have been literally any other product when looking at the global markets. But I think that the three of us have done enough and have combined experience of, I don't know, more than 20 years, and I think we're ready to build for the international market.
Damilola: I'm in London at the moment, and I've been using Backdrop to find a few spaces. I actually lived in London, I went to school in the UK and there are so many places in England that I didn't even think about exploring. When I was younger, we did the touristy things; Thorpe Park. London Bridge, The London Eye. That was pretty much it. I used to be like, "Oh my God, London is so dead for tourist stuff." But, actually, there's so much to do. There's so much to discover and Backdrop has helped that.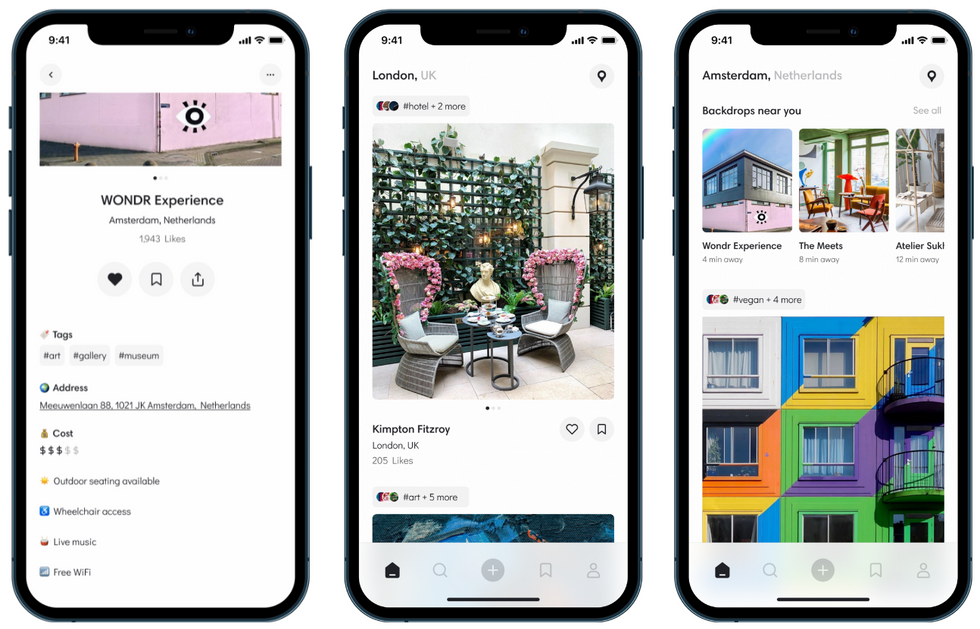 Image: Backdrop
What impact do you hope Backdrop will have on online photo-sharing as a whole?
Damilola: The app is initially focused on discovery. It'll help people, content creators, photographers, tourists in their own cities, people that are traveling, discover places that they want to visit, or they want to have experiences in and plan their vacations.
We have a few other features that we're working on that touch on the social network part of things. So, I feel that the travel app section of Backdrop is fully formed. But, in terms of just sharing with friends and family, when you visit a cool space and there are some people who aren't as active on, let's say Instagram or Twitter and they go on holiday and they take all these gorgeous pictures of landscapes and pretty things. They end up just sending it on WhatsApp or DMing their friends and not getting to share that with the world. I think Backdrop helps with that. It gives people who are interested in discovering and sharing beautiful spaces a place to do that. Some people that we have spoken to have compared it to a travel mood board on Pinterest. And I don't have a problem with that comparison because I saw people talking about how Pinterest is just good vibes. It's just a beautiful, peaceful place. And Backdrop has that, especially focused on travel.
As African women taking on a typically Western, male-dominated industry, what have you found was the most difficult part about getting started and what do you think helped you along the way?
Damilola: Honestly, right now, we haven't had difficulty getting started. We've all done stuff like this before, we've built before, we've raised money before, we know what to do, what to look out for. Odunayo is our COO, I'm the CEO and Timi CTO. We've just used our skills and strengths in certain areas to build Backdrop. Right now, the challenges haven't come up.
But, people have tried to pigeonhole us and asked us very specific questions about Africa. Even though we repeatedly say that it's a global product and we love Africa and we have a bunch of African cities on the app. But I always say to them, and actually, joke to Timi and Odu about this, non-Africans and men don't have this thing where people ask them, "Why are you not building for just your race or your gender?" But with women and with Africans, it's always that question. And even the type of product that we're building, social media, and a lot of the platforms that we love, respect, and know have been founded by men, predominantly white men.
But, when it comes to young Africans and African women, it's like, okay, you have to only solve for issues that are specific to you. And I feel that that limits us because we are part of the global world and we have a lot to offer.
Odunayo: I have dealt with being one of the only women in the tech ecosystem for as long as I've been in tech. So, it's mostly a reality for me. We get all these questions, but I think that the thing that helps the most is just trying to be hyper-aware of where you want to go with this. I spent so much time trying to fight the system, but I've learned now that what matters is representation. And as long as there's a woman there, more women will come and more women have come, they've continued to come.
I've also come to learn that we're not going to be able to fix an imperfect system by continuing to talk at it. So you're going to continue to see people like myself and Dami create a company like Backdrop, essentially deciding that the rules that have been put in place where they say, "You can't do this. You cannot start a company from Nigeria for the global market." We had found out you cannot do what I wanted at the time. I personally don't care about these rules, none of my co-founders do. We just continue to break those rules and continue to make our own way, continue to do it in the way that we want it.
What advice do you have for young Africans who are interested in pursuing tech? Not only on the continent but on a global scale.

Odunayo: The dream is to have young Nigerians, young Africans, and especially African women, want to do something and then just going ahead and doing it. I can draw on my own personal experience. I pretty much live my life exactly the way I wanted to live it. If I have an idea and I want to explore it, I go ahead and do it. Sometimes that doesn't work out. I have several failed companies that I've built. But sometimes it does, like the reason why I'm doing this interview. And so I would like more people to walk in that confidence of knowing that the worst that can happen is failure, and a lot of us don't have a healthy relationship with failure because of how our society has positioned it. So people don't take risks so that they don't fail. But when you want to see it from younger people, people who are coming after us is you have to take risks to shatter the limitations that society places on you. Especially if you're a woman.
Every day, men are applying for roles they are not fully qualified for. Topics that they are not well-versed in. But women are very careful, we don't want to disappoint. I don't like that. So I think that a lot more of us should just do it, just go for it. What's the worst that can happen?
Backdrop is available for download on the Apple store here.