During the weekdays, Nigerian artist Dipo Doherty works full-time as an IT professional for a tech company. When off-the-clock, he is sketching 3D paintings on his iPad. Then, on weekends, he visits his studio, making abstract figurations on canvas until his imagination comes to life.
Geometrical lines, bold colors and unassuming abstraction are artistic details evident in Doherty's art, which typically provides social commentary on various topics, from the Nigerian economy to matters around family and identity. But Doherty wants his work to be universally reachable and he does that by incorporating human-centric emotions.
Doherty's debut solo exhibition in the U.S is currently open at the Rele gallery in Los Angeles until July 23rd. In the exhibition, titled "Finding Home," Doherty visualizes his transitory process from being a Nigerian to being a person in the diaspora living in the States.
OkayAfrica spoke to Doherty about his upbringing in Nigeria, his career, the various ways he merges technology with his art, and more.
As told to Ugonna-Ora Owoh.
Photo Credit: Dipo Doherty
On why Diplo became an engineer
Art has always been my calling, but you know how rigid Nigerian parents are when their child has a passion to pursue a career that deviates from the stereotyped career — especially because of financial dependency. Ever since I was in primary and secondary school, I was always excellent in the art subject. I guess being a curious person made me keep my options opened. I like understanding the workings of things and that's why I studied engineering. In 2012, [while getting] my bachelors in mechanical engineering, I felt that calling for art. It took me back to memories as a child and I felt I could do it. I think studying in the U.S kind of nurtured my love for art. I studied mechanical engineering at the University of Virginia. During those times I would take a trip to New York to visit modern galleries, and when I started seeing how they took art seriously in the U.S it encouraged me.

On the artists that inspired him 
One of the people I looked up to was the painter Twins Seven Seven. He was an ex-husband to Madam Nike Davies-Okundaye, Nigeria's foremost textile designer. Twins' works had colors, depth, and geometric signs and that was something I really enjoyed looking at. I wanted to paint to his level. However, that has changed over time. Recently I have gotten the chance to enjoy a lot of work from African American artists as well, people like Sam Gilliam, who recently passed away, or [Jean-Michel] Basquiat. But there are also contemporary artists I love as well like Brian Donnelly and Takashi Murakami. I try to pull from diverse areas whether it's American expressionism or Nigeria contemporary art or even Asian artists. I just try to pull from different areas or genres.
On his artistic beginnings  
I was a very competitive child, especially in art. There was a yearning from my end to just instill an attention of detail to my art. I wanted to take things to the next level with my drawing. Slowly, I found myself drawing things I liked and also participating in art in any form, either being in the school drama club or in the band group. When I was in college, I would try to make beads and also paints, even when I started rapping and writing lyrics. There was this creative energy of wanting to create things people will enjoy but I think overtime, as I began experimenting on these things, I sort of gravitated to the one I enjoyed the most and it was painting for me. There was something about the versatility of paint, the fact it could take different textures, you could make a painting that would have so much texture to look like a sculpture but you could make it really flat or watery or it could be something between. For me, that versatility of medium was something I enjoyed and I really could with my hands. It just felt like that tactile experience with material was something that has a strong sense of gravity towards my personality.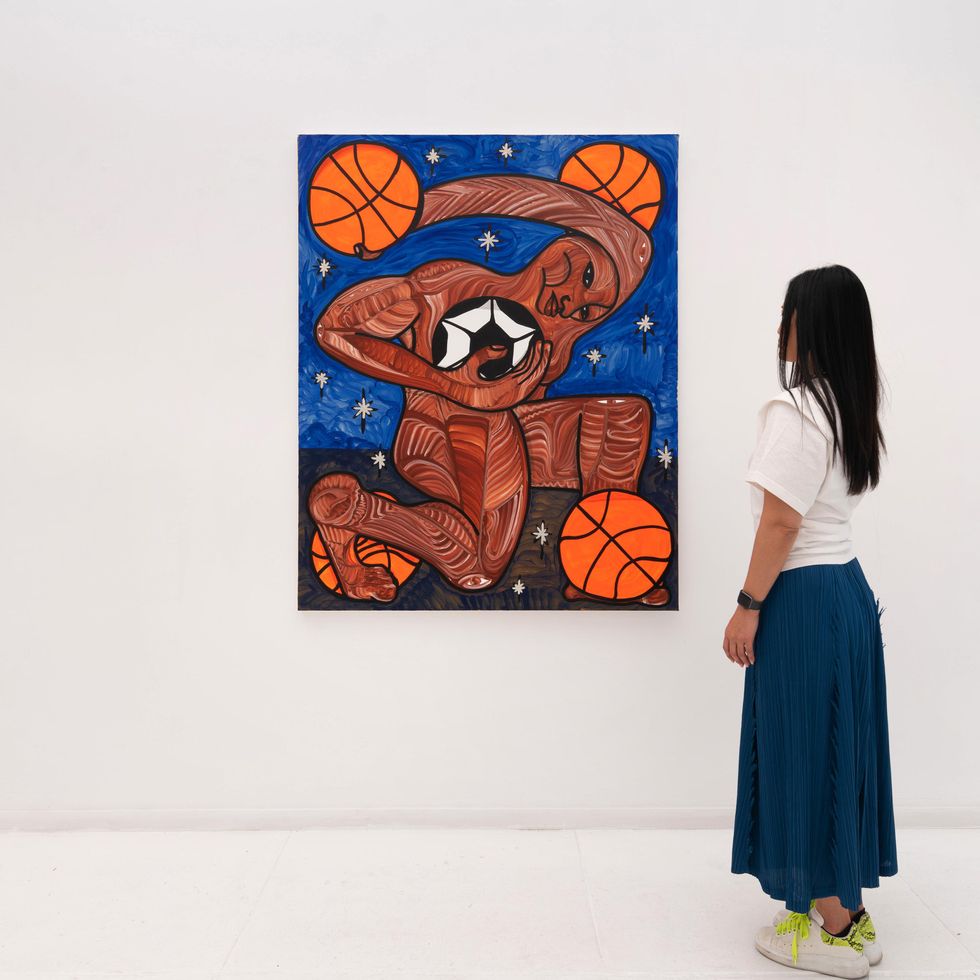 Photo Credit: Dipo Doherty
On how he uses technology in his artwork  
Anytime I'm done working with tech stuff my mind goes to art immediately. I have trained myself to switch those gears quickly. There are times when ideas could flow between both worlds and I think I'm also seeing that change my process. Initially, a lot of my work up until 2018 was very focused on spontaneous painting. I would have an idea which would be very vague in my mind and I would a start by playing with colors on the canvas. But now my process involves a lot more technology. I use an iPad now. I would sketch the idea on the iPad and I would insert it on the canvas and then, when it's halfway finished, I would take a photo of it and play around with multiple ideas. And I think that has definitely helped make my work more informed. If I'm at work, I can take my iPad and continue working on a painting. I think technology is making me more efficient in working through my process. I find time where I play with different materials and experiences where I can bring technology into my work whether artificial intelligence or using 3D printing. I think I'm experimenting, just seeing where they take my work in the future.
On what his process is like
A lot of the mediums I choose is based on ideas. Primarily, I use acrylic and paint because they are a versatile medium. But one thing I realized quickly, is that there are certain materials in the world people associate a particular story with. When I'm looking for materials in my mixed media practice, I'm looking for those that are emotionally charged, that have a lot of cultural meaning to people. It's really hard but I always try to take time to observe people in life and question myself about the materials that people don't take seriously but resonate with them. And it just makes communicating with people very easier.

I usually try to play on different emotions. In 2018, there was a series of works I exhibited at the National Museum [in Lagos]. I called them "Covalence" and these were works I made out of burnt yellow rulers used in school. I had a chance to work at a public school where I taught civil education and one of the things I didn't see was the passion of learning and teaching in teachers and I felt like education is something that if you get wrong can have generational consequences. So by doing those works, I was trying to speak on the irreversible nature of damage we are doing to the educational system in Nigeria. A lot of people saw the work and they could tell there was something dark about the work but there was also a sense of nostalgia they felt from seeing the rulers and how it was a object of correction maybe how their teacher would use it to hit their hands or knuckles and I loved that people resonate with the work.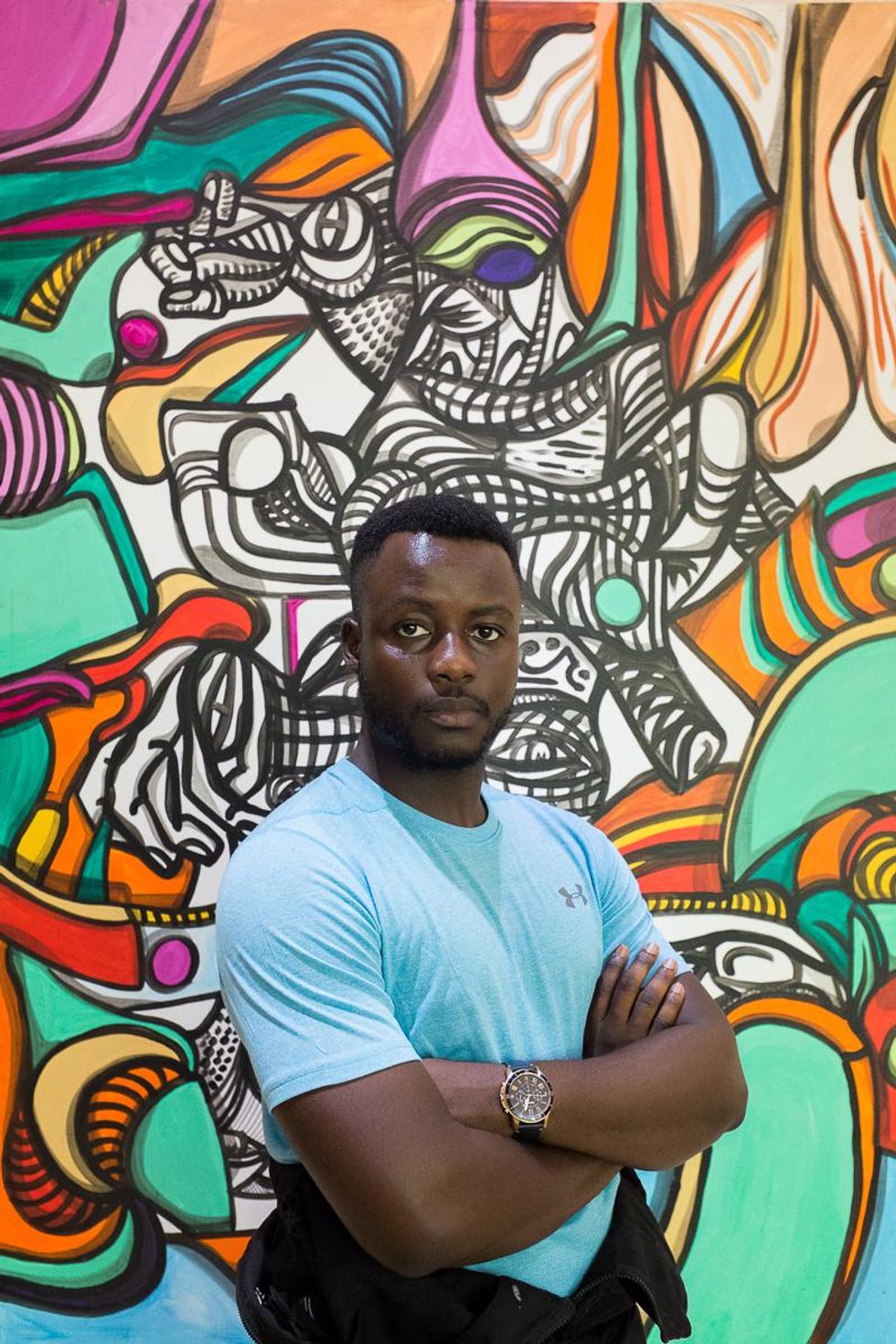 Photo Credit: Dipo Doherty
On his "Finding Home" exhibition
It's my first solo exhibition in the U.S. I think one of the things about finding home is communicating different emotions. One of the works in the exhibition is called "Lost in Translation." I painted a smile, an open mouth, but there was a chaos in this smile highlighted with colors.
The last exhibition I did was in July 2018. that was before I moved to do my masters in the U.S. Four years has past and I felt like I have learnt so much and gotten a lot of exposure and the have also learnt what it means to be a Black man in America. I was someone who grew up in Nigeria and, looking at it, everyone looks like me and sort of thinking about the setbacks people in the Black community in America face. What I didn't realize was what it would mean for my relationships back home and how home was going to change and so I was in a transitory period I was questioning my idea of home and that has changed in many ways for me, whether it is having more multicultural friends or trying to learn the intonation of communicating with average Americans. And so it was from a linguistics, friendship, cultural perspective and even from a geographical perspective, there were so many thing that had changed for me that I felt like I wanted to tell the story of what it meant, being in this transitional state as a person in the diaspora moving from Africa to the western world.