Zida Kalu has been on the Nigerian art scene since 2018. In that time, she hasn't seen many women artists showcasing at exhibitions. In 2020, COVID-19 disrupted the art world, leading to shuttering of galleries and planned exhibitions. To cope, Kalu created art. It was an escapist medium amid the madness of the pandemic. Once in a while she would spare a thought for women artists like her, and the lack of representation she had seen pre-lockdown.
---
So she established The Noire Experience, an exhibition just for female artists to find recognition. It marked a different entrypoint into the art space for Kalu, enabling her to show the works she had created during lockdown and also highlighting those of other artists. The inception of this female-only avenue, while commendable, was an indictment of the Nigerian art industry.
The Noire Experience was a two-day event that took place in Wèré Studio, Lagos, and featured six female artists: Blossom Oyeyipo, Pamela Oma, Donna Duke, Fiyin Koko, Nneoma Ndukwe and Zida Kalu herself. The themes they explored in their work covered a wide breadth: from social issues to love and relationships to colorism to feminism and the experiences of Black women.

"I reached out to all the women on Instagram. I wasn't even considering the fact that I was 'new,'" Kalu, who showcased works titled "Unwind," "For Alex," "Cleopatra," "Emily Got A Rose," and "Honey," said. "I knew what I wanted and what to tell them, so I did. We did everything ourselves. Venue hopping, designing posters, social media management, invites, emailing, designing the space, publicity, everything. It was tasking but very exciting because we knew it would be great."

Kalu grew up in a creative household. This atmosphere impacted her creative development. She had wanted to be a fashion designer — then a photographer — and dabbled into making comics and writing. She's a self-taught digital artist now, using softwares like Procreate and Adobe Illustrator on her iPhone and iPad. YouTube assisted her journey into this medium, learning at her own pace.

"I made digital art because it was the only outlet I had to create with," Kalu said. "I didn't have paint or canvases or a brush, and I had no idea where to get them at the time, so I started with what I had, which was my phone."
Kalu's artistic signatures roam with intense colors, delicate faces of Black women, and sometimes it stays abstract. To celebrate this year's International Women's Day, the Noire Experience returned in collaboration with A White Space Lagos in a showcase titled Split. Another rotation of Nigerian female artists headlined: Sosa Omoregbe, Wami Aluko, Ama Ejiogu, and Chigozie Obi. Blossom Oyeyipo and Fiyin Koko returned as well, believing in Kalu's creative project and the community for women it provides.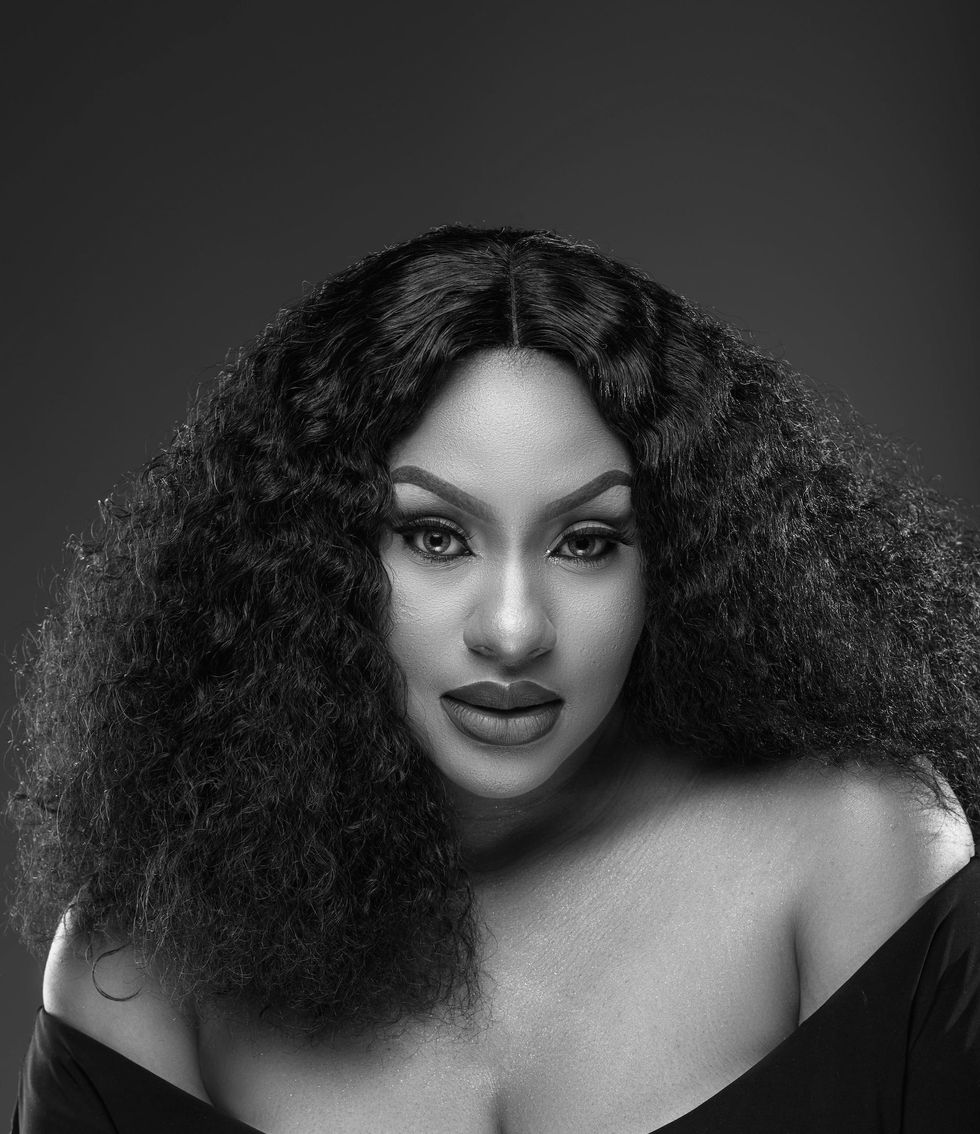 "My art is built on six guiding pillars: womanism, conversation, body positivity, movement, love, and femininity," artist Fiyin Koko said.
Photo Credit: Fiyin Koko
Koko, a figurative artist and illustrator, finds inspiration for her art in many things, but regards Black women as her major influence. "I find that the conversations I have with them serve as a prompt especially when I am in a creative space," Koko said. "My art is built on six guiding pillars: womanism, conversation, body positivity, movement, love, and femininity."
In the same month as the Noire Experience, Koko was also part of an all-female digital art exhibition titled Afrofutourism put together by curator Somi Nwandu. Held at the Red Gallery, Lagos, it featured Black female artists from around the world like Gherdai Hassell (Bermuda), Jessi Jumanji (United State), and Marcia Annor (UK).
On the surface, the ability to work in various mediums holds a certain kind of artistic capital. For Chigozie Obi, oil is her primary medium but she has developed her skills with charcoal, acrylic, digital painting, ink print, and photography. In her work, the mixed-media artist has highlighted discrimination faced by people with albinism in her Shades of Black series. In Biri na udo: Chiamaka, which is Igbo for live well, Chiamaka, addresses unrealistic beauty standards.
The painting depicts a plus-sized woman in a comfortable pose, a hand lightly touching her head, wearing a yellow bra top and grayish wrapper. In Seat at the Table, she portrays women working in different jobs, from working class to high earners.
"Women have had to work hard to rise in many careers, most of which are male dominated," Obi said. "As an artist myself I've had to do the same and I wanted to appreciate that as well as honor and capture the stories of women working in the same/other fields."
Nigeria's art scene has organized itself around traditions and order. Post-independence artists, mostly male, have run the space like a gilded society, bleeding into art patronage and corporate spending. This is not to say that women haven't developed initiatives or founded art startups. It's a wide gulf, though. And perhaps it's the reason creative minds like multidisciplinary artist Peju Alatise and Nike Davies-Okundaye, who is a gallery owner, aren't just well-known in the art community, but also pedestalized.
Lately, the space has been welcoming of new disruptions. Not just young women in the frontend with new perspectives, but women moving into other molds within the ecosystem. Nuanced attention is being given to the female experience, these women curating important narratives about their own existence.
"A good number of female artists are using their platforms to document their lives as they experience different forms of womanhood," Chidinma Nnoli said. "While these are individual differences, it's also very amazing how other women can find themselves within these narratives which includes freedom, sexuality, friendships, sisterhood, body dysmorphia and gender stereotypes."
Working primarily with oils and acrylics, and whose practice draws from her own life as the subject of her art, Nnoli explores themes of identity, time, sexuality and psychology especially within religious and familial spaces. Her female subjects are often cast as dark silhouettes, an aesthetic choice..
In 2021, Nnoli had her debut solo exhibition, To Wander Untamed, at the Rele Gallery, Lagos. Noteworthy enough is that the event had happened during the pandemic.
For Adulphina Imuede, her art is inspired by the cosmo, spirituality, Africans, mythology, shape, form, femininity. "Faces, colors, reality, the eventuality of life and life itself." She added.
Using watercolor, acrylics, or mixed media, Imuede captures her subjects with cartoon-like proportions, soft caricatures that sit between wonder and serenity. Her work is a vessel for her emotions and thought processes, she said, brought to life by constant practice and intentional learning. Imuede is represented by Lagos-based Pacers Gallery, and in a world where many artists are without gallery representation, she's seen the merits of having one.
"I always wanted to work with a good gallery since becoming a full-time studio artist and so far it's been such a relief to have someone I can trust, who listens to my worries and gives great advice," Imuede said. "This helps me focus on creating art while building a sustainable and impacting art career."
Getting to this point, for some of these artists, hasn't been without traditional sexism. "I have had people tell me I paint like a man or they thought I was a man before we met because my paintings are strong and I am consistent," Obi said. "Some people also think purchasing my work means they have access to me or they could use it to leverage or bargain my time."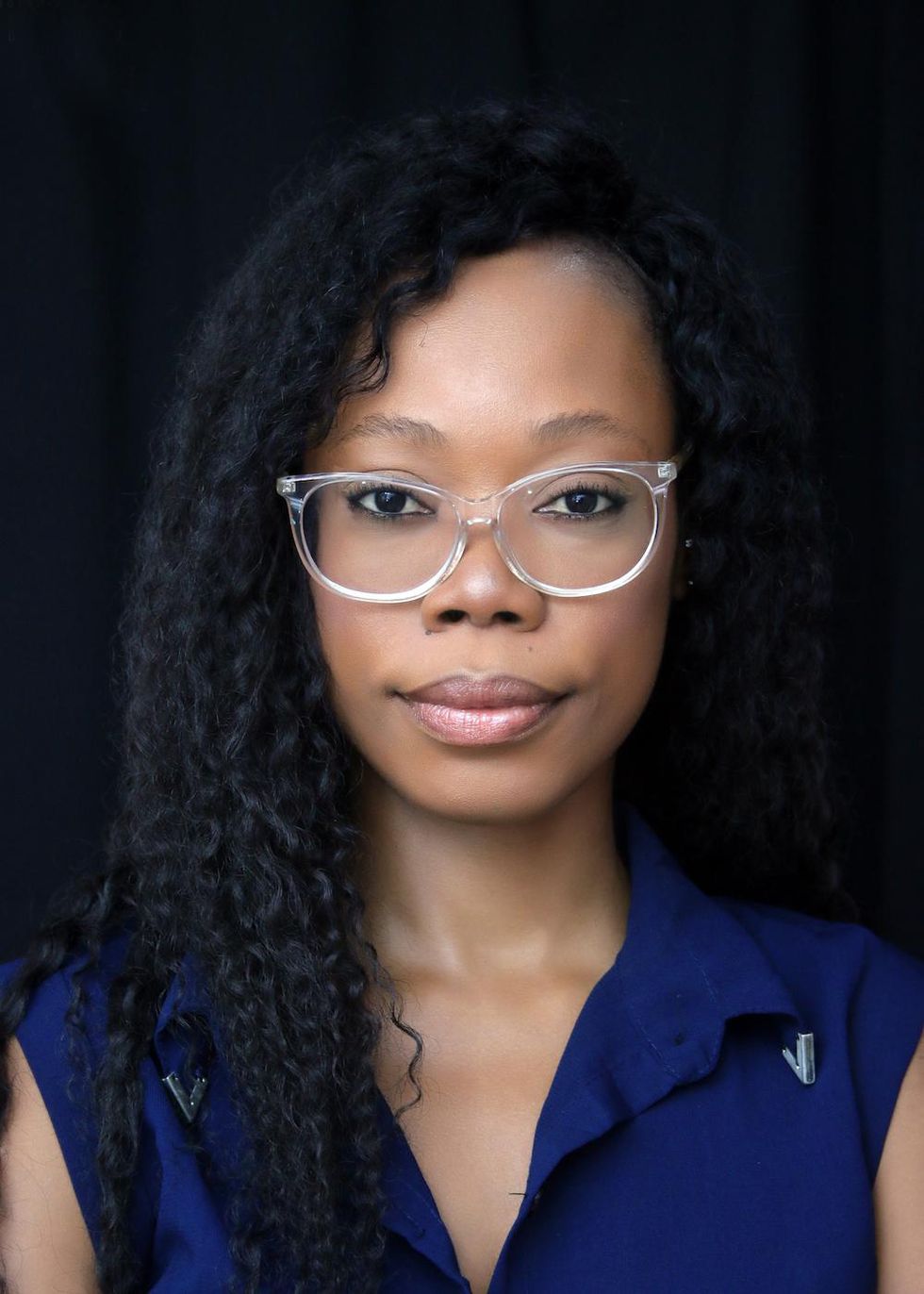 Adulphina Imuede's art is inspired by the cosmo, spirituality, Africans, mythology, shape, form, and femininity.
Photo Credit: Adulphina Imuede
Another thing is career longevity. Because male artists aren't burdened with expectations of childbirth, nurturing and general homemaking, they remain longer in the industry than female artists. "Women have the tendency to disappear at different stages in their art careers, unlike their male counterparts. This disappearance leads to erasure from historical stories," Koko said. "We hear numerous great stories of the male artists that came before us but not much about the women who have also occupied the space."
Men are also usually taken more seriously in the art scene, she said, which is also why they are paid more. But women are resilient and seeing more of them in the art scene today is inspiring. Social media has also been instrumental to this visibility. Platforms like Instagram have made networking easier, removing communication barriers that would have otherwise existed. Promotion, marketing, and feedback are just some of what's obtainable. Social media has been changing the art experience. As Kalu noted, it was easier to put together the first tryout of the Noire Experience because of Instagram.
In these female-centered art spaces, women have found friendships and a support system. But it shouldn't just stop there. In general, the art industry can do better by appreciating male and female artistes equally. "Give the same energy you would give to men in arts, to women in arts," Kalu said. "Same opportunities, same education, same exposure, same level of demand and same acceptance."
More learning and experimenting is next for Zida Kalu, hoping to grow in the process. As for the Noire Experience, she's in it for the long haul. "I'm hoping to encourage and help showcase many more Nigerian women artists as much as I can," she said.