In February 2022, Alex* was at home with friends scrolling through Instagram looking for a place to head out alongside her friends. The places that seemed alive in Lagos were spots in which they as queer people—especially queer women who felt the way they dressed was queer-identifying—would not quite feel safe.
''It's not like the nightlife in Lagos is dead, it's just that when you are young, dress alternatively, are a little out of the box as most queer people are, it is really hard to get options,'' Alex tells OkayAfrica. And that was how Alex and her friends discovered Sweat It Out, one of Lagos leading electronic music collectives and a bi-monthly rave party which quickly became one of her favorite places to go. Today, Alex describes herself and her friends as big electro heads—their playlists are largely made up of electronic music and to them, this change would not have happened if they hadn't found a rave like Sweat It Out.
---
Photo Credit: John Ezekwem.
The EDM scene in Nigeria is largely made up of weekend parties manned by DJs and collectives who provide afrobeats-influenced electronic music played in warehouses where people of all ages—but typically young Nigerians—get to dance all night. These raves are a melting point of varying subcultures that come together with one goal: to find escapism within electronic music.
Where in the past, many preferred going to traditional nightclubs where conventional afrobeats songs are played all night, the last two years have seen a rise in EDM-themed raves and parties. Raves like Sweat It Out, and more have become homes for many of those who feel traditional partying scenes were not designed with them in mind. With house music being rooted in freedom and expression, it is only natural for it and other electronic genres to appeal to many who live on the fringes of society and feel like outsiders, such as members of the Nigerian LGBTQ+ community. In these raves, they found that how they dress and who they dance with are never questioned by other ravers. This has helped make the rave scene the destination and preferred partying scene for many looking for a space—and this welcoming spirit has helped push the rise of the electro scene, taking it from a small subculture to one of the biggest emerging sounds in Nigeria. Much like Alex, many have come in looking for an inclusive place to party and have left there becoming fans and even practitioners of electro-music.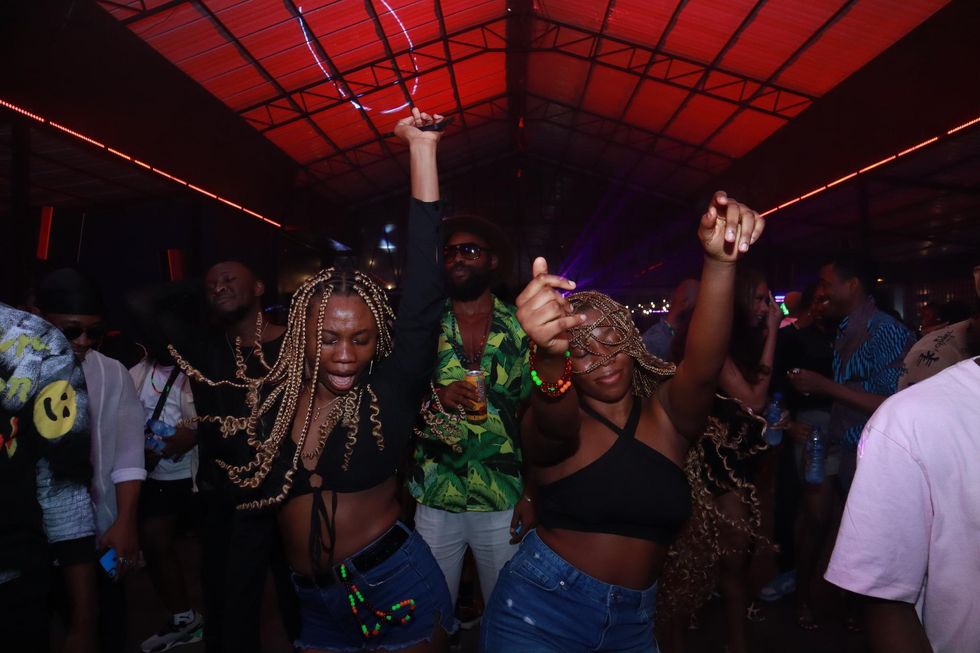 Photo Credit: John Ezekwem.
"Sweat It Out, Element House, Ekolectro, Twisted House, House of Curiosity, etc. These [places] give you the ability to appreciate a diversity of EDM and house music.'' King Nonso Duke, a photographer and artist who makes music under the name King The Huncho tells OkayAfrica. ''Some give you the best of Afro House, another could be peculiar about offering deep house and techno and that's how the rail of diversity within the community goes on. You get to feel the direct impact on people and the growth is more organic and surreal. That's why EDM and house music are gaining popularity in Nigeria.''
While today electronic music is considered 'cool,' that hasn't always been the case. When many of the pillars of the community started, they noted that they encountered a lot of pushback from people who didn't feel like electronic music had a place in the Nigerian social scene. Calix Jiggy, who describes himself as an 'Insta-DJ' and is the co-founder of Nocturne Music, an EDM collective that produces EDM themed events, echoes this sentiment.
''I used to get a lot of backlash and down moments when I started.'' Jiggy shares with OkayAfrica. ''It was a struggle to get gigs back then. Fun fact, I have been pulled off stage in the past because I was playing house music." Today, Jiggy notes that this is no longer the case. People are now accepting of house music especially Afrobeats-influenced house music with many of the bars and clubs now organizing events dedicated solely to house music.
Photo Credit: John Ezekwem.
This shift in people's reactions and how they consume genres like electronic music can be traced to how young people today are embracing movements and acts that allow them to express their true selves. Following the #ENDSARS movement—in which young people across the country protested against police brutality and were often profiled for dressing or generally expressing in untraditional ways and a global pandemic—more young people in Nigeria are striving to claim their individuality despite the conservative nature of the country. This has led to a rise in raves across major cities in Nigeria especially in Lagos where EDM raves have gone from a rarity to a nightlife staple.
''Back then there weren't any shows.'' Weird Tyler, a 21-year-old EDM producer and artist shared with OkayAfrica. ''But since 2020, there have been at least two shows a month. And the crowd keeps increasing with each show, so that's a good sign. Shout out to Nocturne music, Activity Fest Zodiac parties, Element House and other underground beach raves for hosting these EDM events.''
"I think the best experience of electronic music isn't listening to it at home, but experiencing it at an actual rave.'' Sigag Lauren, a popular Nigerian EDM producer, shares with OkayAfrica. ''There's been more events and raves, and people are able to experience this music and know what it really is about. More raves, more fans, more people discovering the House music scene, also from contents of such events as well.''
At the heart of it all, these attendees and pillars of the EDM scene view it as a means to find escapism. The overall atmosphere when one steps into these raves and parties is one of acceptance and freedom. With growing political and security unrest and a daily skyrocketing cost of living now the norm in Nigeria, one is not shocked that house music—a genre characterized by finding release and providing escapism—is currently witnessing a boom in popularity.
24-year-old photographer and visual artist Iyesogie Ogieriahki is one of the many young Nigerians who today have found release and community on the dance floors of the EDM raves. "House music has been a means of release from the daily struggles of life. The increase in the hardship & cost of living in Lagos led to the rising interest in the genre of music," Ogieriahki shares. ''The Nigerian EDM scene has been one of the most welcoming scenes I've ever seen. It's a perfect space to find escapism. So many times, I've come to raves straight from shooting and, unlike a regular club, it leaves me feeling like my soul has been re-energized. I think it is the scene and the people that made me fall in love with the music.
When asked to describe the scene, King Duke thinks back to a quote he credits to a friend of his. ''In the words of my DJ friend, Alena Coco aka Pyvaniak, 'We hug a lot. We love to live. We wear crazy beads. We're always dancing.' These words I can say describe the general atmosphere of the house music scene in Nigeria.,' he says. '' It's an experience you want to have created for you or one you would love to create for someone else. Whether in solitude or with the company whenever you show up to a rave you can never leave the same way.''