Jessica Beshir could have made a straightforward documentary about khat, with experts and talking heads and news clips and all the so-called traditional elements that go into a typical documentary. Instead, the Mexican-Ethiopian filmmaker decided to make Faya Dayi, a hypnotic fever dream of a film that allows viewers to really feel their way into this intoxicating herb. Shot in black and white,Faya Dayiplays like a portrait, with close-ups of hands and faces, intercut with images of branches and leaves, mounting to a moody take on the subject at hand.
---
The film has topped best documentary lists of 2021 and also made the shortlist for the Academy Awards in March. It's one of a slim number of films that stands to represent Africa at the ceremony this year.
Born in Ethiopia, Beshir grew up in the walled city of Harar, but political tyranny forced her family to flee when she was a teenager. She finished high school in Mexico, where her mother is from, and then came to the US where she graduated in Film Studies and Literature at UCLA. She made several internationally acclaimed short films, including He Who Dances on Wood (2016), which was selected for Hot Docs, and Hairat (2017), which premiered at the Sundance Film Festival, before premiering Faya Dayi.
It's Beshir's full-length film debut, which she made over the course of a decade, in between her short films. She spoke to
OkayAfrica
about how she made the documentary, and what the Oscar spotlight has meant for her as a filmmaker.

Interview has been edited for length and clarity.
How did the idea for a film about khat come to you?

I grew up in Harar, and khat was never something new; I grew up knowing about it. My neighbors chew, my grandmother when she comes visits, she chews – somebody is going to have to go buy it for her. It is part of the culture in a way because it's a ritual that is used for example, whenever anybody gets married, you take khat to the space, when somebody dies, when people fight, khat is a way of creating a reconciliatory space, because when you chew it, you just truly feel completely relaxed. Everyone has a different experience but it's a social ritual that you share with people.
So it was never new, however, when I went back after so long, it really was shocking, driving and looking at the landscape, and seeing the commodification of this crop. Because all of the sorghum or mashelah or teff – all of those grains were gone. It's just one large huge green blanket of khat, and so from the get-go, I knew this was something that was visually striking.
Once I connected with my friends, I couldn't help but realize everything revolves around khat. There's a huge amount of unemployment for the youth, but the people that are actually employed are the people that are dealing in khat. There is the sense of chewing your frustrations away in a way. But there is also addiction. So that, plus I had questions. I was coming back home and I was just thinking, 'Where are we? Why are we medicating so much? What's happening?' So I wanted to try to understand the socio-political implications in the commodification of khat.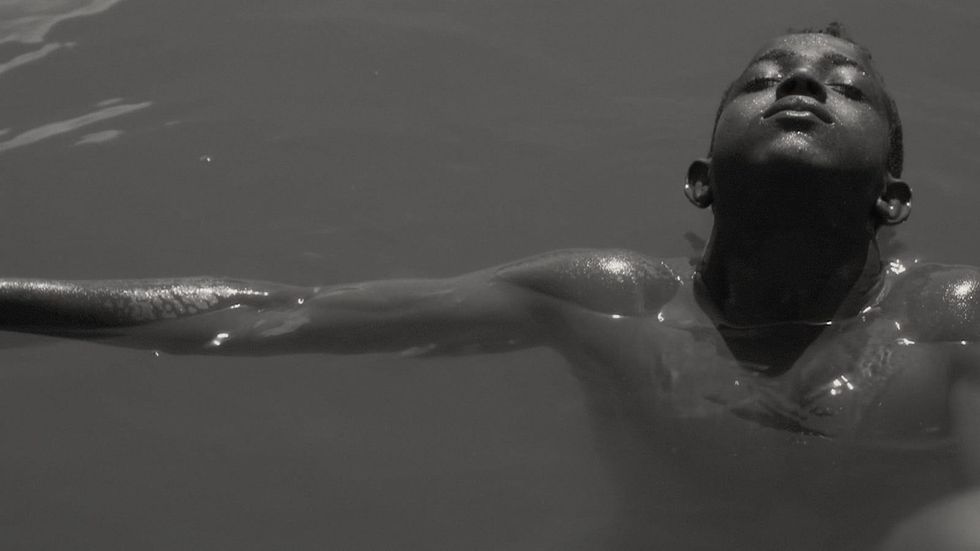 In 'Faya Dayi,' Jessica Beshir uses black and white imagery to address the political history of the Oromo people.
Photo: Janus Films
The film spends a lot of time with khat farmers. How did you get to know them?
I just went in directly and spent time, and truly created relationships with a lot of them. A friend of mine has a tiny cafe there, and I got talking to the guy that brings her mangoes for the juices she makes. I started talking to him about khat, because he needed to go, because he was 'harar.' That's when the craving for khat comes, when the 'harar' comes out, you don't want to talk to anybody. Everybody knows that come 11 or 12pm, it's the time of conflict, until you get your bunch under your hand, and you're walking towards your destination where you're going to chew. So he told me, 'I'm gonna take you to our khat farm.'
From there, I started to understand many things, especially the political history of the Oromo people, and the relationship that they've had with subsequent governing bodies. The incredible amount of political and economic and social marginalization, the suppression of their voices. And basically how, historically, they have been losing land. Every government has been land grabbing, so, at that point, I really felt like this is something that I would really like to give my time to, and have a relationship with these people.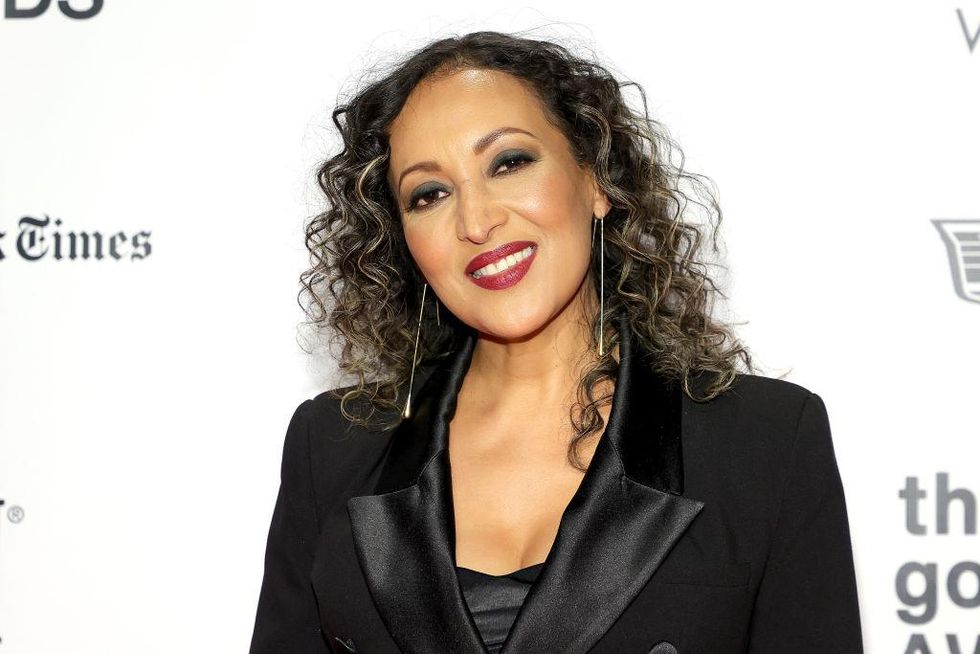 Jessica Beshir attends the 2021 Gotham Awards Presented By The Gotham Film & Media Institute on November 29, 2021 in New York City, where Faya Dayi was up for best documentary.
Photo: Dia Dipasupil/Getty Images
And then you ended up being the writer, producer and cinematographer on the film…
All I knew was that this was something I wanted to do, but I didn't know how to do it. I had purchased one of those video cams – you know, the one that opens – to record my grandmother and my friends when I first went back home. So I started filming a little bit with that and got the idea that perhaps I could upgrade my camera, and maybe I could shoot something so that I can show people and then get some sort of support, a grant or something, hire a real cinematographer, or a real producer. All of those things; the way that a film is done. But it didn't happen that way. I didn't really know anyone in the industry to begin with, when I came to New York. I tried to find people to talk to and nobody was interested in farmers in Ethiopia. Nobody cared. Soon, I started to understand that a cinematographer wasn't coming, a producer was not coming, and that it was just going to be me.
The realization was kind of painful, because you're thinking, 'My gosh, isn't this worth anything?' But it was liberating, because then I wasn't thinking of my project in terms of who is supporting it or who cares about it. Everything belonged to me. I cared about it, you know, I didn't know how to use that camera. Well, guess what? I was going to learn how to use the camera. So it was such a beautiful journey because it lured me into learning about cinema, about light, about gadgets. Such a beautiful journey, spending time with everyone in this film.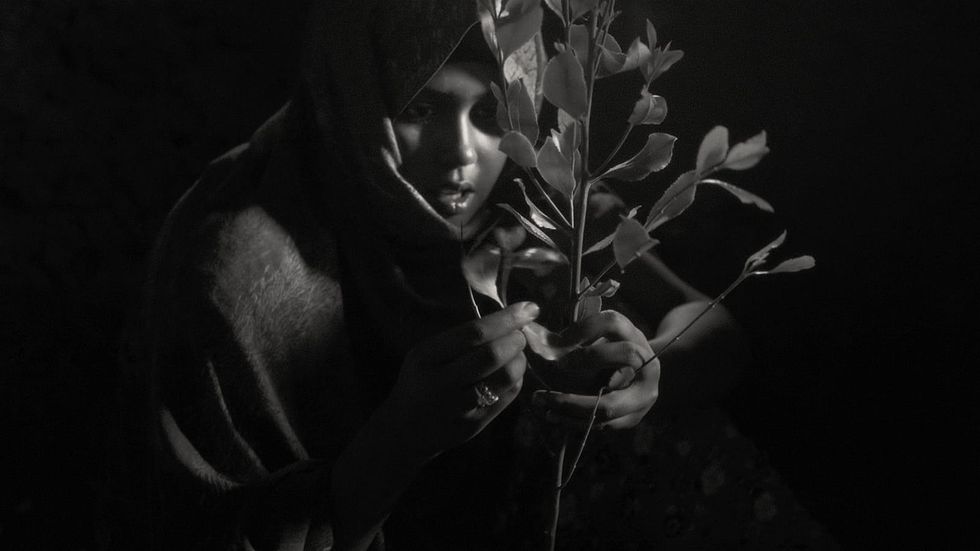 Jessica Beshir wrote, produced and filmed her documentary feature, 'Faya Dayi.'
Photo: Janus Films
It took you 10 years to finish the doc – in between raising your daughter and saving up money to fly to Ethiopia and film – so having it make the shortlist for the Oscars must be quite fulfilling?
I can just tell you that my prayer was to truly finish the film one day. It was such a surprise; it's been redemptive, in a way. Also, I'm hoping that this recognition allows the film to be seen by an even wider audience. We have Janus Films showing it through the Criterion Channel, because they came on board as the distributor of the film in North America, and we also have select territories in Europe, and Latin America, so it's amazing.
Did making the film change your relationship with Ethiopia?
Yes. Look, in Ethiopia, we have over 80 ethnic groups, cultural groups, who have all had a very special and unique relationship to the subsequent government. And in the film, I was focusing specifically on the Oromo farmer in Harar. These are things that I feel we were not taught in school. We're not taught in school about the marginalization of the Oromo, we were not taught in school how historically their lands had been taken, and they were made subservient; all of these histories.
My grandmother is Oromo, but I don't speak the language because growing up, we grew up with the official language, which is Amharic. So, it was quite an education. For me, it was a lot of realizations of what it is that we are calling Ethiopia. I had many questions, and for me, making this film was also a way of posing those questions. I don't think I'm alone when it comes to people not necessarily knowing these histories. I am just happy that I gained that political consciousness when it comes to the socio-political structure of the country, and how it has come about, and that was almost like a foreshadowing of what is happening today.