Phumi Morare is proof it's never too late to switch careers and give your dreams a solid chance at coming true. After spending the first part of her working life in finance, the 34-year-old South African opted to jump back into studying and pursue her goal of becoming a director. Now, since scooping the Student Academy Award for her short narrative film, Lakutshon' Ilanga , she's set to take her talents to new heights. "It's been such an incredible journey and such a wild ride," Morare says, over Zoom from Pasadena, the quaint, tree-lined area north east of LA where she currently lives.

Lakutshon' Ilanga , which was filmed on location in Soweto, tells the story of a young Black nurse living in 1985 apartheid South Africa who goes looking for her activist brother. It was made as Morare's thesis for her MFA in film directing at Chapman University, in 2019, along with Christine Cho as producer. Before winning the gold medal for narrative short film at the Student Academy Awards, Lakutshon' Ilanga , which takes its name from the Miriam Makeba song, already scored a BAFTA student nomination, and has been screened at some of the world's most prestigious film festivals, from Telluride to the Pan African Film Festival.
---
OkayAfrica spoke to her about the film and her next project, Why The Cattle Wait , which was selected for the 2021 Berlinale Talents Durban program.
You spent the first part of your career as in investment banking at Goldman Sachs in London and management consulting at McKinsey & Company. How has that helped you now in your career as a director, especially since filmmaking is a lot about finding the money to make movies?
I definitely think my background in finance and business has been helpful because whenever I was pitching, I pitched knowing what people want to hear in a pitch. So that helps a lot, to just have a little bit of savviness as to what an investor or anyone with money might be thinking. And it definitely helped in putting together the pitch materials. When I was at McKinsey, I put together a lot of presentations, so that definitely helped with that. A lot of creatives are expected to not really think of the business aspect, so I think it's been helpful just having those two brains — as a filmmaker, to be able to also tackle the business side of filmmaking.
Where does your love of filmmaking come from?
I remember in high school, I used to really love directing. I used to write some stuff and I got a chance to direct plays at school. And that's where I knew I loved writing and directing. But then I did an English class where we studied The Shawshank Redemption . We studied the way it was made and the backstory of the filmmaker, and I was like, "Oh my gosh, I want to direct, and on film." I love theater still, but I think the medium of film is just so dynamic, and there's so much you can do with that. That's when the interest was sparked. But then I didn't see it as a viable career at the time because I didn't know anyone in my circles that was doing that. My family is in very kind-of-traditional careers. And so it took me a while to work my way into doing it as an actual career.
So then you came to the US to study film…?
I had a friend who had done an internship in LA in the film industry, and when I was transitioning into film, I started working for a producer in South Africa. My friend said, "Why don't you go to LA or why don't you go to film school?" I thought it sounded so daunting. But then, the producer I was working for encouraged me to explore the creative side that I was interested in. So whilst I was working for him, I wrote and directed two short films, and I felt during that process that my skills were so far behind my peers and where I wanted them to be, and film school sounded like the right environment for me. So that's when I started applying to schools around the world, like I applied in London and the US, and I actually also considered doing it at home, but at home, I would have had to do a bachelor's degree again. Overseas, they were allowing me to do a masters.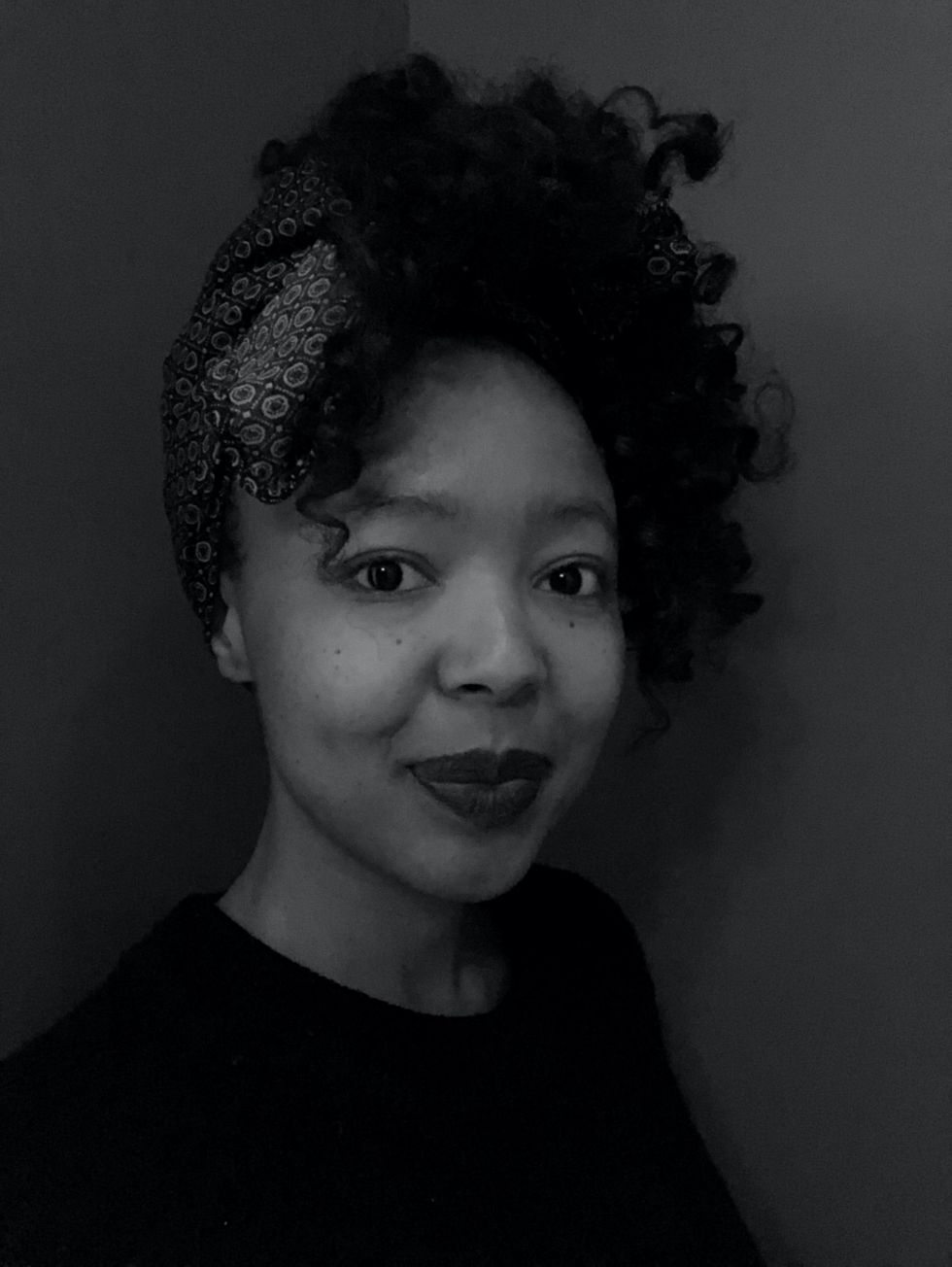 Phumi Morare uses her background in finance to help make her film dreams a reality. Photo: Phumi Morare
What did your time at Chapman give you? Aside from practical skills?
The school itself has a really small program, so I think there were 18 of us and so it's quite intimate and the professors are working filmmakers, some of them. Having access to their knowledge from Hollywood was so valuable, just getting to understand how Hollywood filmmaking works. I think South African filmmaking is actually of a very high standard, so it's not that different, but I think what I learned from Hollywood is just the scale is so much larger. That's kind of fun to get to learn more about. The industry is very kind of structured in a kind of formal way, and so that was good for me to learn how to navigate as well.
The Miriam Makeba song speaks about someone that is lost, and this film is based on a personal story for you, about your mother having to fight apartheid police in the 1980s when they took her brother, your uncle. Is this a story that you've always been wanting to tell?
It's been a story that's always kind of haunted me because I've always wondered what could have happened to my mom, what could have happened to my uncle? I remember when I was telling a friend at film school about it, she told me I should make it into a film. So that's when I started thinking about it, in my first or second year of film school. But then I also knew I had to separate the personal aspects a little bit just for me to be able to make it and be cinematic to dramatize it. So it's actually 80% fiction at the moment, and it draws from my own personal experiences and draws from my grandmother, draws from things I've heard from friends, and so it's an amalgamation of all of those things in this one character. I interviewed my mom to learn more about what happened to her and her friends, as well, during the time, and my mom also took me on a little excursion to the place where these events happened. So it was a really amazing moment to realize that my parents don't talk a lot about these things that happened to them, and I found out things that happened to my mom's friends that I'd never known about. And I thought, our parents have these amazing stories and they deserve to be shared.
That's where film can play such an important part…
Yeah, I definitely feel that film plays an important part in it because it makes these stories very accessible. You can hear stories from your parents and from your family, but you might not be able to fully grasp what it means. One of the ways for me to personally grasp the story was immersing myself in archival footage. So I poured through a lot of photography and footage from different news outlets, and that was also emotionally weighty, having to do that, but I felt like I needed to. I needed to fully grasp what it was that my mom went through and the more research I did in that way, the more I realized that I had no idea how hectic it actually is, what my mom did. I appreciated that story so much more and so I felt like other people need to appreciate the extent of our parents' stories by being immersed in the world. So I tried my best to immerse us in that world and time.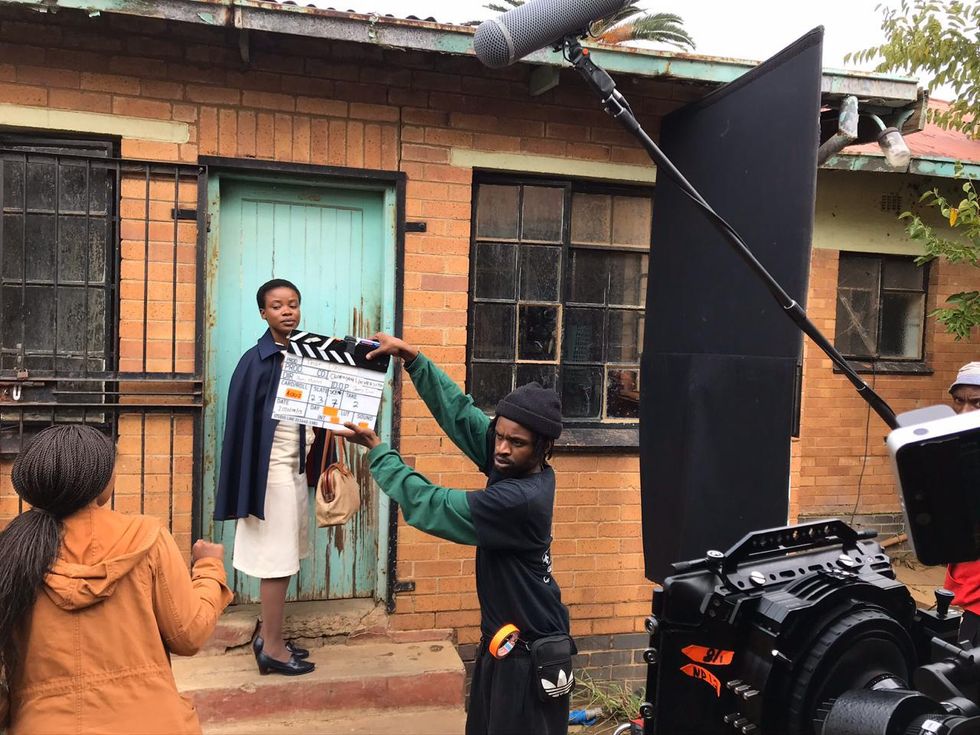 Phumi Morare on set of her film in Soweto. Photo: Phumi Morare
Then you get a call one day from [ It's A Beautiful Day in the Neighborhood director] Marielle Heller, telling you you've won the Gold in the Student Oscars for doing so…
I was so surprised, actually, because they didn't tell me what I was joining the call for. They said it was an interview, and so she was the surprise guest on the call. It was just so amazing. I was very, very surprised when she told me that I won the student Academy Award. That was wild.
What does that mean for you personally?
The amazing thing about it is that there's now a lot more eyes on me as a filmmaker. It definitely helps my profile as a filmmaker. So for my next project, when I'm knocking on doors, it makes those doors a lot easier to open, which I'm very, very grateful for. And the other cool thing about this particular one is it qualifies us for the Oscars. So now we're preparing for hopefully getting onto the shortlist and then doing some campaigning and stuff.
You were also part of the 2021 Tribeca Chanel "Through Her Lens" Women's Filmmaker program, how did that help with your next project?
My next project [ Why The Cattle Wait ] is a fantasy short film inspired by a folktale, and I'm in the fundraising phase, and kind of soft pre-production and hoping to shoot it mid-next year.
I'm shooting that in South Africa. I'm really excited about that, because we're shooting it on the wild coast. It's a really fun story. A lot of the stuff that I write is based in South Africa. So I will be going to South Africa to shoot most of my projects. That's kind of what I'm hoping for is to be able to kind of oscillate between the two. I really miss home. I love home. It's where my heart is. LA is really great for my career. And I'm meeting amazing people here. I have really great opportunities here. And so the ideal is to do both.

Lakutshon' Ilanga (When The Sun Sets) can currently be seen online at the American Black Film Festival at the site until November 28th.