In Ramata-Toulaye Sy 's transfixing Banel & Adama , a tragic, evocative love story, there are no villains. That sounds odd considering a murder occurs, drought and famine arise, and people are forced to perform roles that incite personal misery. But it's true. Sy avoids taking a side in a film concerning a young presumptive chief of his Senegalese village forced to choose between the woman he loves and the duty to his kin and town ( Banel & Adama is one of two African films playing at Cannes Film Festival consumed with that conflict, Baloji Tshiani's Omen being the other ).
And yet, even without an extremist position, her supernatural narrative is no less sharp, no less incisive or bold. Sy, who is the second Black woman director in Cannes' 76-edition history to compete for the festival's Palme d'Or (following fellow French Senegalese director Mati Diop with Atlantics in 2019 ), teases out every second of her 87-minute run time, slowing our perception to match the angst these characters feel. After the death of his father and the sudden passing of his brother Yero – who fell down a well — the soft-spoken, yet devastatingly charming Adama (Mamadou Diallo) would rather not be chief. He wants to live his own life, in his own house, with his cattle and his headstrong wife Benal (Khady Mane) rather than assume such a heavy mantle. Banel craves leaving the village. She knows that remaining in the village means adhering to its customs, such as having a child: It's a fear that consumes Banel.
What happens if Adama, however, doesn't become chief? Adama's traditional mother warns of dire consequences for the community if her son abdicates from his duties. His role is a covenant with a higher power. But Banel and Adama have their sights set on a ring of stone homes partly buried underneath the sand outside of town as their ideal home. For now, Adama appoints a temporary chief, which grants him time — in between herding his mother's cattle — to dig the sand away from the prospective house. It's a viable plan until a bevy of strange happenings take place.
Video courtesy of Cannes Film Festival.
For one, a drought occurs. Then the crops begin to die. Then the people begin to starve and die (you can't watch this film without considering how its supernatural effects relate closely to our fear of climate change). No matter how many tragedies take place, Banel remains dead set on leaving the village. Her steadfastness is enough to dislike her, even despise her. Thankfully, Sy doesn't resort to such easy characterizations.

The film acutely interrogates the pressure strict traditions can wreak on individuals without wholly denigrating the culture of said system. We see how Banel and Adama move from loving couple to embittered partners as their confinement in the village takes hold. We witness the mounting tragedies that take place as symptomatic of their selfish desires. And yet, we know that good people placed in a hopeless situation may turn to unthinkable acts to escape their plight. Banel's horrific secret alters how we perceive her, causing viewers to further understand her complexities without totally absolving her.
Sy and her DP Amine Berrada's aesthetic conception of the village is reserved: We repeatedly see the same locations—Adama's mother's home and the wide desolate desert vista — hinting at the monotony of the day. That sharply contrasts with the wave of color enveloping the central couple: intoxicating blues, yellows, and reds translate Banel and Adama's desire to cut through the overwhelming pressure hoisted on them by village leaders to conform.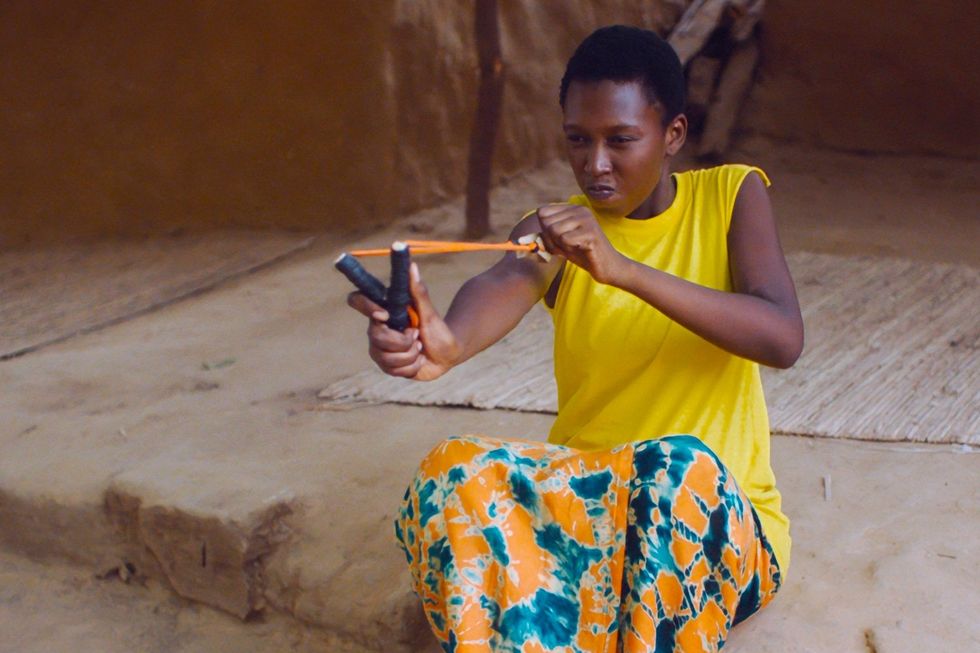 Khady Mane stars as Banel in Ramata-Toulaye Sy's Banel & Adama. Photo courtesy Cannes Film Festival.
There are hints of the poetic and demonstrations of the transgressive mixed with a tinge of devotion and desire that suggests an endearing naïveté on the part of the couple. As supernatural forces take hold, the landscape itself becomes a character that inflicts pain on their reality, frightening them in their dreams, and then ultimately consuming them. The film's final stunning shot involves a devastating sandstorm whereby the sand's grains envelop the lens, becoming a flash and whizz of specks overwhelming the senses.

There are character beats that appear thin: It's initially understandable why Banel is angry, but her viciousness is sometimes beyond explanation. There are multiple points whereby she berates Adama, causing you to question why Adama takes her abuse. With each usage, the repetition of a boy who acts as the village scribe recording everyone's worst deeds loses whatever resonance it was meant to inspire. The same can be said of Banel and Adama, who somewhat fade from our view as well-rounded characters as the film progresses. It's only the tangible performances by Mane and Diallo that keep us in their orbit before we drown in the film's metaphorical meaning.
Their desperation to leave, to be together, no matter the cost is the heartbeat of this evocative romance. It is the tragedy that precipitates the breakup.
Banel & Adama
is a distressingly searing love story that moves to its own rhythms, curiosities, impulses, and havoc for a shrewd picture of the heavy balance between loyalty to one's community and devotion to each other.