Over 35 years ago, Souleymane Cissé became the first African filmmaker to have his feature film selected for the official competition of the Cannes Film Festival. Yeleen ( also known as Brightness) went on to win the jury prize at the fest, a coveted feat for any filmmaker. Following that auspicious year, the Malian director had four more films premiere at the fest, but that moment will forever be etched in African cinema history for the breakthrough it heralded.
In the years following, films by African directors have sought to leave their mark on the world's most popular film festival, whether in the main official selection or in one of the fest's sidebar programs like
Un Certain Regard
, Director's Fortnight, or Critics' Week. From the urgency of
Mapantsula
to the highly influential dark satire of
Djibril Diop Mambéty
's
Hyenas
, to
Wanuri Kaui presenting the first Kenyan film to debut at the Cannes Film Festival
, African filmmakers have used the fest to share alternative visions of cinema, situated beyond the Western gaze.
And now, after weathering the Covid-19 pandemic and a number of controversies over the past few years, Cannes has returned with a bumper-packed edition, which runs from May 16th until the 27th. During which, it will pay tribute to Cissé. He will be awarded the Carrosse d'Or, an honor bestowed by the Directors' Fortnight committee as a signal of his place in cinema history.
Although the festival is known for bringing the best of the best filmmakers together, and showcasing emerging talent, it has often been chastised for its lack of women directors. This year, it's increased the number of women whose films will be screened during the fest – and along with that, dedicated a healthy space to first-time African filmmakers, too.
Not only will more African titles be playing throughout the fest, but British Zambian director Rungano Nyoni , who made her feature debut at Cannes in 2017 with I Am Not a Witch , and Moroccan director Maryam Touzani, whose The Blue Caftan made the Oscars shortlist , are both part of the jury that will help decide this year's Palme d'Or winner.
Here, we take a look at some of the African films you're sure to be hearing more about over the next two weeks.
'Banel and Adama'
BANEL E ADAMA by Ramata-Toulaye SY
In 2019, Mati Diop became the first Black woman director to have a film in the official selection at Cannes. Now, French Senegalese director Ramata-Toulaye Sy brings her debut feature to Cannes, as it slots into the main selection, looking to compete for the Palme d'Or. Most noted for her 2021 short film Astel , which was the winner of the Share Her Journey award at the 2021 Toronto Film Festival, Sy is an exciting filmmaker to watch. She wrote Banel and Adama about a couple that lives in a small remote village in the north of Senegal, and what happens when Adama chooses love over his blood duty as future chief.
'Omen (Augure)'
We've been eagerly anticipating this title since Baloji first let it be known he was working on a full-length feature. Divided into four chapters, the film takes audiences deep into folklore and myth, with the tales of four people believed to be witches and sorcerers. The Belgian Congolese rapper makes his feature film debut with Augure , and it also stars South African singer Bongeziwe Mabandla .
'Goodbye Julia'
This film marks the first time a Sudanese film features in the official selection at Cannes. Mohamed Kordofani brings Goodbye Julia to the Un Certain Regard, and it stars Eiman Yousif and Siran Riak (former Miss Sudan), as two women entangled by a hit-and-run incident. The film is billed as depicting the complicated relationship between the two woman as reflecting the differences between northern and southern Sudanese communities.
'Mambar Pierrette'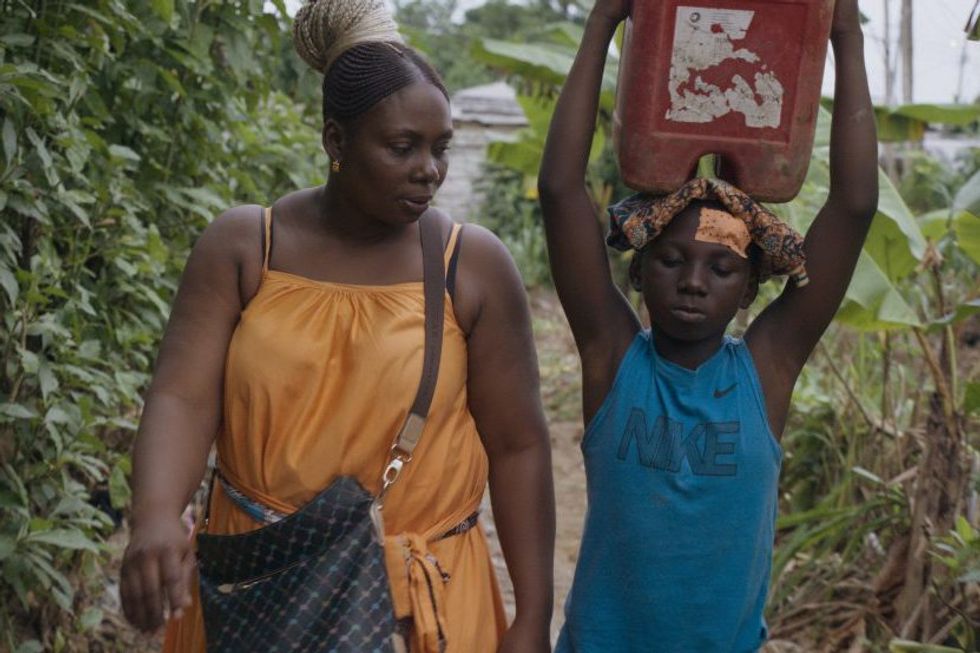 Cameroonian director Rosine Mbakam brings her debut film, 'Mambar Pierrette,' to this year's Cannes Film Festival.
Photo courtesy The Party Sales.
Cameroonian director Rosine Mbakam brings this docu-drama, portraying the life of a seamstress and her mother, to Directors' Fortnight sidebar. Set in Cameroon's largest city, Douala, the film is slated to be about weathering misfortunes to stay afloat. Another director who will be showcasing her first feature at Cannes, Mbakam has spoken of her delight at taking part in this year's fest, especially since the story is a personal one for her.
'Omar La Fraise'
French Algerian Elias Belkeddar makes his feature film debut with this production. It stars Reda Kateb and Benoît Magimel as members of Algiers' criminal underworld, and is part of the official selection's midnight screenings .
'Les Filles D'Olfa'
Tunisia's Kaouther Ben Hania promises a unique cinema-going experience with her latest film, which tells the story of Olfa, a Tunisian woman who is the mother of four daughters, two of which disappear one day. To fill in their absence, the filmmaker invites professional actresses to lift the veil on Olfa and her daughters' life stories. The Tunisian director continues to draw acclaim for her work, following 2020's Oscar-nominated The Man Who Sold His Skin .
'Déserts'
One of three Moroccan films at this year's Cannes, director Faouzi Bensaïdi brings forth a tale about friends and debt collectors. It's his fourth feature, and also one that he wrote the screenplay for.
'Little Girl Blue'
French Algerian Mona Achache is a docudrama starring Marion Cotillard. The actor plays the director's mother, who Achache decides to "resurrect" to understand more about her life. A late addition to the festival, it premieres as a special screening.
'Les Meutes (The Hounds)'
Moroccan director Kamal Lazraq follows a father and son, both small-time crooks in Casablanca's criminal world. The film premieres in Un Certain Regard, marking the director's first feature foray, after a number of short films, including Traitors and The Trap .
'Kadib Abyad (The Mother of All Lies)'
Asmae El Moudir examines her family history in Casablanca, and reflects on the impact of the 1981 Bread Riots. The film premieres in the Un Certain Regard strand, and is also the filmmaker's first feature-length documentary.
Bonus film: 'Sarafina!'
The seminal protest film , which made its debut over 30 years ago, at the festival, and stars Oscar winner Whoopi Goldberg, Leleti Khumalo, Miriam Makeba and John Kani, is back on the line-up – this time as part of the Cannes Classic selection. Produced by Anant Singh and directed by Darrell James Roodt, a digitally remastered Producer's Cut with never-seen-before footage will be screened in partnership with IMAX.