Shirazee is an artist who's been steadily carving his own space in Africa's crossover era—but at his own pace. Born Paolo Prudencio, the Beninese crooner and songwriter has come a long way before his 2017 banger "Iguana" and his most recent Michael Brun collab, "Soweto," was on your radar.
I first learned about him when he was a new signee to Island Records. He has since left the label to go independent, which leaves him wading through uncertainty. The risks he's taken so far with his small team of close friends have proven to be worth the move, though he admits that they've been calculated Hail Marys.
His sensory sound is heavily inspired by his experience hopping around Ghana, South Africa, Paris and London growing up, with him eventually making his way to Atlanta; then New York (where he narrowly escaped homelessness) to make his music career happen. His most recent catalogue is consistent with the afrobeats formula of heavy bass, catchy hooks and infectious melodies. Yet, his textured, raspy voice—one of vulnerability and grit—overlays what listeners of the genre usually pay most attention to in the right way.
Shirazee and I meet at his collaborator's studio in the Upper West Side. The set up is simple: a studio mic at the center of the apartment with laptops and speakers in tow—which is all one with talent needs to make hits. Along with sharing footage from his most recent tour with me, I caught up with him to learn more about his story, his music influences, the recent tour he went on and more.
Take a look below.
---
Antoinette Isama for OkayAfrica: If you were to describe yourself in three words, which would you choose and why?
Shirazee: I would describe myself to be passionate, determined and eternally optimistic. I feel like I'm very passionate about things that I love—whether it be it family, music and my real friends. The "determined" part of myself comes with my determination it takes to actually make anything you dream about come true. Be it the simplest test, to something as crazy as making music.
I find myself to be eternally optimistic because in a world that is pretty grim, I am always thinking, "This is going work out by itself." I don't know how—but it always does, and I actually believe it's part of that optimistic side of me. When I put out Home and Away, for example, I had no playlisting, nothing on Spotify or anything. I just knew it would work itself out. And a week later, "Soweto" came out and drew a lot of attention to the EP—and that was not planned. However, I'm very glad all the platforms are now supporting the project.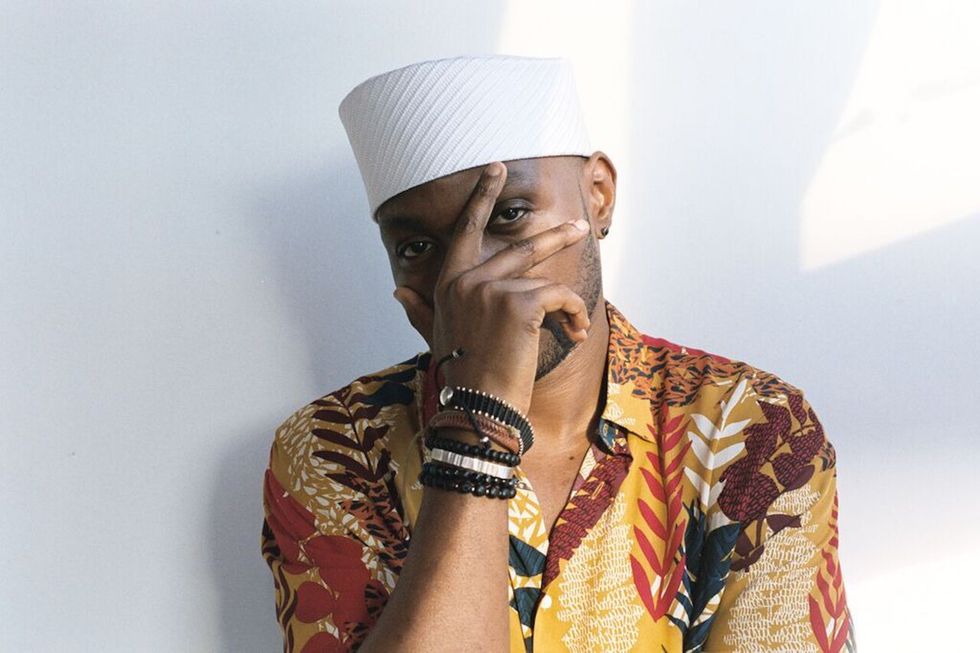 Photo by Noelle Duqette, courtesy of Shirazee.
What's the story behind your stage name?
It was a high school nickname that was given to me. Initially I was called Zee before because I used to play soccer and every time I dribbled, somebody would make zooming sounds because of my quickness. Then we were in the history class one day, and the teacher was talking about the Shirazi people, they were an old African-Persian tribe that would slay their enemies down to the babies. And when [the teacher] pronounced it like that the whole class kinda turned and looked at me because of the emphasis he had on the "zee." I also started battle rapping at the time—so, I just went with that because that's what everybody was calling me at the time. When it came time to do music professionally, I just had to think of a name and stuck with what my high school friends were calling me.
What was it like having to move to several different countries growing up?

When you're doing it, you don't realize what's happening because it wasn't by choice. For example, it could be something simple as my father couldn't afford the fees of the school I was going to in the UK. I also was getting into trouble, you know, street stuff. My mother said, "You can't keep getting in trouble—come stay with us in South Africa." But it made me culturally aware and gave me a really big edge. I can now speak certain languages and I can maneuver in certain places and relate with people.
Moving around so much affected my taste in music and I didn't realize what the benefit of that was until I found myself in Nashville writing country music. I'm an African kid that's not supposed to be there, right?
Only the best singles and biggest videos make to Africa—you didn't hear the whole album as a kid. So, you only retain the hit melody and you're subconsciously trained to make hit melodies.
Home And Away on Orelsan North American tour with Shirazee - YouTubewww.youtube.com
Did you always know you wanted to pursue music?

When I was around 9 or 10, I knew from the moment I heard Andre 3000 on "Elevators." Once I heard his ability to play with words that, I was just like, "This is not normal."I didn't know it was possible to use the English language the way this man does. This guy is alien for real and when I found out he could sing afterwards, I was blown away. From that point I started off as a rapper basically because of that, and I just went down this spiral until I found my voice.
One that note, who are your favorite artists and music influences?
Michael Jackson, in a weird way. I didn't know a human being could do what he was able to do. When I got the Dangerous album, I lost my mind. "Who Is It" was one of my favorite songs because of the production and the lyrics—and I didn't even know what it meant at first. I understood English, but I was a raised in a French-speaking country. So when he sang "Who is this friend of mine—Is it my brother? Who you cheating with?" I didn't know until I was old enough to realize that it was a song about cheating. He was amazing.
My mother would play music from the Motown era around the house growing up that I didn't even understand, but loved to listen with her. Marvin Gaye, Otis Redding, James Brown—all that cool shit that was just dope, good music. I would of course add highlife greats Chief Commander Ebenezer Obey and King Sunny Ade.
I'm a big Stromae fan—we met for the second time when I was on tour in Europe earlier this year. We clicked and we also both have different variations of the same name so I'm a big fan of what he does and I'm also a fan of the human. And whether I like it or not, Seal's influence is so poignant—I feel like people can hear it in the tone of my voice.
What inspired your project Home and Away?

Home and Away was inspired by how I was starting to find my voice and musical direction. I had also left my former partner, Island Records. I had to find something that was very authentic to me—a sound that shows who I am. It's a very Afro project, but you can feel the influence of where I am right now with life and everything at the same time. I'm back and forth between the continent and here. But sonically I give you that feel as well.
Photo by Anton Mak, courtesy of Shirazee.
How has the transition from being an artist signed to a major label to being independent been for you?

It's been tough, but it's been the most fulfilling because things actually started to happen once I left the cookie cutter, major label system—where everybody just gets chewed and spat out through the same channels. And I needed something more tailor-made to myself. And who else to better do it than myself? For any act that's thinking of doing the same, it will be tougher, but it's more fulfilling once you start seeing results.
You recently got back from touring North America with French rapper and producer OrelSan. How did you two connect?
It's very beautiful story. We met when I was living in Paris—before he ever wrote a song. I was going to the States and going to wing this dream and he was doing his thing in France. We made a promise to each other that whoever makes it first will make that call. It's one of those things that you promise each other without understanding what you're promising at the time. This year was one of his biggest years in music and when it came time for him to tour and go around the world with his music, I was one of the first people he called—and I couldn't believe it. I couldn't say no either; I was not in a position to.
I went on tour and I was well-received by every single crowd. I really liked what it meant for him because the crowds I was in front of necessarily weren't the ones that I felt would be into what I was doing. And it actually blew me away—it was a really surreal experience and I can't wait to get back on the road, to be honest.
What are some lessons you've learned along the way pursuing your career that you still look to now?
The biggest lesson is to learn to bet on yourself. Bet on yourself and don't wait for people to do anything for you that you can't do for yourself. I was at a point where I think I trusted too many entities to handle things that I should have been handling and I think once you start doing a lot for yourself, things get better. I think the biggest mistake as creatives is that we tend to depend on people a bit too much sometimes, but you are already it as a creative. The sauce comes from you. The sauce is gonna come from you; the vibe is gonna come from you—so bet on yourself and the rest falls in place.
I'm sticking by that until I don't need to do that much myself anymore. It's also all about finding people who really take it as seriously as you do and believe as much as you do—so until then I'm going to keep doing this myself.
What's next for you?
My upcoming single will be "Juju" from Home and Away, with another to follow before year's end. I'll also be dropping a new EP at the top of 2019—so stay tuned.
Keep up with Shirazee on Instagram.