In a city that sees a lot, it's still striking to glimpse a man walking through Times Square with a big blue comb in his hair. Not just any comb, mind you. It's a comb that commemorates Nelson Mandela's centenary with a logo saying as much on it. Like most things Sjava does, there's a purpose and a message to his actions; a nod to where he comes from.
It hasn't been a month since winning the Viewer's Choice Best International Act at the BET Awards in Los Angeles and Sjava is already back in the US from South Africa. After scooping the coveted award, he returned to promote his EP Umphako. That includes interviews with local and international press, a listening session at the Viacom offices in Times Square, and making plans about what's to come now. "The music will determine what happens next, which direction we go," he says. "It's always about the music."
---
Although he rose to fame in South Africa as an actor, music has been the real fire in Sjava's soul. Born Jabulani Hadebe in Bergville, Kwazulu Natal, he made his name on TV in long-running shows like Generations and Zone 14, and scored a Best Supporting Actor nomination at the South African Film and Television Awards for the Shakespeare-inspired mini-series uGugu no Andile (Gugu and Andile). While most of his peers are in their 20s, Sjava was well into his 30s when he first got into music, rising to prominence through Miss Pru's single, "Ameni," and releasing his debut album, Isina Muva in 2016.

"I needed to go through some things, to mature, before I got into music," he says. When I ask him what his acting career gave to his music one, he says it helped him be a better storyteller, and to know how to put a good music video together.

Taking his time to get into music also means Sjava built a solid support base - one he acknowledges for his BET Awards win. "It's not even about me" he says. "It's about everybody feels about it. This can never be just my achievement," he continues. "I can never celebrate it as an individual. Because I didn't achieve it alone. People voted for me. They took their time to vote and that really means a lot. It's everybody's win. That's why everybody's excited about it."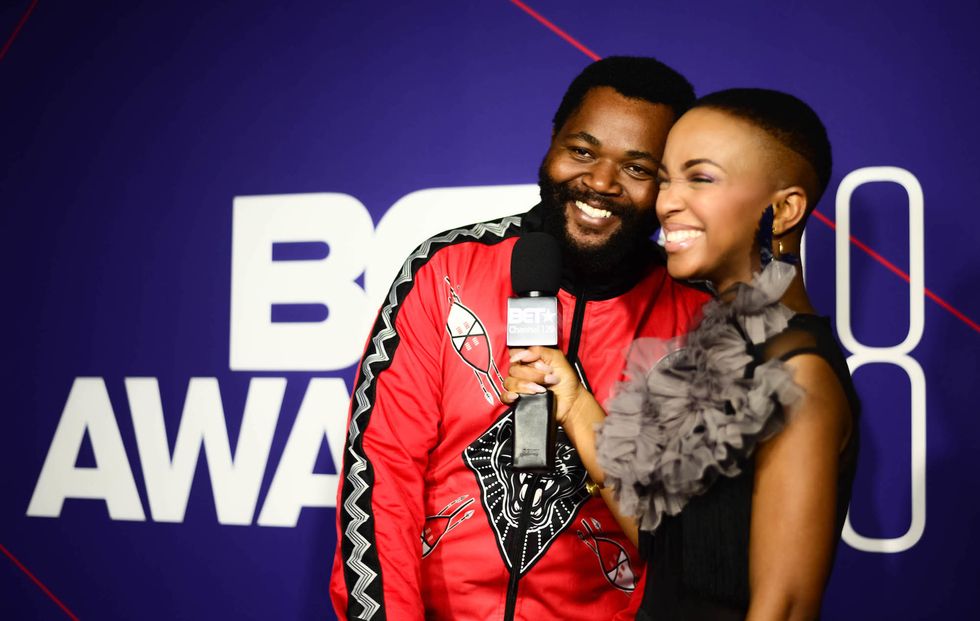 Sjava with Nandi Madida on the BET Awards kickoff party red carpet. Photo: BET International.
In an industry that's dripping with swag and excessive self-pride, Sjava's humility is refreshing. "For me, the whole thing is about where you come from, and putting that place on the map. It's about the art, it's not about bragging; it's about music that will change people's lives," he says.

Inadvertently, it's now about how his life has changed too. Winning the BET Award, he says, has made people see him differently. Even in the short time since it happened in late June, when he drew much praise for accepting the award wearing traditional attire from the Shembe Church in South Africa, of which he's a member. "When you win an award like this, automatically people start taking you seriously," he says. "But it's funny, because nothing's changed. I've been making this music for some time now. The music hasn't changed."
He says it's opened new audiences to his work. And along the way, cemented the taste-making status of Kendrick Lamar. "When Kendrick approached me to do the track for Black Panther, the BET Award hadn't happened yet. Winning the award was like he knew what was what, before anything else had happened." Recording the track, "Seasons," with American rappers Mozzy and Reason helped spin Sjava's music into a wider orbit, especially in the US. He says he's seen a real interest in what he does coming from Americans.
Sjava has many plans for where he wants his music to go and what he wants to do with it, including writing a stage production that reaches The Lion King levels. But for right now he's focused on promoting Umphako, which he describes as something of a snack to feed fans waiting for his next full-length album. In Zulu culture, it's "something they prepare for you when you're about to go on a journey." Sjava explains further: "The reason I called it this is that people have been asking for new music from me and I told them it's not ready. I want to take my time. I don't want to rush. So this is something that people can eat while we're preparing the full course."

On the four-track EP, his Ambitiouz Entertainment labelmates Emtee and Saudi join him on "Abangani," a song that talks about brotherhood and friendship. "I am where I am because of my friends. ATM [African Trap Music], that's how I got here." he says. "Confession" is about being afraid to fall in love. "This generation, we really are afraid," he adds. "Iqhawe," which he tells me means hero, is a motivational song. "When you wake up in the morning and you don't see a hero in the mirror, you're not ready for the day, go back to bed. Everybody should have that confidence because confidence is everything." So far, it's definitely working for Sjava.