South African artist Sjavarecently won the BET Viewer's Choice "Best International Act" award. Earlier this year, the singer and rapper was handpicked by Kendrick Lamar and TDE, alongside three other South African artists—Saudi, Babes Wodumo and Yugen Blakrok—to appear on the soundtrack of the movie Black Panther. Sjava rendered a show-stealing verse on the song "Seasons," alongside rappers Reason and Mozzy.
---
The verse has to be one of his most impressive yet, and the man has never given us a weak song, verse or hook, since showing up in 2016. None whatsoever. Over a moody and spacious instrumental, he starts his verse by singing his izibongo (personal Zulu praises for a person), and then goes on to talk about growing up in a hopeless place where you are told success is not for you. He uses himself as an example that where you grew up doesn't always have to determine your life's fate. He does this with effective wordplay, varied vocal tones, and his comfort with the music he was given is goose bump-inducing.
Saudi, who is Sjava's label mate at Ambitiouz Entertainment, appears on the same album, on a song called "X," alongside Kendrick Lamar, 2 Chainz and ScHoolBoy Q. The song marked his first appearance on the Billboard Top 100 charts in February.

On his verse on "X," Saudi switches between dense rapped lines and drawn out sung ones, in both English and IsiZulu, over a trap instrumental with the customary colossal basslines, 808 snares and quaking hi hats.
Both Sjava and Saudi's music falls under the subgenre African Trap Music (ATM), which is an iteration of trap music.
Trap music has been seen by most fans, artists and critics, especially the older generation, as the culprit for devolving lyrical content in hip-hop.
That criticism shouldn't apply to ATM, though.
Apart from the lyrics, which are sung mostly in indigenous South African languages, what sets apart Sjava and Saudi's music, and that of their labelmate Emtee, from your regular South African trap artist is how they manage to bring it home. While most vocals in trap music are passed through auto-tune, Saudi, Sjava and Emtee hardly, if at all, ever use the popular software.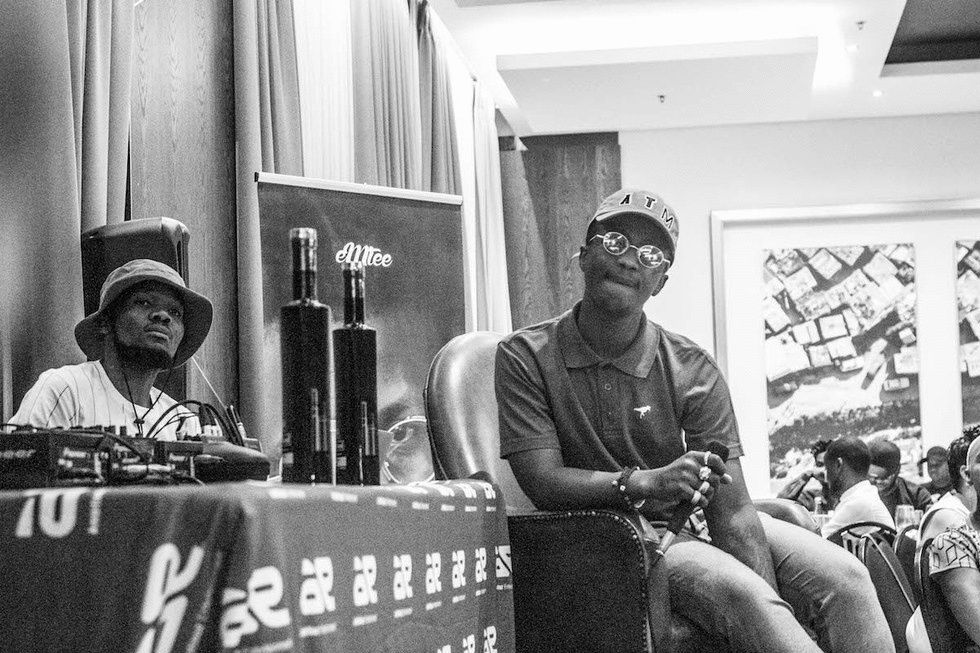 Ruff and Emtee during the 'Manando' listening party. Photo by Sabelo Mkhabela.
Sjava released his debut album Isina Muva in 2016. Sonically, the album leaned towards trap, with only a few diverging songs. Sjava's vocal style draws from South African genres such as mbhaqanga, maskandi and iscathamiya, genres he grew up on, alongside kwaito and hip-hop.

Lyrically, the artist tells relatable black stories of love, survival, success and family politics, among others.
"The whole concept is to inspire each other," he said in the ATM Documentary, an ongoing internally produced documentary series about the collective. "Even when you listen to the music, that's what you gonna hear. If we are not inspiring each other, we are inspiring people out there. It's not just for us, it's something we started for the community, for the public. All in all, it's to motivate more than anything. That's our main focus—get up, go get it."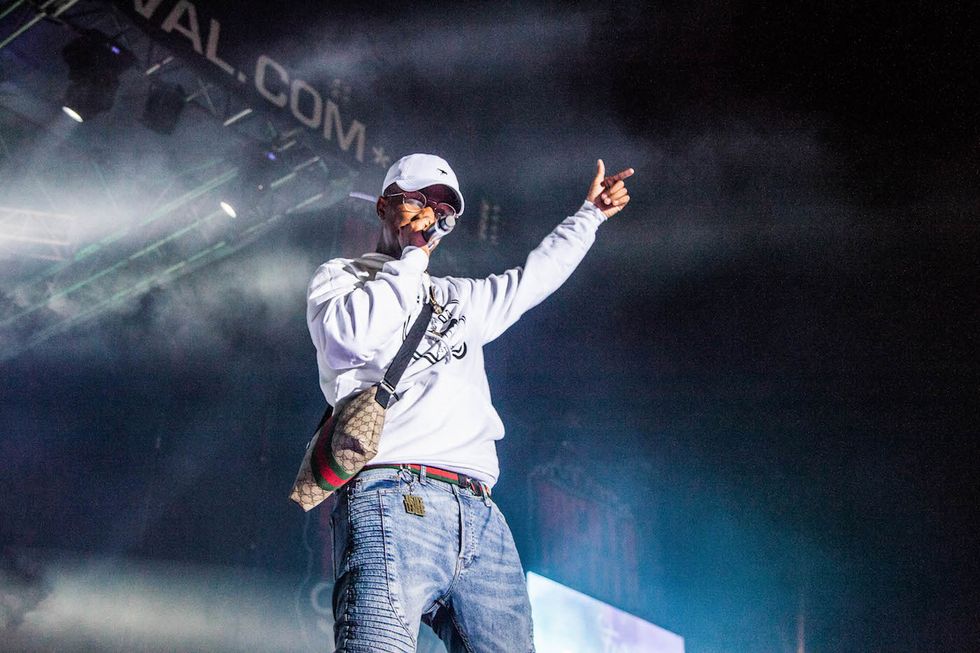 Emtee performs at Back To The City earlier this year. Photo by Sabelo Mkhabela.
In the same documentary, Sjava breaks down the similarities between ATL trap and ATM. "As Africans," he says, "melody and rhythm have always been our thing. Chants have always been our thing. If you listen to a lot of trap songs, even from that side, it's chants. It's [similar] to 'hlala phansi, sengihleli; hlala phansi, sengihleli'. So it's nothing foreign at all. It's in a different language and they're somewhere else in America and it's still the same thing—the same melodies and chants."

The artist even drew similarities between Zion church music and the melodies found in trap artists' music Future and Young Thug. In March, he told Ebro Daden during an interview on Daden's Beats 1 show that the song "Wyclef Jean" by Young Thug is the most Zulu sounding trap song in terms of melodies. And he has a point.
What sets ATM apart more than the delivery, is the lyrical content. While most lyrics in trap music revolve around bravado, cynicism and selling drugs, ATM lyrics tend to be uplifting and introspective alongside the celebration of a success that has always seemed farfetched. They can either be direct, the way Sjava does on the hook for "Seasons," where he sings, "Poverty, jealousy, negativity, ayinandawo la, go away."
Or indirect—for instance, Saudi on "Make You Proud," the latest single from his 2017 debut album D.R.U.G.S Inc, reflects on his life, the pressures that come with the desire to make his grandmother proud while growing up in place where "what doesn't kill you traumatizes you to death."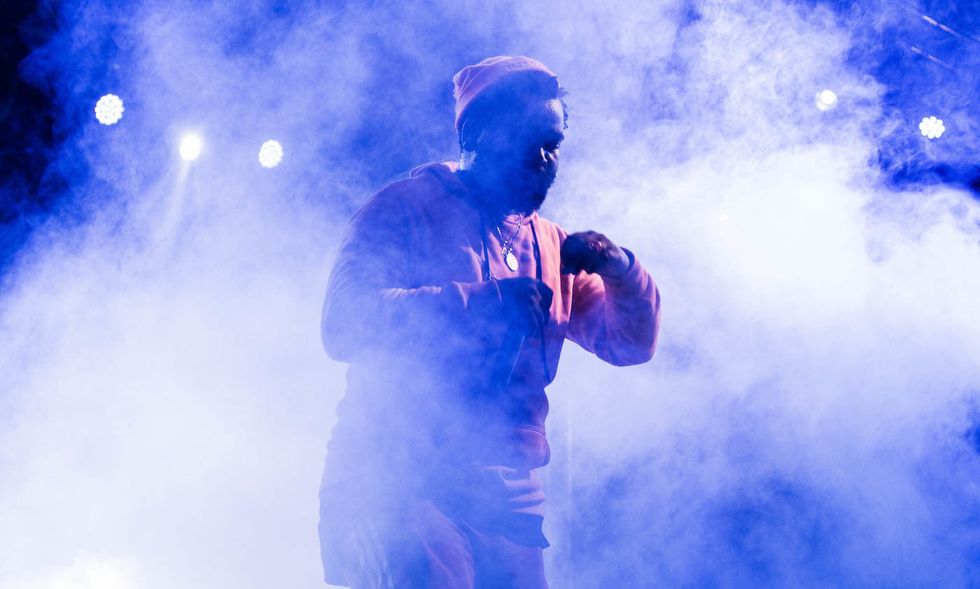 Sjava performs at Hipnotik Festival in Swaziland last year. Photo by Sabelo Mkhabela.
Emtee on his 2017 sophomore album, Manando, tells the story of being "a lame from the village" who's "now worth a couple millions." While there are no instances of preaching on the 20-track album, it would be a disservice to not deduce the social awareness implied in his lyrics. On the album's title track, the artist tells the story of Manando, his big brother from another mother who he attributes his success to. The song is more than just about Manando, but highlights the low price tag of black lives in the hood.

On Manando, Emtee found his voice. Songs such as "Ghetto Hero," "R.I.P Swati" and "Ubuya Nini," among others, have a huge Afro pop influence, which, when mixed with trap, are quintessential African Trap Music.
"Emtee," says Saudi in the same documentary, "he really invented the genre, and another thing you gotta know is a lot of elements in mine and Sjava's music is through genius Emtee architecture that we understood and realized how intellectual and valuable that skill is when it comes to making music."
The song that started it all was "Roll Up," Emtee's breakout hit single, released in 2015. While he was still shooting in the dark, and borrowing from Wiz Khalifa's "We Dem Boyz" and "CoCo" by O.T Genasis, Emtee added his personality to trap, with memorable vernacular lines like "krapa fasa, baba, let's start rolling up the jets." "Roll Up" revealed an artist with intent to be more than just a carbon copy of his US counterparts as is the case with many SA trap artists.
So while the three artists' albums all boast their own unique personalities, it's no coincidence that they have a lot in common. The linchpin to Manando, D.R.U.G.S Inc and Isina Muva is the producer Mfanafuthii "Ruff" Nkosi, who is the main architect of the ATM sound. He produced a majority of the albums.

"When we make a song," he says in the ATM doccie, "it can't just be me and Emtee or me and Sjava or me and Saudi. Everyone is here, [chiming in], 'what do you think?', 'Nah, remove this.' That's how we work; we work as a team."
It must be noted that Ruff produced Mashayabhuqe KaMamba's groundbreaking debut EP The Black Excellence Show, which came out in 2015. The EP is the perfect example of the successful fusing of trap with maskandi—the group Jozi (Da L.E.S, Bongani Fassie, Crazy Lu and Ishmael) fused maskandi with trap in their debut album Muthaland Crunk (2008), which made them superstars. But 'Muthaland Crunk' as a subgenre faded with crunk, and the group's members are now pursuing their solo careers.
Mashayabhuqe KaMamba labels his music as digital maskandi. Him and Ruff essentially drew the blueprint that Sjava, Emtee and Saudi are turning into an internationally renowned mega structure.

ATM as a record label (in this instance, the acronym stands for "African Trap Movement") is growing into an empire of sorts, with a gang of artists signed under it, not just limited to musicians—they have their own graphic designer and tattoo artist, DJ, label manager and in-house producer, among other personnel.
South African hip-hop keeps getting exciting as it finds its own voice by incorporating what's popular globally with South African sounds and vocal styles.
As much as ATM as a genre has its own critics, it has received a lot of praise from fellow artists, fans and critics alike. AKA is one of the artists who has openly praised Emtee and his label mates' originality and even appeared on the remix to "Roll Up."
Sjava has a BET award under his belt, and has collaborated with artists outside of hip-hop such as maskandi legend Thokozani Langa. Emtee has worked with SA rap OGs like Ma-E and Stogie T.Avery, Emtee's debut album Avery, and Isina Muva are both gold-certified albums. Saudi is slowly forging his way as a respected songwriter and well-rounded artist. And yeah, he's one of the few South African new school artists who've been on the Billboard Top 10 charts.
Artists such as Future Africa and A$AP Shembe are building upon what's already a flourishing subgenre.
This piece is part of Sabelo Mkhabela's South African hip-hop column. He's happy to debate you on Twitter: @sabzamk