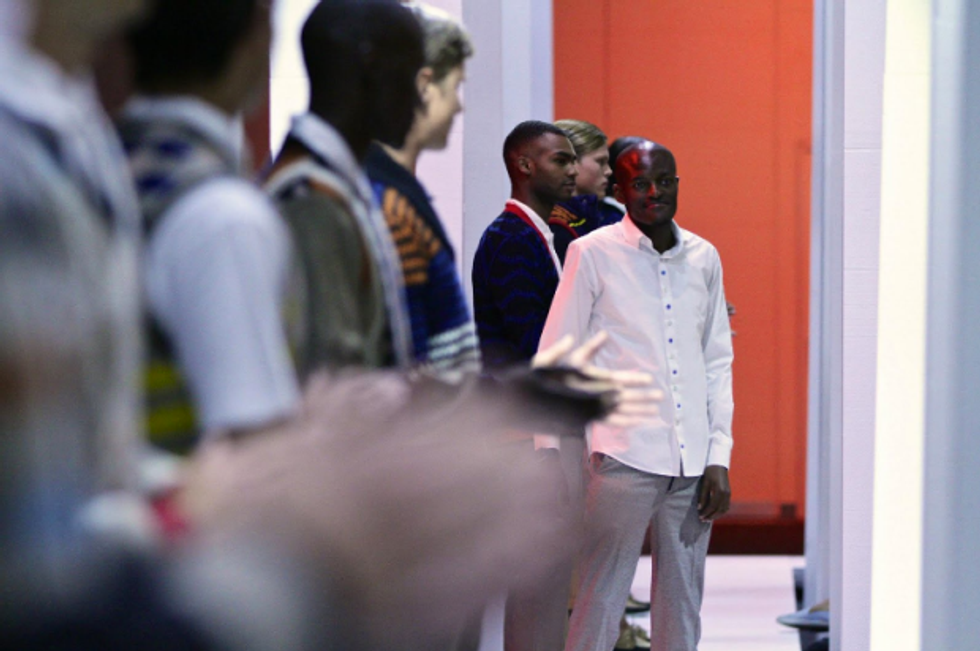 ---
Among the shuffling back and forth of Cape Town's hottest new creative hub 'its a house', preparations for an upcoming photo shoot are underway. A young man stands quietly near the clothing rails, humbly admiring the many accomplishments he has made in the design world thus far. One of the stand out contributors of the Design Indaba 2013, he showcased his affinity for fashion using bright colours and cultural graphics, designing a line that projects a pride in the Xhosa culture and everything it stands for. We had a quick chat with Laduma Ngxokolo, designer and founder of Maxhosa Knitwear.
OKA: Who you are and what you do?
Laduma Ngxokolo: My name is Laduma Ngxokolo, and I'm a network design specialist based in Port Elizabeth, and I founded a fascinating collection inspired by traditional Xhosa prints.
*All photos by Simon Deiner (SDR Photography)
OKA: So that's something very close to your heart then? Your 'Xhosaness?'
LN: It is, and it has been important to my family for a very long time. In my childhood we always had a very traditional upbringing. My mother used to read me Xhosa anthropological books as bedtime stories, and it's something that I've grown up with, that I'm still growing into, and I want to embrace it every way I can.
OKA: Will you read the same books to your future children?
LN: I definitely will. I have to pass on the culture to the next generation so that I can open them up to where we come from so that they can learn the lessons that come from the culture.
OKA: For people who aren't necessarily Xhosa, are you trying to pass along these lessons with your clothes?
LN: Yes, actually with the clothes I tend to focus on the beauty of the culture. Last year I was part of an exhibition called The Beauty of Beadwork, and I took it upon myself to showcase the beauty of knitwear which is what I know best, and i pulled those two elements together to create something that people can appreciate and wear every day, instead of just on Heritage Day, which is what usually happens with beadwork.
OKA: It seems that your line is doing extremely well with that idea. Have you given any thought to creating a line for women?
LN: I've been speaking to my sister in hopes of creating a female range. I've also spoken to a woman called Marianne Visser who is quite interested in my work, and we hope to collaborate to cover different perspectives of women and knitwear. I'm not a lady myself, so I would do it from a man's perspective, to show how I see women culturally, as a Xhosa man. I hope that people are looking forward to it as much as I am.
To keep up to date with Laduma and his line go here.