Sudan's art scene is a hidden gem. The country's capital, Khartoum, has been a budding attraction for creativity and expression, though inextricably linked to the uprisings that shook the country in 2018. Art was deployed as a tool to register discontent on rising prices and the removal of subsidies on basic goods. Artists became an integral part of months-long protests that saw Sudan experiencing numerous marches, strikes, and protests.
Among such artists were Reem Saif-Aldin Aljeally , who created three murals depicted the involvement of women in the sit-ins at the military headquarters in Khartoum.
"My murals, which showed a woman wearing a white toub while carrying people forward, garnered a lot of attention," Aljeally told OkayAfrica. "One mural was erased by the military but two are still there."
According to Aljeally, the immense expression of creativity was both a result of loosening restrictions on freedom of expression and, at the same time, a catalyst for further change. The 24-year-old artist, who grew up in Khartoum, directs efforts towards helping other emerging artists realize their dreams.
Trained as an architect, Aljeally remembers how she was always fascinated with art. Growing up, she would try to create and put color to almost everything that she owned. While in grade four, Aljeally signed up for extra art classes and she had her first exhibition experience.
"My fascination with design has also been nourished from my childhood. I remember constantly building models and cities of cardboard for games," Aljeally said. "I think that enriched my interest in pursuing architecture, as art was not a practical option for me back then."
Aljeally started taking art more seriously in 2016 after joining a painting competition. She eventually joined her school's art group and hosted her first solo exhibition in 2017, which was inspired by the Harry Potter movies.
Aljeally with pioneer modernist Kamala Ishaq.
Photo Credit: Abubakr JarElnabi
Besides her abiding presence in the art scene, Aljeally, who is also curator, channels her passion towards addressing social issues. Additionally, she draws her inspiration from personal reflection, observations, and by curiosity. She is also eager to be part of new projects, meet new people and know more about their ideas processes.
"This curiosity led me to be a curator and every day I pick myself up and work," Aljeally said. "There is so much more to be done and to be explored."
In 2019, her efforts led to the launch of The Muse Multi Studios , an enterprise that works towards building a platform for the local art community. So far, The Muse Multi Studio has been able to train 90 artists on various skills in art including painting, drawing, and illustration. The platform has been able to work closely with almost 40 artists to bring their ideas to life in terms of solo exhibitions or group shows including working with the pioneer modernist Kamala Ishaq to curate a collection of her drawings.
Currently, Aljeally's studio is hosting its first residency program that includes three researchers, three painters, and three photographers in a project that aims to enrich the critical and visual skills of its residents and assist them in materializing their ideas. The Muse Multi Studio has also worked with children in various programs including the " Stories from the Cubs" " that focused on art therapy training for children in a reformatory centre in Khartoum.
Aljeally's curatorial journey has been both extremely challenging yet satisfying at the same time. Her studio has collaborated and worked with professionals, amateurs, and art lovers in different ways. Some of the partners whom they have worked with include: Rift Digital Lab, the Spanish Embassy, and Education without Borders, providing guidance and assistance to organizations and individuals in regards to artistic projects and with sourcing artists to fulfill a certain role.
"Our focus is to present professionals' work to the audience through curating it into exhibitions and projects that display the true potential and value of it," Aljeally said. "While with our art sessions, we focus on youth, children and the community to involve them in the creation process and provide them with a fun environment to create and connect with others. We believe that we only go as far together, hence we try to work with other organizations or individuals in our community."
In July 2020, Aljeally debuted Bait Alnisa , a platform dedicated to all Sudanese women both in the country and diaspora. The platform showcases, supports and empowers Sudanese female artists and promotes their work.
"Bait Alnisa works through exhibitions, online content and articles, training and documentation. Being involved in the art scene, I couldn't help but notice the lack of presence and representation of female artists and their work," Aljeally said. "As I believe the female generated art comes in many different unusual forms in our society and it should be represented in more various ways. It has also given me the chance to meet and discover many artists and females leading important careers and visions in our country."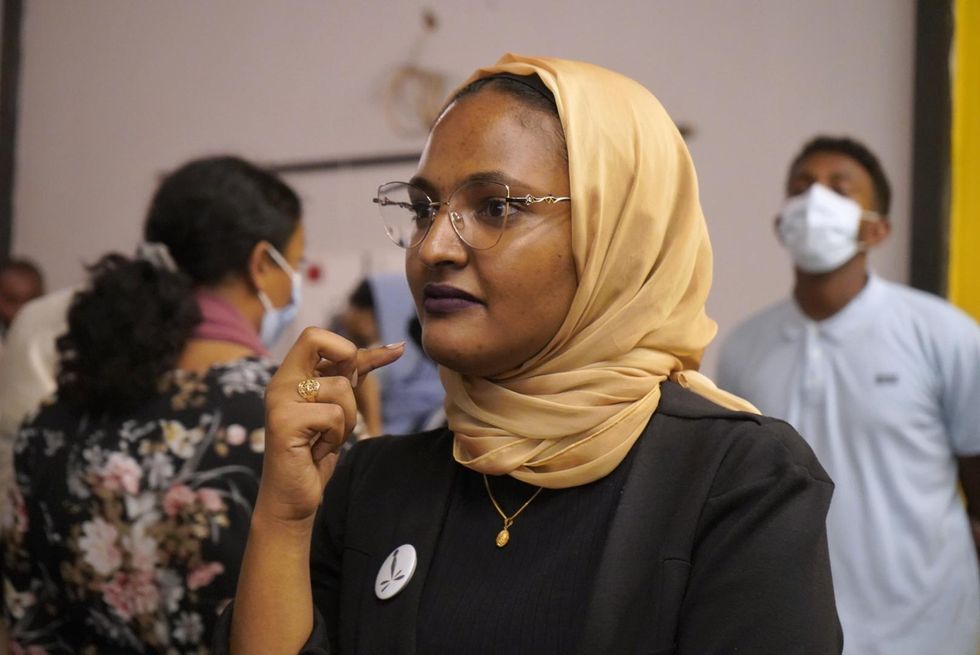 In July 2020, Aljeally debuted Bait Alnisa , a platform dedicated to all Sudanese women both in the country and diaspora.
Photo Credit: Reem Saif-Aldin Aljeally
Haneen Khalid, 22 years-old, born and brought up in Khartoum, Sudan is one of the beneficiaries of Bait Alnisa. According to Haneen, it has been an enlightening journey with Reem who continuously inspires and encourages her.
"She always encouraged my ideas and never boxed me into my creativity," Haneen said. "My pictures left my small digital space for the first time and it was being showcased for hundreds of people. It was just an immersive experience. I felt very empowered sharing the space with women who came from different backgrounds exhibiting various art. All thanks to Reem's space that brings us together, empowers us and gives us exposure."
Throughout her journey, Aljeally dedicated her time to work on her exhibitions. Since debuting in the industry, she has had three solo exhibitions with the fourth coming up in August at the French Institute, Khartoum. However, she has been part of numerous group exhibitions in South Africa, USA, Kenya and Sudan.
Her first artist residency online was in 2020 with the Sudan Moves project with Goethe Institute, Khartoum, where she collaborated with a German art therapist to create a project together titled Non-verbal Dialogue. Aljeally plans to own a gallery in Khartoum that will introduce contemporary art to the community, and to work with artists on uplifting their profession and skills. She would also like to turn The Muse Multi Studios into the first art institution in Sudan, as she continues to build a name for herself locally and internationally.